.
Bill Hillman's
EduTech Research Project
Presents
John Tyman's
INUIT ~ People of the Arctic
Unit IV: FAMILY LIFE, TRANSPORT & RECREATION
Back to Main Navigation Page
.
Part 4: Alternative Forms of Transport
.


For Full-Screen Images
---
64. ATV beside a fishing hole.
All-terrain-vehicles, developed for agricultural
and recreational use further south,
have given Inuit families yet greater mobility in recent years.


.

65. ATVs in winter.
Their engines are not suited to very cold weather
and so they are parked throughout the winter.
Three-wheelers are preferred here for ease of movement
across rough country in summer,
but because of fatal accidents in Southern Canada
only four-wheeled vehicles can be sold now..
---
66. ATV from Honda.
Being the commonest brand of ATV the word "Honda"
is often used as a generic descriptor,
like "Skidoo" for snowmobile
(and "Biro" for a ball-point pen in Australia!)
Children here learn to operate off-road vehicles at an early age.

67. Child's bike.
Some of the younger children settle for BMX bikes, but . . ..



.
---
68. Trail bike.
Trail bikes are the latest contributors
to increasing noise levels in the once quiet Arctic environment.
.

69. ATVs in need of repair beside house.
With all these mechanical gadgets, though,
there remains the issue of what is to be done with them
when they break down and are no longer serviceable..
---
---
70. Outboard motors on boat at Taloyoak.
Kayaks today are like working dogs, only more so:
I've never seen one.
Instead boats today are equipped with powerful engines, inboard or out.

71. Spence Bay in spring.
They are marooned on the ice for most of the year,
but come into their own in late summer once the ice has melted..
.
---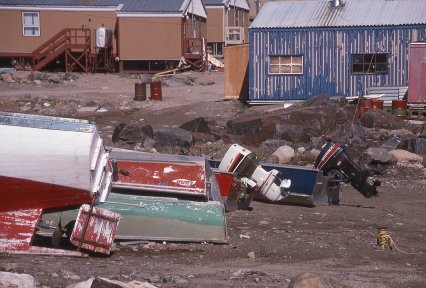 72. Bayside boat storage.
And because of the way the town is laid out most people live close to the shore.
---
---
73. DC3 on local runway.
Because of the remoteness of the area, planes
(usually resilient models!)
play a vital role in providing links with the outside world.
Small planes sometimes use skis in winter and floats in summer,
but the larger ones depend on snow ploughs clearing the runways.

74. Snow plough at work in spring.
The landing strip, plus the road to the "airport"
and the garbage dump beyond it,
are ploughed out after snow storms..

.
---
75. Unloading perishables.
Besides moving passengers in and out,
planes bring in all the perishables -- fruits and vegetables,
fresh milk and (reasonably) fresh bread.

76. Remains of plane crash.
Crashes are probably no more common here than elsewhere,
but accidents in winter
offer less chance of people surviving for any length of time..
---
BACK TO THE TYMAN CULTURES IN CONTEXT PROJECT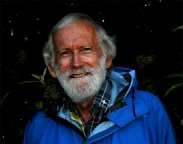 NAVIGATION GUIDE: PHOTOS & RECORDINGS

.
I. Environment:
1 | 2 | 3 | 4 | 5 | 6

II. Food Sources:
1 | 2 | 3 | 4 | 5

III: Clothing/Shelter:
1 | 2 | 3 | 4 | 5 | 6

IV. Family:
1 | 2 | 3 | 4 | 5

V. Community:
1 | 2 | 3 | 4 | 5 | 6
.






Text, photos and recordings by John Tyman
Text, photos and recordings by John Tyman
Intended for Educational Use Only.
Copyright Pitt Rivers Museum, Oxford University, 2010.
Contact Dr. John Tyman for more information regarding licensing.


Photo processing, Web page layout, and formatting by
William Hillman | www.hillmanweb.com
Assistant Professor ~ Faculty of Education ~ Brandon University ~ Brandon, Manitoba ~ Canada