.
Bill Hillman's
EduTech Research Project
Presents
John Tyman's
INUIT ~ People of the Arctic
Unit III: INUIT: CLOTHING AND SHELTER
Back to Main Navigation Page
.
.


For Full-Screen Images

---
75. From 1960 onwards the Inuit of this region (the Boothia Peninsula)
have lived in town -- either in Taloyoak (shown here) or Pelly Bay,
in easy reach of a medical station and so children could attend school.
.

76. The houses are built with Government assistance and
rented out by a housing co-operative.
The style of house depends on when it was built,
as the Government revises the approved pattern..
---
77. The latest preference is for split level homes and, most recently, duplexes.


.

78. Because of frost heaving in the spring and fall
there is little point in surfacing the roads.
The houses are built in clusters where suitable sites can be found
and gravel roads connect them to the town centre..
---
79. These are kept open in winter by snow ploughs
and the roads are muddy in spring.

.

80. In the centre of town the hamlet offices (on the right)
face those of territorial government representatives,
with a co-op store beyond that, then the generator building
and the old nursing station in the distance..
---
81. Inuit houses today are furnished with the same conveniences
one finds in modern homes in Southern Canada,
with a kitchen stove, sink, frig and freezer, and...

82. In the laundry room a hot water tank,
washing machine and (because of winter cold) a clothes drier..
.
---
83. In the bathroom there is hot and cold running water
(from a pressure system), a washbasin, bath, shower and a flush toilet.

84. In the lounge there's the usual range of furniture
plus the obligatory television, with....
---
85. A good supply of family photos,
a binocular microscope used in making fine bone carvings,
and roses which are artificial (since they do not grow in the Arctic!)

86. Radios, tape decks and phones have long been basic items,
and CDs were added to the list during my stay.
.
---
87. Among the modifications necessitated by the climate
are lamps that allow house plants like these
to grow during the long dark winter, and
.

88. Special house designs.
Experimental upper stories, were not a good idea because,
since warm air rises, they can be hot upstairs and cold downstairs;
but all houses regardless of size and shape have a porch..
---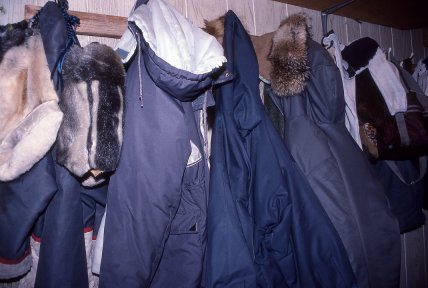 89. It acts as buffer zone between the cold outside and the heated interior.
It also provides space for the storage of clothing and equipment at below freezing temperatures
-- otherwise in winter the snow will melt on them when you bring them inside
and freeze up when you go out.
---
BACK TO INUIT CONTENTS PAGE: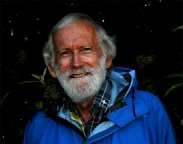 PHOTOS & RECORDINGS

.
I. Environment:
1 | 2 | 3 | 4 | 5 | 6

II. Food Sources:
1 | 2 | 3 | 4 | 5

III: Clothing/Shelter:
1 | 2 | 3 | 4 | 5 | 6

IV. Family:
1 | 2 | 3 | 4 | 5

V. Community:
1 | 2 | 3 | 4 | 5 | 6
.


Text, photos and recordings by John Tyman
Intended for Educational Use Only.
Copyright Pitt Rivers Museum, Oxford University, 2010.
Contact Dr. John Tyman for more information regarding licensing.


Photo processing, Web page layout, and formatting by
William Hillman | www.hillmanweb.com
Assistant Professor ~ Faculty of Education ~ Brandon University ~ Brandon, Manitoba ~ Canada