.
Bill Hillman's
EduTech Research Project
Presents
John Tyman's
INUIT ~ People of the Arctic
Unit 1: INUIT: POLAR ENVIRONMENTS
Back to Main Navigation Page
.
Part 3: Insects and Vegetation
.


For Full-Screen Images

---
36. Mosquito-infested wet lands near Taloyoak.
The swamps and the ponds which cover much of the land in summer
are a breeding ground for insects, millions of them -- especially mosquitoes.
The one consolation is that they can only fly on days
which are warm and calm.
On cooler days they stay close to the ground.

37. Improvised mosquito netting and insect repellent.
To avoid them caribou will graze along ridges,
so the updraft will keep the mosquitoes away; or they will wade into the sea.
Visitors to the Arctic commonly wear bee-keeper's veils on bad days
and smother their hands with repellent..
.
---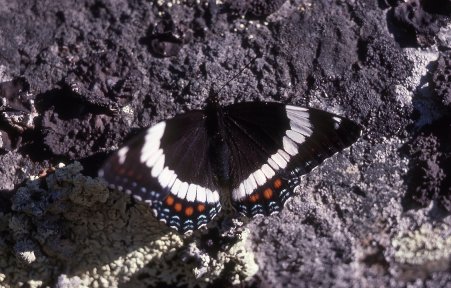 38. Butterfly at rest, soaking up sun.
The need for flying insects to maintain an adequate body temperature is clearly illustrated by the butterfly.
In milder climates they rest with their wings closed above their head:
but in the Arctic they sit with their wings open, to soak up enough sun to allow them to take off.
---
---
39. Shrub in spring.
Because of the low temperatures and the icy winds,
the tundra is essentially treeless.
You will find shrubby bushes in sheltered hollows,
but they grow only very slowly.

40. Horizontal form of willow.
More often woody species like willow and alder,
which would assume tree form in milder climates,
simply hug the ground, growing horizontally
rather than vertically, to escape the wind..
---
41. Plant drawing warmth from rock.
They spread themselves over south-facing boulders especially,
to soak up the sun.

42. Pussy-willows.
As a result the height of a "tree" here
can be measured in centimetres instead of metres!.
---
43. Grassy tundra.
In place of trees the tundra consists of smaller and generally simpler plants.
Grasses cover much of the better drained land,
commonly in a hummocky form which is a pain to walk over!

44 . A damper spot.
Damper areas are cloaked by mosses and sedges..

.
---
45. Lichens and dormant plants in early spring.
And slow-growing lichens cover many of the rocks.

46. Crustate lichen.
Many lichens form thin crusts on rocks.
---
47. Foliate form of lichen.
But they also occur in a foliate leaf-like form which,
with the grasses and the shrubs, supports grazing animals.
.

48. Arctic "Pineapple plant" in early spring.
Because the summer is so short those plants which produce seed annually
(and some plants here take two years to do this)
spring up quickly in the spring. There is no time to waste. .
---
49. Purple saxifrage.
They must flower quickly.
The land here was covered in snow two weeks before I took the photo.
.

50. Clump of saxifrage.
In common with many other plants
the saxifrage commonly adopts a compact rounded form,
to reduce exposure to the wind and conserve warmth..
---
51. Last summer's growth exposed by melting snow.
After producing its seed the plant withers away in the frosts of late summer
and the ground is brown once more as the plants,
now dormant in most cases, await the coming of spring.

.

52. Carpet of mountain aven.
Because the shortness of the growing season is a problem
facing all plants here, the tundra is a carpet of flowers in the early summer
(rather like the deserts of Australia after rain).
Most of the flowers in this picture are avens,
the floral emblem of the old Northwest Territories..
---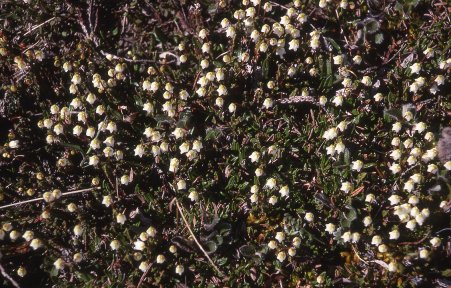 53. Heather in flower.
Heather, too, puts in an appearance, though dwarfed in size
as one would expect due to the severity of the climate.
---
BACK TO INUIT CONTENTS PAGE: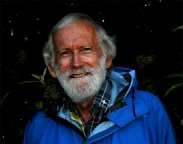 PHOTOS & RECORDINGS

.
I. Environment:
1 | 2 | 3 | 4 | 5 | 6

II. Food Sources:
1 | 2 | 3 | 4 | 5

III: Clothing/Shelter:
1 | 2 | 3 | 4 | 5 | 6

IV. Family:
1 | 2 | 3 | 4 | 5

V. Community:
1 | 2 | 3 | 4 | 5 | 6
.


Text, photos and recordings by John Tyman
Intended for Educational Use Only.
Copyright Pitt Rivers Museum, Oxford University, 2010.
Contact Dr. John Tyman for more information regarding licensing.


Photo processing, Web page layout, and formatting by
William Hillman | www.hillmanweb.com
Assistant Professor ~ Faculty of Education ~ Brandon University ~ Brandon, Manitoba ~ Canada