.
Bill Hillman's
EduTech Research Project
Presents
John Tyman's
INUIT ~ People of the Arctic
Unit V: COMMUNITY, INSTITUTIONS AND VALUES
Back to Main Navigation Page
.
Part 2: Social Life and The Church
.


For Full-Screen Images

---
16. Children's race.
The community also has a Social Committee, and the highlight
of their year is the Winter Games
which run for a week and a half over Christmas and New Year.

17. Finalists in "pass the parcel"
(pass the ball in this case).
Everyone is involved, both young and old.
.
---
18. Prize giving.
And almost everyone wins some money.

.

.

19. Floor hockey.
Team games are a new thing: they are not part of Inuit tradition
(for survival here is promoted by co-operation, not competition,
in the face of a hostile environment).
The emphasis is still on fun, not on competition,
with teams of mixed ages and abilities..
---
20. Drum dance.
The drum dance is keenly contested,
being a traditional art form.
.

21. Social dance.
For the social dancing "competition", however,
partners are drawn out of a hat, which as in the team games
brings together a mixture of ages and abilities..
---
22. Timed test of muscular strength.
And, inevitably in a climate where strength is called on for survival,
there are tests of strength...

23. Testing both strength and balance standing on one foot.
Including special wrestling competitions which in the old days
could be held in the small space of a winter snow house..
---
24. Preparations for feast.
On Christmas night there was a communal feast.
Everyone brought something (all of it raw meat of course!).
The larger pieces were cut up by the MC.
.

.

25. Mixed game meats.
The food was simply piled up on the floor of the school gymnasium
(on a plastic sheet). The people were then invited
to select from the smorgasbord of meats available
-- fresh, frozen and dried fish; fresh, frozen and dried caribou;
plus fresh and frozen seal meat; with a 44 gallon drum of seal oil
in which to dip the dried meats. There was enough for everyone..
---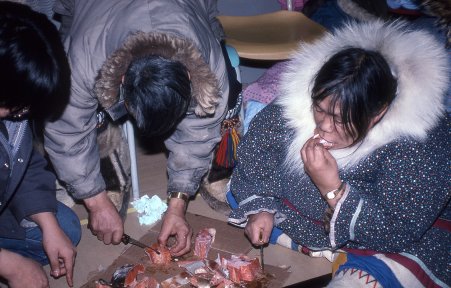 26. Feast in progress.
The people then withdrew to the perimeter of the gym to banquet in family groups.
---
---
27. Grave site in spring.
The traditional shamanism here was effectively suppressed
by the early missionaries, and many people
now take their new faith seriously.

28. Gospel rally.
From time to time evangelists from outside
hold rallies in Taloyoak..
.
---
29. Anglican Church.
But the mainline churches (one Anglican and the other Roman Catholic)
occupy an important place in the day to day life of the community.
.

30. Church Interior.
The layout of the church building is decidedly conventional,
but the altar is covered with seal skin and the wall hanging behind it
is of an Arctic scene, not one from Europe or the Middle East..
---
31. Rector and wife.
The Anglican priest came from Wales originally, but his wife,
who interprets for him during sermons,
is an Inuk from Coral Harbour.

32. Steve Alookee.
His lay preacher is a highly skilled hunter
(also an accomplished carver and the mayor of the hamlet!)
and he also taught himself to play the organ for church services..
---
33. The Anglican church choir.
They lead the congregation in worship on Sunday,
but there are less formal services in the middle of the week --
and in hunting camps on the land on Sundays in summer.

34. Overflow congregation.
The church was packed out at Christmas,
when almost everyone was back home in town.
.
---
35. New wall hanging.
In common with many remote parishes in other parts of the world,
it was "twinned" with a congregation in Southern Canada
-- in Southern BC -- which had prepared the wall hanging as a gift.

36. Women's study group.
Inevitably, too, there was a woman's group
that met for Bible study on Tuesday nights..
.
---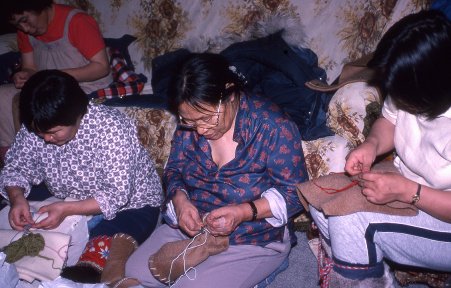 37. Working bee.
And then, after supper, the women worked on handicrafts for sale
to raise money for "overseas missions".
---
BACK TO THE TYMAN CULTURES IN CONTEXT PROJECT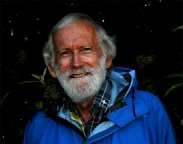 NAVIGATION GUIDE: PHOTOS & RECORDINGS

.
I. Environment:
1 | 2 | 3 | 4 | 5 | 6

II. Food Sources:
1 | 2 | 3 | 4 | 5

III: Clothing/Shelter:
1 | 2 | 3 | 4 | 5 | 6

IV. Family:
1 | 2 | 3 | 4 | 5

V. Community:
1 | 2 | 3 | 4 | 5 | 6
.


Text, photos and recordings by John Tyman
Intended for Educational Use Only.
Copyright Pitt Rivers Museum, Oxford University, 2010.
Contact Dr. John Tyman for more information regarding licensing.


Photo processing, Web page layout, and formatting by
William Hillman | www.hillmanweb.com
Assistant Professor ~ Faculty of Education ~ Brandon University ~ Brandon, Manitoba ~ Canada