John Tyman's
Cultures in Context Series
EGYPT and the SAHARA
www.johntyman.com/sahara

6 : URBAN LIFE
6.2 Markets and Marketing : 457-484
.
www.johntyman.com/sahara/32.html
Click for full-size images..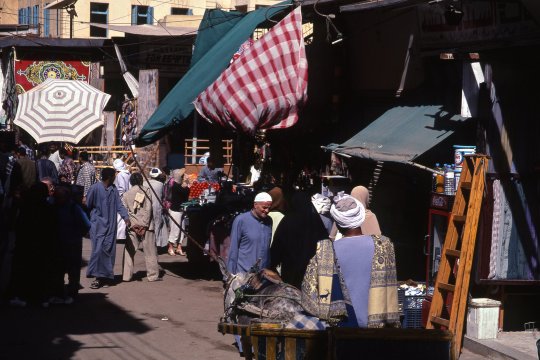 .457. The market square or suk (suq, souk, or souq) is the busiest part of each and every town. Men go there to buy and sell goods, and also to talk with friends. (Aswan)
.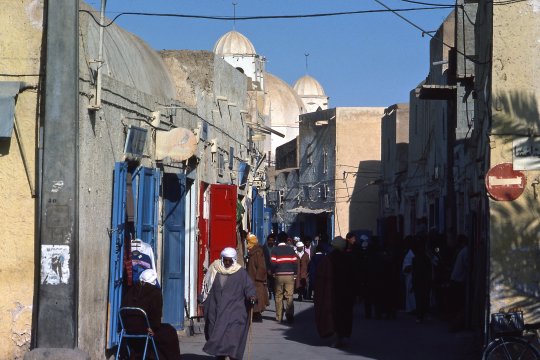 .458. Public announcements are made here too -- on matters like garbage collection, taxation and lost animals. These messages were once broadcast by town criers, but now are piped through loudspeakers. (El Oued)
..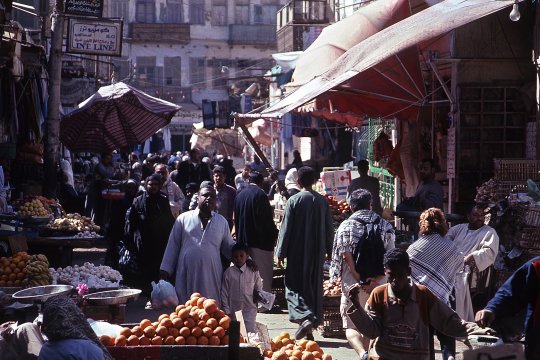 .459. In the larger suks, where markets are held daily, in addition to local producers, traders from outside the area will sell utensils and luxury goods; and there will also be specialists like dentists, smiths and even fortune-tellers. (Aswan)
.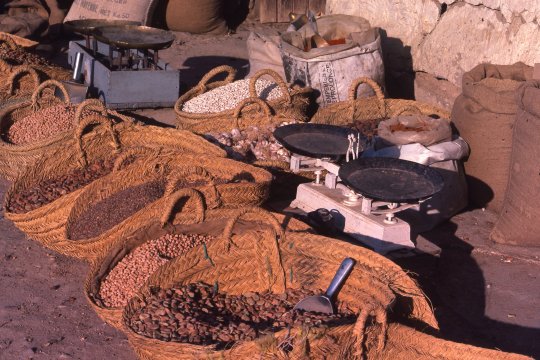 .460. The smaller suks, where markets happen once or twice each week, provide an outlet for local farm produce, and every suk has an appointed official to check on the weights and measures being used. (Scales at Biskra)
..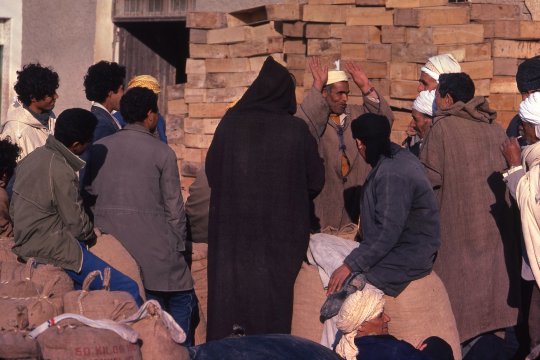 .461. Negotiations over sales are normally the responsibility of men. When closing a transaction the vendor usually shakes hands with the purchaser. (Biskra)
.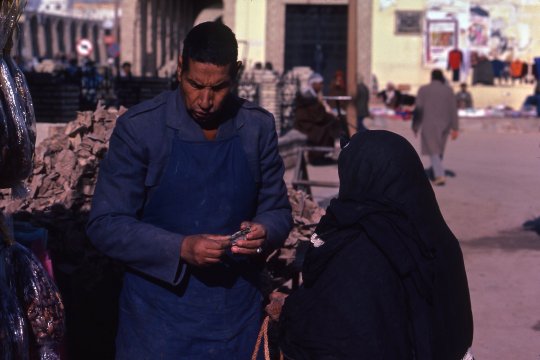 .462. The vendor then kisses the bunch of banknotes handed to him, sealing the sale. In this case the money was handed over by a female purchaser ...which is acceptable in some communities but forbidden in others. (Tozeur)
.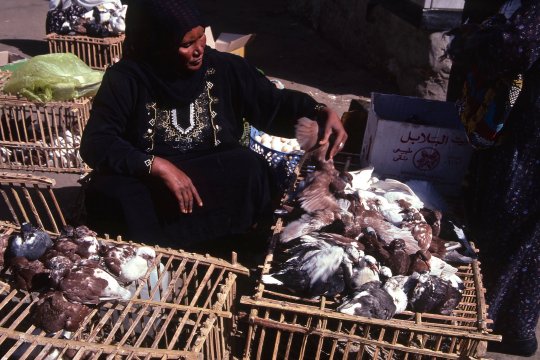 .463. There are also markets with female vendors, but not many. It depends usually on the level of conservatism in the Muslim community. (Aswan)
.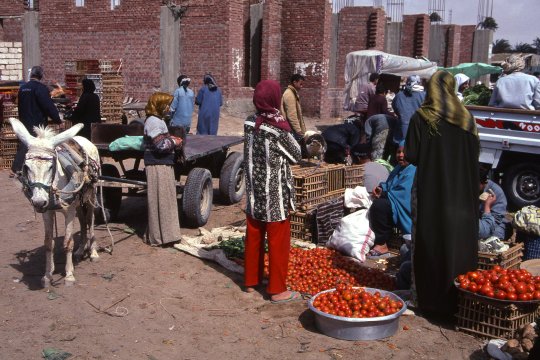 .464. In Coptic communities, however, women do most of the buying and the selling. (Wadi Natrun)
.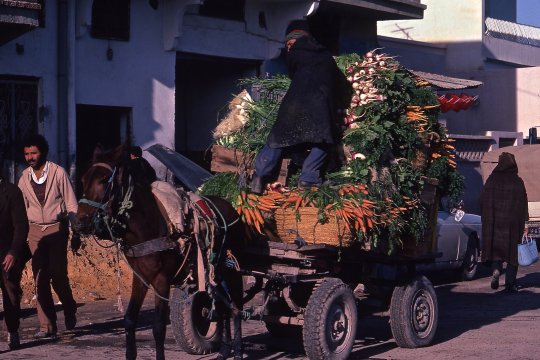 .465. Growers use donkeys or a horse and cart to carry vegetables to market from nearby oases in the early morning. (Kairouan)
..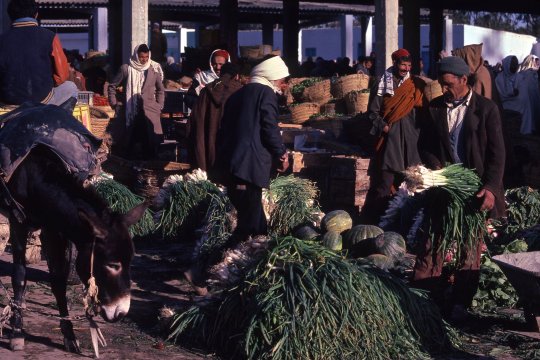 .466. They will be joined on the main market day ... usually Friday ... by men, young and old, from the surrounding settlements who arrive by bus, car or bicycle to purchase supplies. (Kairouan)
.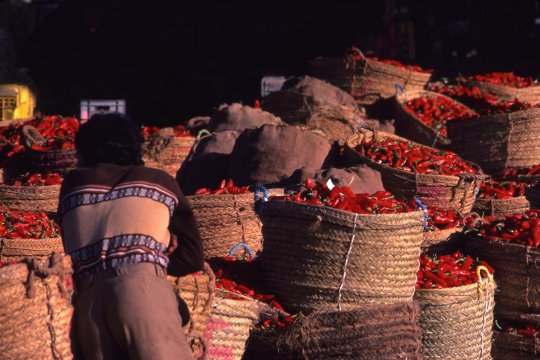 .467. The markets are busiest in winter, when there are more nomads around with meat, wool, cheese, butter and milk to sell and/or exchange for local produce. This is also when fresh dates are marketed, having been picked in late autumn: and red peppers, too, are ready for sale then. (Peppers at Kairouan)
..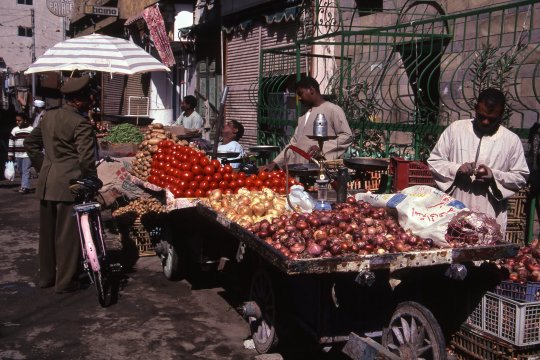 .468. In common with markets elsewhere in Africa, the stalls are usually segregated. Those selling vegetables frequently cover the largest area. (Aswan)
.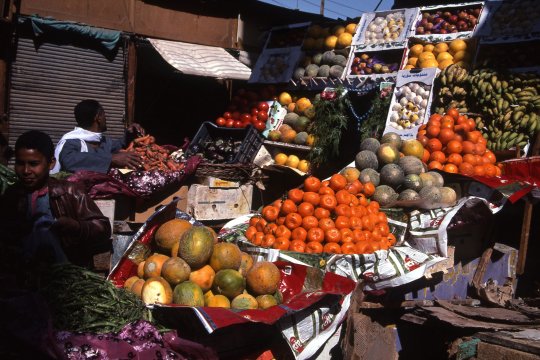 .469. Most markets also have a section of stalls selling fruit, much of it grown close by, but some shipped in from more favoured areas. (Aswan)
.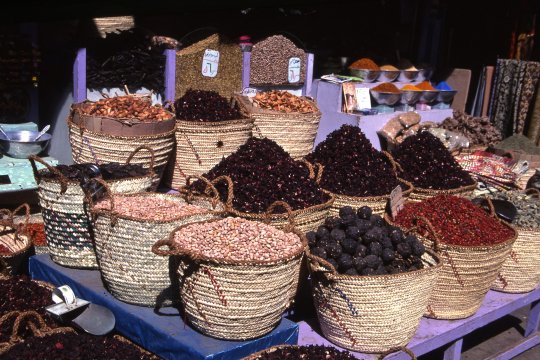 .470. There will be plenty of dried foodstuffs and spices on offer. (Aswan)
.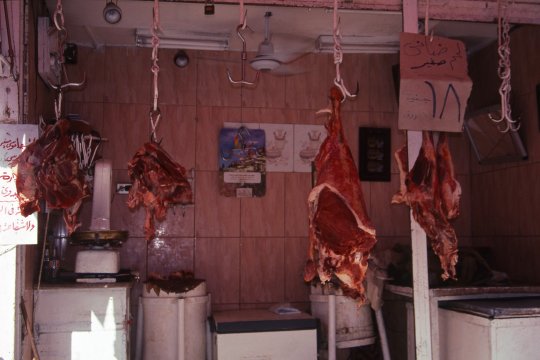 .471. And there may also be a line of butchers selling fresh meat. (Aswan)
.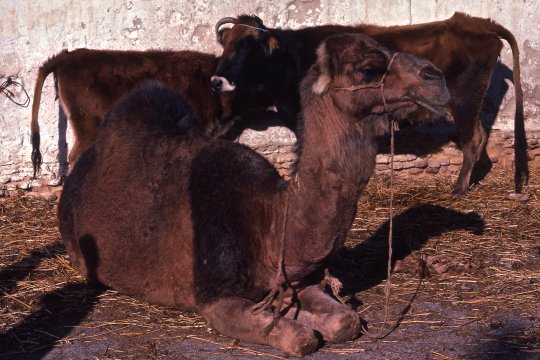 .472. While on the far side of the market animals that are still alive will be offered for sale-- camels, cattle, horses, sheep, and goats, and chickens too. (Kairouan)
..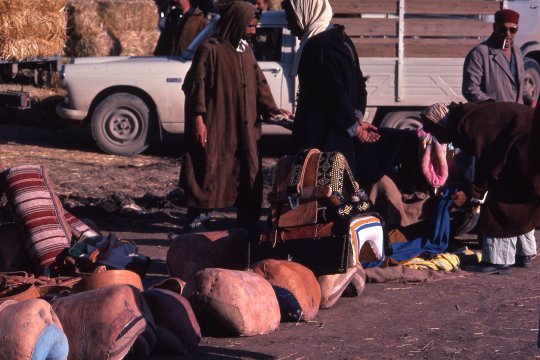 .473. Beyond these staples, the range of items on offer will vary according to the resources, skills, needs and wealth of the communities involved. Those who ride animals need saddles or the materials with which they can make their own. (Kairouan)
.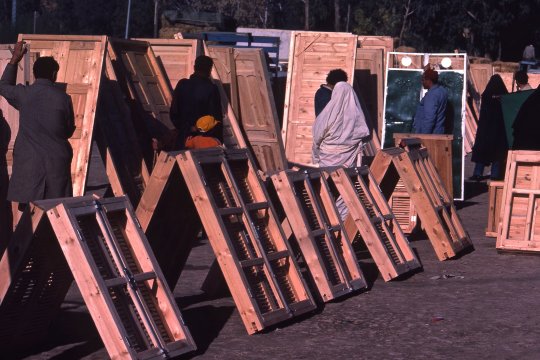 .474. And the challenges inherent in do-it-yourself housing projects are reduced by the availability of well-hung doors and privacy screens to cover windows. (Kairouan)
..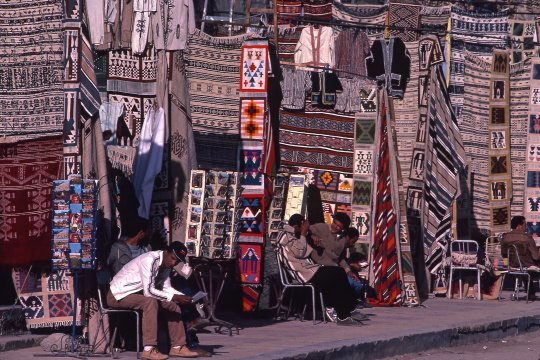 .475. Carpets are essential for families that live in tents, and they also make life easier for people in town with dirt or tiled floors. (Tozeur)
.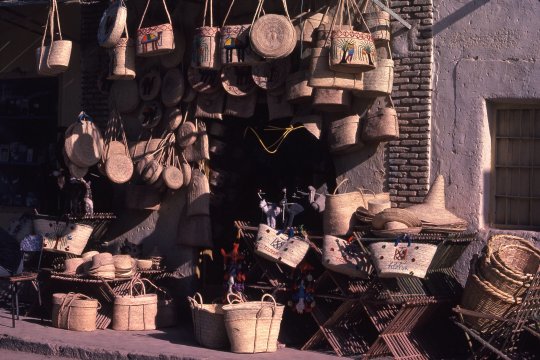 .476. Baskets have a range of practical domestic uses, but when decorated become wants rather than needs ... and also catch the eye of tourists. (Tozeur)
.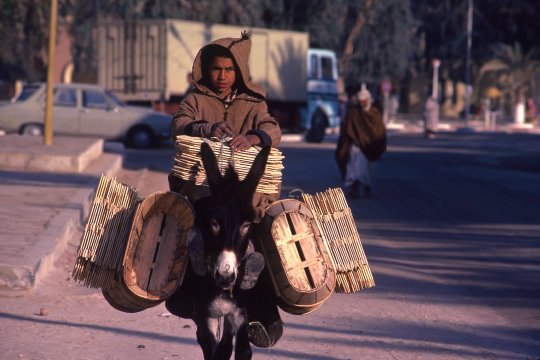 .477. Basic, and cheap, containers for carrying and/or packaging produce are also available: and so are pots. (Touggourt)
.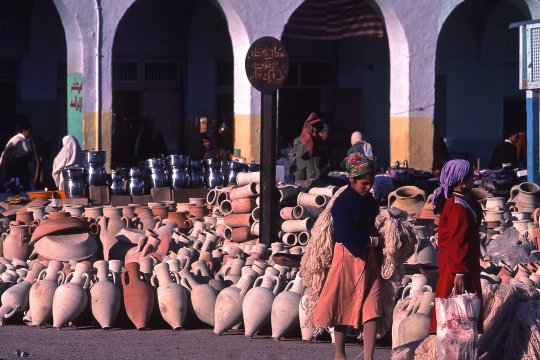 .478. Pots are typically made in Berber towns using a heavy stone wheel, which the potter turns with his foot. They will be dried in direct sunlight for at least two days and then fired in a simple kiln. These ones are used to store water. (Kairouan)
.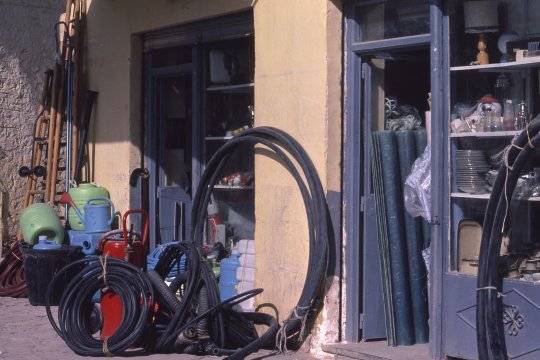 .479. Plastic containers are available for those who have to carry water, and piping for those fortunate enough to have access to a source of water under pressure. (Ghardaia)
..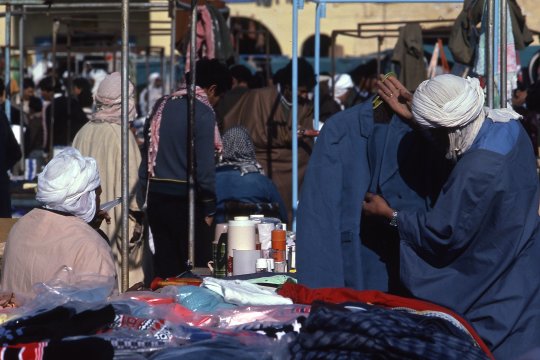 .480. Though most of the produce on sale comes from the surrounding area, most of the clothing and household goods are imported today ... from China especially. (El Oued)
.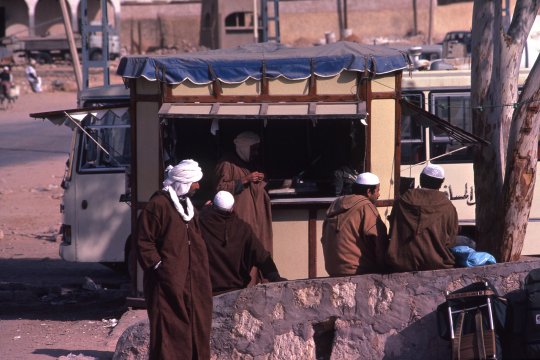 .481. In large towns refreshment stalls like this are common, but mobile stalls the size of wheelbarrows are also used to hawk wares around town. (Ghardaia)
..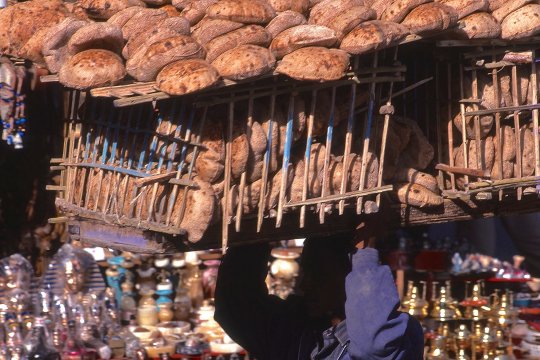 .482. Others use their heads to peddle their wares, or supply smaller outlets ... in this case with bread. (Alexandria)
.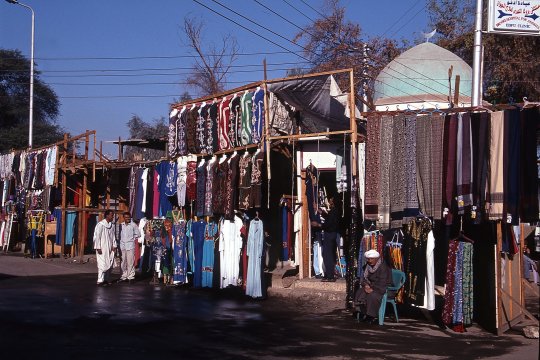 .483. Meanwhile, the growth or tourism is reflected at historic sites in lines of stalls of exotic clothing, staffed by men but aimed at women from overseas. (Edfu)
.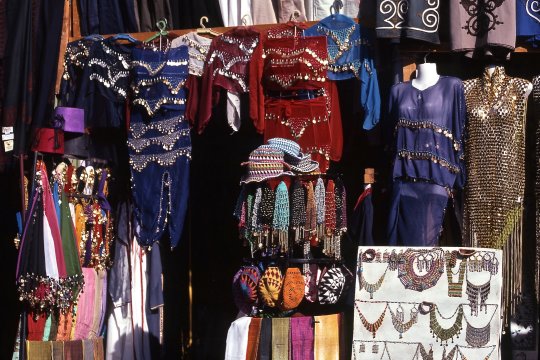 .484. Some of them specialize in decorative clothing for belly dancing. (Edfu)

.


Text and photos by John Tyman unless otherwise indicated.
Intended for Educational Use Only.
Contact Dr. John Tyman at johntyman2@gmail.com
for more information regarding licensing.



www.hillmanweb.com
Photo processing, Web page layout, formatting and hosting by
William Hillman ~ Brandon, Manitoba ~ Canada