John Tyman's
Cultures in Context Series
EGYPT and the SAHARA
www.johntyman.com/sahara

6 : URBAN LIFE
6.3 Land Transport and Changing Urban Functions : 485-508
.
www.johntyman.com/sahara/33.html
Click for full-size images...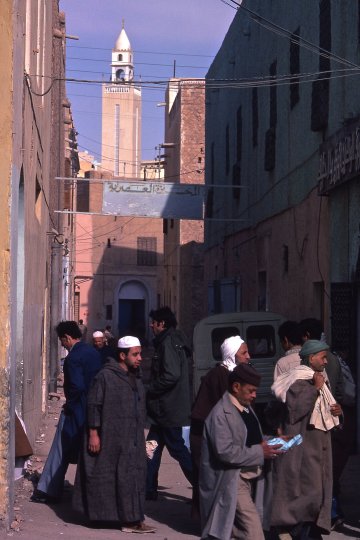 .485. Towns like Ghardaia have been transit centres from time immemorial. Since the desert is a major barrier to transportation, separating Sub-Saharan Africa from the Mediterranean and Europe, oases situated on north-to-south caravan routes prospered accordingly. (Ghardaia)
..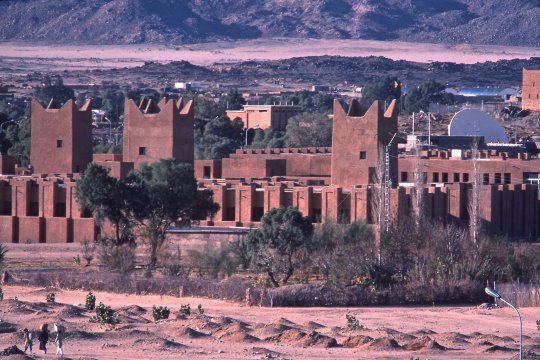 .486. In addition, of course, since the Sahara has never been able to subsist on its own resources and has depended on imports of wheat and barley from the north of the desert and millet from the south, many communities have functioned as distribution centres. (Tamanrasset)
.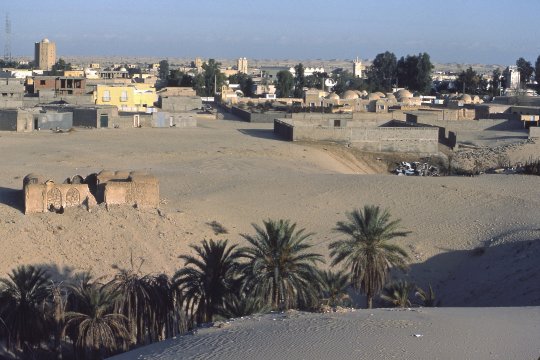 .487. Until recently even the largest towns of the Sahara were quite small, typically having between 10 and 20 thousand inhabitants: but the development of the desert's oil and gas reserves led to an explosion in population. El Oued had 7,000 in 1906, 17,000 in 1960, and 135,000 in 2008. Ghardaia had 8,000 in 1906, 20,000 in 1960, and 93,000 in 2008. And so on. (El Oued in 1982)
..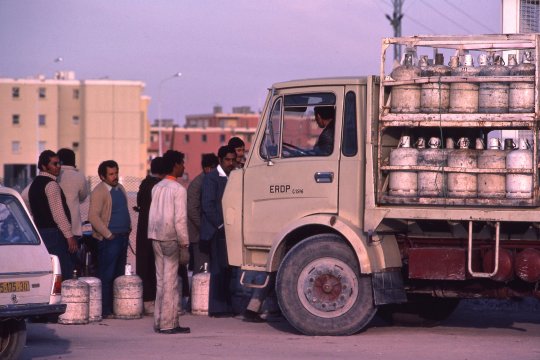 .488. Towns like Ouargla (with 200,000 inhabitants) expanded to accommodate the engineers, technicians, drilling crews, and office staff employed in the search for and development of the region's oil reserves. (Ouargla)
.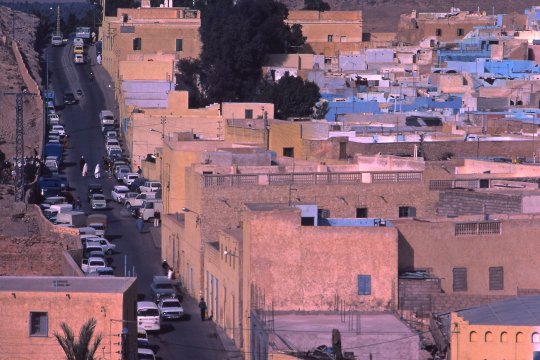 .489. Several pre-existing settlements also boomed as transport centres following the dramatic increase in freight and passenger traffic. And their growth was augmented by nomads settling close by, in search of work as labourers, bricklayers and carpenters etc. (Ghardaia)
.
.490. Originally everything moved by camel train, following traditional routes. This dry river channel across the Tassili-n-Ajjer was used by caravans traveling between Tripoli and Niger.
.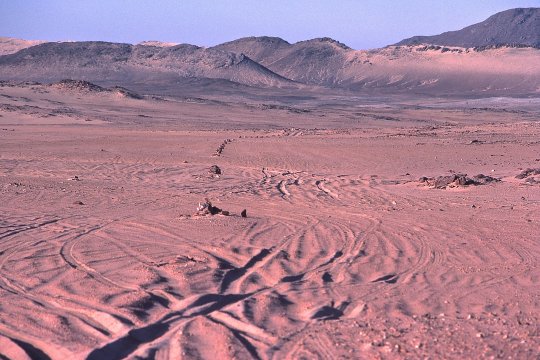 .491. In seemingly featureless areas routes were often marked by piles of stones, so that travelers would not lose their way. (Approach to the Hoggar)
..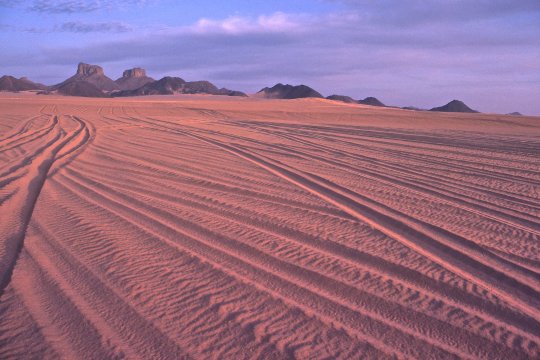 .492. During the Second World War some of these tracks (pistes) were converted into routes negotiable by motor vehicles. (Crossing the Erg d'Admer near Djanet)
..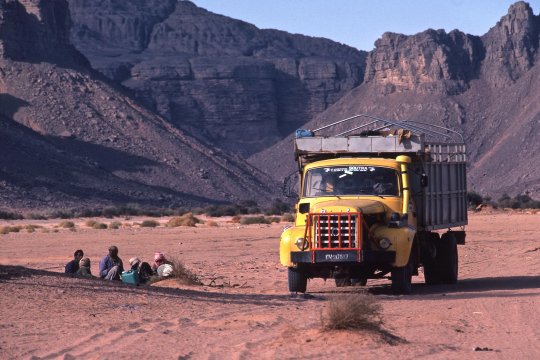 .493. However, as camel caravans were progressively replaced by trucks, such tracks became badly worn and impassable at times. (Firmer ground near Arak)
.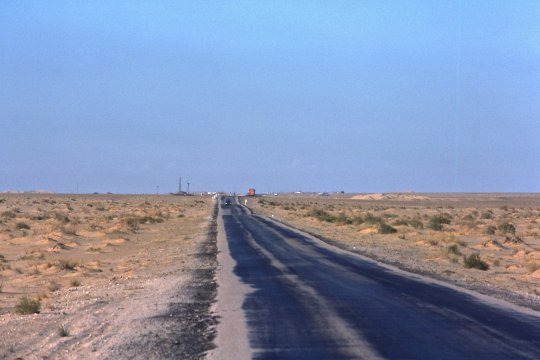 .494. Later, with the need to move heavy drilling equipment around, several of the old pistes were tarred in the 1950s and made into proper roads. (Near In Amenas)
..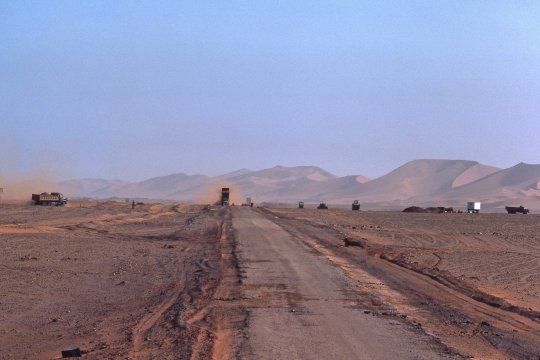 .495. Unfortunately, having been laid rather hurriedly over sand, the road surface breaks up readily and is in constant need of repair. (Near In Amenas)
.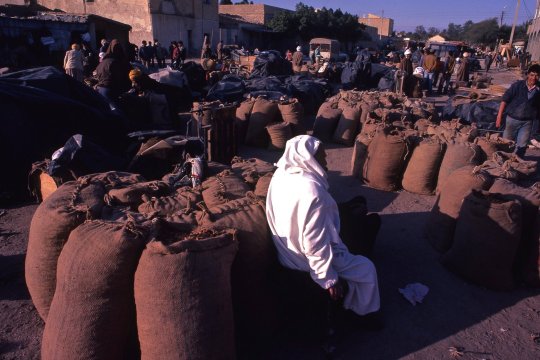 .496. Tourism has also contributed to urban development. In addition to its functions as a regional capital, Biskra, with over 300,000 inhabitants, is the chief tourist centre for the Sahara, as it is blessed with beautiful scenery. It lies in the foothills of the Aures Range where the mountains merge with the vast desert to the south. But it is also of historical interest, as it was occupied by the Romans and was the only oasis with a Christian population at the time of the Arab invasion. (Biskra)
.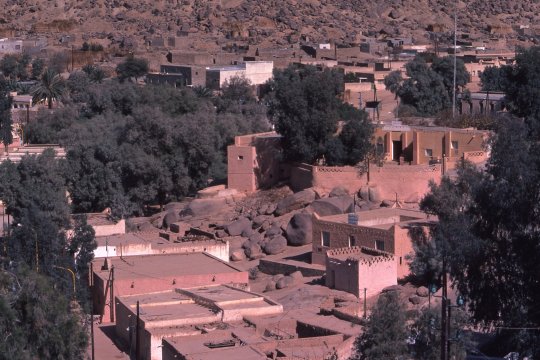 .497. Djanet is considered by some to be the most beautiful oasis in the Sahara, but it now has an airport thanks to the tourist industry, as it is the starting point for visits to the famous rock paintings of the Tassili n'Ajjer. "Djanet" is an Arabic word meaning "the garden of gardens" (that is "Paradise"). Its inhabitants are mostly the dark-skinned descendants (haratin) of former slaves, plus a few settled Tuareg. (Djanet)
.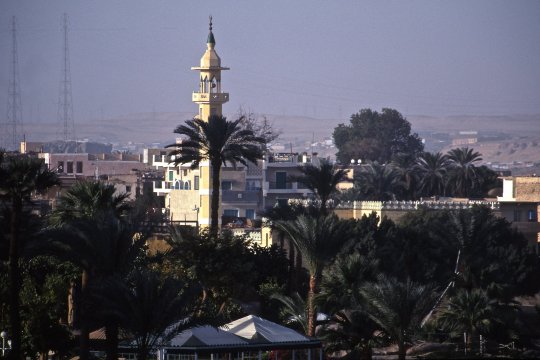 .498. Aswan, Egypt's southernmost city, was a garrison and frontier town for hundreds of years. It was that country's gateway to Nubia and Ethiopia. But with the world-wide attention given to the preservation of the temples at Abu Simbel it became a tourist centre also. And its economy was further diversified by the influx of displaced Nubians, and the availability of hydro-electric power for use in local industry. (Aswan)
..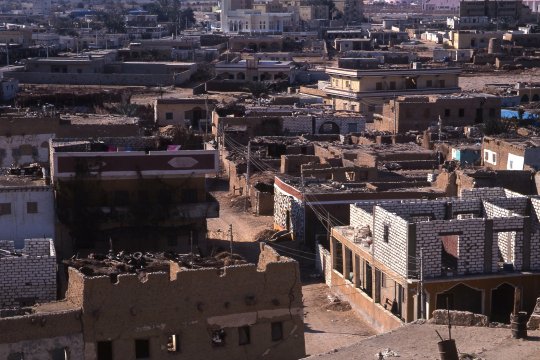 .499. Long a place of pilgrimage, Siwa, too, is now a tourist centre ... and the gateway to the Libyan Desert. Since there are no camels in that oasis, trips to the Great Libyan Sand Sea are offered by 4WD vehicles. (Siwa)
..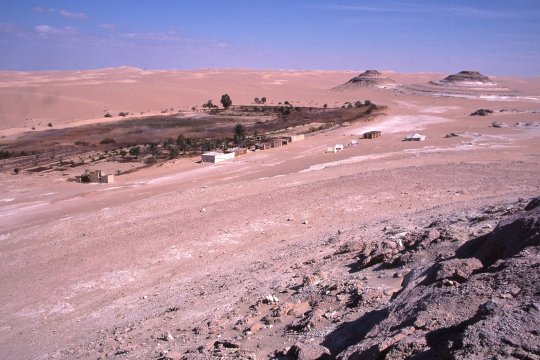 .500. Their death-defying drivers race across the dunes on their way to this hot spring at Bir Wahed.
.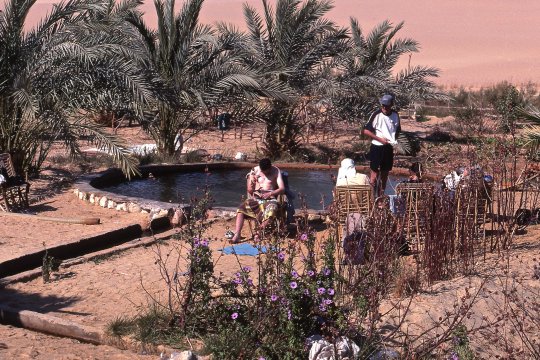 .501. Here visitors take it in turns to bathe in sulfurous water, which bubbles upwards from deep underground.
..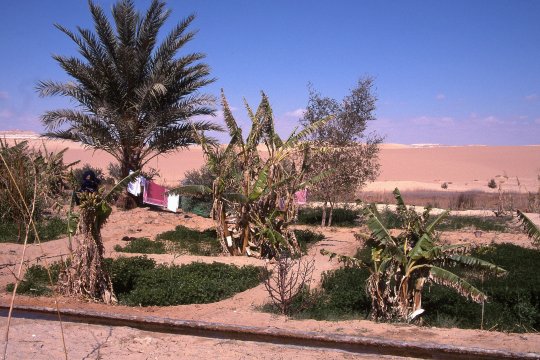 .502. The run-off from the pool is used to irrigate a small garden, and serve tea to visitors, who will later return to their hotels in town.
.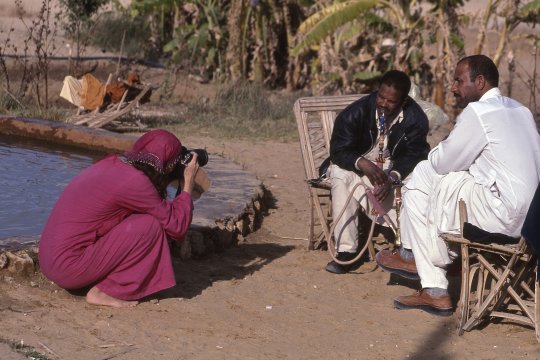 .503. Not all the visitors are "backpackers" from Europe and America, booked on exotic tours. The increased prosperity of Saharan nations is reflected in regional tourism also. (Bir Wahed)
.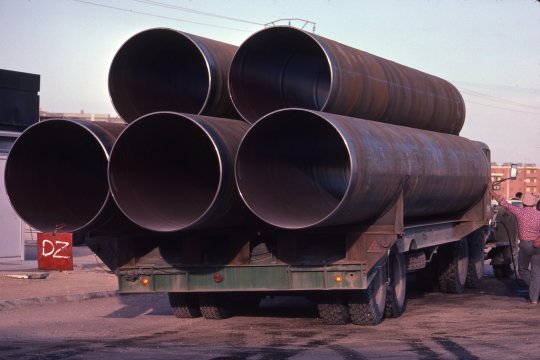 .504. The oil industry has obviously transformed the economies of several desert states. The search for oil and the building of pipelines have created many new jobs and remodeled many towns. (Ouargla)
.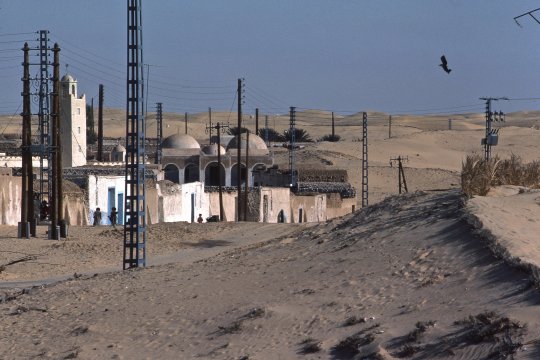 .505. But oil revenues have also financed the provision of electricity to remote settlements, and changed people's lives accordingly. (Village near Touggourt)
..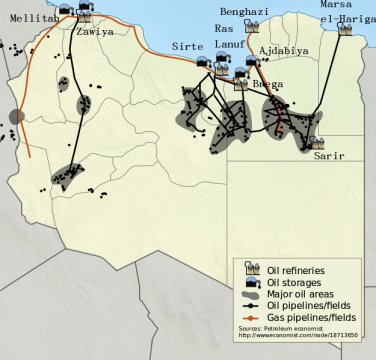 .506. In addition the production of oil has led to the development of a range of petrochemical industries, both within and on the margins of the desert ... in Libya as well as Algeria. (Map of Libyan oil fields courtesy Danmichaelo at Wikipedia)
..
\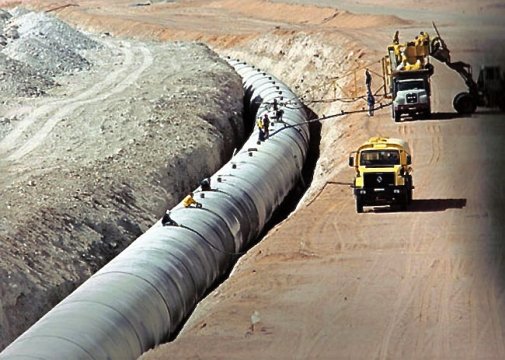 .507. Revenues from oil have also underwritten a number of irrigation projects which would otherwise have been considered impractical. With drilling equipment on hand it was possible to tap into artesian reservoirs, and the income from oil exports financed the building of immense pipelines. (Glocker.com)
.
.508. These were designed to move vast quantities of water to irrigate more land and meet the needs of expanding urban areas where enormous quantities of water were needed for drinking and sanitation, and to maintain parks and gardens. The planned network was celebrated on the Libyan 20 dinar bank note, but such projects are problematic since they draw tremendous volumes from subsurface reservoirs that are not being replenished. (Courtesy Victor Korniyenko at Wikipedia)

..


Text and photos by John Tyman unless otherwise indicated.
Intended for Educational Use Only.
Contact Dr. John Tyman at johntyman2@gmail.com
for more information regarding licensing.



www.hillmanweb.com
Photo processing, Web page layout, formatting and hosting by
William Hillman ~ Brandon, Manitoba ~ Canada