John Tyman's
Cultures in Context Series
EGYPT and the SAHARA
www.johntyman.com/sahara

6 : URBAN LIFE
6.1 Homes and Streets : 442-456
.
www.johntyman.com/sahara/31.html
Click for full-size images...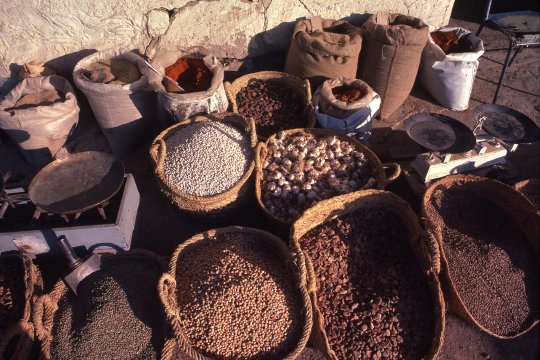 .442. The people who live in oases and those who move their animals across the desert are economically interdependent. The nomads need the dates and grains produced in the oases, and the farmers there cannot survive without the produce of animal husbandry -- and in earlier days the salt carried in caravans from areas to the south. (Market in Biskra)
.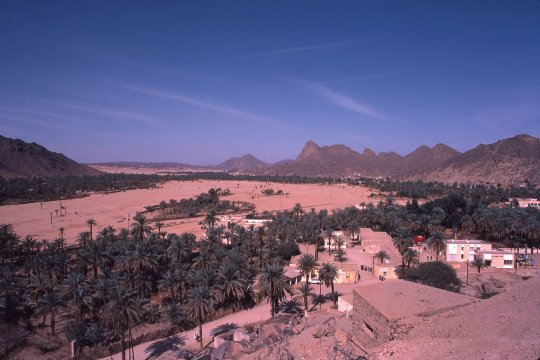 .443. The two groups came together in the towns which developed in the larger oases and on the northern edge of the desert. However, because life depends on the availability of water, sources of which were few and far apart (and often of limited capacity), permanent settlements, too, are widely spaced ... and were small in size originally. (Djanet)
..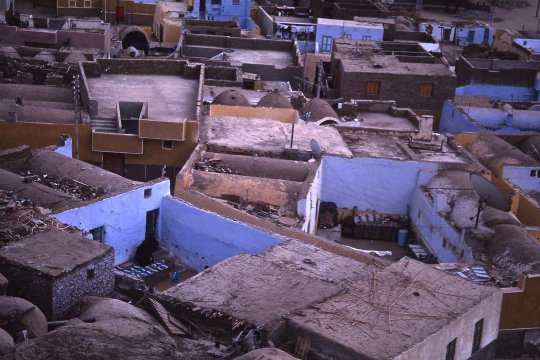 .444. Streets are usually narrow (often less than two metres in width). They are wide enough to allow two riding animals to pass but narrow enough to block much of the sun's radiation and also allow rooms to be built over the street sometimes, to provide a shaded passageway below. (Nubian village near Aswan)
.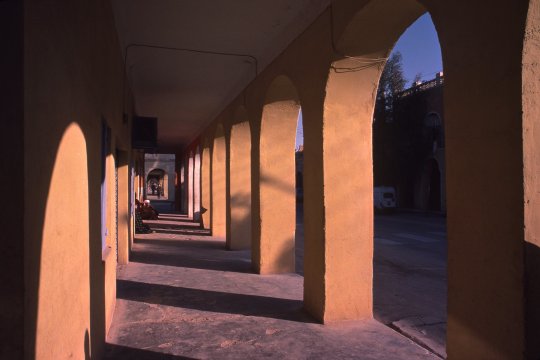 .445. In communities where women are not allowed to use the streets but are confined to their roof-top terraces, having the alleys below them covered over, allows women to move around in a world of their own, with inter-connecting pathways, small squares, and markets with stalls operated by the wives of the male shopkeepers active at ground level. (Covered walkway at Touggourt)
.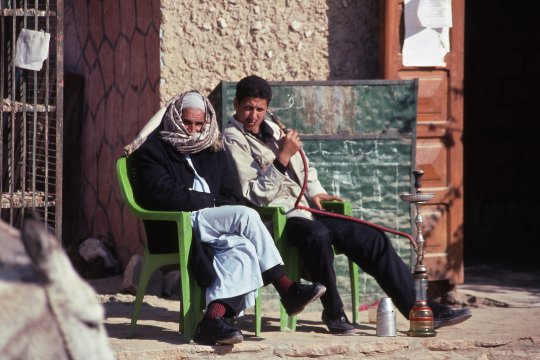 .446. The maze of narrow streets and alleys at ground level is broken by small squares where the men meet in their leisure hours. Here there will be special places for prayer, feeding troughs for donkeys and camels, and often a public convenience of some sort. (Men with hookah in Siwa)
.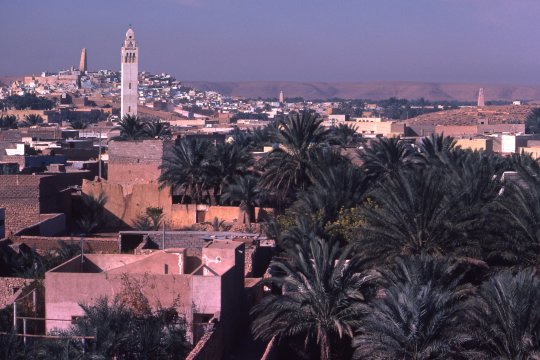 .447. Urban settlements are often divided into ethnically distinct districts, since the basic elements in the population -- traditionally Arabs, Berbers, Negroes and Jews -- preferred to live in separate quarters. In Ghardaia their districts were clearly defined, but with the exodus of the Jews in 1962 the Jewish ghetto was given to refugees who had been displaced during Algeria's struggle for independence (1954-62). (Ghardaia)
..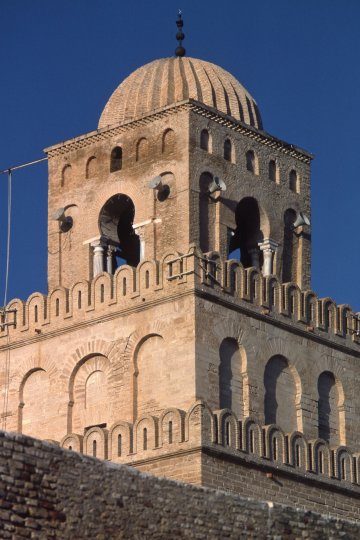 .448. Every town will have at least one mosque, where some men will meet for prayer fives times a day, and all of them on Friday. The call to prayer was once chanted from the minaret by a muezzin. Now they use a tape-recording and a speaker system. (Ancient mosque with loudspeakers in Kairouan)
.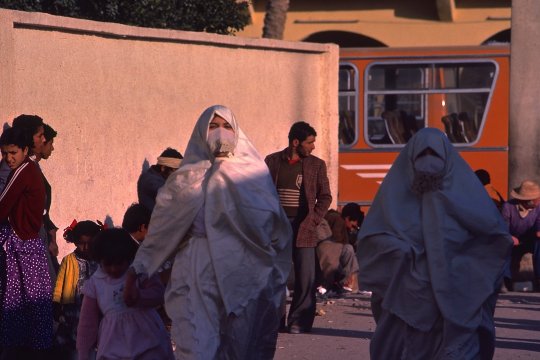 .449. Among devout Muslims those women who are able to leave home wear a veil of some sort, but others are less strict. However, this photo was taken in 1983, and since then the adoption of a more fundamentalist approach to religion has resulted in most Arab women being veiled, and even some Berbers. (At Bus station in Biskra)
..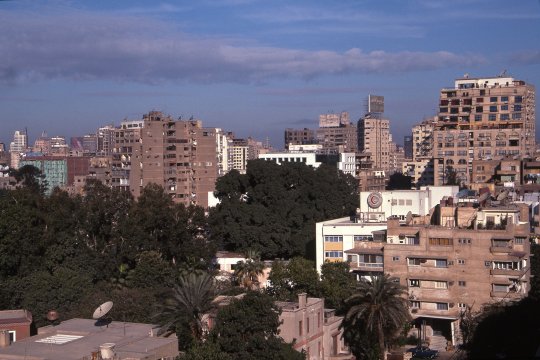 .450. In Egyptian cities, industrial development, trade and commercial agriculture funded the growth of a middle class, whose houses were up-market versions of those in oases. Windows facing the street were masked by wooden screens, which provided both shade and privacy. Gardens at the centre of the house cooled and gave light to the surrounding rooms. (Mix of housing types in Cairo)
.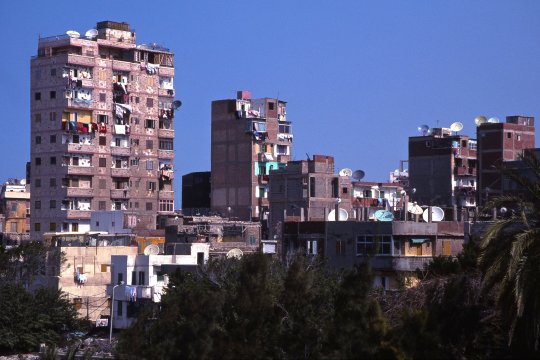 .451. In such middle class homes the innermost room was typically reserved for the women and included a bath: while visitors were received in a large room with a marble fountain. A series of porches ringed the upper terrace floor, equipped with screens through which the women could watch what was happening below without being seen. Near the centres of cities, however, most such homes have been replaced by apartment blocks. (Alexandria)
.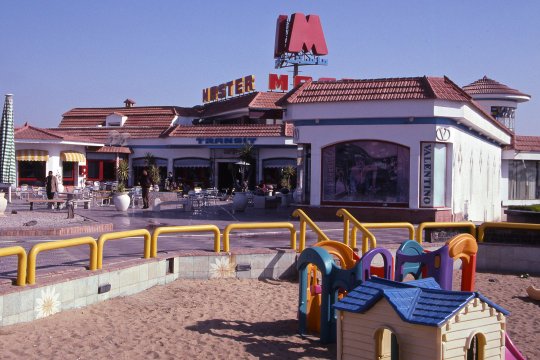 .452. Similar contrasts are visible in recreational facilities. In the biggest cities playgrounds have been provided in association with new commercial developments. (On the outskirts of Alexandria)
.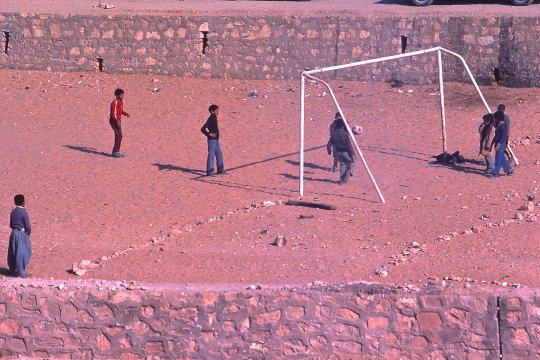 .453. Elsewhere recreational activities are frequently improvised. All of the nations involved are "soccer mad" but most kids start out playing on vacant lots ... where the goal line is likely to be marked with stones instead of lime. (Ghardaia)
.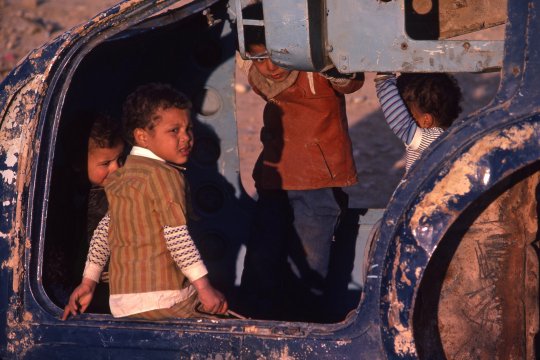 .454. Younger children also improvise, making the most of whatever "toys" are available. There are no "after school care centres". (Car body dumped in the riverbed at Biskra)
.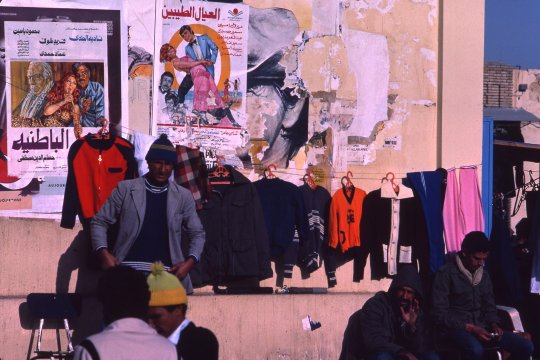 .455. Adults (mostly men) may go to a cinema, where they are increasingly likely to see films which promote Islamic values rather than those of Hollywood. (Tozeur)
..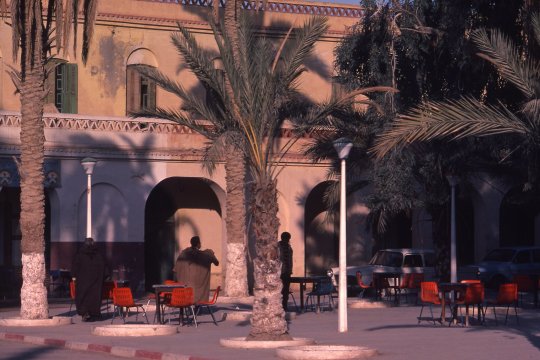 .456. Others with time on their hands may stop off during the day at one of the many cafes that ring the squares, but not during Ramadan. (Touggourt)

.


Text and photos by John Tyman unless otherwise indicated.
Intended for Educational Use Only.
Contact Dr. John Tyman at johntyman2@gmail.com
for more information regarding licensing.



www.hillmanweb.com
Photo processing, Web page layout, formatting and hosting by
William Hillman ~ Brandon, Manitoba ~ Canada