www.johntyman.com/peru/20.html
John Tyman's
CULTURES IN CONTEXT
PERU
Peru : The Incas and Prehistoric Cultures
V: POSTSCRIPT

Click for larger images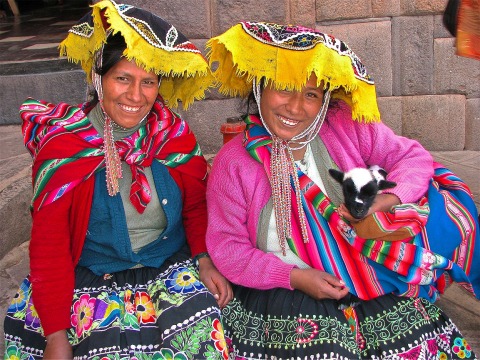 221. With the collapse of the tiny Inca kingdom centred on Vilcabamba in 1572, Inca culture, in the minds of many, ceased to exist. However, today it has a significant influence on both the economy and the daily life of people in Peru. For one thing, Inca architectural remains are the basis of a tourism industry that supplies 10% of the country's GDP and supports 1,366,500 jobs. Peru actually has the largest tourism sector in all of South America. (Indian women posing for tourists in Cuzco.)
.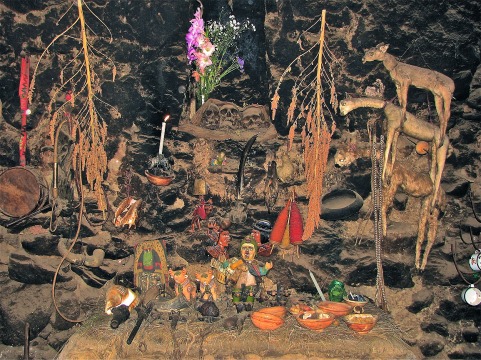 222. The agricultural terraces built by the Incas are still in use today, as are many of the irrigation canals and the network of smaller ditches that supply towns as well as farmers' fields. And it is even possible to identify elements of ancient Indian beliefs in the practices of a dominantly Catholic nation. The area set aside for prayers in this home in Ollantaytambo is garnished with llama foetuses and the sculls of ancestors.
.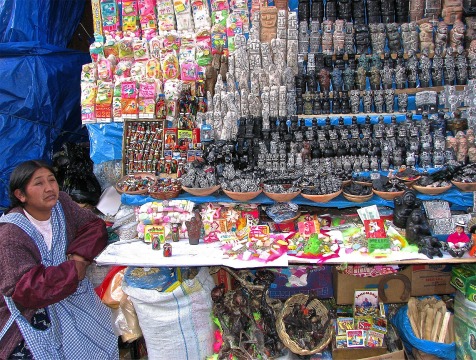 223. In local markets there are shops which supply shamans with the tools of their trade … dried foetuses, carved images, and medical potions. (In the "Witch's Market" in La Paz.)
.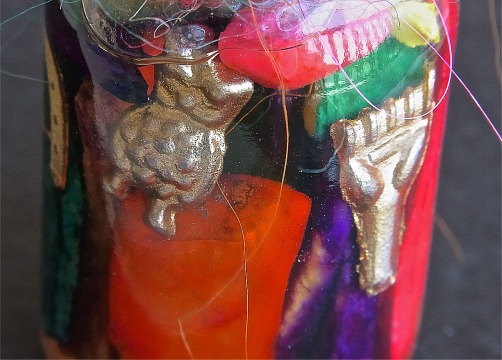 224. Good luck charms like these are derived from Inca culture. They usually contain a host of tiny images ... which represent all the things a person living in an adobe dwelling might want from life. Frogs were an appeal for personal power, cars for safe travel, a horse-shoe for good luck, an owl for wisdom, and a fist for determination to succeed etc.
.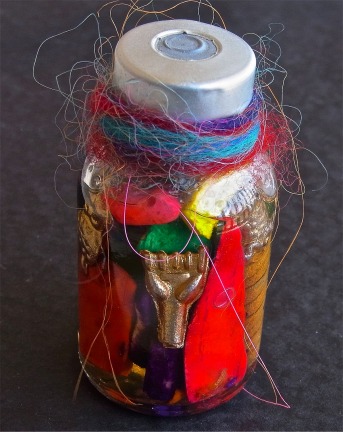 225. Jars like this are to be positioned in houses in such a way that they are the last thing you look at when you leave home and the first thing you see on your return. If you looked at them regularly your heart's desire could be fulfilled; in the same way people in other countries buy lottery tickets or bet on horses!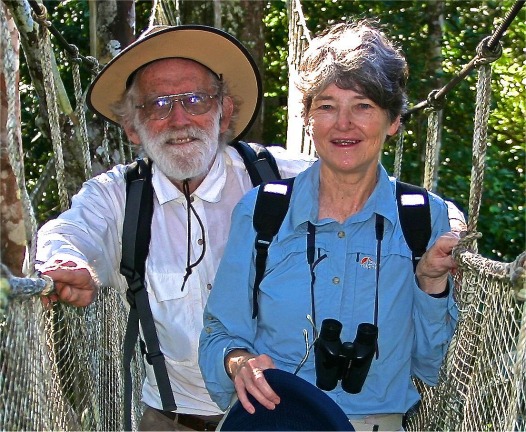 Text and photos by John Tyman
Intended for Educational Use Only.
Contact Dr. John Tyman at johntyman2@gmail.com
for information regarding public or commercial use.



www.hillmanweb.com
Photo processing, Web page layout, formatting and hosting by
William Hillman ~ Brandon, Manitoba ~ Canada