www.johntyman.com/peru/07.html
John Tyman's
CULTURES IN CONTEXT
PERU
The Incas and Prehistoric Cultures
III: CHACHAPOYA CULTURE
3.4: The Fortress at Kuelap

Click for larger images
3.4: The Fortress at Kuelap


.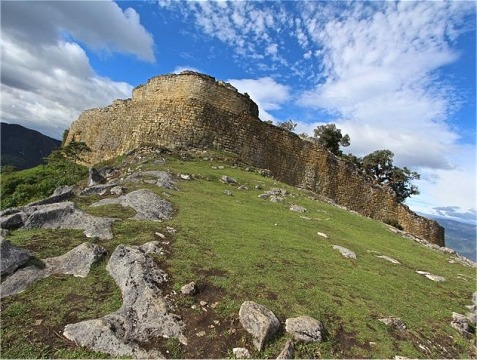 057. The best known Chachapoyan site is undoubtedly Kuelap, a fortified city three times older than Machu Picchu and the largest stone-city in Pre-Columbian America.
.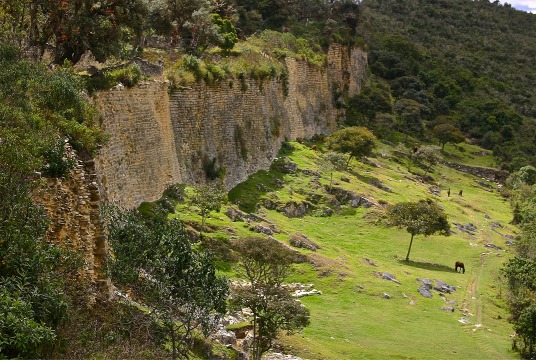 058. The culture of these "Warriors of the Clouds", seemingly dates from around 500BC, but the fortress at Kuelap was built in the 6th century AD.
..

059. It was built on a limestone ridge on top of a mountain overlooking the Utcubamba Valley, 3,000 metres above sea level. With 360-degree views and high walls it was safe from attack … or seemed to be till the Incas overran it.
.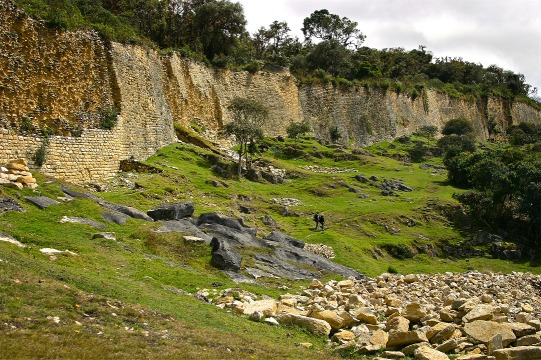 060. The walls here enclose an area 600 metres long and 100 metres wide, or 6 hectares approximately, within an elongated ellipse.
.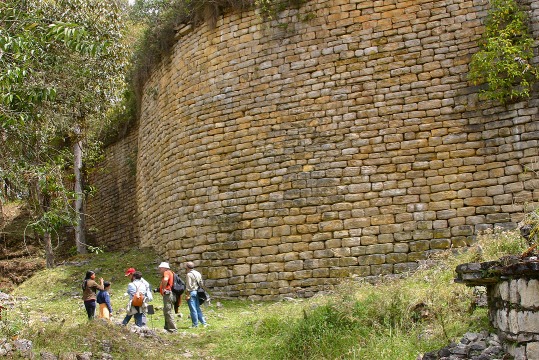 061. Its walls range between 10 and 20 metres in height, tall enough to discourage most would-be intruders.
.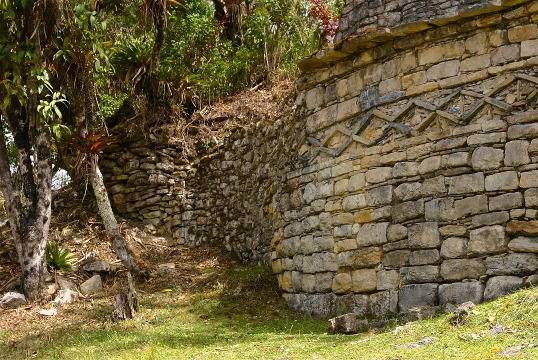 062. It was made of limestone blocks, some 3 tons in weight, and some with elaborate reliefs carved into their surface or superimposed.
.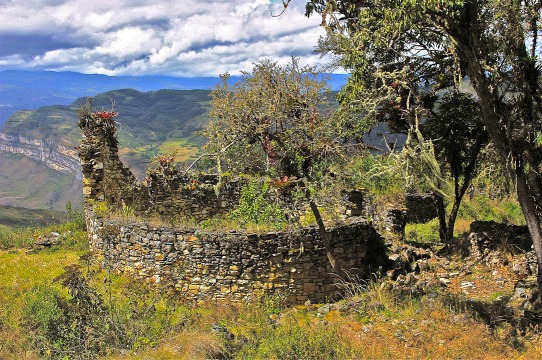 063. They also built what look like stone canals, which are believed to have supplied water to the settlement, from a spring at the top of the ridge. (The summit today, with clearance underway)
.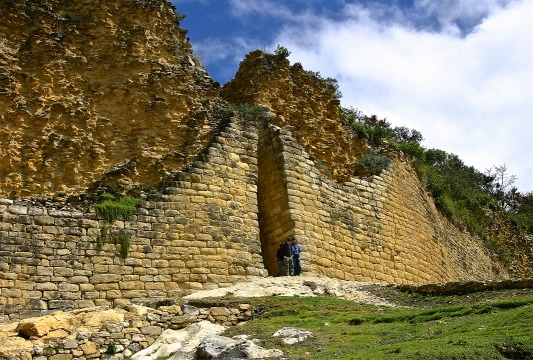 064. The city has 3 entrances, 2 to the East and the other one to the West. They were all narrow and easily defended.
.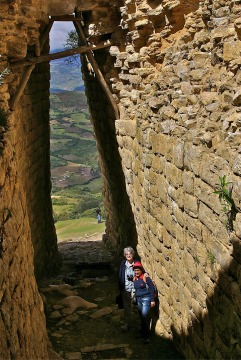 065. The entrances were steep enough to slow down would-be attackers
and narrow enough to allow just one or two persons to climb up together, while the defenders hurled rocks at them from above.
.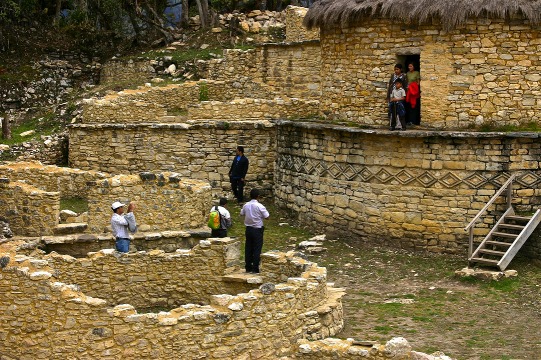 066. There are over 550 structures in the site, all of them circular except for 5, which date from the city's occupation by the Incas.
.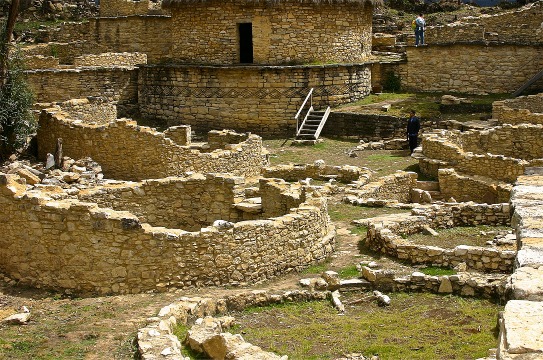 067. Till quite recently, all that remained of most buildings were their foundations or walls, some of them up to 2 meters high and 50 cm thick. Some walls have friezes of rhomboid and zigzag shapes, which were protected from the rain by cornices.
.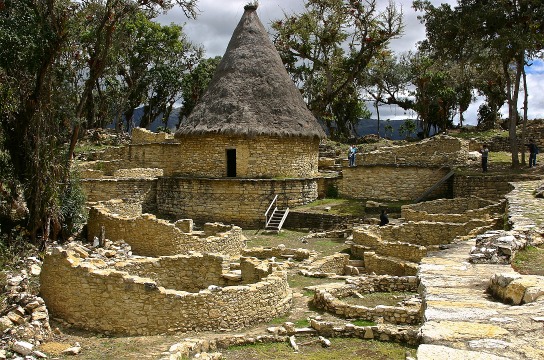 068. Several buildings have been restored and are, together with the walls of the fortress, a major tourist attraction today.
.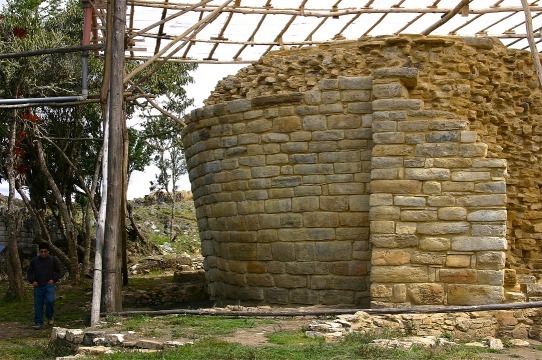 069. In the southwestern part of the city there is a structure 5.5 metre high known as El Tintero (Spanish for inkwell) which has the shape of an inverted cone. Archaeological remains suggest that it may have been used as a solar observatory.
.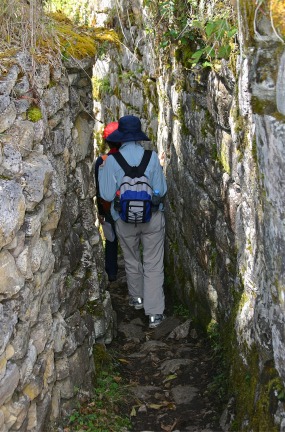 070. In the north-western part of the settlement there is a sector known as Pueblo Alto (Spanish for high town). It has walls 11.5 meters high and is accessed by two narrow entrances. (View from summit)
.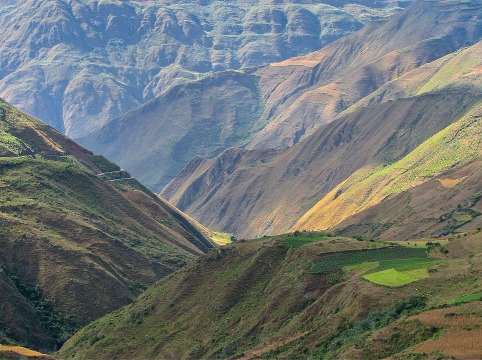 071. In its heyday the city at Kuelap may have had 300,000 inhabitants, supported by the surrounding farmlands, but it was abandoned in 1570 following the Spanish Conquest. (View from summit)
.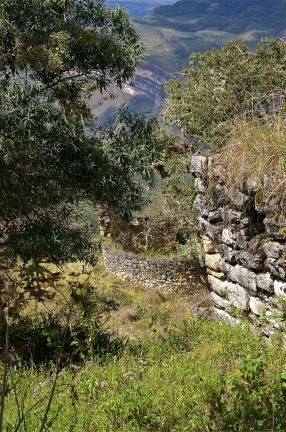 072. The site was left to deteriorate and its buildings were soon covered by tree roots … most of which have now been removed.
.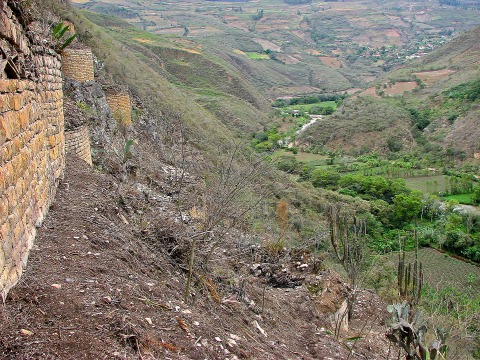 073. Within the Utcubamba valley, at a significantly lower altitude than Kuelap, the fortress had an outpost at Macro. It was nearly invisible, hidden in the mountains, but had a clear view of the city.
.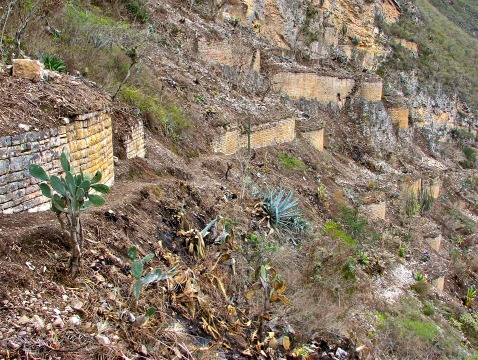 074. Chachapoyan warriors were stationed here and supposedly used signal fires to warn the inhabitants of the city if there was any danger of attack from that direction.
.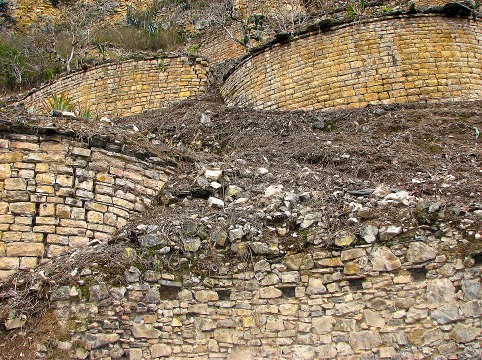 075. However, in fact the exact purpose of these towers is uncertain since, of course, there are no written records. In some archaeological reports they are referred to as "funeral towers', so perhaps they had more than one function.
..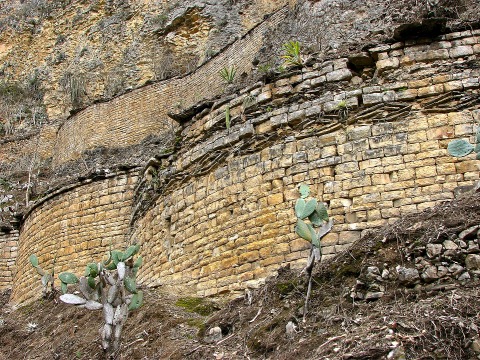 076. They certainly illustrate the rounded raised platforms referred to earlier as characteristic of Chachapoyan architecture. And many have decorative friezes like those in Kuelap.
.




Text and photos by John Tyman
Intended for Educational Use Only.
Contact Dr. John Tyman at johntyman2@gmail.com
for information regarding public or commercial use.



www.hillmanweb.com
Photo processing, Web page layout, formatting and hosting by
William Hillman ~ Brandon, Manitoba ~ Canada