John Tyman's
CULTURES IN CONTEXT
Bali: Ancient and Modern
3. Village Layouts
www.johntyman.com/bali/03.html

Click for full-page images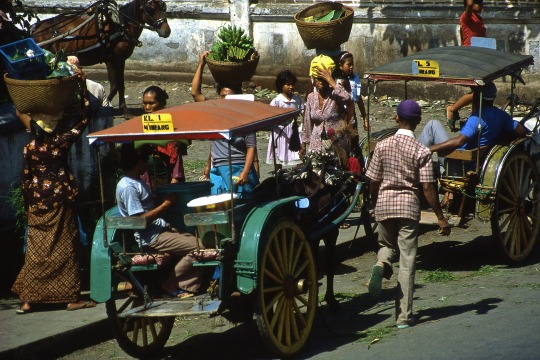 016. There have always been market towns like this in Bali; and, in addition, the income from tourism has financed the purchase of motor vehicles: but the island is free (at least it was then, in 1984) of the traffic jams common in large cities. Even today most people live in villages, simply because most people here have always been farmers.
017. Villages consist of lines of houses strung out on either side of a road. These roads typically run from north to south, between the mountains and the sea. In other words the village is suspended halfway between good and evil.
018. In the old days villages had walls around them for defensive purposes, and village plans included lots of trees. These provided fruit, firewood, and building materials, as well as shade.
019. The main temple in each village is always positioned on the side closest to Gunung Agung … their most sacred mountain. The cemetery, in contrast, and the Temple of the Dead, were located on the side closest o the sea. Every household in each banjar , or ward, is responsible for its share of village temple maintenance and road building.
020. Banyans like this shade many temple courtyards. They are considered sacred … since they are always sending out new shoots and therefore live for ever.
021. In every village there will also be at least one assembly hall, where men meet to plan their work … as you can tell from the noticeboard. Their musical instruments are kept here too, since every village has its own orchestra and they need to practice regularly.
022. In Bali a family does not live in a single building divided into rooms, as most people do in Australia, Europe and North America. Instead they occupy a number of smaller buildings grouped together inside a walled compound.
023. Village streets, therefore, typically have walls on either side of them ... usually made of mud brick, thatched to shed the rain. Gateways provide access to family compounds inside the wall.
024. Inside there will be buildings varying in size and function. There will also be shrines and a family temple … positioned in the corner closest to Gunung Agung. The gate, in contrast, will face the sea.
025. Because it is always hot, pavilions like these for eating or sleeping have open sides to improve air circulation.
026. Every home will also have granaries … where rice is stored close to the kitchen. They are raised above ground on posts to keep out rats and mice.


Text, photos and recordings by John Tyman
Intended for Educational Use Only.
Contact Dr. John Tyman at johntyman2@gmail.com
for information regarding public or commercial use.



www.hillmanweb.com
Photo processing, Web page layout, formatting and hosting by
William Hillman ~ Brandon, Manitoba ~ Canada