John Tyman's
CULTURES IN CONTEXT
Bali: Ancient and Modern
4. Host Family's House and Garden
www.johntyman.com/bali/04.html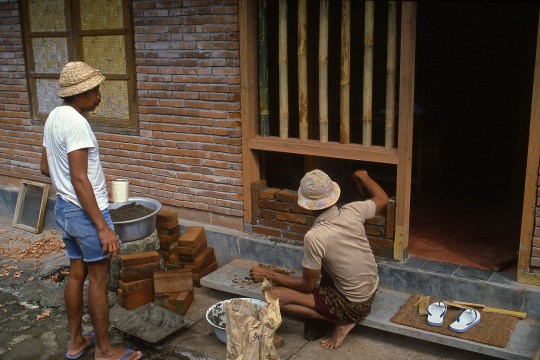 027. Wayan's father did not buy his home: he built it himself, with the help of friends. Most work is in fact shared in Bali.
028. Their buildings have brick walls, high ceilings, with wooden rafters, carefully fitted. The bamboo, which grows in the village, is tied together with fibres from sago palms.
029. Most buildings are thatched with grass, and woven cane shutters are used instead of glass windows. In a hot, sticky climate you need a house open to breezes.
030. Because Wayan's family have tourists staying with them, several of their buildings have been modified for the use of guests. The building on the left is the social pavilion, where people sit and talk in the shade.
031. Breakfast for their guests was prepared over a paraffin stove, though in poorer areas people still cooked with firewood.
032. The tourists also have bathrooms. Since there is no piped water here Wayan has to help keep the tank in the corner full. Their guests use a ladle to pour water over themselves when they wash.
033. Many local people still use the river ... or irrigation channels like this. Early in the morning, and again in the afternoon, people come here to bathe.
034. It is also where many people do their laundry.
035. The clothes they have washed are then laid out in the sun to dry … just as they are in many other countries.
036. Water for Wayan's family and their guests comes from a ditch outside the gate.
037. While the absence of piped water is a drawback, they do have electricity ... and a television.
038. At the entrance to Wayan's family compound the holes cut into the stone on either side are for offerings made daily to their gods. The step in front of the gate is meant to keep out evil spirits which, people here believe, stay close to the ground … which, of course, is thought of as "unclean".
039. The wall just inside the entrance also keeps out demons. These are believed to travel only in straight lines, so it would be hard for them to find any way round an obstacle like this.
040. The garden beyond the gate covers 2,000 square metres, which is not much bigger than a suburban yard in Australia. In this case, though, it contains 21 different kinds of fruits and spices, and many different types of vegetables …which are eaten by Wayan's family and their guests.
041. They also had a lily pond in which they raised fish and frogs, both of which can be eaten … as can the roots of the lilies.
042. The most beautiful part of the garden is the family temple, in the comer closest to the mountains. In Bali people don't just talk about religion, they live it. The largest shrine is traditionally dedicated to the family's oldest ancestor.


Text, photos and recordings by John Tyman
Intended for Educational Use Only.
Contact Dr. John Tyman at johntyman2@gmail.com
for information regarding public or commercial use.



www.hillmanweb.com
Photo processing, Web page layout, formatting and hosting by
William Hillman ~ Brandon, Manitoba ~ Canada