John Tyman's
CULTURES IN CONTEXT
Bali: Ancient and Modern
2. The Presenter's Host Family
www.johntyman.com/bali/02.html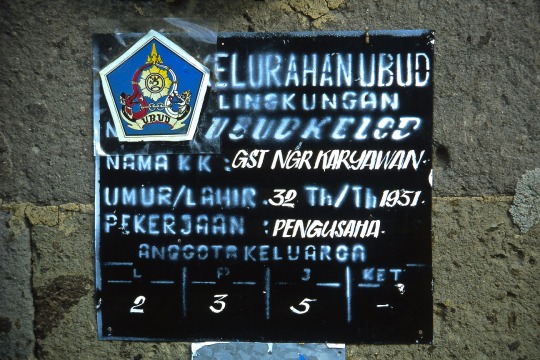 009. The sign at their front gate, placed there by the local authority, indicates that their family name is Karyawan, that their father was born in 1951, and that there are two males in the family and three females, or five people in total.
.


010. (In the Sudra caste at least) children are named in order, and there are only four names. The first born, whether male or female, is called Wayan ... in this case a girl who was 12 years old when I met her. In nineteenth century England it was common for the "Upper Class" to also name their children in order of their birth… such as Sextus, Septimus, and Octavia (from the Latin for 6th, 7th, and 8th).
011. The next child born is called Made, but since the second baby in this family was born dead, Wayan's sister is known as Nyoman … the name given to the third child in any family. She was 5 years old then.
012. Their brother is a year younger. Since he was born fourth his name is Ketut.
013. One of Wayan's close friends, though a boy, is also called Wayan, not because he was the first born of his family, but because he was fifth. When you've used up all four names you start again: the fifth child is Wayan, the sixth is Made and so on.
014. Their father is a rice farmer, like most men in Bali, and he produces most of the grain his family needs. However, like many families here today, they also benefit from tourism.
015. His wife cares both for her own family and for the tourists who stay with them. She is 30 years old, three years younger than her husband.


Text, photos and recordings by John Tyman
Intended for Educational Use Only.
Contact Dr. John Tyman at johntyman2@gmail.com
for information regarding public or commercial use.



www.hillmanweb.com
Photo processing, Web page layout, formatting and hosting by
William Hillman ~ Brandon, Manitoba ~ Canada