John Tyman's
Cultures in Context Series
EGYPT and the SAHARA
www.johntyman.com/sahara

4 : NOMADIC LIFESTYLES
4.6 Clothing : 283-298
.
www.johntyman.com/sahara/21.html
Click for full-size images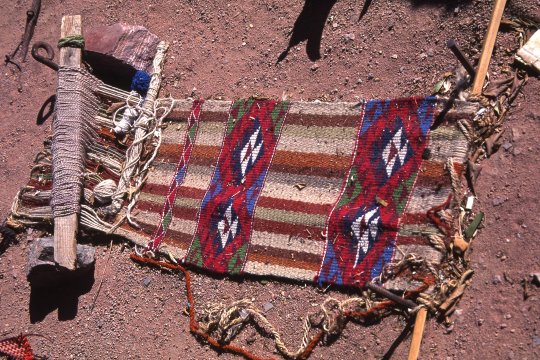 .283. In addition to weaving their tents, women also made their family's clothes, or used to. Looms were set up so that a woman could sit in the shade of her tent while the other end of the loom was outside. The clothes worn by nomads typically covered them from head to foot, as protection against solar radiation and windblown sand, and were loose with wide sleeves so the air could circulate freely underneath, allowing their perspiration to evaporate and cool their skin. (At Al-Milga, near Saint Catherineís Monastery in the Sinai)
.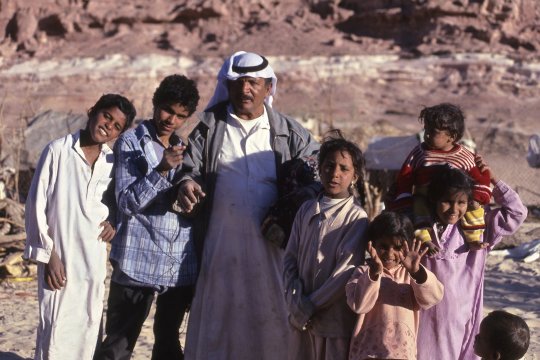 284. Most Arab men today wear a plain long-sleeved shirt reaching to their ankles (known as a dishdasha or thawb) -- white in summer but heavier and darker in colour in winter, when a heavier and darker outer robe (a mishlah) may be worn over the thawb. (Bedu father with his children at Ain Khudra: the boy in the blue shirt holds the authorís microphone)
.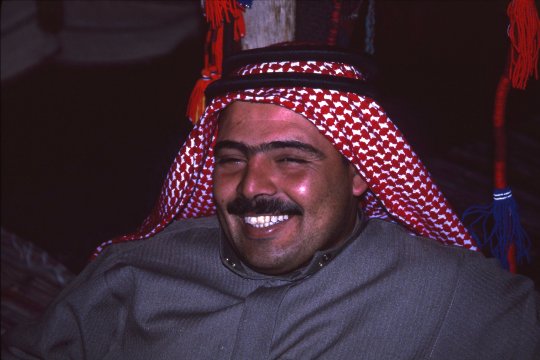 .285. Arab men typically cover their heads with a small cap and wear over that a square scarf, usually of cotton, referred to as a keffiyeh (or ghoutra). Typically checked, black-and-white or red-and-white, it is folded once to form a triangle, draped over the head, and held in place by an igal -- a ring of black rope-like cord, commonly made of goat or camel hair. (In Alexandria)
.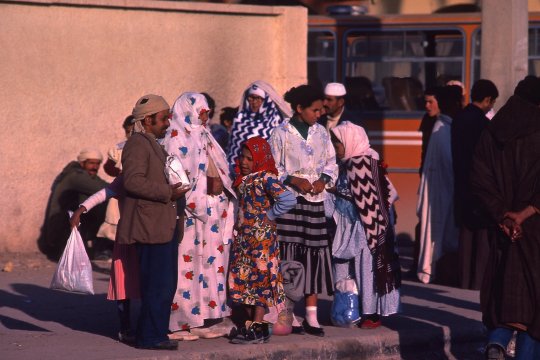 .286. Women also wear long cotton thawbs, now commonly made from cloth bought in the market. These are worn over baggy trousers and, again, are often covered by a heavier robe (sometimes of wool) in winter and on cold nights. (Bus queue in Biskra)
.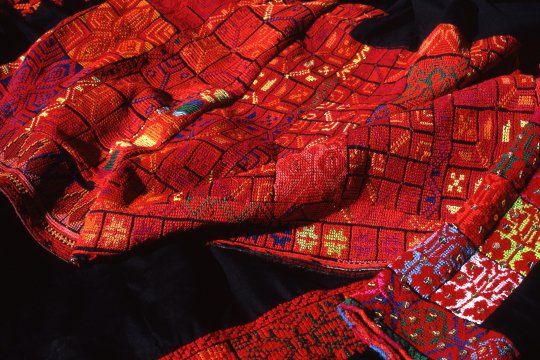 .287. And though black is the commonest colour worn by women, especially in winter, garments are frequently decorated with panels of brightly coloured woolen embroidery. (Embroidery on two dresses the author acquired in Siwa)
.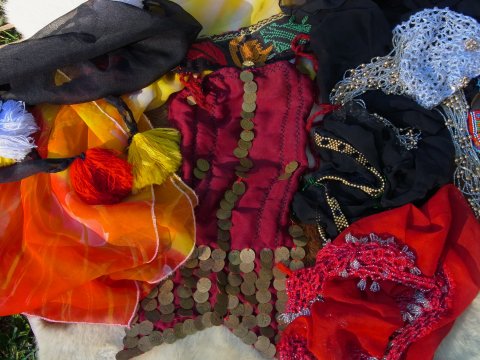 .288. Similarly, those women who wear the veil, and by no means all tribes do so, may decorate it using coloured wool, coins and beads. There are actually many acceptable forms of hijab (or covering). Those who choose to wear a veil see it not as a restriction but as an expression of their modesty. (Veils the author collected in Sinai)
.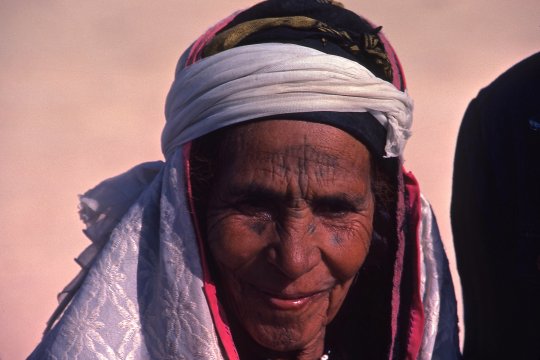 .289. At one level the wearing of veils (which is more common today) conflicts with Bedouin tradition ... in that facial tattooing was once common. Tattoos on men were considered effeminate, but they were believed to add to a womanís beauty. Today, though, it is rare to see a young woman with tattoos. (An older woman near Touggourt)
.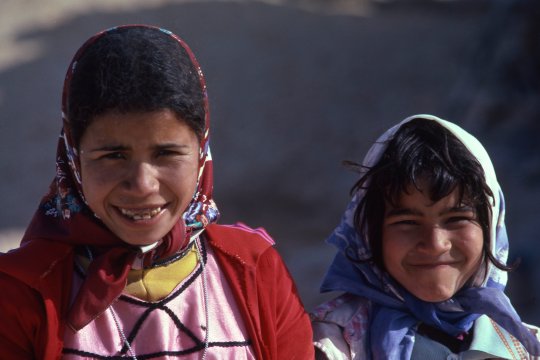 .290. In tribes that do not wear the veil, women and girls who have reached puberty will at least cover their hair, usually with a black scarf or shawl, trimmed with beads, coloured tassels or embroidery. (North of In Amenas)
..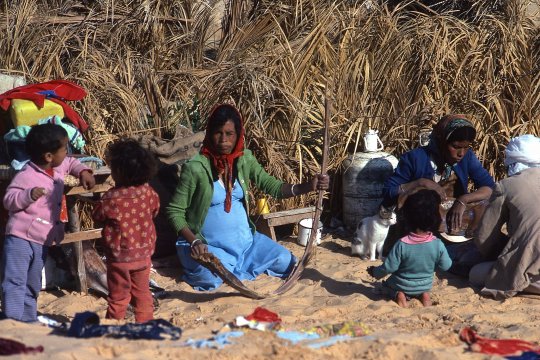 .291. The clothes worn by the children are often brightly coloured -- and warm too, as it was winter when the author visited them. (North of In Amenas)
.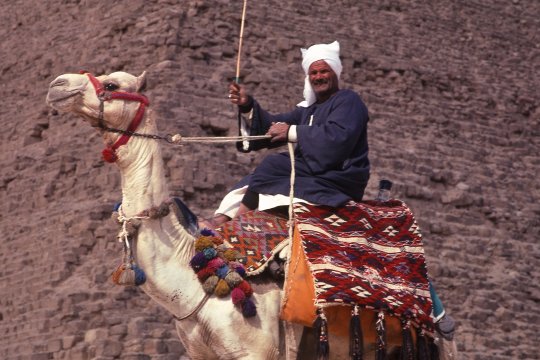 .292. The clothes worn by men are plainer than those worn by women due to Islamic beliefs requiring modesty and forbidding the use of bright colours. However, weapons and everyday items like cushions, camelsí halters, saddle blankets and such like may be lavishly decorated. (Bedu guard at Giza)
.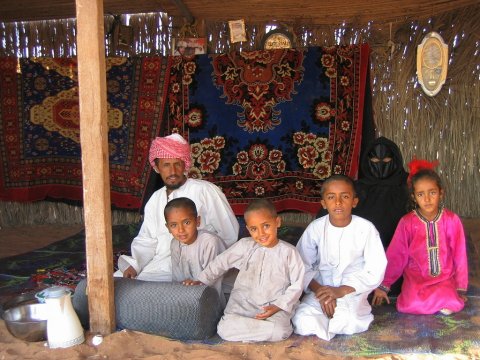 .293. Marriage among Bedouin is seen more as a social contract than as a love match. Girls are married when they are 16-20 years of age, most often to one of their cousins -- as a means of strengthening family ties. There is a bride price of sorts, some of which is retained by the bride herself in case things don't work out. Marriages can be dissolved easily and no stigma is attached. (Bedouin family in Oman courtesy: Wikipedia)
.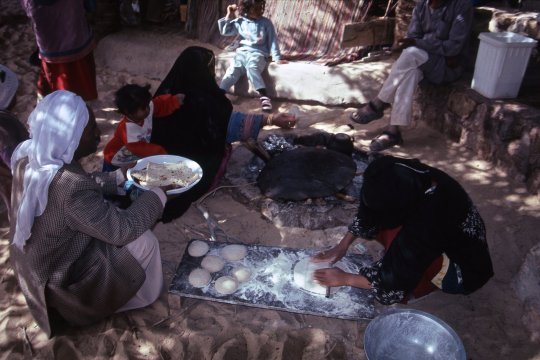 .294. But it is a manís world still. Women cannot divorce their husbands the way a man can put away his wife. However, they can return home to the protection of their own family -- and if the rift is not healed divorce will follow. The commonest reason for divorce is that the couple are childless, and barrenness is always assumed to be the womanís fault! (Women baking for men at Ain Khudra)
..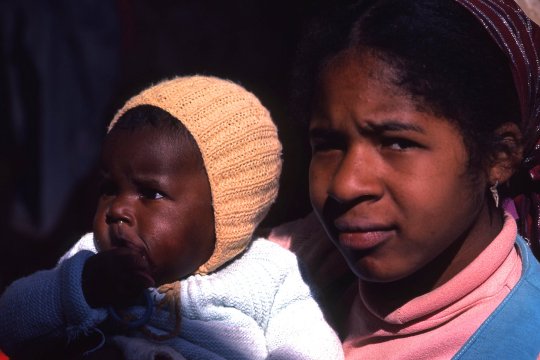 .295. Children are taught to be responsible from an early age. They look after their younger brothers and sisters and are also assigned a share of the daily tasks, in particular looking after the sheep and the goats. Boys of 10 are treated as men and expected to behave accordingly. There is little time for them to play games. (Girl caring for younger sibling at El Golea)
.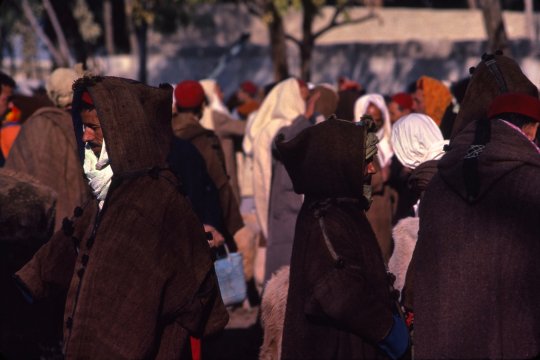 .296. Traditionally Berber men wore a burnous, a long cloak of coarse woolen fabric (a cross between a Roman toga and an European duffle coat) worn over ankle-length tunics or loose trousers (chalwa). Though the burnous has a hood, men also wear wrapped cloth turbans. (In Tozeur)
..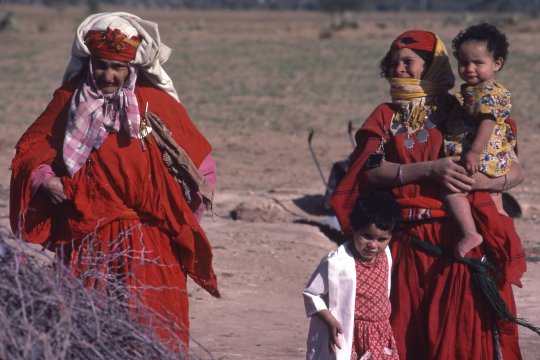 .297. Berber women cover their hair with scarves but rarely veil their faces. They spin wool, weave tribal blankets, make the burnous worn by their husbands, do the washing, grind grain, and cook. (Between Kairouan and Tozeur)
.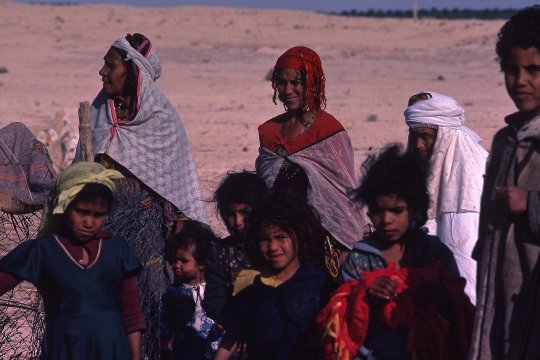 .298. At puberty a Berber boyís head is shaved and will usually remain shaven under a turban for the rest of his life. Girls are not veiled: they wear a tribal blanket that identifies them, but are free to decorate themselves as they desire -- using handmade embroideries, silk headbands, coins, bracelets and tattoos. (Family group near Touggourt)
.




SAHARA CONTENTS


Text and photos by John Tyman unless otherwise indicated.
Intended for Educational Use Only.
Contact Dr. John Tyman at johntyman2@gmail.com
for more information regarding licensing.



www.hillmanweb.com
Photo processing, Web page layout, formatting and hosting by
William Hillman ~ Brandon, Manitoba ~ Canada