John Tyman's
Cultures in Context Series
EGYPT and the SAHARA
www.johntyman.com/sahara

4 : NOMADIC LIFESTYLES
4.5 Shelter and Hospitality : 271-282
.
www.johntyman.com/sahara/20.html
Click for full-size images.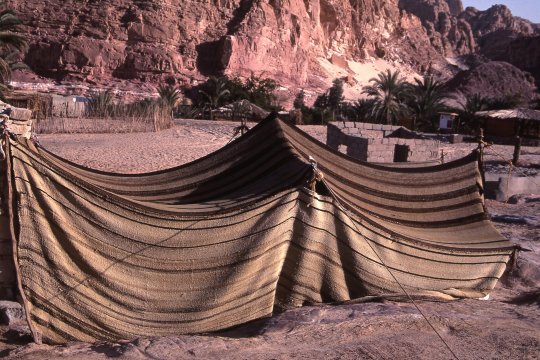 .271. The entire family moves with the herd and lives in a tent -- though some Bedu used tents only in winter, when it was colder and sometimes rained. The tents were (until recently) made by the nomads themselves, from a coarse material which in the Sahara was woven from scraps of wool and white goat's hair. It was both warm and waterproof -- for both the wool and the hair swell when wet and their natural oils also help repel moisture. (At Ain Khudra)
.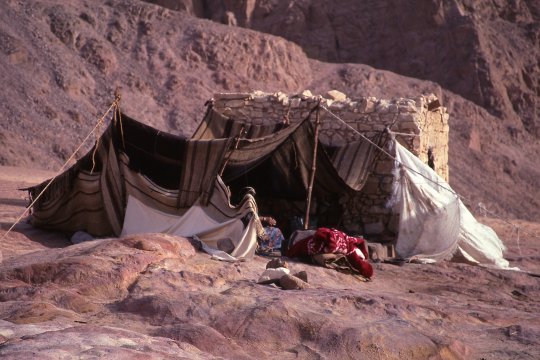 .272. In Arabia the tents were darker in color, made mostly from hair combed from goats, and often acquired through trade with sedentary communities. Tents are central to the identity of the Bedouin, and where they have adopted a sedentary lifestyle many continue to live in tents. Some who have acquired houses put their animals inside and live in a tent outside! (House and tent in Ain Khudra)
.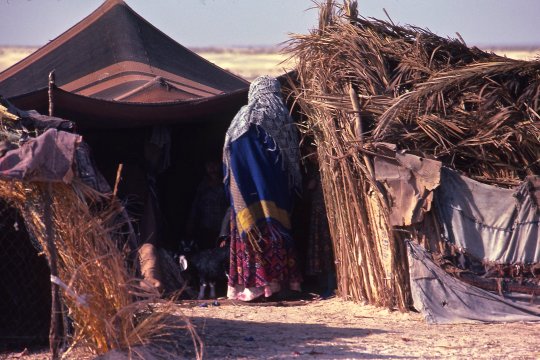 .273. In addition to making their tents, women were expected to look after them, and to put them up and take them down as and when required. It was a major responsibility, since Bedouin typically moved camp every week or two. The tent and everything inside it could, however, be dismantled and loaded on camels in less than two hours. (Camp north of Touggourt)
.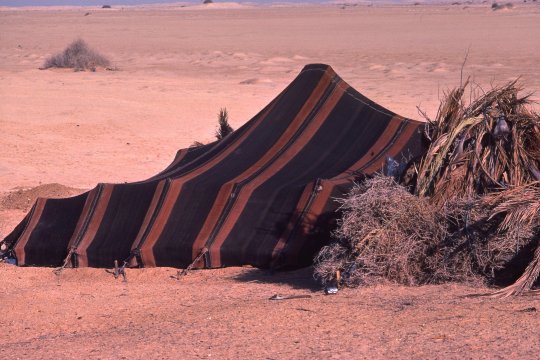 .274. Tents typically were made of six to eight woven strips sewn together to form a rectangle, and supported by two main poles (more if the tent was a long one). The corners and the sides were supported by shorter poles, and the entire structure was held in place by guy ropes and pegs. (North of Touggourt)
.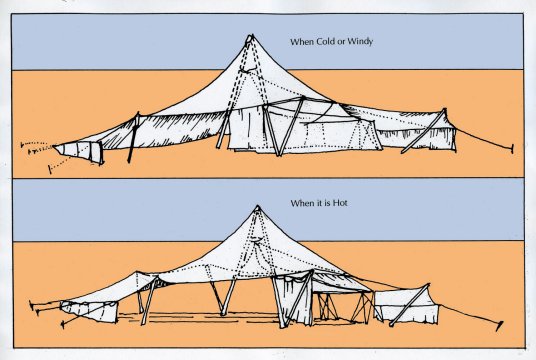 .275. The walls of the tent could be raised when it was hot, and lowered when it was cold or windy. They might also have separate panels which could be attached when required. In winter the living area was reduced in size, to reduce the amount of heating required, and the unoccupied portion of the tent was used to shelter newborn lambs and such like. (Diagram based on sketch in "Primitive Architecture" by Enrico Guidoni)
.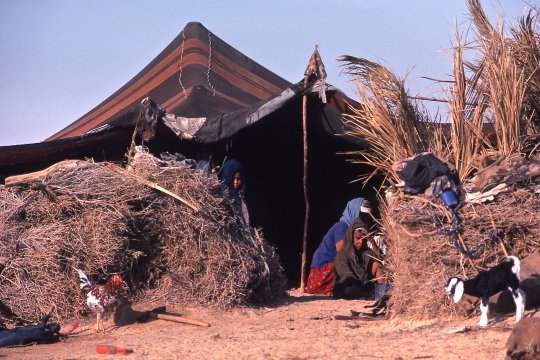 .276. Tents like these are divided in two by a central partition. One part, usually the largest, is used by the husband and his guests; the smaller section houses his wife and children, their cooking fire and the family's possessions. Men and women never ate together: father and son ate on one side of the dividing curtain; mother and daughter on the other. (Entrance to women's side)
.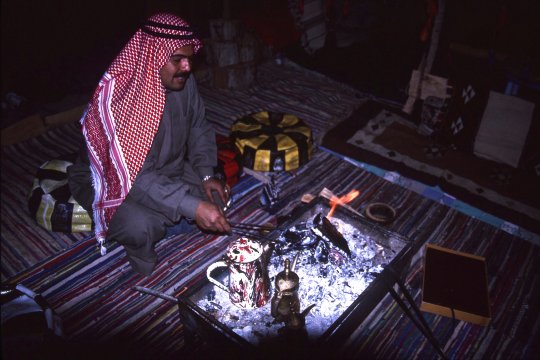 .277. The men made tea or coffee for their male guests, but the women cooked all the food. They also collected brushwood for the fire. In the old days they would also grind the grain used to make bread and cereal dishes like couscous. Now this is often purchased. (Brewing of coffee in tent near Mt. Sinai)
.
.278. The rite of hospitality was part of a strict code of honour, and a means of protection in a world fraught with danger from both man and nature. In a hostile environment the only thing over which a man could be sure to have control was his own dignity and honour. These mattered far more than wealth; and dishonorable behaviour or insults invariably met with harsh punishment. (Tuareg traveler near Tamanrasset)
.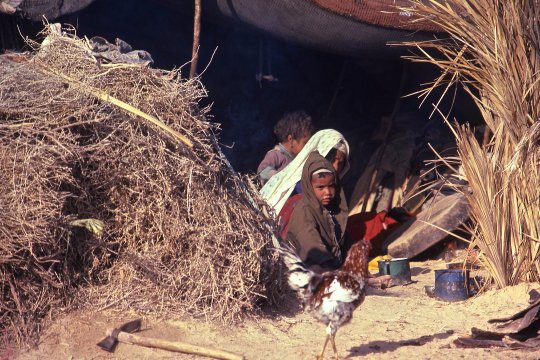 .279. Bedouin hospitality traditionally lasted three days. If you were a Bedu male, any traveller could stop near your tent (customarily 30 metres from it): and if he took time adjusting his camel's harness you would be bound to go out and welcome him. Your wife, if she were alone, would have to go out and offer him a bowl of camel milk, and then invite him to enter the man's side of the tent's divider, where he could rest till you returned. (Near Touggourt)
.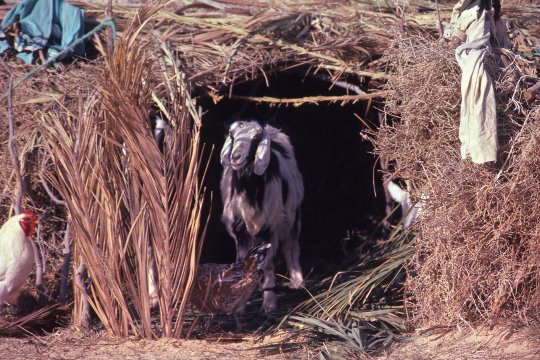 .280. On your return you would have to slaughter a sheep or goat to provide a feast for your guest. He could stay with you for three nights, after which you could ask him politely where he was going and if you could help him on his way. That would be his signal to move on. And if he were an enemy (or a man you intended to rob) you would be unable to attack him for three days -- for as long as he held your food in his stomach! In the same way, it was also considered fairer to raid another tribe at sunrise, since this would allow them a whole day to follow your tracks and try to win their camels back! (Near Touggourt)
.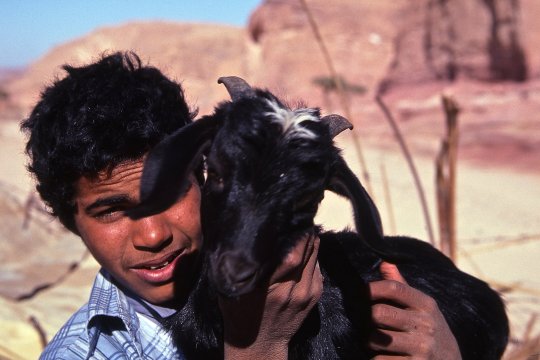 .281. The names given to Bedouin children typically commemorate the bravery and virtues of distinguished ancestors. Since there are a limited number of such names it is sometimes difficult to keep track of who is who. This confusion is reduced in part by references to parenthood: by the inclusion of "ibn" (meaning "son of"). (Boy with goat at Ain Khudra)
.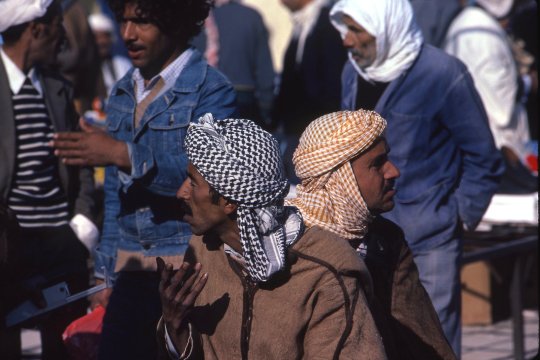 .282. Since one's lineage was a matter of pride, a Bedu would identify himself by naming two generations of male ancestors and then name his tribe, like: "Suhail son of Salem son of Mohammed of the Bait Kathir". The tribe's name is usually that of the ancestor from whom it can trace its descent as an independent grouping. Tribes are divided into clans and the members of a clan often pitched their tents close together in a circle, with a pen for livestock in the middle. (At market in El Oued)
..




SAHARA CONTENTS


Text and photos by John Tyman unless otherwise indicated.
Intended for Educational Use Only.
Contact Dr. John Tyman at johntyman2@gmail.com
for more information regarding licensing.



www.hillmanweb.com
Photo processing, Web page layout, formatting and hosting by
William Hillman ~ Brandon, Manitoba ~ Canada