John Tyman's
Cultures in Context Series
EGYPT and the SAHARA
www.johntyman.com/sahara

4 : NOMADIC LIFESTYLES
4.3 Camels : 248-262
.
www.johntyman.com/sahara/18.html
Click for full-size images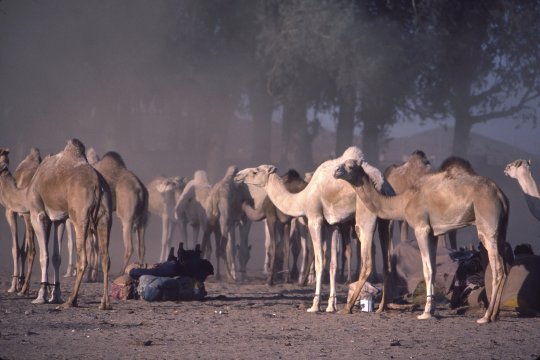 .248. Camels seem to have come from Arabia originally, though there are no wild camels left anywhere in Africa or the Middle East. And when, as the legend suggests, God made the camel, he obviously prepared it for life in the desert. No other animal on earth is better equipped for survival: and, in the words of the Koran, it is not the man who owns much land who is rich but he who can call many camels his own. (Camels ďparkedĒ by their owners near the town centre in Tamanrasset)
.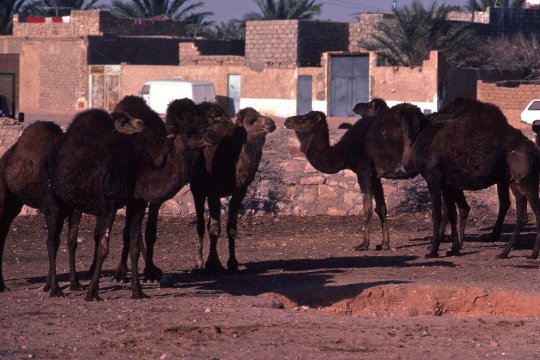 .249. Camels cannot reproduce till they are five years old, take a year to gestate, and a further year to nurse a single offspring ... which helps explain why every camel was (and is) a valuable piece of property. (Camel market in Ghardaia)
.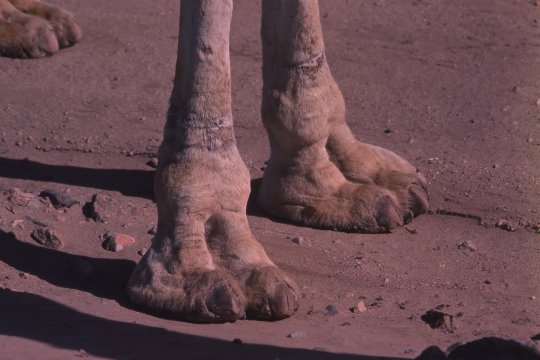 .250. The soles of a camel's feet are big and broad as a soup plate, with soft leather cushions instead of hooves, to spread its weight. From the depth of its footprints you can tell whether it was ridden or used as a pack animal. Riding camels are females and pack animals are bulls. (At Tamanrasset)
.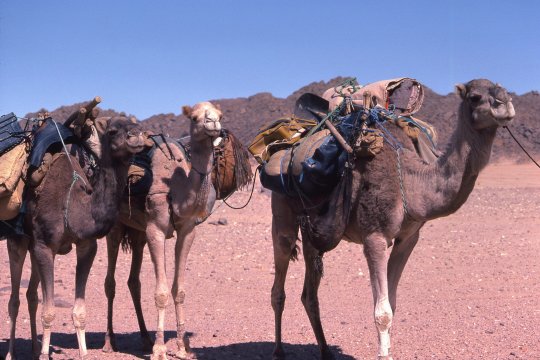 .251. Heavily laden in a caravan, with loads of between 150 and 200 kilograms, a camel can cover 30 or 40 kilometres day after day, and a riding camel can cover 60 or 70. A camelís requirements are modest and it can vary its body temperature by up to 6 degrees Celsius to adjust to its surroundings. Camels are trained to bear loads from their fourth year, are fully grown when they are 17, and live typically between 30 and 35 years. (Camels carrying personal effects near Tamanrasset)
.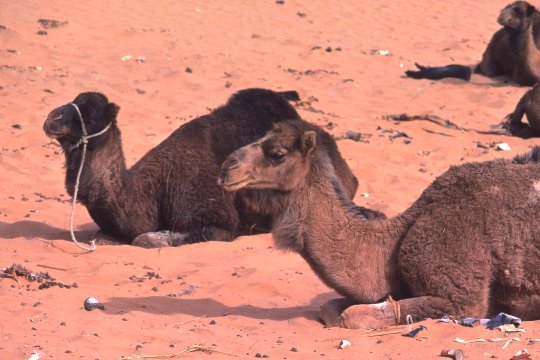 .252. A camel can loose more than a quarter of its body fluid and still survive -- a degree of dehydration no man could tolerate. (Most animals die if they lose 12-15% of their fluids.) And a camel can rehydrate itself in minutes, drinking 100 litres of water at a time, an amount equivalent to one third of its body weight! This is quickly distributed throughout its body. Its hump stores fat, not water, and this fat, too, is drawn upon to maintain life in lean times. (Camels at In Salah facing downwind as a dust storm approaches)
.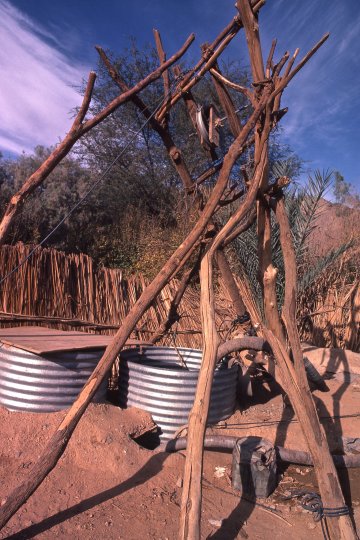 .253. Watering the stock commonly requires two men. One leads the camel that pulls the bucket up from the well, and the other empties it into a trough. The breeding of the camels is arranged so that calves are born in the winter when the grazing is better. Male calves may be slaughtered for meat or kept as baggage animals. Females are never slaughtered, since they provide both milk and future generations of calves. (Well at Arak north of Tamanrasset)
.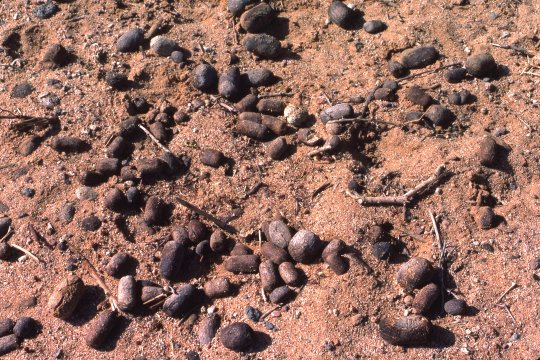 .254. Camel urine is highly concentrated so the animal loses little moisture and its dung, similarly, is dry and hard. The dung was burnt as fuel on camp fires; and the urine served as a purgative. Camel urine was also used to bathe sand-scratched eyes, cleans wounds, treat skin complaints and even wash oneís hair (since it killed lice). It is also believed now to contain cancer-curing compounds! (Camel dung at Fort Gardel)
.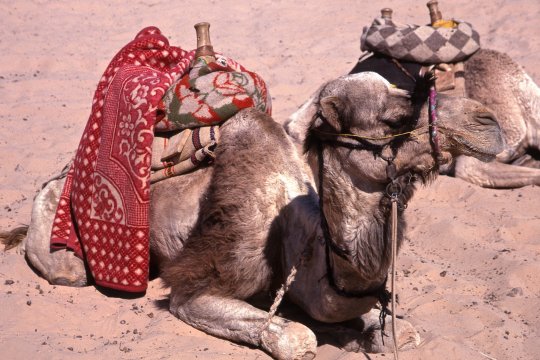 .255. The camel is also endowed with a heat exchange process which allows it to withstand the temperature extremes of the desert. After itís been watered, it cools itself by sweating during the heat of the day, maintaining a constant body temperature of 37 degrees C: but if it becomes at all dehydrated it allows its body temperature to rise -- as high as 41.5 degrees! It has less need then to sweat and so conserves water. In other animals high body temperatures cause brain damage. (Camel resting in the middle of the day at Ain Khudra)
.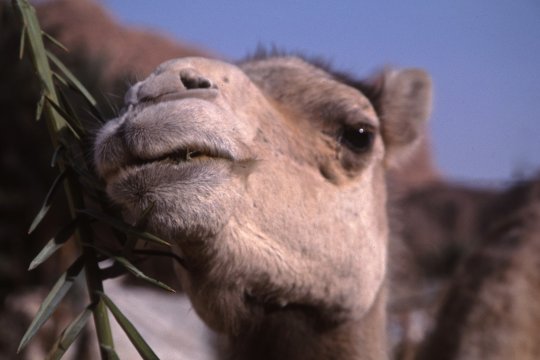 .256. A camelís nostrils collect and retain most of the moisture in its breath when it exhales. This maintains a moist atmosphere in nasal passages and minimizes water loss. Any moisture that does escape as mucous from its nose is channelled straight back to its mouth by the split in its upper lip. (Ain Khudra)
.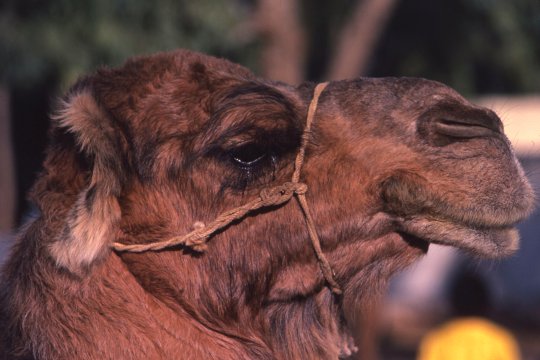 .257. As a defense against windblown sand it has thick eyelashes, ears lined with hair, and nostrils it can close. In a sandstorm it will lie down on its knees, stretch its neck flat over the sand, and close its nostrils, almost! (Kairouan)
.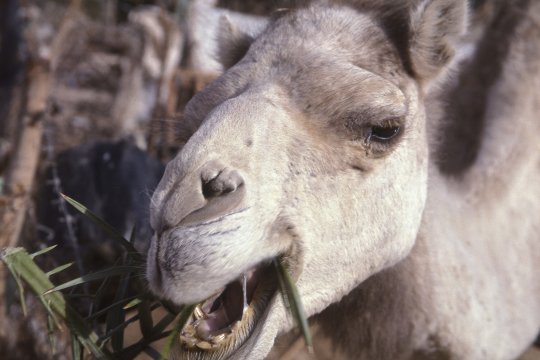 .258. A camel can survive on the poorest of pastures, chewing thorns if need be. In winter camels survive on the water contained in green fodder and can go for a month without drinking. In the hot season, with drier fodder, they should, whenever possible, be watered weekly. (Camel munching on palm fronds at Ain Khudra)
.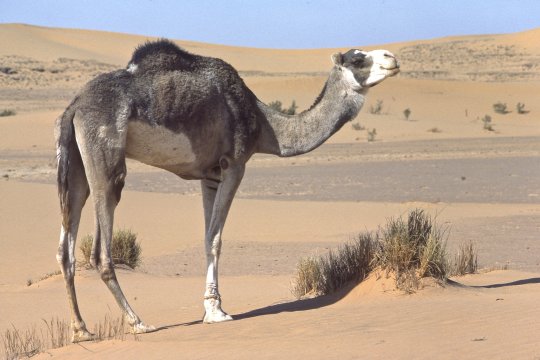 .259. And there's no such thing as an unwanted camel. There may be no one in sight, but every animal you meet is owned by someone, and carries a brand indicating its owner and tribe. And though most of the herd will belong to the senior male in each Bedu family group, the stud bull is often the property of the senior woman. (Hobbled camel south of Illizi)
.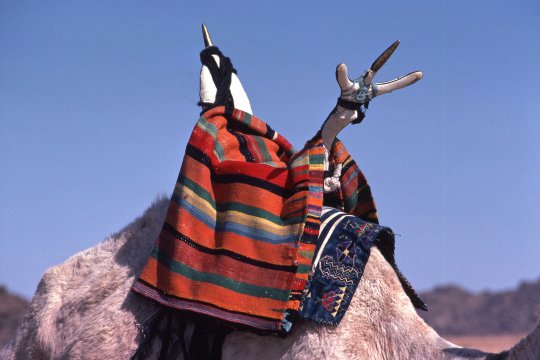 .260. Today, a single truck can carry as much as 80 to 100 camels, but there are remote areas still that rely on camel caravans for their supplies. In these areas the camel is still "the ship of the desert". (Tuareg camel saddle)
.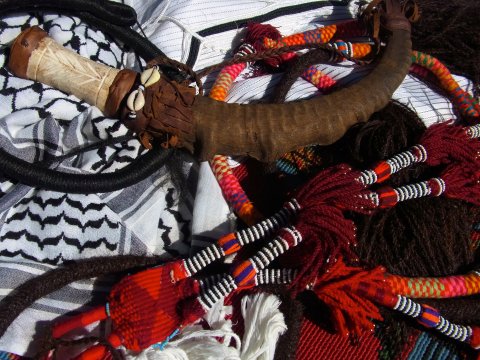 .261. Soft hair from the camelís belly can be woven into long strips, and sewn together to produce either a warm robe (burnous) or the dark cloth used to cover the wooden framework of Bedouin tents. Camel leather is used to make sandals and bags in which to carry water (though goat skin gerbas are more common.) And camel bones can be carved to make jewelry or handles for tools and weapons. (Bedouin knife, halter and saddle decorations using camel hair: from the authorís collection)
.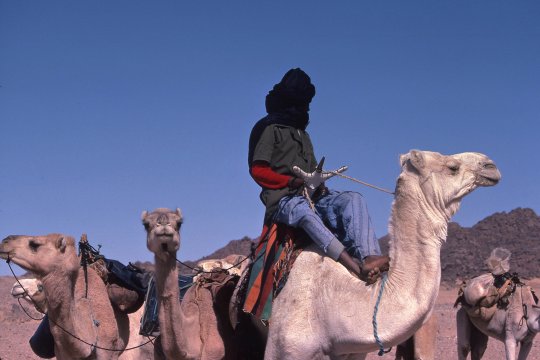 .262. Goatskin gerbas are made by pulling the skin of a slaughtered animal over its head without cutting it. They weigh little when empty, do not break like clay pots, and the small amount of water they absorb cools the contents as it is evaporated from the bagís outer surface. They hold between 20 and 30 litres of water; and are hung under the camel or on the side that is in shade. (As here on the camel on the left)
.




SAHARA CONTENTS


Text and photos by John Tyman unless otherwise indicated.
Intended for Educational Use Only.
Contact Dr. John Tyman at johntyman2@gmail.com
for more information regarding licensing.



www.hillmanweb.com
Photo processing, Web page layout, formatting and hosting by
William Hillman ~ Brandon, Manitoba ~ Canada