John Tyman's
Cultures in Context Series
EGYPT and the SAHARA
www.johntyman.com/sahara

4 : NOMADIC LIFESTYLES
4.2 Nomadism : 239-247
.
www.johntyman.com/sahara/17.html
Click for full-size images
.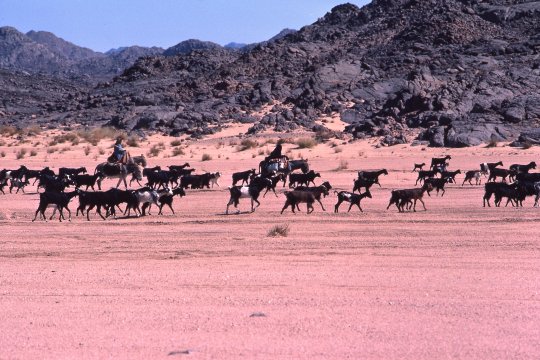 .239. Over northern sections of the Sahara, nomadic Berbers and Arab Bedouin herd goats and sheep or camels: and because the pastures here are poor their herds must migrate if they are to survive. (Tuareg goats near Tamanrasset)
.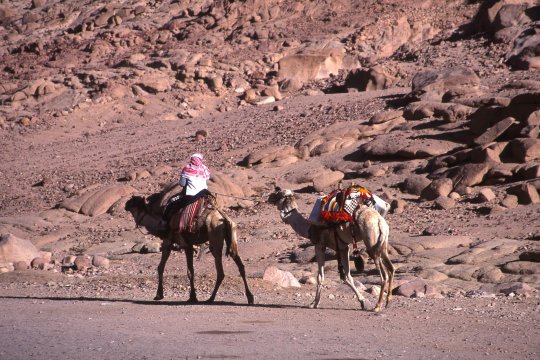 .240. In Arabic the word bedawiyin means "those who wander", and in the West today the word Bedu, though it is technically a plural, is commonly used to indicate the singular case... that is, an individual. (Bedu and camels in Sinai)
.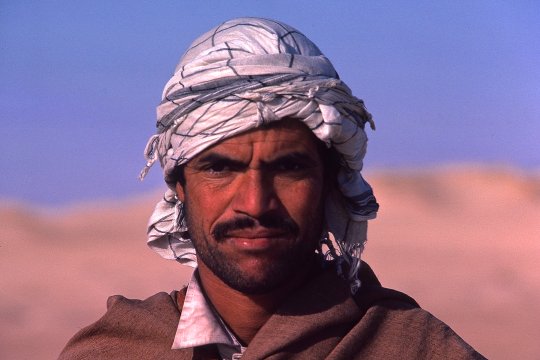 .241. The Prophet Muhammad, having like his father herded camels at one stage in his life, declared that Allah never sent upon earth a single prophet who had not been a herdsman, for only a herdsmen knew how to lead both animals and men! (Herder near Touggourt)
.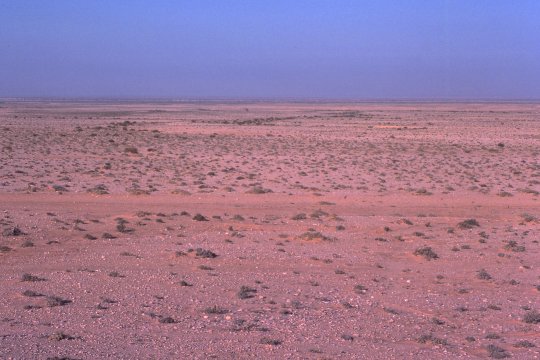 .242. Though their movements in recent decades have been complicated by the policing of national boundaries, the Bedouin traditionally shared out territory, allocating each tribe a range (or dirah) within which they could pasture their herds and water them. (Pasture near Tozeur)
.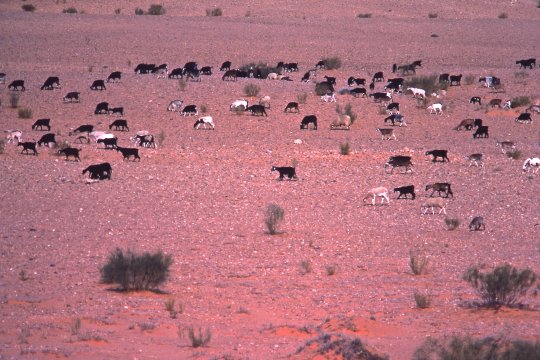 .243. More recently the introduction of unrestricted (common) grazing in some areas has meant that those who were traditionally responsible for a particular range, do not bother to conserve pasture now if they feel that the next group to come along will over-graze it. (Heavily grazed land east of Ghardaia)
.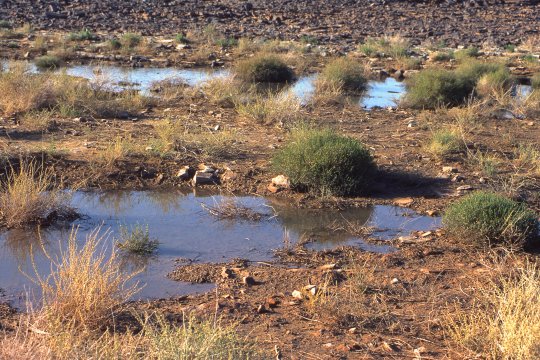 .244. The distance Bedouin have to travel depends on the weather. After a good rain the desert is covered with herbs and grasses and herds do not have to travel far to find enough food. In winter they might move only a few kilometres each day. In the course of a dry year, however, migrations of more than a thousand kilometres could be required, and distances like these can only be covered by camels. (On the Tassili-n-Ajjer after rain)
.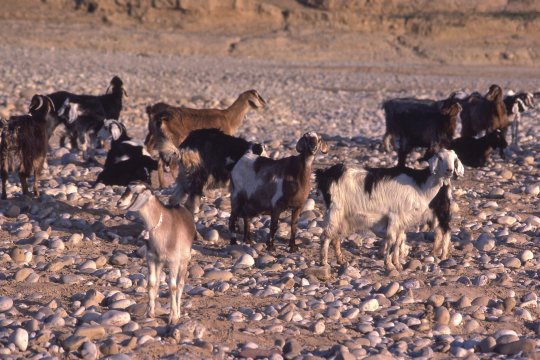 .245. Goats and sheep do not have the same endurance as camels: in the cool season they can go without water for 4 or 5 days but they must be watered every two days in the hot season. (Goats near Biskra)
.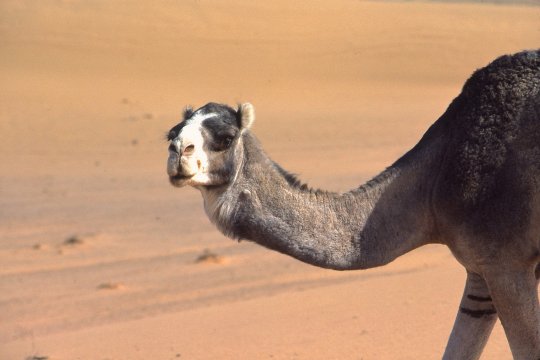 .246. Camels can manage without water for 6 or 8 days at a stretch even in very hot weather, and they can go without water for weeks on end if the weather is cool and the pasture good. This allows camels to be taken into areas where there are few if any wells, where no sheep or goats could survive. (South of Illizi)
.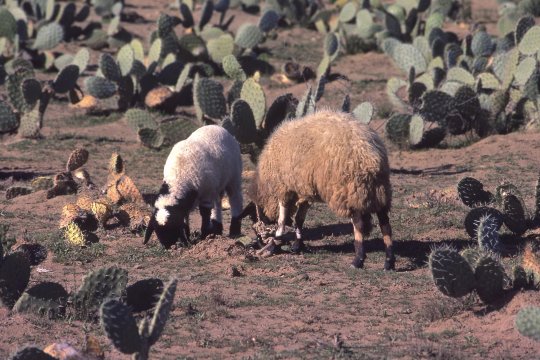 .247. Sheep and goats were kept mostly by nomads who lived on the margins of the desert, either in addition to or instead of camels. Their breeding was often restricted to better-watered areas -- notably the foothills of mountain ranges in the north. In the spring, after winter rains, flocks could be moved further south into the desert, before retreating to the desert margins and grazing on stubble in the autumn. (Sheep in farmyard south of Kairouan)
.




SAHARA CONTENTS


Text and photos by John Tyman unless otherwise indicated.
Intended for Educational Use Only.
Contact Dr. John Tyman at johntyman2@gmail.com
for more information regarding licensing.



www.hillmanweb.com
Photo processing, Web page layout, formatting and hosting by
William Hillman ~ Brandon, Manitoba ~ Canada