www.johntyman.com/peru/03.html
John Tyman's
CULTURES IN CONTEXT
PERU
The Incas and Prehistoric Cultures
II: MOCHE CULTURE
2.2: Works of art and craft

Click for larger images
2.2: Works of Art and Craft


.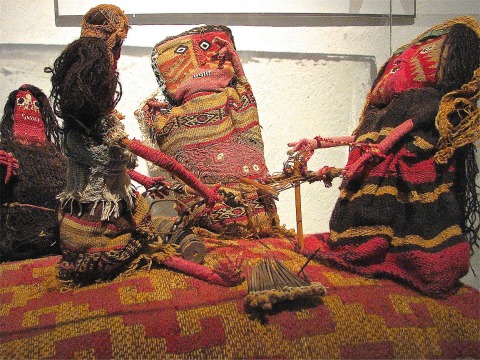 013. While the cotton they grew was woven on back-strap looms to produce textiles for use in clothing, few Moche textiles survive today due to the deleterious effects of El Nino floods and the high saltpetre content of the sand. (Woollen model of weaving: from the subsequent Chancay culture A.D. 1200-1450)
.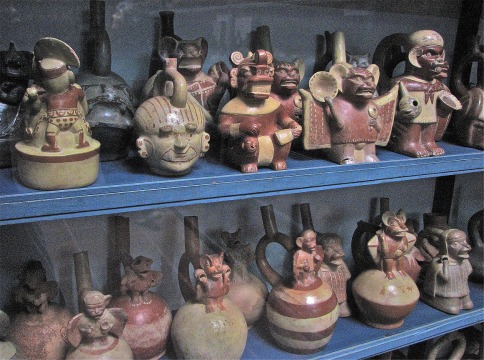 014. Instead, Moche ceramics are their greatest legacy, most of them placed as offerings beside the bodies of the dead. The Moche, in fact, were probably the most accomplished artists of any Andean civilization. (Ceramics in the Larco Museum.)
.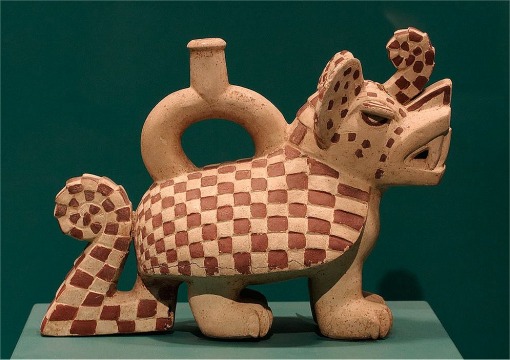 015. Their ceramics commonly depicted gods, agricultural products, farm animals, pyramids and dwellings. Others told stories … of ritual hunts, combats, and tales from Moche mythology. (Ceramic image of a cat: photo courtesy Springhare)
.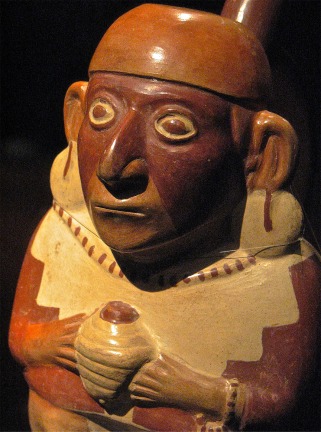 016. Though their ceramics were produced in large quantity using press-moulds they were beautifully finished. The best had thin walls, glossy surfaces, and elaborate sculptured details. They vary widely in shape and theme, and documented all of the most important social activities, including sex. (Finished moulded ceramic.)
.

017. They created models of both the natural, human, and supernatural worlds, and the aggressive warlike nature of the Moche is reflected in images of warriors and warfare, and the slaughter of captives. (Captives being thrown over a cliff.)
.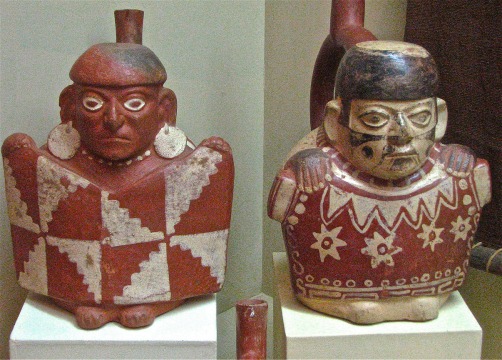 018. All Moche ceramics have added decoration, typically with painting, but occasionally inlaid. They used a limited palette, relying primarily on red and creamy white, and sometimes black. (Painted ceramics.)
.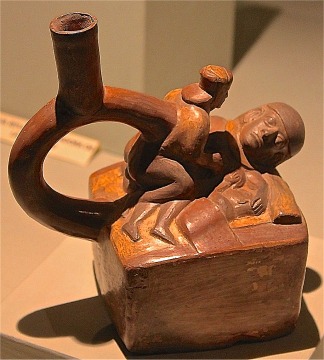 019. Many ceramic pots had stirrup spouts like this, which poured smoothly because the air entered one spout and the liquid passed out through the other one. The spout was also easy to suspend from a belt or piece of rope. Illustrations of Moche sexual life celebrated the miracle of human reproduction and were intended for use in fertility rites.
.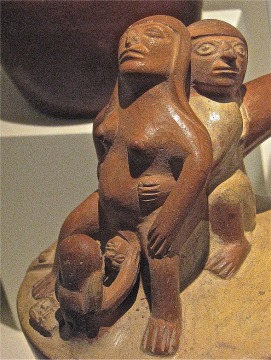 020. Other ceramics emphasized the special place of women in their society … notably their unique role in giving birth to the next generation. The mystery of such events is reflected in the fact that the role of midwives was linked to that of shamans. (Woman giving birth with the help of a midwife.)
.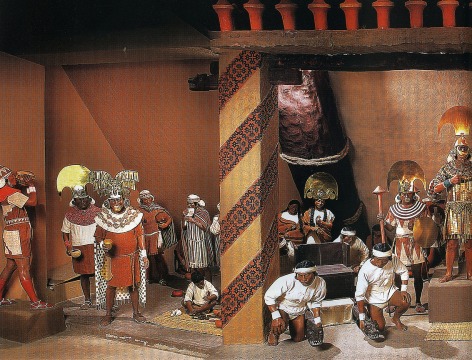 021. Religious ceremonies incorporated both ceramic and metal objects, for the Moche were also skilled metal workers. (Reconstruction of Moche ceremony in a publication of the "Museo Tumbas Reales de Sipan".)
.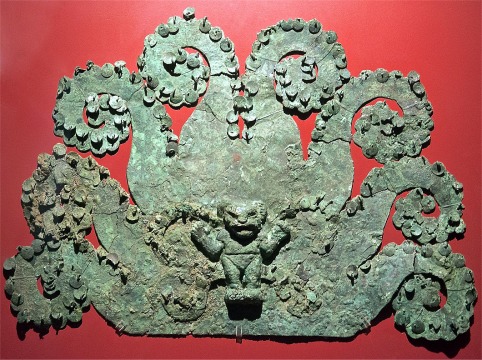 022. Moche metal workers used copper mostly, to produce weapons, tools and ornaments. They could cast, solder, alloy, and bind separate metals into single objects, and gild as required. (Copper headdress with octopus motif: photo courtesy Hannes Rada.)
.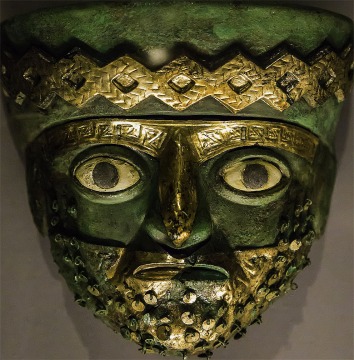 023. Their "gold" ornaments were not made of solid gold or solid silver but of copper, which had been gilded through a sophisticated process of oxidation and electrochemical replacement. This mask has a solid gold nose ornament, though, and the copper is inlaid with shell eyes. (Courtesy Thad Zajdowicz)
.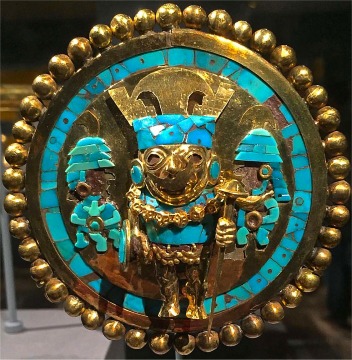 024. Pieces of turquoise were used to decorate the finest metal objects, like this ear spool showing a lord with his attendants.
.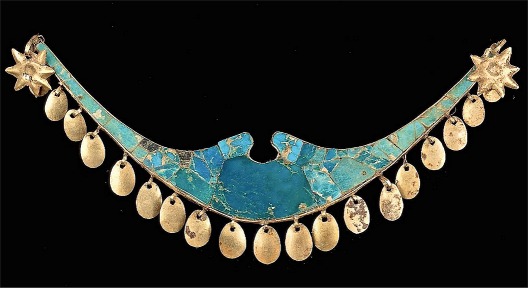 025. The skill with which the Moche worked with metal rivals that of their ceramic artists, demonstrating both much skill and an eye for things beautiful. (Gold and turquoise nose ring: photo courtesy Peter Tillman)
.




Text and photos by John Tyman
Intended for Educational Use Only.
Contact Dr. John Tyman at johntyman2@gmail.com
for information regarding public or commercial use.



www.hillmanweb.com
Photo processing, Web page layout, formatting and hosting by
William Hillman ~ Brandon, Manitoba ~ Canada