John Tyman's
Cultures in Context Series
NEPAL

PART FOUR : LIFE ON THE PLAINS
Religion and Ritual
686 - 723
www.johntyman/nepal
Click for full-size images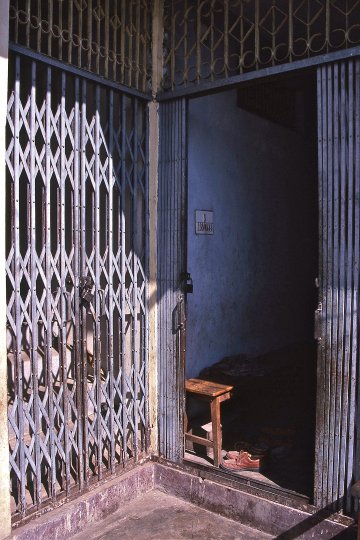 686. Surprisingly, the fear of evil spirits which was sustained by soothsayers in the Midlands exists on the plains even today. Our house was visited one night at 2.00 a.m. by a shadowy figure (an exorcist of sorts) whose job was to visit each house twice a year to give it a blessing and caste out evil.

.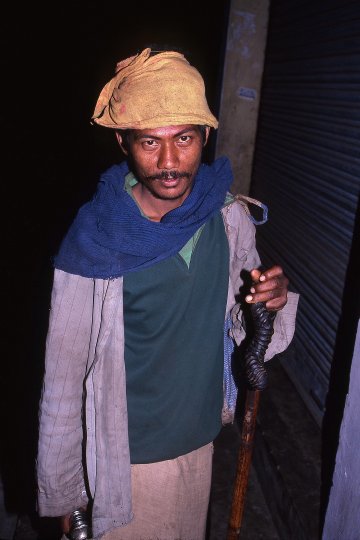 687. Traditionally he would circle each house three times while chanting mantras and blowing on an antelope horn (or a trumpet made from a man's leg bone!) Later, in daylight, he (or a companion) visited each home to collect the fee. Anyone who did not pay up was likely to be cursed.

.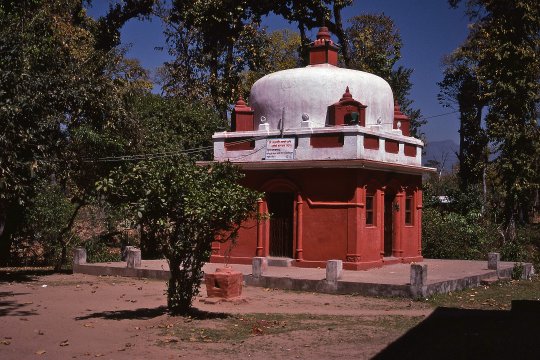 688. There were a number of temples like this within walking distance of our home, which Bidhya visited regularly in addition to worshipping at her family shrines [Frames 625-627]. However, living on a main road, she was able now, for the first time in her life, to travel easily to significant places of pilgrimage during festivals. The biggest festival is Dasain, in early autumn, when 10,000 animals (mostly goats) are sacrificed in Nepal.

.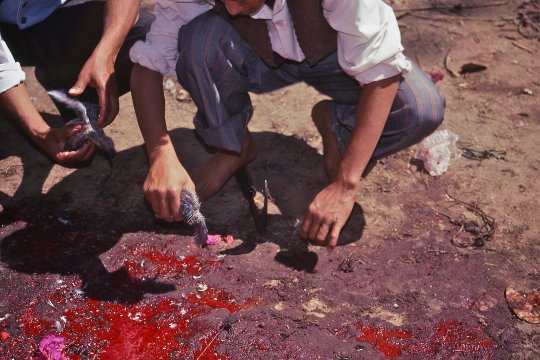 689. I was there for Little Dasain (or "Chait") which is celebrated in March on the eighth day of the waxing moon during the last month of the Nepalese calendar, and lasts 15 days. The goddess they honour then is Durga, consort of Shiva in one of her most awesome forms. She embodies the supreme power in all that is female, and the shedding of blood is a key element of ceremonies then. (Pigeon beheaded)

.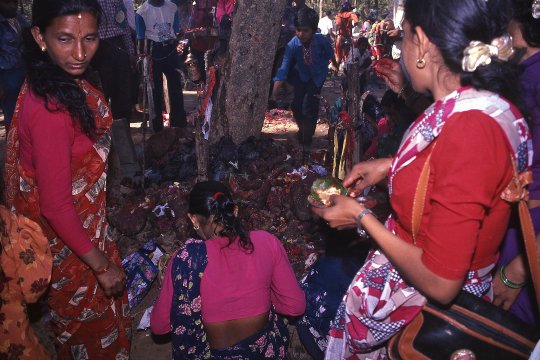 690. We began our celebrations at a newly established Hindu holy place in a national park, near Kasara. Ten years earlier a man had found, at the foot of a tree, a stone which was shaped (so he said) like Bikram Baba, a god popular with the indigenous Tharus. He talked of his discovery to others and it was decided that people who came here to pray with faithful hearts would have their wishes granted. For example, childless couples would conceive.

.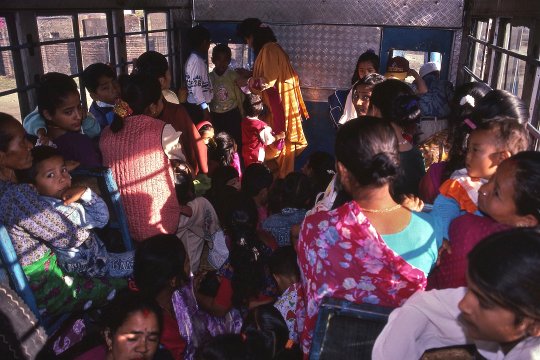 691. We travelled there with a "picnic party" from a local women's group, in the back of a truck fitted out as a bus. Others arrived in open carts. [Video Extract 30]

.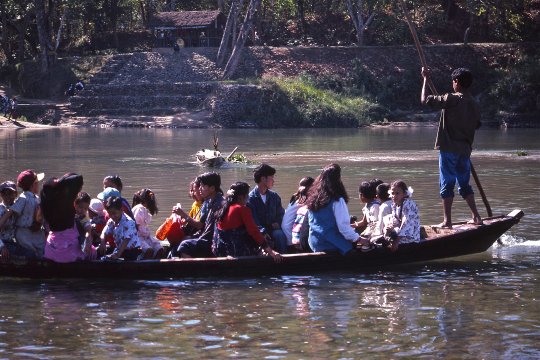 692. Everyone had to wait their turn to cross the river Rapti-- which meant there was time for ritual bathing. Boats were moving in both directions because those who had visited the shrine early in the day were returning to the picnic grounds.

.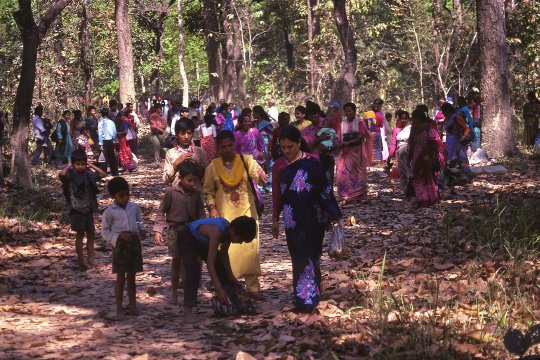 693. Disembarking on the other side of the river, we walked through the forest to the site of the celebrations.

.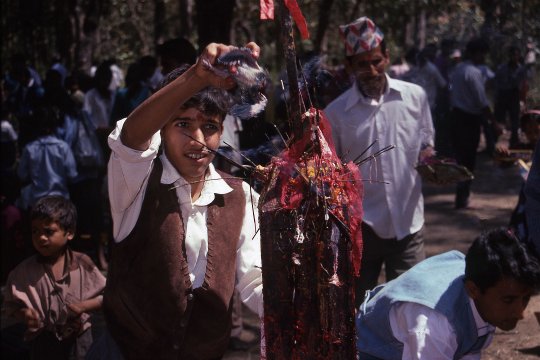 694. Kasara had only recently been declared a holy place so there was no temple. Sacrificial blood was sprinkled over objects which were symbolic of the god they worshipped then. This post was capped by a trident which, of course, is the sign of Shiva, the destroyer, his trisul.

.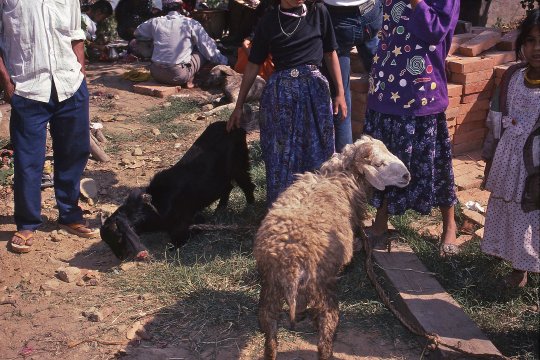 695. In anticipation of the picnic feast to follow many people sacrificed sheep or goats.

.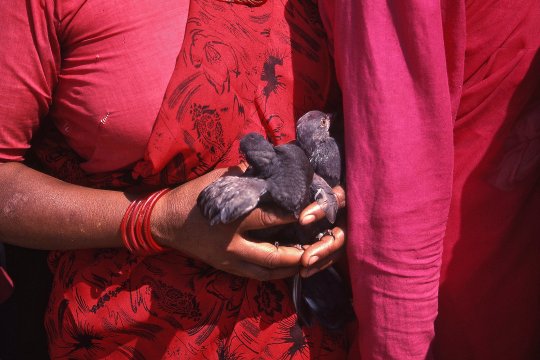 696. Those who could not afford a large animal brought pigeons. Their blood would be sprinkled at the same posts.

.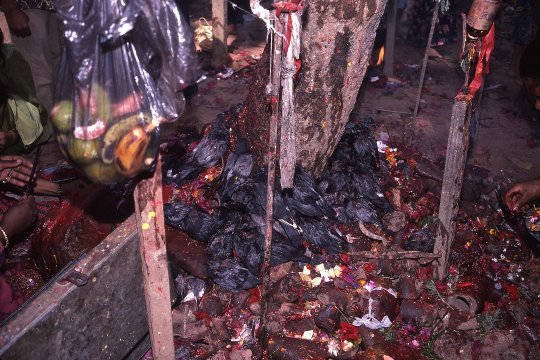 697. Other offerings were made beside the holy tree where Bikram Baba's image had been found 10 years before.

.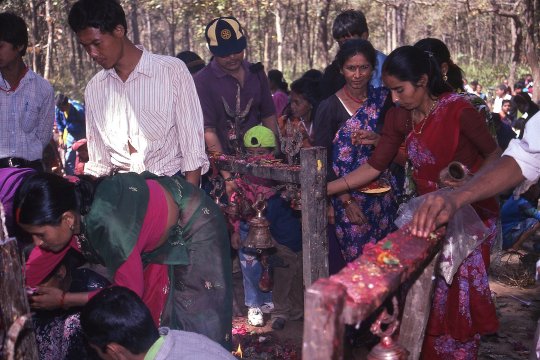 698. There was a shrine close-by at which people made offerings, rang bells and prayed.

.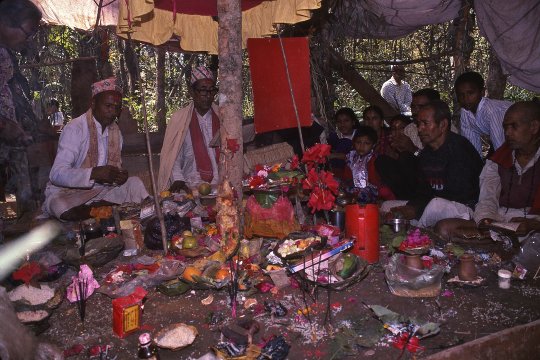 699. And there was another area supervised by local priests.

.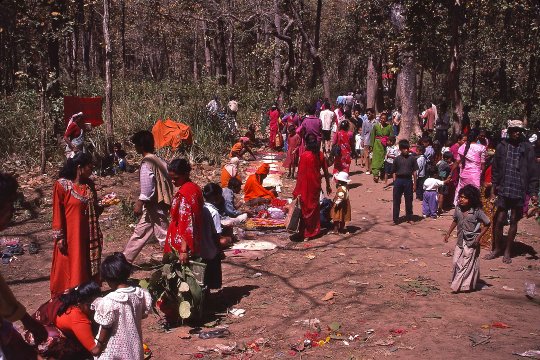 700. The forest then was a hive of activity. Beneath the trees there were stallholders selling objects used in the preparation of puja dishes. [Video Extract 30]

.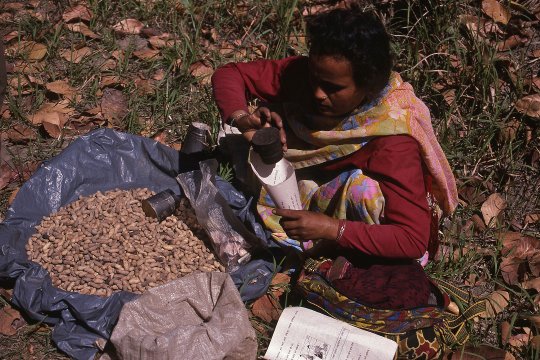 701. There were women selling peanut snacks, and also beggars seeking alms.

.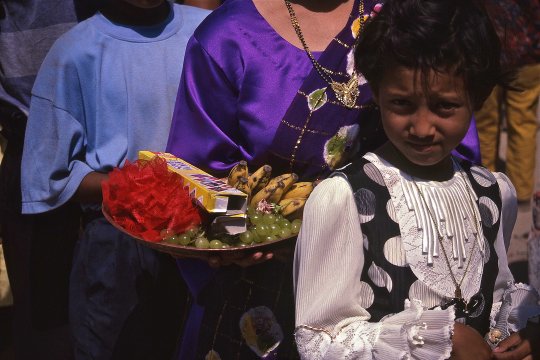 702. Much time, prayer and effort was given to the preparation of puja dishes, by men as well as women.

.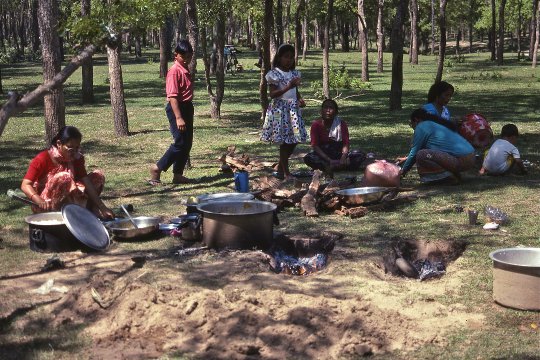 703. Afterwards we returned to the picnic grounds on the other side of the river, where people feasted on the bodies of the animals whose blood had been shed. There were sideshows, too, games, and music for dancing played over loud speakers. [Video Extract 30]

.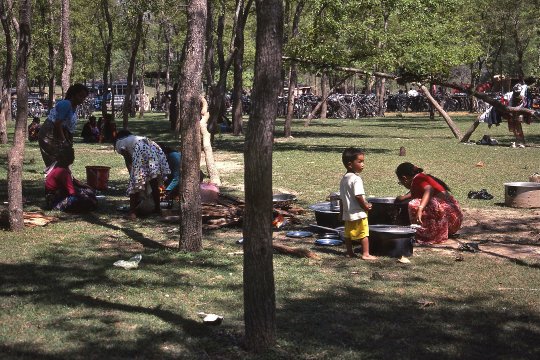 704. It was clear then that we were the lucky ones, as many people had obviously travelled all the way here not by bus, or even ox-cart, but on bicycles.

.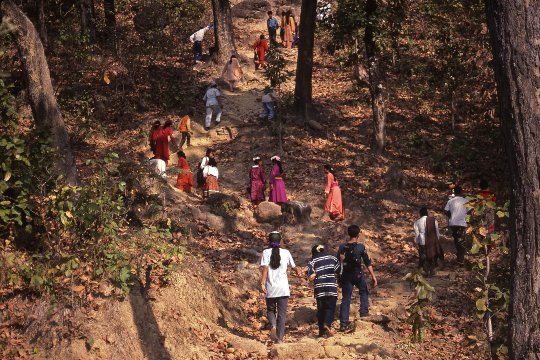 705. Days later, during the same festival, we visited the Kalika (Kali) Mandir (temple), near Bharatpur, joining pilgrims climbing the slopes of a steep hill.

.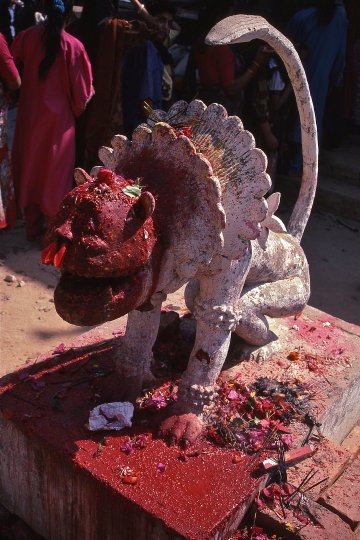 706. Worship at a mandir like this is aided by stone images infused with the presence of the god who is worshipped there. Some are representations of the deity, some of animals, others are symbolic icons: but all are honoured in one way or another.[Video Extract 29]

.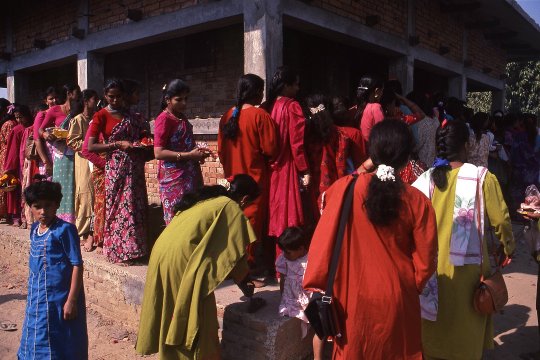 707. The building was clearly of recent date, and built of concrete and bricks, but it was a holy place nonetheless and attracted large crowds during festivals.

.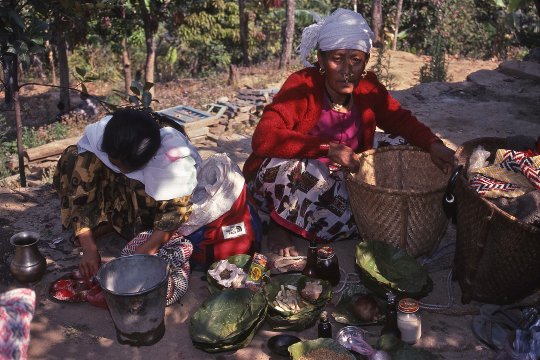 708. Animals and birds could be purchased there. So, too, could the fruits, flowers, sweets and other symbols of nature's bounty required for puja offerings, together with plates to hold them. Other people brought everything from home.

.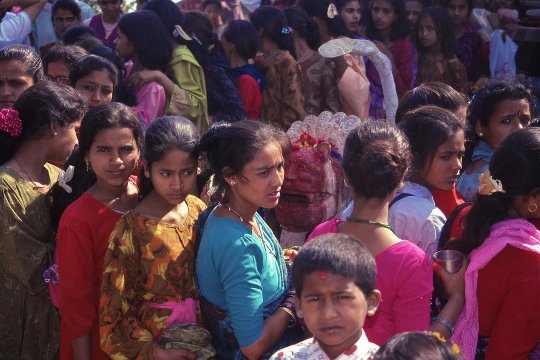 709. They then lined up outside the temple and waited their turn to enter, at least most of them did.

.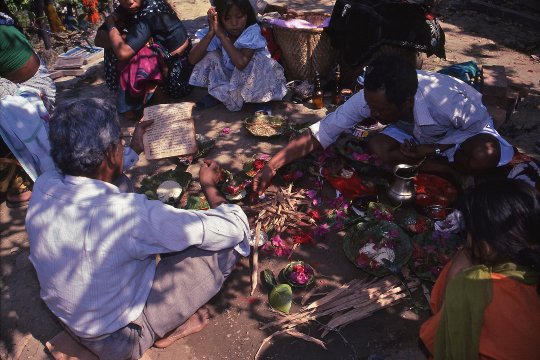 710. Some Brahman families brought their own priests and worshipped separately. This family brought five animals to sacrifice.

.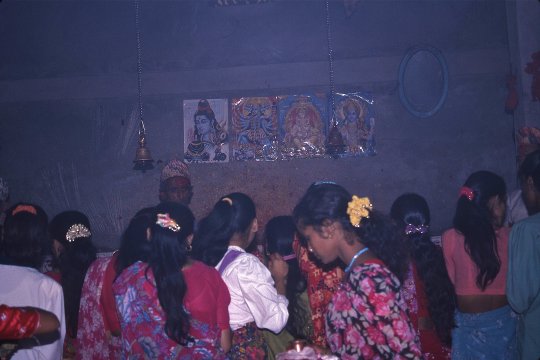 711. Inside the temple devotees keep their hands together (as in prayer), moving clockwise, and offer intercessions and salutations to the presiding deity.

.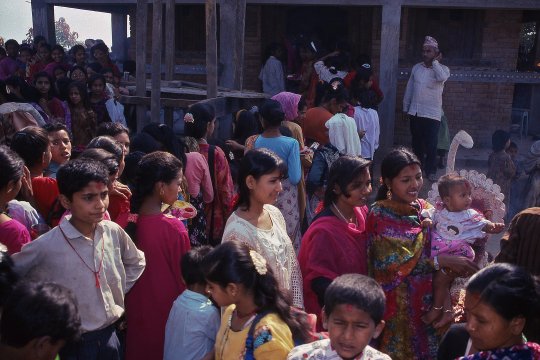 712. When a priest is present he typically provides them with prasad -- food which has been offered to the deity and blessed thereby. They will also be marked with a red tika and sprinkled with holy water as they leave.

.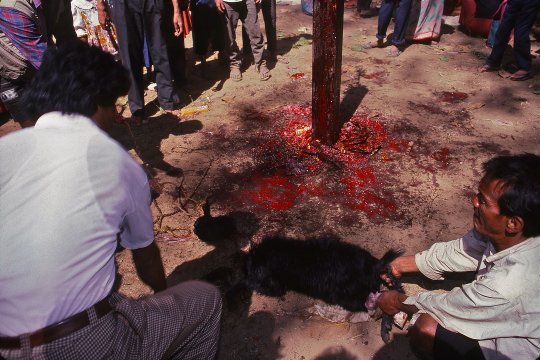 713. Kali, "She who destroys" is Shiva's consort Parvati in her most terrifying form (more fearful even than Durga) and many of the families who visited the temple brought animals and birds to sacrifice -- goats, chickens and pigeons.

.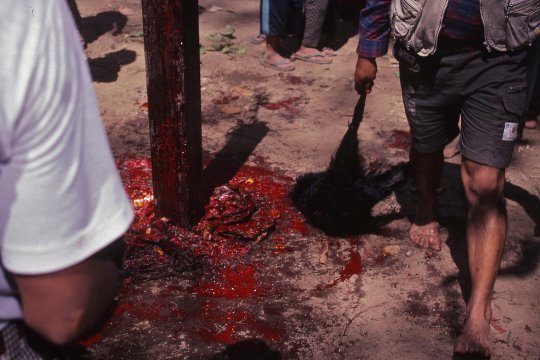 714. Only male goats are slaughtered, and only those capable of reproduction. If they have been gelded they can be killed at home, but not here in the grounds of the temple since they are clearly imperfect. They are killed only after their owners (or purchasers) have worshipped in the temple, and the animals may be fed some of the grain blessed during the ceremony.

.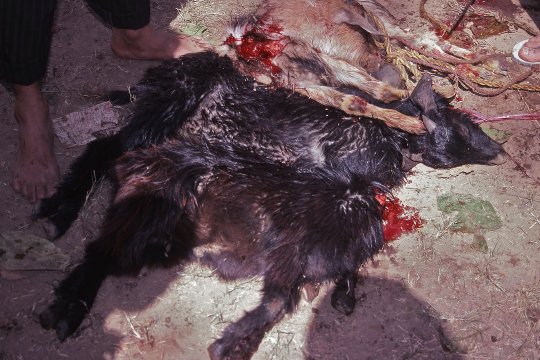 715. Each goat, sheep or chicken will first be sprinkled with flour and water. If the animal shakes it off it's a sign that the god is pleased with the sacrifice offered. If it does not shake it off, more water is applied till it does. Then it is killed. Its head will be retained by the temple staff (priests and ritual executioners).

.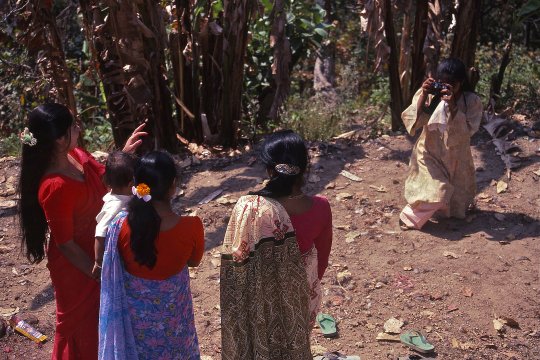 716. There may be time then for family photos -- sometimes, but not always, beside the corpse of the animal on which they will feast later.

.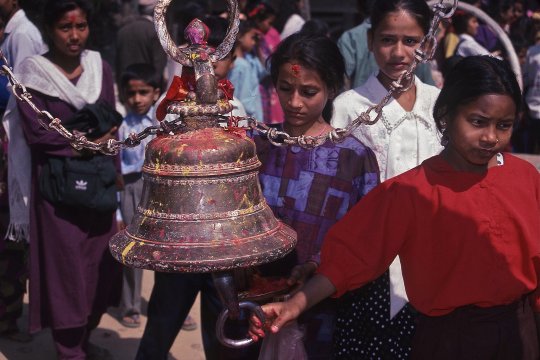 717. As they leave, everyone will anoint the temple bell with vermillion and ring it, signifying the completion of their worship.

.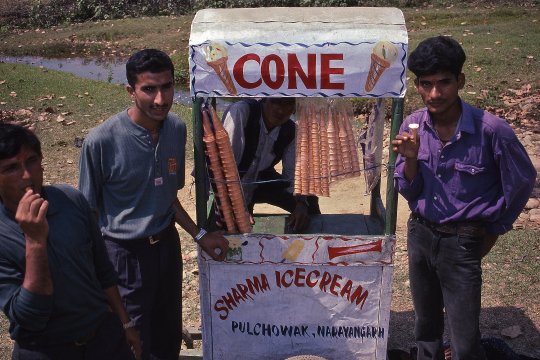 718. And on their way down the hill the lucky ones are treated to ice creams, -- in this case supplied by a Brahman (according to the name "Sharma").

.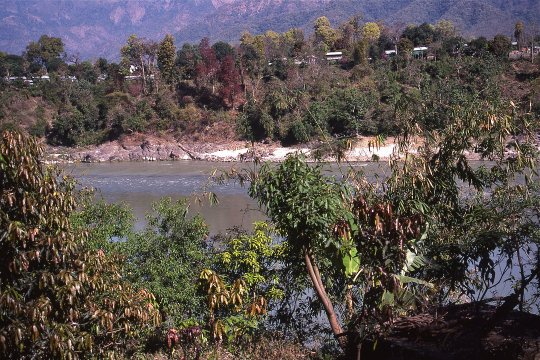 719. The town Devghat is one of the holiest places in Hindu mythology, lying in the foothills of the Terai at the junction of the Sapta Gandaki and Krishna Gandaki (which are tributary to the Ganges). It is in easy reach of Bharatpur by cycle.

.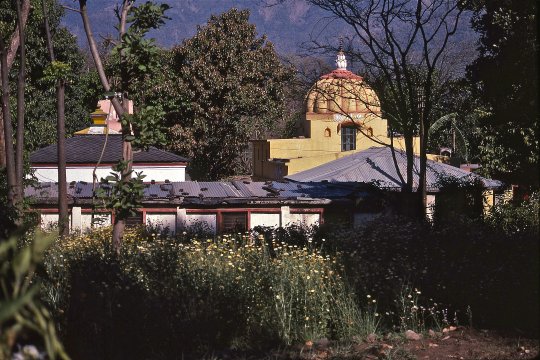 720. It is home to many temples, some ancient, others new.

.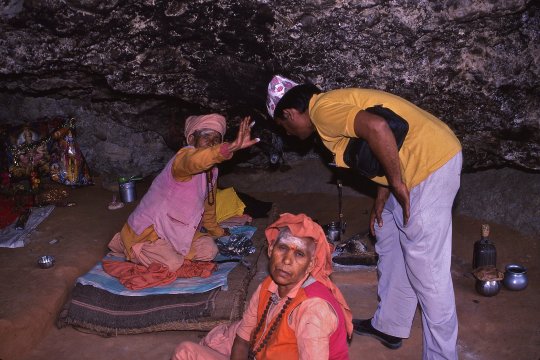 721. It has a number of scared caves also, and is home to many sadhus.

.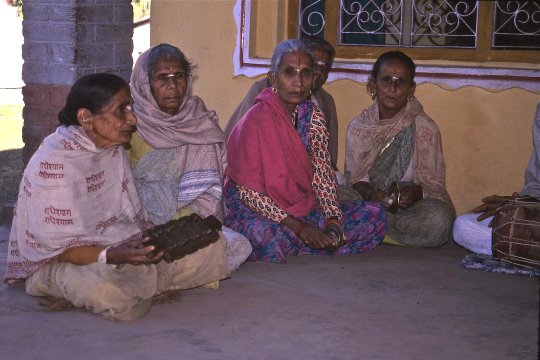 722. It is also the site of a refuge for widows waiting to die. A wealthy sadhu sold her house and land and used the money to finance the building of two more temples and a refuge for women.

.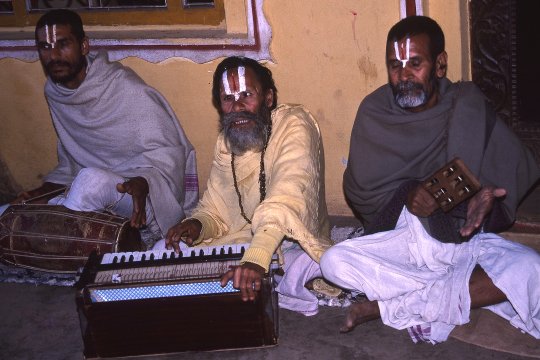 723. The banks of the river are a favoured site for cremations, and women with nothing else to look forward to spend their time here in worship, waiting for the chance to depart this life and begin over again. [Video Extract 28]


Text, photos and recordings by John Tyman
Intended for Educational Use Only.
Contact Dr. John Tyman at johntyman2@gmail.com
for more information regarding licensing.



www.hillmanweb.com
Photo processing, Web page layout, formatting and hosting by
William Hillman ~ Brandon, Manitoba ~ Canada

..