John Tyman's
Cultures in Context Series
NEPAL

PART FOUR : LIFE ON THE PLAINS
Industrial Development
664 - 685
www.johntyman/nepal
Click for full-size images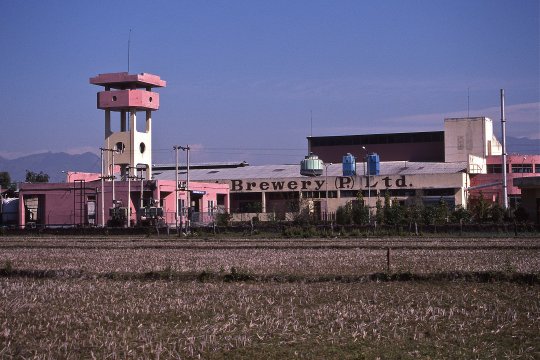 664. The Terai is now the most important region of Nepal for industrial production as well as agriculture. Its flatness, while important to agriculture, also allows for the establishment of the necessary roads and services.

.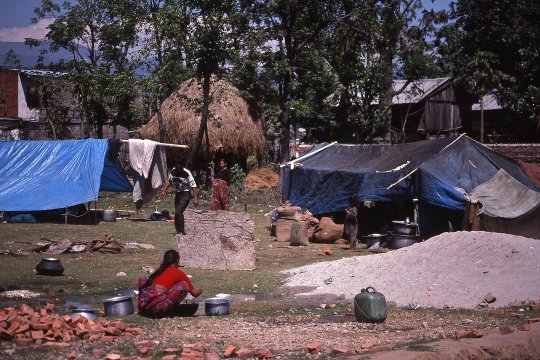 665. Cheap labour, proximity to Indian markets and access to hydro-electric power have also proved to be major assets. The Indian migrants occupying this camp were digging ditches for the laying of cables.

.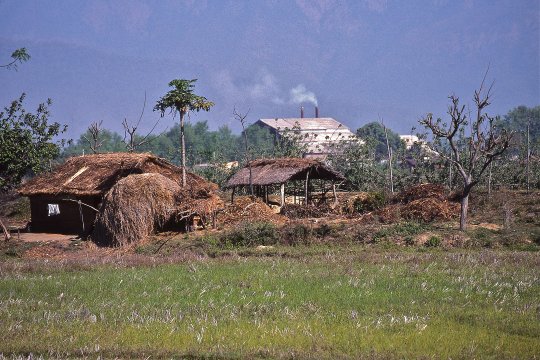 666. A wide variety of industries have located here -- including the milling of sugar, jute and textiles, and the production of leather, biscuits, cigarettes and pharmaceuticals. Cement factories like this also contribute to further development.

.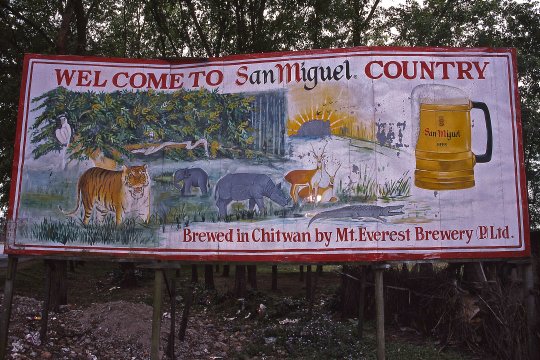 667. The largest factories are comparable in size to those overseas. This one is operated by a company from the Philippines (San Miguel) and there are other international manufacturers here.

.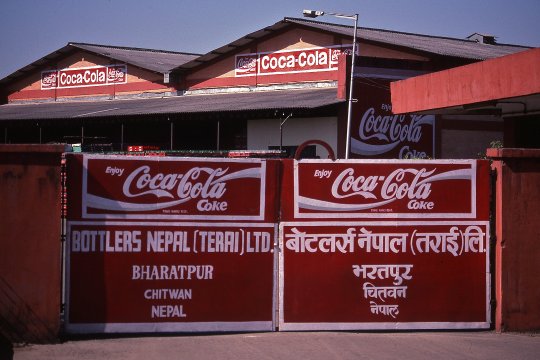 668. Coca Cola, inevitably, has a bottling plant!

.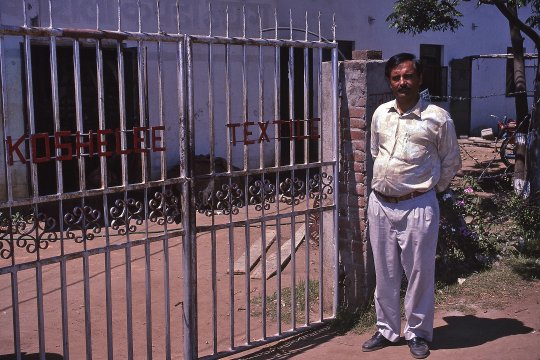 669. Local entrepreneurs have also profited from the Teraiís good fortune, and Gopal's uncle owns a small textile mill here.

.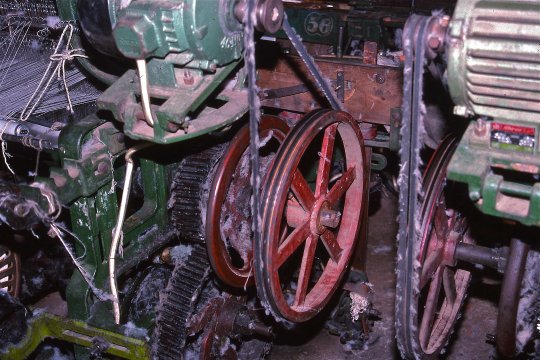 670. Its machines are powered by Nepalese hydro-electric energy.

.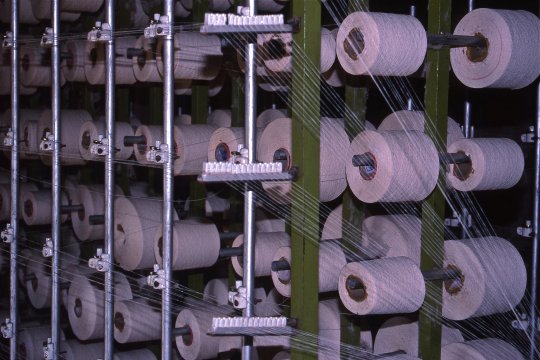 671. And they process local cotton, some of it from India.

.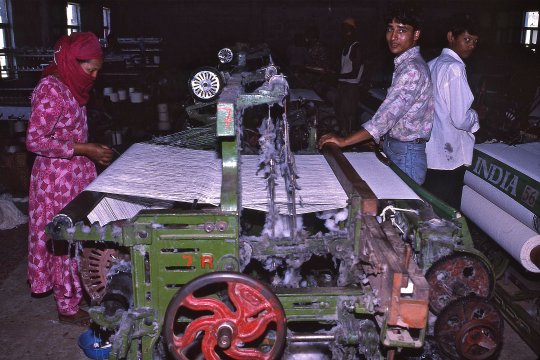 672. They make face cloths and towels, and exports these to America.

.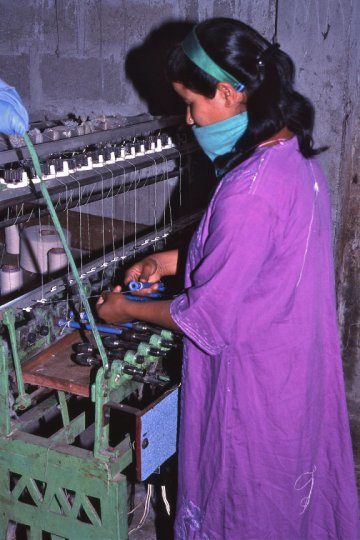 673. In common with cotton mills elsewhere, the air is thick with fragments of flock and those who operate the machines are encouraged to wear masks. [Video Extract 25]

.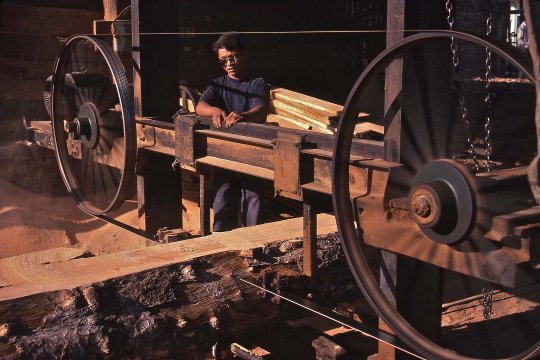 674. The saw mills in Bharatpur also depend on electricity. [Video Extract 25]

.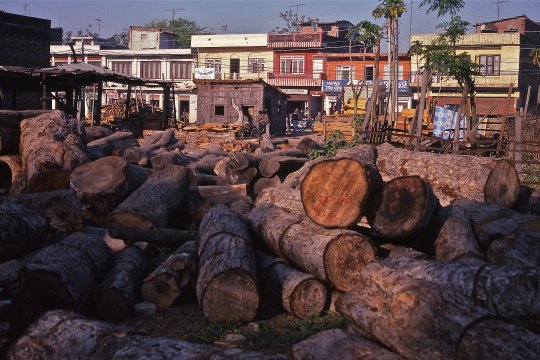 675. The logs are hauled in by truck -- over increasing distances as the forests of the region are progressively destroyed.

.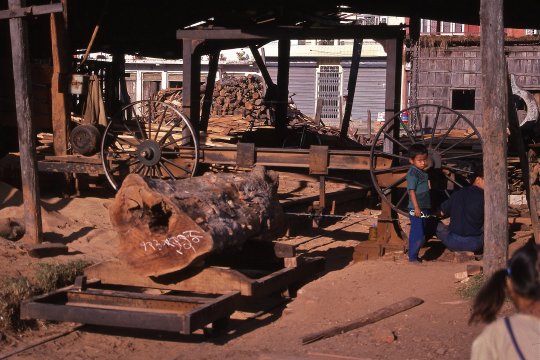 676. The logs are drawn on a trolley through the saw by a hand-powered winch and there are odd jobs even children can do.

.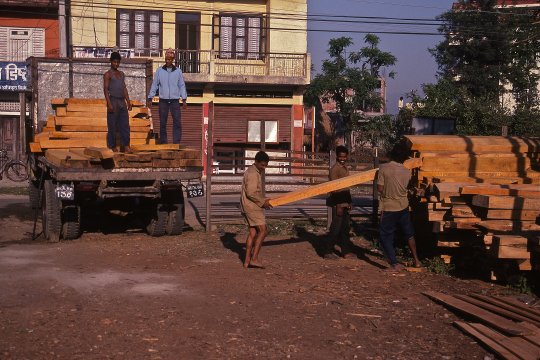 677. The finished lumber is used for furniture making and building construction: but destruction of forests remains a sensitive environmental issue.

.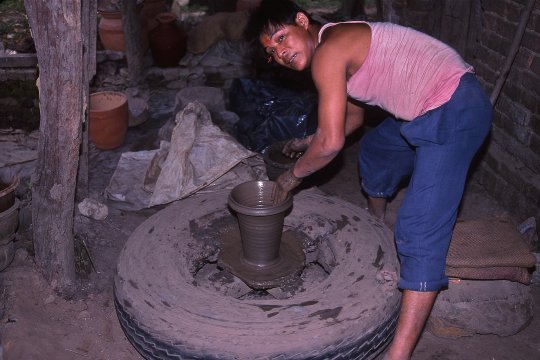 678. The potter, similarly, relies on local raw materials but has no need of electricity, for the speed of his wheel is maintained by the momentum generated by his spinning the tyre of a large truck. [Video Extract 25]

.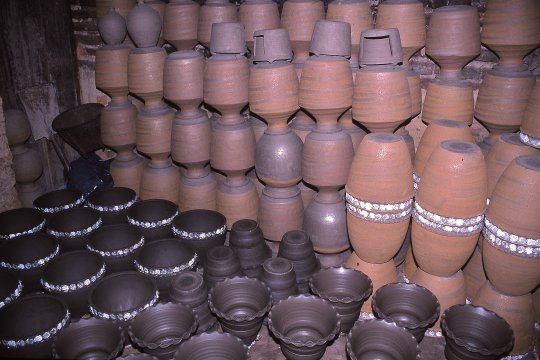 679. He is very productive, though, and his drying room was stacked with pots.

.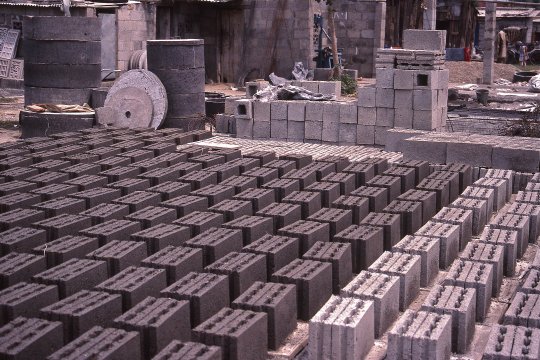 680. Similarly, much of Nepal's industrial production actually comes from small workshops -- producing concrete building blocks, for example, plus slabs and pipes for gutters and drains.

.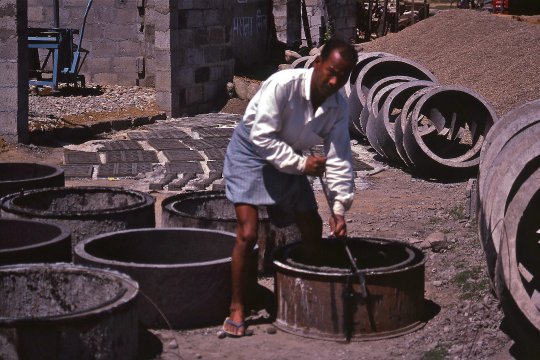 681. Well casings like these are produced simply by pouring concrete into a steel mould and leaving it to dry.

.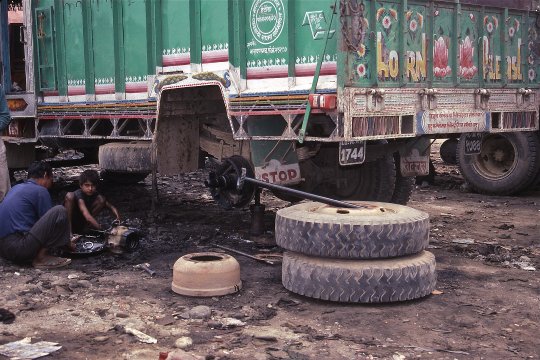 682. There were also a lot of workshops servicing the different types of vehicle used here, some of them employing quite young children. [Video Extract 25]

.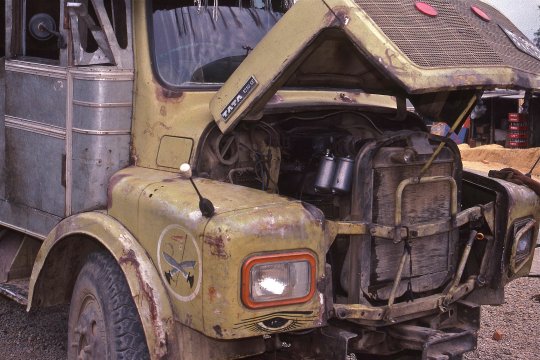 683. Given the advanced age of most trucks and buses in Nepal, the maintenance shops in Bharatpur were usually busy. Tata is an Indian company.

.
684. And since the thousands of bicycles that are rented out here are often the cheapest models available, they also need frequent repairs.

.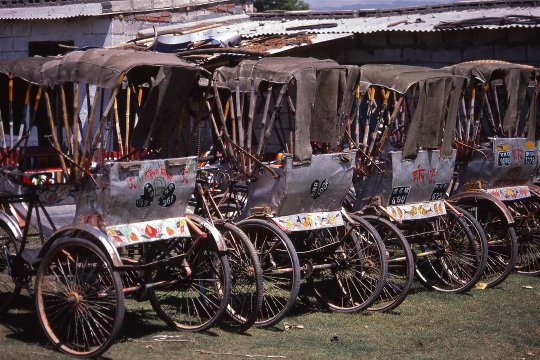 685. So, too, do rickshaws, which use much the same technology.
.




NEPAL CONTENTS


Text, photos and recordings by John Tyman
Intended for Educational Use Only.
Contact Dr. John Tyman at johntyman2@gmail.com
for more information regarding licensing.



www.hillmanweb.com
Photo processing, Web page layout, formatting and hosting by
William Hillman ~ Brandon, Manitoba ~ Canada

..