John Tyman's
Cultures in Context Series
NEPAL

PART FIVE : CONCLUSION
Life in Kathmandu
724 - 755
www.johntyman/nepal
Click for full-size images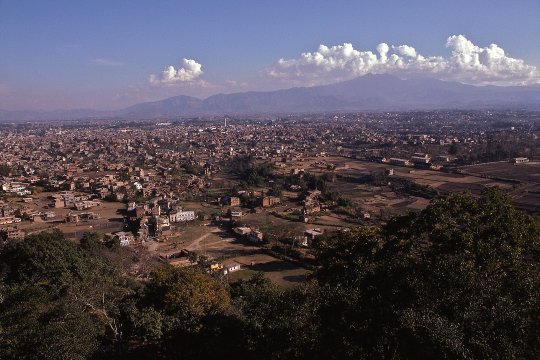 724. Kathmandu, the capital of Nepal, has almost a million inhabitants. It constitutes the urban heart of the Kathmandu Valley and is surrounded by mountains -- which are a mixed blessing as they limit air movement.

.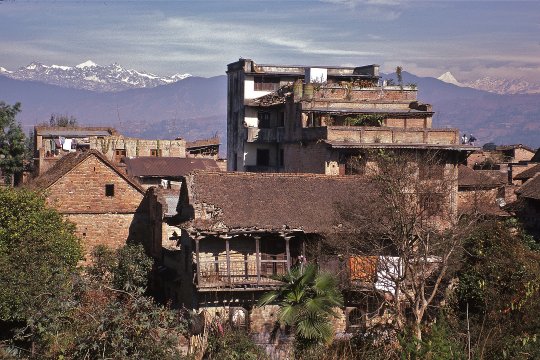 725. On good days, when there are breezes, the mountains are clearly visible from many parts of the city.

.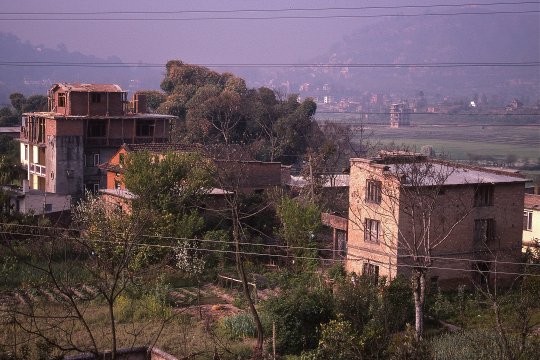 726. But they are often obscured by atmospheric pollution, and people with respiratory problems wear smog masks -- much as they might in Los Angeles or Mexico City.

.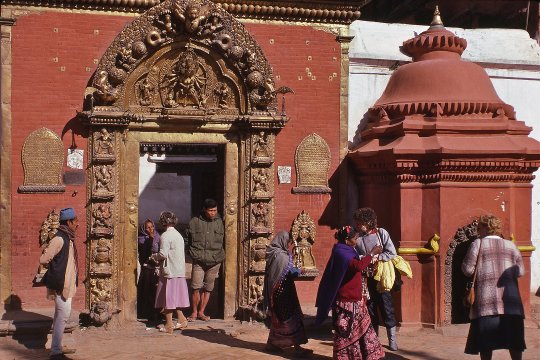 727. The district that includes Kathmandu has the highest population density in the country, and has major satellite centres at Patan 5 kilometres distant and Bhaktapur 12 kilometres from the city. (The Golden Gate in Bhaktapur)

.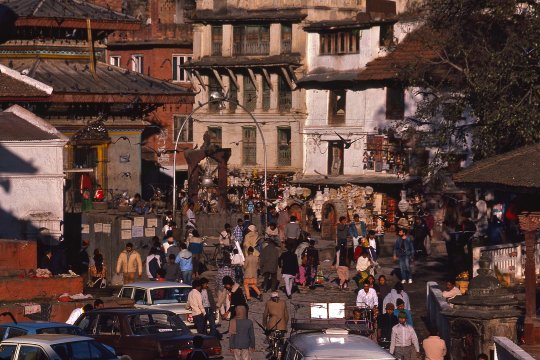 728. Tourists enter the country (and enter the economy) through the airport here and Kathmandu has the most advanced infrastructure of any population centre in Nepal. But it has a foot in each of two worlds -- ancient and modern -- and motor vehicles must find a way through narrow streets. [Video Extract 26]

.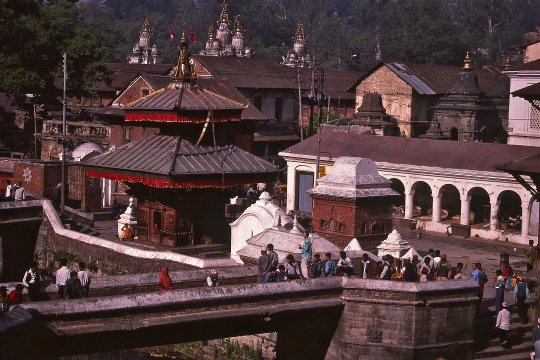 729. The city is 2,000 years old and is home to the Newars -- the original inhabitants of the valley. It is the most important religious centre in Nepal, with Hindu and Buddhist shrines that attract thousands of people daily, both pilgrims and tourists. (Bus-load of pilgrims newly arrived at Pashupatinath)

.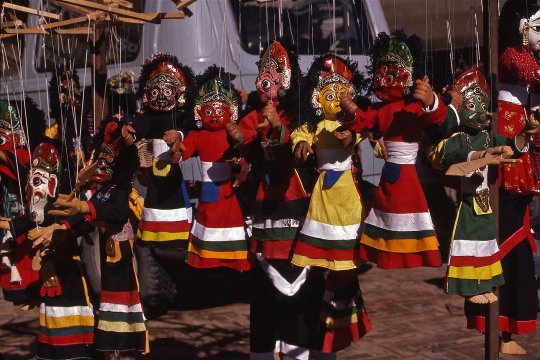 730. There are a host of stall-holders who cater to the needs of visitors, whether for souvenirs or for puja supplies.

.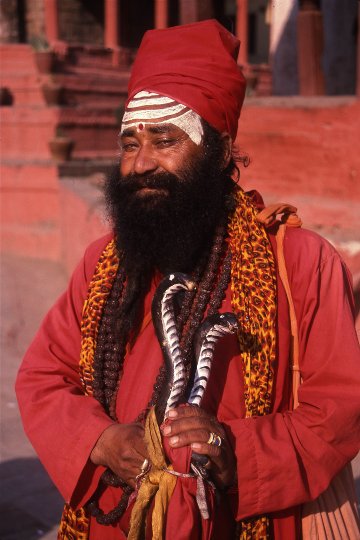 731. Others pose for photographs -- like this suspiciously well-dressed sadhu in Durbar Square.

.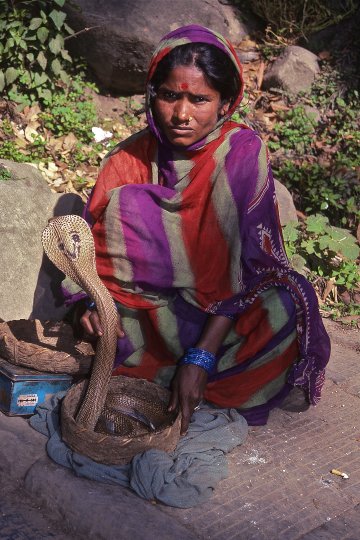 732. And there are even snake-charmers, like this woman at the entrance to the temple at Swayambhunath.

.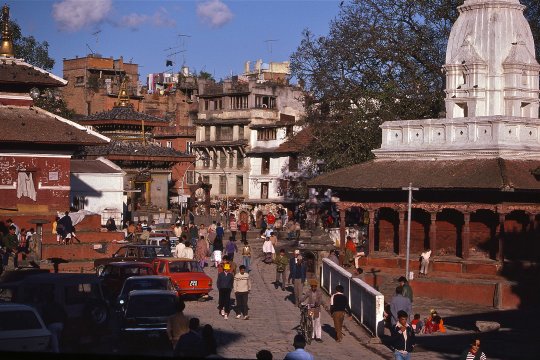 733. In addition, Kathmandu is Nepalís leading commercial centre, with the headquarters of most companies, including its main banks. As a result, signs of its ancient past and its modern present can be seen here side by side.

.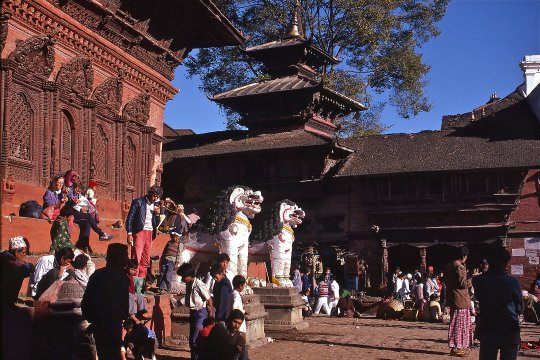 734. It has royal palaces (or buildings that were royal palaces when Nepal was a Hindu kingdom) and a host of temples and shrines, even a home for a ĒLiving GoddessĒ.

.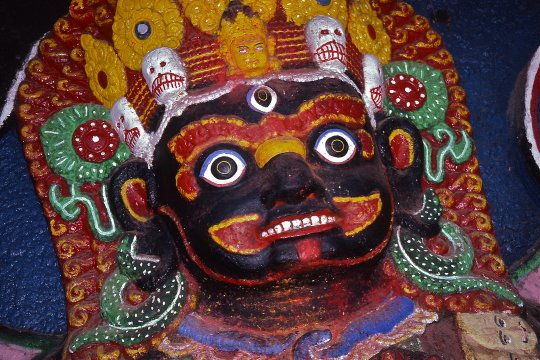 735. There are also statues and carvings to capture the attention of passers-by. Black Bhairab, manifests Shiva in his most fearsome form, with a headdress of skulls. To tell a lie in front of Bhairab is said to bring instant death, and the statue was once used in trials by ordeal -- to check if someone was telling the truth! (In Durbar Square)

.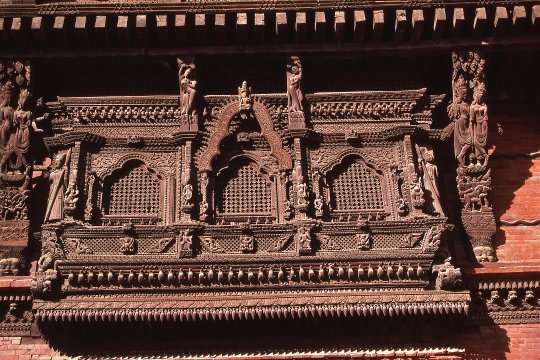 736. Many of the old wooden buildings are beautifully carved. (Windows of former royal palace)

.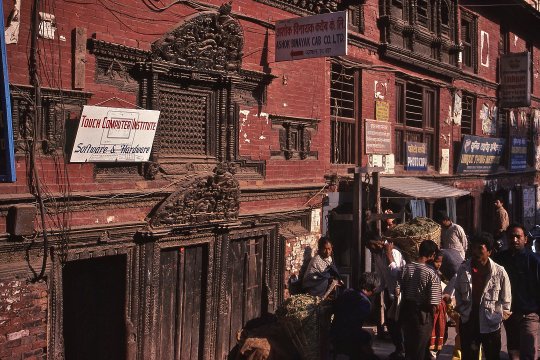 737. But many are occupied today by companies providing technical support -- like computing, photocopying and typing.

.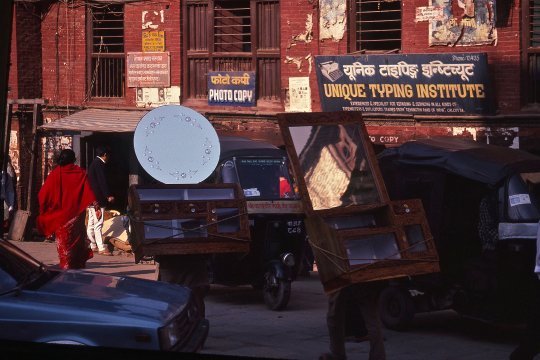 738. Yet, alongside such modern services, furniture may well be delivered on the back of human carrier.

.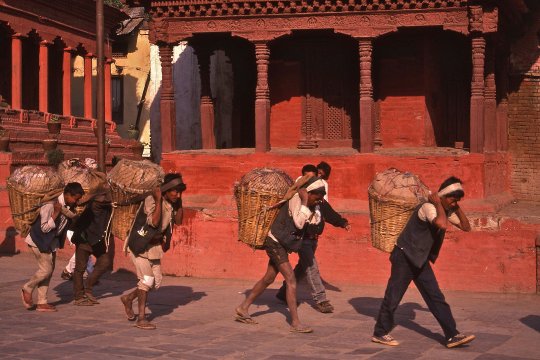 739. And at least some of the freight from rural areas still arrives in a basket.

.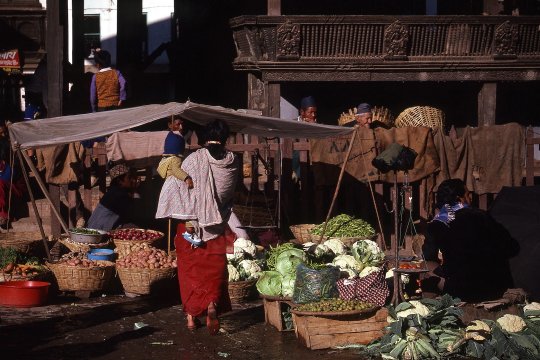 740. Among the immense range of market stalls, located in squares or on roadsides throughout the city, fresh fruit and vegetables are widely available -- though formerly productive farmlands are being lost to urban development.

.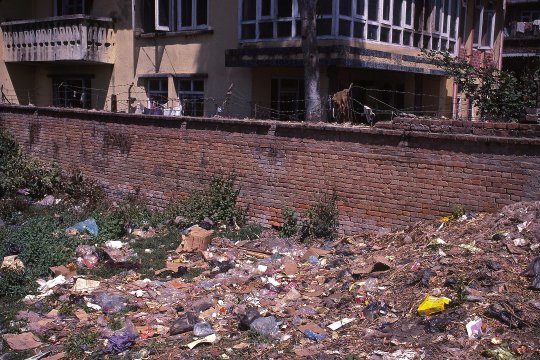 741. The city is expanding rapidly, and the many cars, trucks and buses which service this much larger area are major contributors to the Kathmanduís atmospheric pollution. And with the increased use of packaging materials -- plastics especially -- garbage collection and disposal is a problem also.

.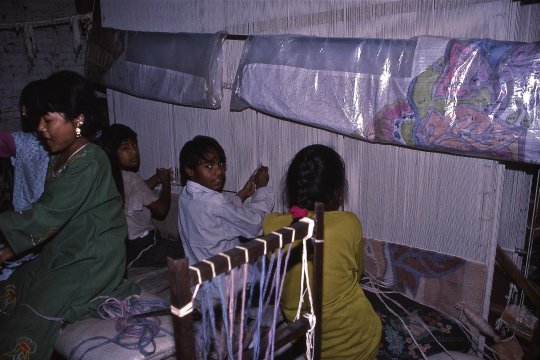 742. Until the explosion in vehicle numbers the greater bulk of air pollution was industrial in origin, most of it from a factory producing cement for the building industry. Prior to the development of the Terai, Kathmandu had also dominated the countryís industrial production. Cement dust still impacts on Kathmanduís air quality, but the industry best known overseas is the weaving of carpets. Sadly, though, some of these are still produced in sweatshops in which children work under appalling conditions.

.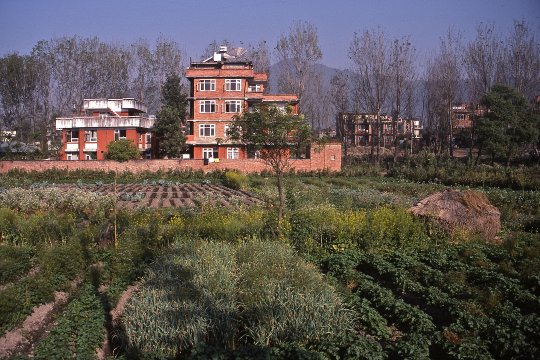 743. Nepal has always had an aristocracy of noble families: but with the growth in industry, commerce, and government services there is also a growing middle class. Expensive houses are common in some suburbs.

.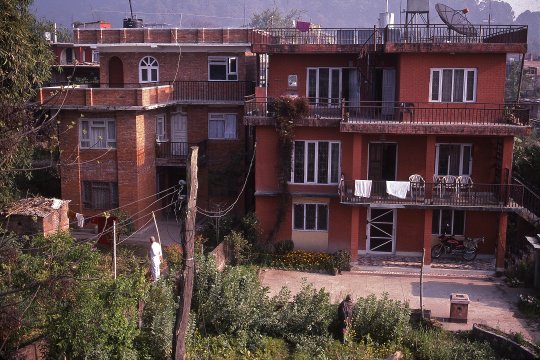 744. Gopal's brother-in-law Kirti Subedi had a large house in just such a suburb of Kathmandu: and I stayed there briefly.

.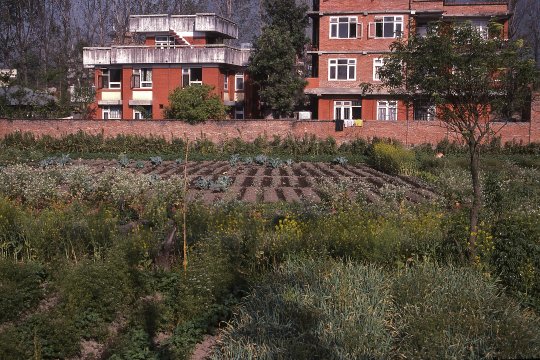 745. The land on which it had been built had been farmed till recently.

.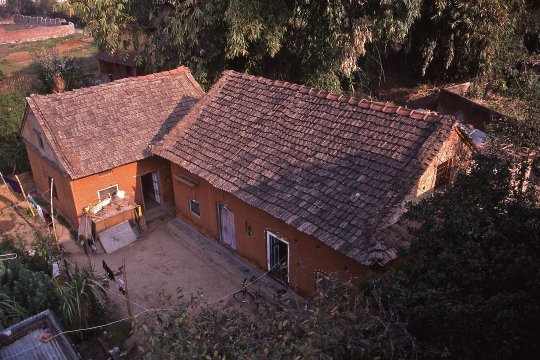 746. From our roof we could see the farmerís house, and the land the family still worked.

.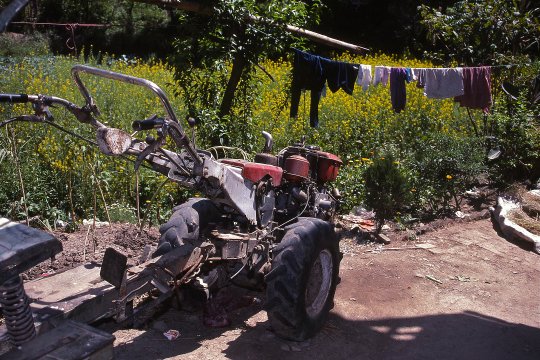 747. They had a rotary cultivator to help with farm work.

.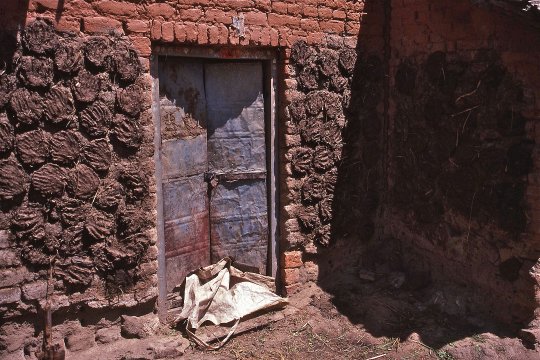 748. But, as in India, they formed patties from their cow dung and dried them in the sun for use as fuel in cooking stoves -- in the absence of much firewood.

.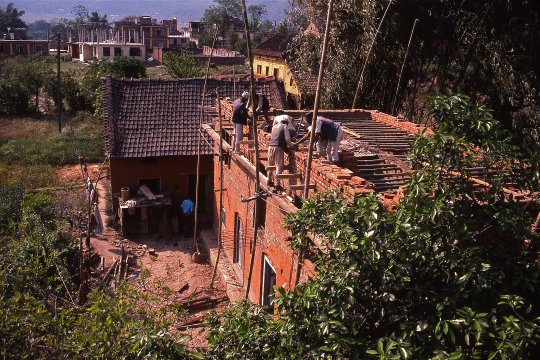 749. They were losing land progressively, however, as the city expanded.

.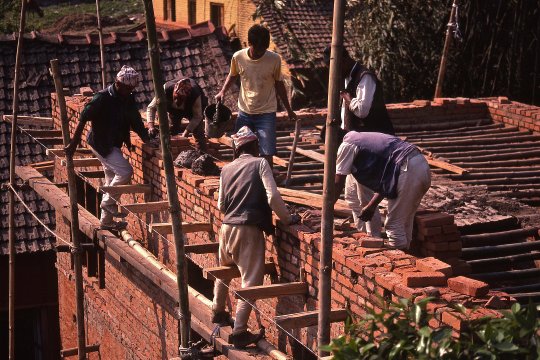 750. In contrast to village life, homes here were built by professionals. They used both tiles and bricks, and worked with a minimum of bamboo scaffolding.

.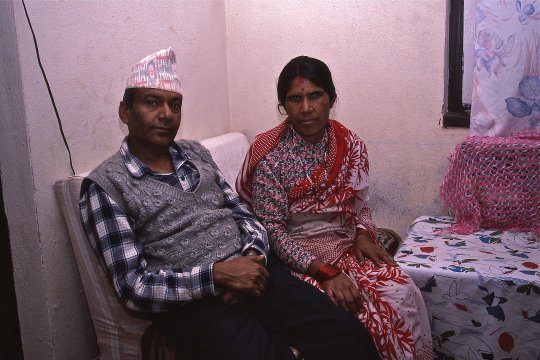 751. Kirti himself was a senior Customs Officer in the city and he presided over an extended family much as he would have done in a village, while enjoying the benefits of a salaried position.

.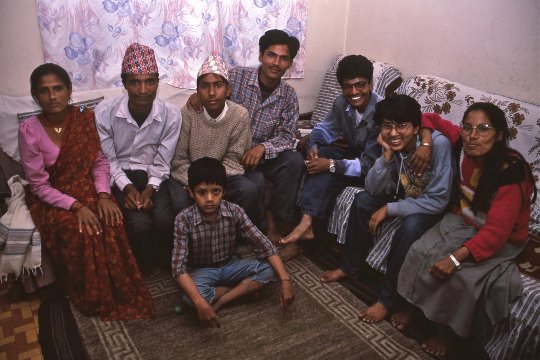 752. His eldest son was then in the United States studying engineering. His daughter was studying science at a college in Kathmandu and hoped to become a doctor. A younger son was away at an English language boarding school, but the household included the son of a poor relative from their village, who attended primary school.

.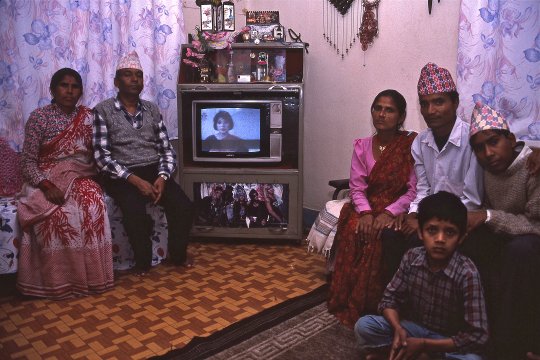 753. Kirtiís wife Parbati was a sister to Bidhya, Gopalís wife, and two other women from her family also lived here while pursuing further education in Kathmandu. The family had a television, and with a satellite dish on the roof received programs from all over the world. Some shows were produced in Nepal itself, but the most popular ones came from India -- from Bollywood especially.

.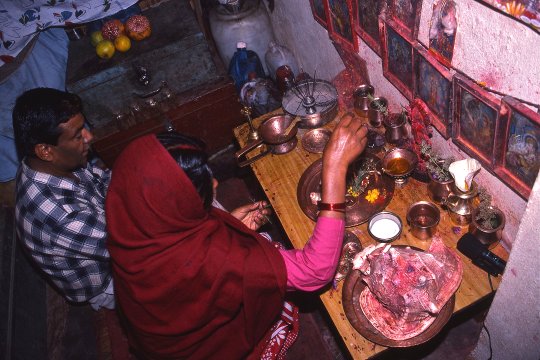 754. Kirti and his wife were devout Hindus, and began their days with offerings of puja. In Bharatpur Gopal and his wife had a tiny shrine in the kitchen and another one outside, but in Kathmandu his relatives (being wealthy) had a whole room reserved for such ceremonies. It was decorated with coloured prints (from India) representing a range of deities (and, till recently, photos of the king as well). There was a bell also, a conch shell (which only men can blow), small copper pots filled with water, and a dish where incense is burned. Conch shells were used in India in antiquity to summon troops on a battle field. (The black object on the right with the cable is my microphone)

.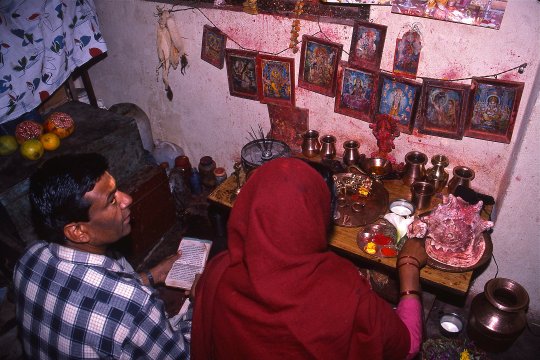 755. Each day a puja dish will be prepared, typically with husked rice, plus incense, vermillion powder, wicks soaked in oil, red sandalwood juice, flowers, and perhaps grains of barley. Celebrants typically smear the deities with vermillion powder and sandalwood juice, sprinkle them with rice, and burn the barley (if any) in a small brazier. While ringing the bell they recite a holy mantra. When they have finished they will apply a vermillion tika to their own forehead and to that of others present -- and also give them a few flower petals, fruit and milk as prasad -- meaning that which is offered to the gods and distributed afterwards to devotees as a blessing. [Video Extract 27]
.




NEPAL CONTENTS


Text, photos and recordings by John Tyman
Intended for Educational Use Only.
Contact Dr. John Tyman at johntyman2@gmail.com
for more information regarding licensing.



www.hillmanweb.com
Photo processing, Web page layout, formatting and hosting by
William Hillman ~ Brandon, Manitoba ~ Canada

..