John Tyman's
Cultures in Context Series
NEPAL

PART FOUR : LIFE ON THE PLAINS
Education
646 - 663
www.johntyman/nepal
Click for full-size images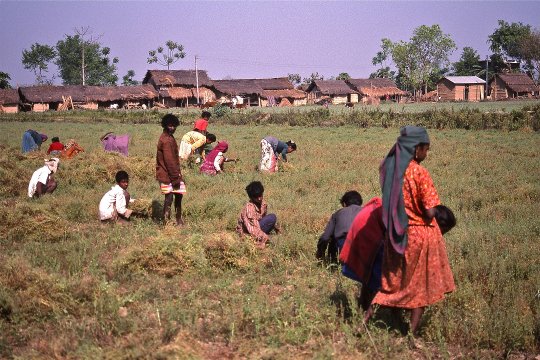 646. As in the Midlands the children of the poor see neither television nor the inside of a classroom. Those living in town will likely work at the market or in a workshop of some sort: but in the country they will work on the land with their parents. (Harvesting dhal)

.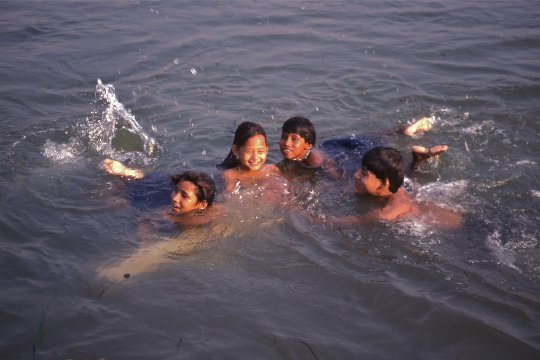 647. During religious festivals they get to play with friends, but will have little free time otherwise. [Video Extract 16]

.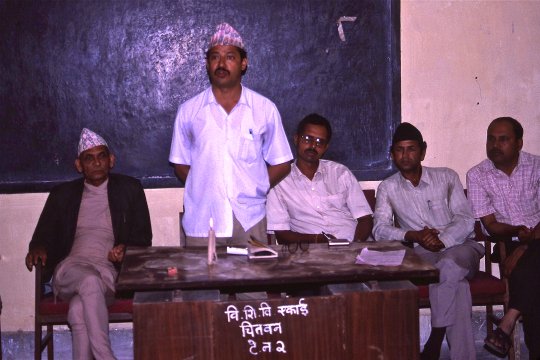 648. In the towns of the plains there are many state schools now, both primary and secondary, and in-service training days like this are organised in support of classroom teaching. [Video Extract 21]

.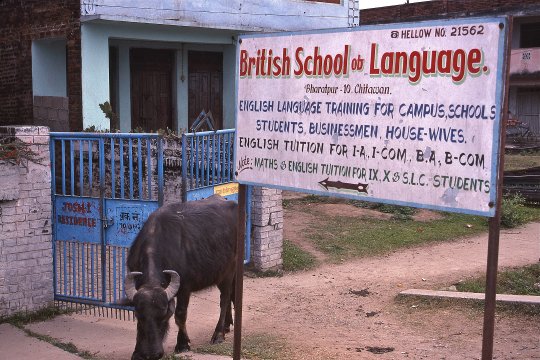 649. However, with the higher population density here and new-found prosperity, Nepal's longstanding British links are mirrored in a parallel school system, in which most of those who can afford to (and many of those who cannot!) send their children to private schools -- or to coaching establishments.

.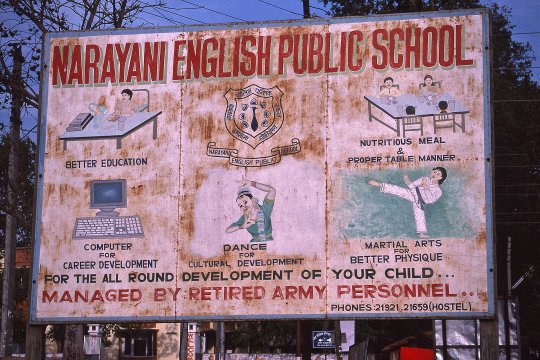 650. In practice it is difficult sometimes to tell if the label "public" is being used as it is in England to mean "independent and exclusive" instead of "open to all". This is obvious from their advertisements.

.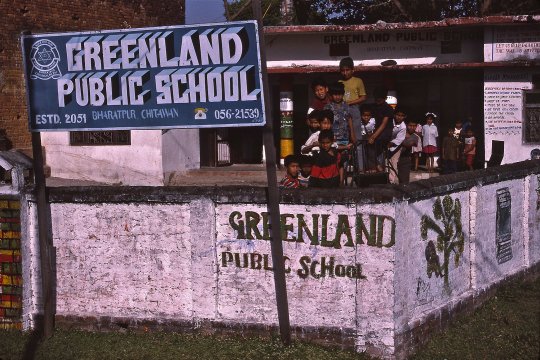 651. Even quite humble institutions -- this one established just two years earlier -- are led to proclaim the strengths of their program.

.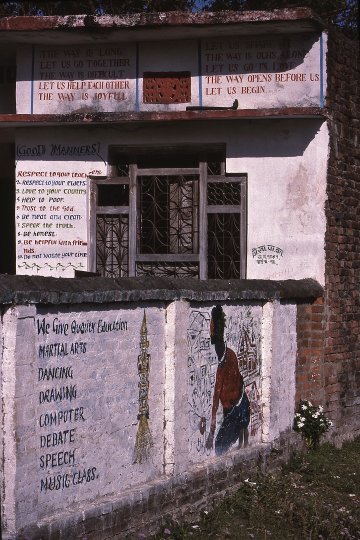 652. Its walls were emblazoned with words which outlined its curriculum and inspired its students with such statements as: "The way lies open before us. Let us begin."

.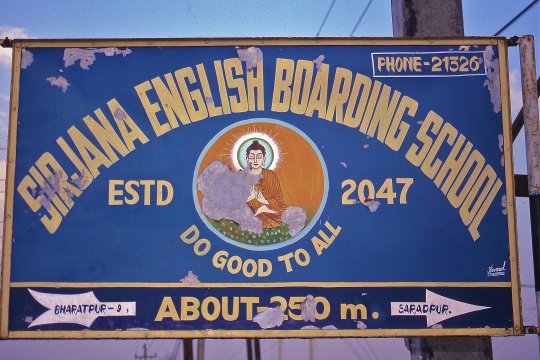 653. Though instruction at this school was given in English, its establishment was dated according to the Nepalese calendar -- which is 56.7 years ahead of that used in Europe and America. Their calendar was instituted in 56 BC by an Indian emperor to mark a great victory. Since it is a lunar calendar and begins in mid-April it is impossible to be precise, but this school would probably have been established in 1990 (that is 2047 minus 56.7).

.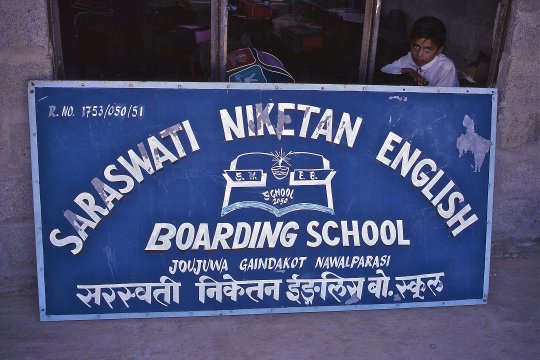 654. Gopal's younger brother Bhim teaches at this school. It is named after Saraswati, goddess of learning and the consort of Brahma.

.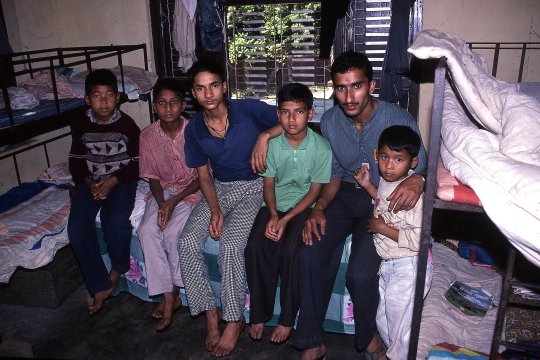 655. Children who live distant from the school can board here during the week. The others walk to their classes daily.

.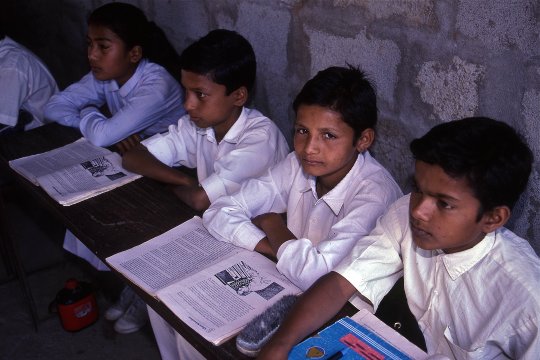 656. Students wear uniforms and will be sent home if they are not properly dressed.

.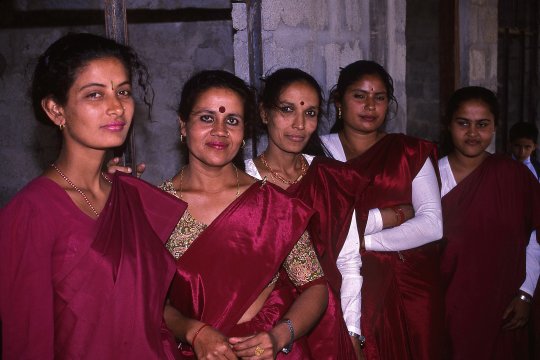 657. Their teachers, all of whom have been to college, are also required to dress smartly.

.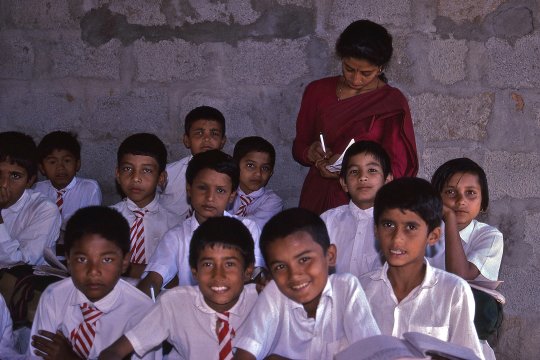 658. English is the language of instruction: and recitation, reading aloud and rote learning are standard practice, even in lower grades -- as they were in Ramja Thanti. [Video Extract 21]

.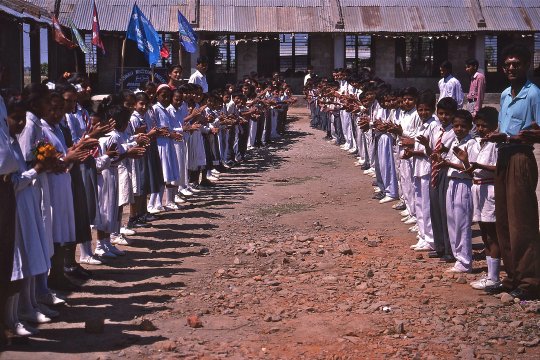 659. There was a large parade ground in front of the school used for morning assemblies, calisthenics, football and marching drill. When I took this photo they were lined up to greet me.

.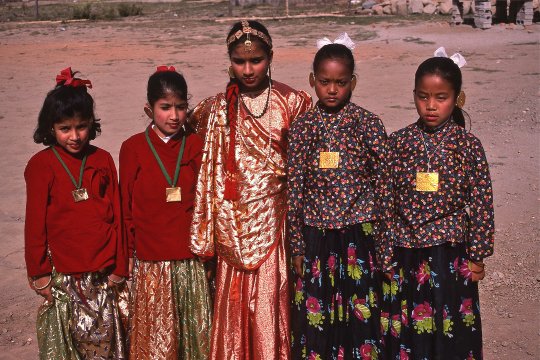 660. And as in Ramja Thanti I was honoured by a series of dances which show-cased the school's commitment to Nepalese traditions.

.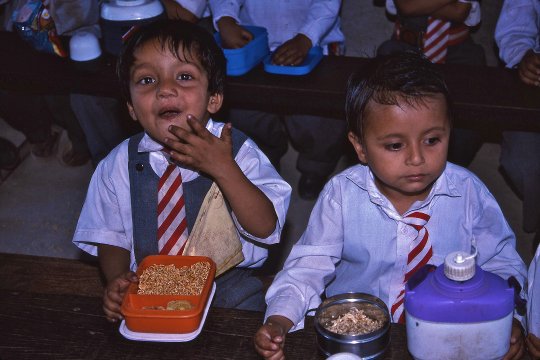 661. During their lunch break the older boys played table tennis, using bats and balls made in China but improvising everything else. [Video Extract 21] Others opened their lunch boxes and ate heartily -- unlike students at the school in Ramja Thanti.

.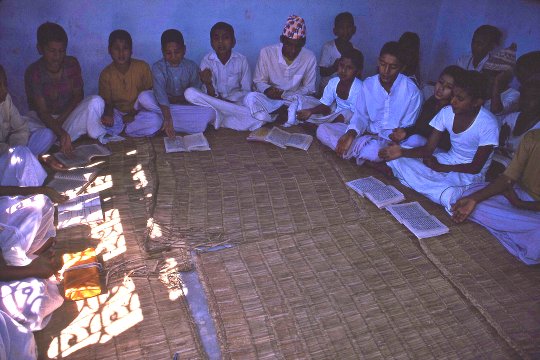 662. At Devghat, in addition to the temples and the refuge for widows, there was a school for priests, at which students in poor light memorised Hindu holy books ... in Sanskrit. Boys were sent there by their parents as a gift to God (though the older ones, apparently, were drop outs from secondary school). [Video Extract 28]

.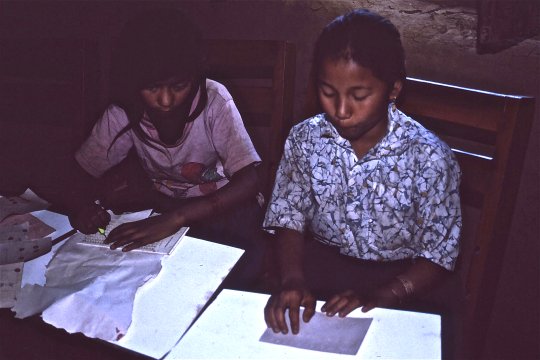 663. Nearby I visited a school for blind children, from villages far and wide. It had been opened for only three months, and had 10 students, one teacher, and aids which were often improvised. The government provided the building (plus a caretaker) and the teacher's salary, but paid the school only 1,000 rupees a month to house, feed and clothe the children. Donations from overseas were needed to help it operate properly.
.




NEPAL CONTENTS


Text, photos and recordings by John Tyman
Intended for Educational Use Only.
Contact Dr. John Tyman at johntyman2@gmail.com
for more information regarding licensing.



www.hillmanweb.com
Photo processing, Web page layout, formatting and hosting by
William Hillman ~ Brandon, Manitoba ~ Canada

..