John Tyman's
Cultures in Context Series
NEPAL

PART FOUR : LIFE ON THE PLAINS
Forms of Shelter
535 - 574
www.johntyman/nepal
Click for full-size images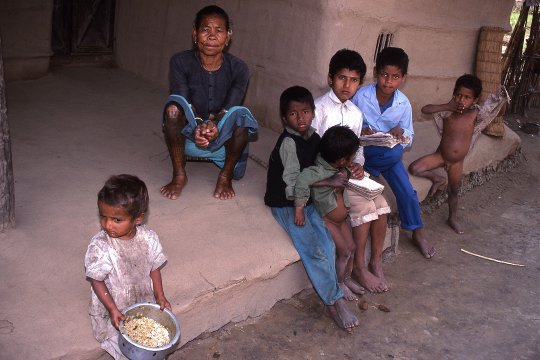 535. The original inhabitants of the Terai were mostly Tharus. They lived traditionally in extended family groups, in which married sons and their children live under the same roof as the grandparents.

.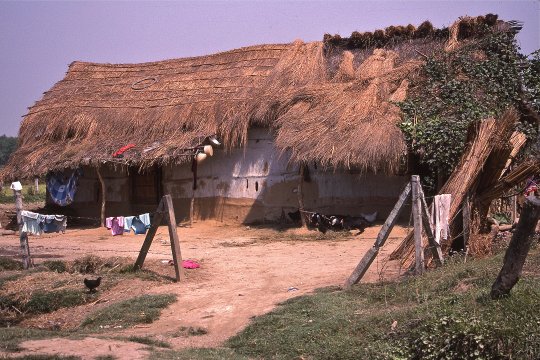 536. Their buildings typically provided, under a single roof, space for family life, for farm chores, and shelter for livestock. Each married couple had a private cubicle.

.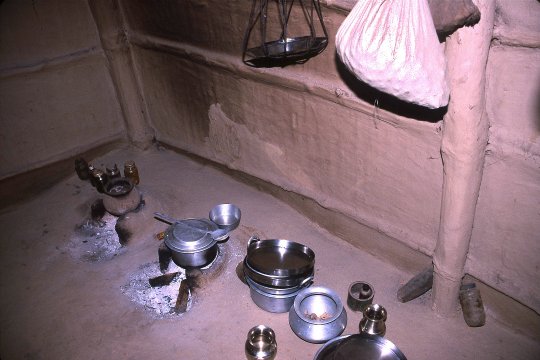 537. And there was a central kitchen (from which outsiders like myself would have been excluded in times past).

.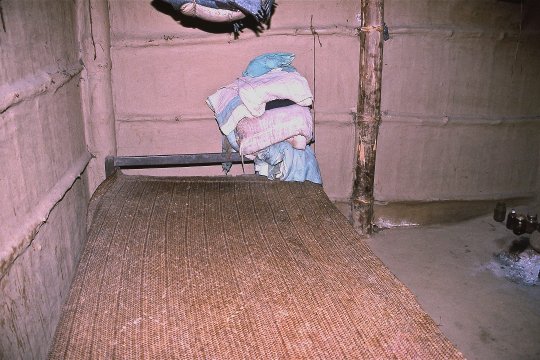 538. There was a bare minimum of furniture, often only clay or wooden benches, with bedding tidied up during the day.

.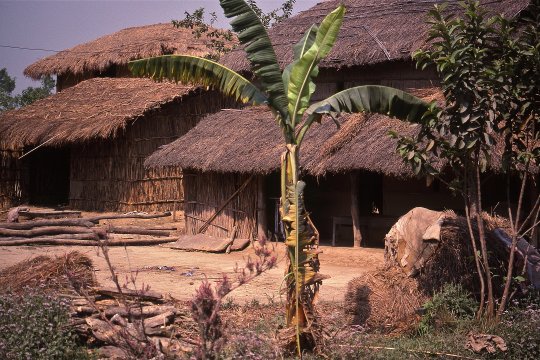 539. Each house had an adjacent kitchen garden, providing fruit and vegetables for household use.

.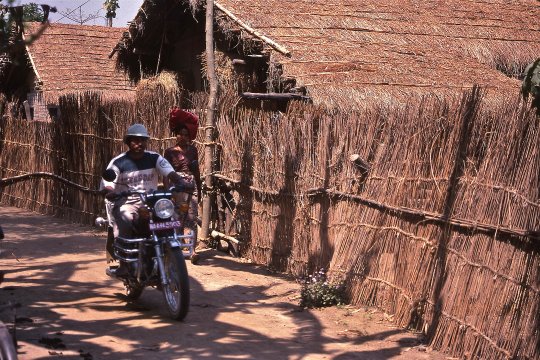 540. And there would be a bamboo fence between the gardens and the street, to exclude stray animals.

.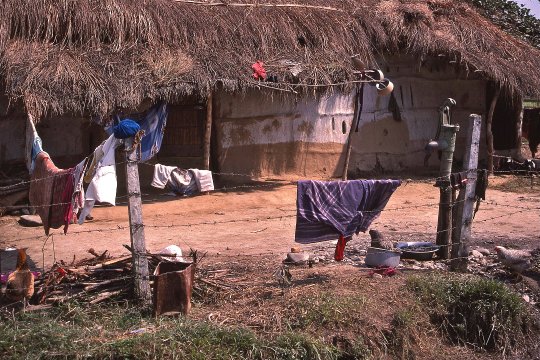 541. Unlike homes in the Midlands, Tharu dwellings were not built to last very long. They employed local materials and simple techniques, and functioned basically as light shelters designed for a hot and humid climate.

.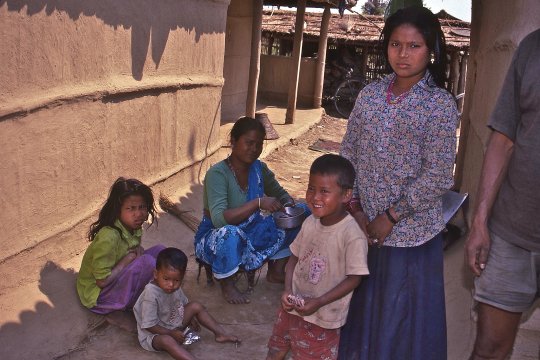 542. Since the Terai is underlain by alluvial silts and lacks building stone, their cob walls had a core of bamboo lathes plastered over with a mixture of clay and chopped straw.

.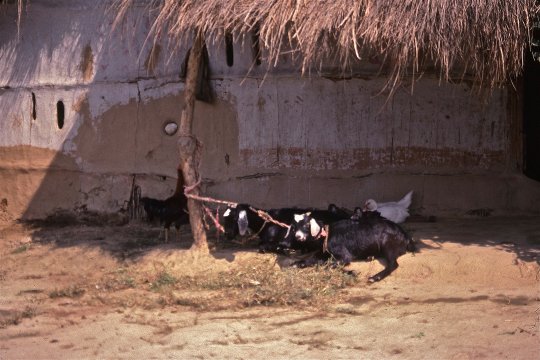 543. This would be coated with a layer of clay mixed with cow dung -- and possibly whitewashed with lime.

.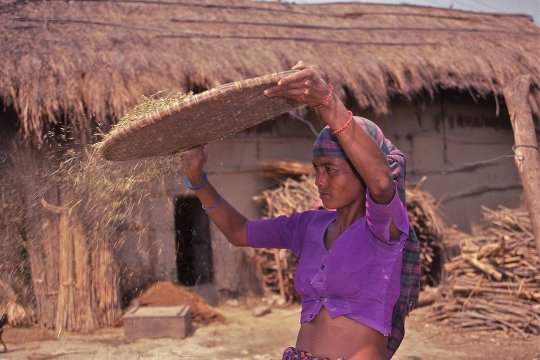 544. And the roof would be thatched with straw, which was plentiful.

.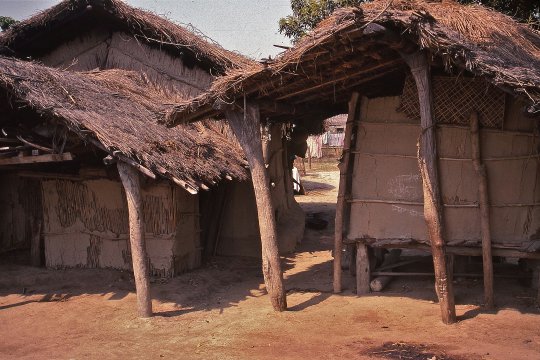 545. Most of the forest that covered the Terai was cleared long ago, but enough small trees remained to provide poles for use as posts -- which, in this photo, give every indication of being re-cycled.

.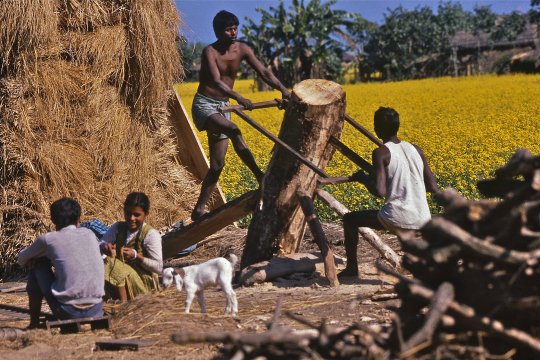 546. Timber for beams is obtained from the surrounding foothills. Doors and furniture are made from planks sawn from bigger trees brought from distant woodlands, and cut to size on site. [Video Extract 19]

.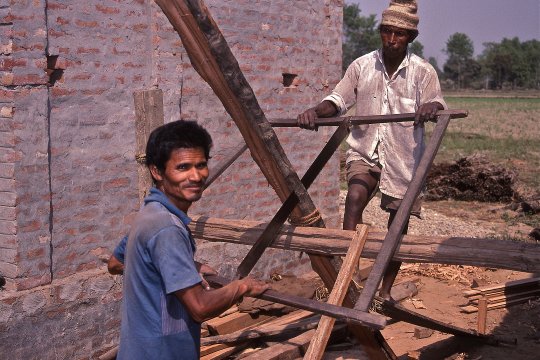 547. Some of the larger landowners, though, can now afford brick walls, and tradesmen to do the work.

.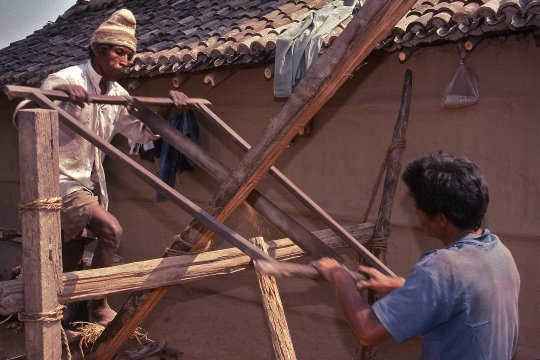 548. Others use cob walls still but can afford roofing tiles and the heavier timbers to support them.

.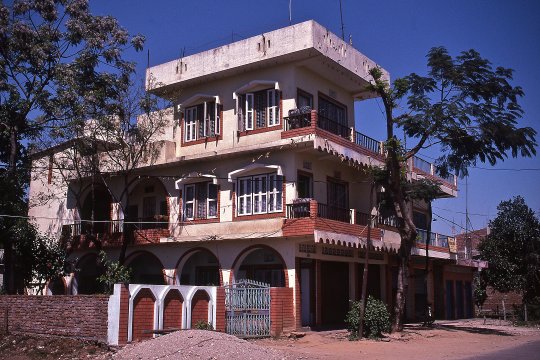 549. In towns on the Terai, as opposed to villages, most modern dwellings are built of brick and/or concrete, by professional builders, and bear witness to the prosperity of the rapidly expanding business community.

.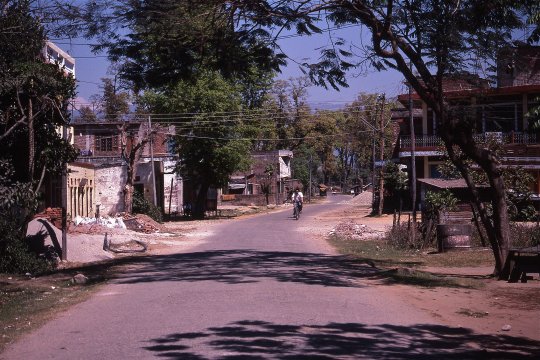 550. Some suburbs of Bharatpur are more attractive than others, but all of them have a supply of electricity that is reasonably reliable.

.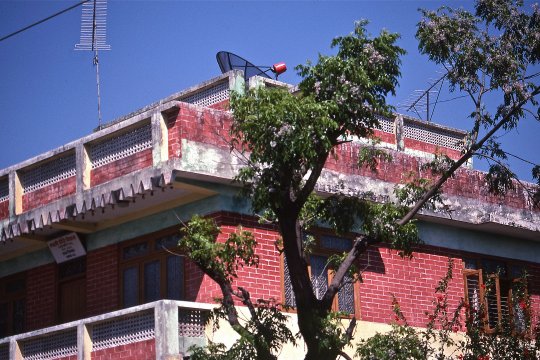 551. Some even have expensive aerials and satellite dishes on the roof to ensure radio and television reception from a wide range of sources.

.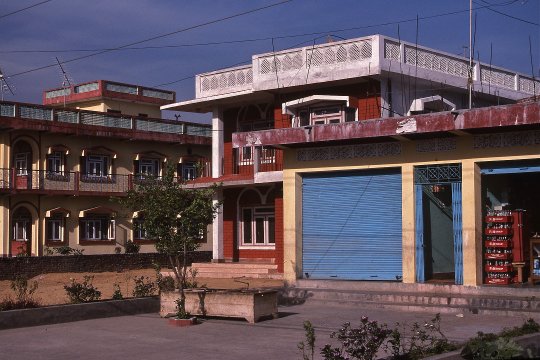 552. However, the roller doors with which many houses are equipped are not meant for cars, but to allow the owner or a tenant to operate a business from the front of the house.

.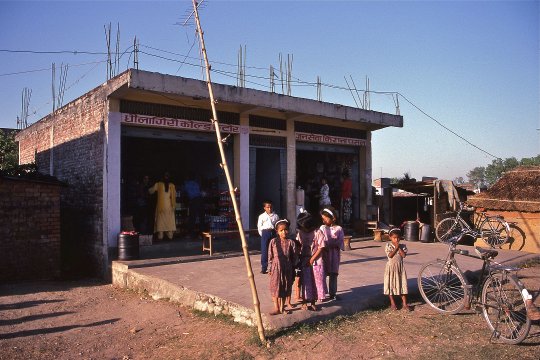 553. This was also the case with the house in which I stayed. On level land it is a lot easier to build roads, and our house was just a few metres from the highway between Kathmandu and India -- so it was noisy and dusty.

.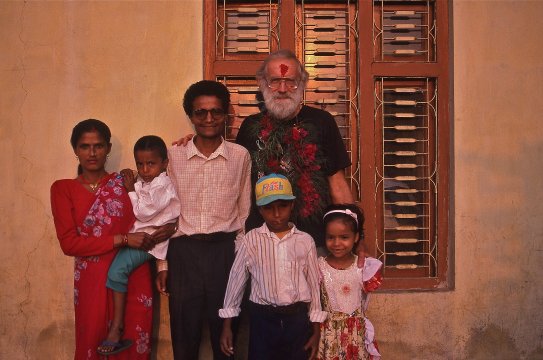 554. Gopal had been transferred from Ramja Thanti to a school in Bharatpur, and when I stayed with them he was in process of adjusting to a rather different way of life -- with his wife and their three children.

.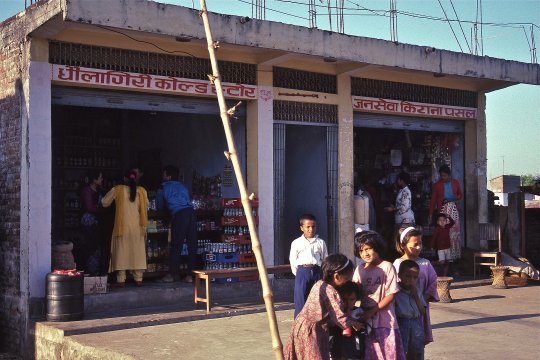 555. In common with most houses facing roads in Nepal the front was occupied by shops -- much as in Ramja Thanti, but larger and more modern. Built of concrete it was scarcely beautiful, but is best described as a "functional building" or "an investment property" -- and its owner clearly hoped to add a second story at some point.

.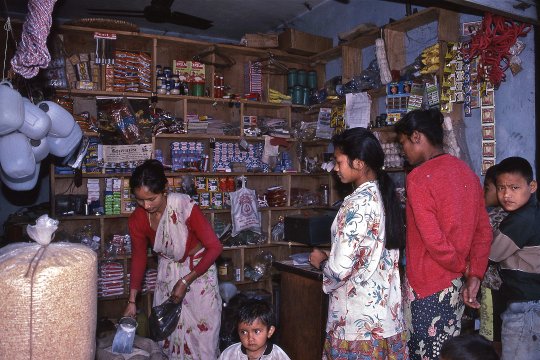 556. On one side of our entrance there was a small general store, selling food, stationery, toothpaste, batteries and candles.

.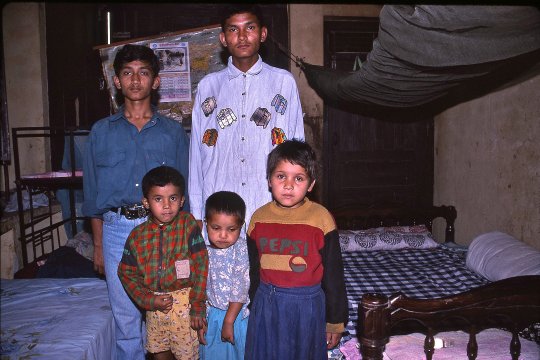 557. The family lived at the back of the shop.

.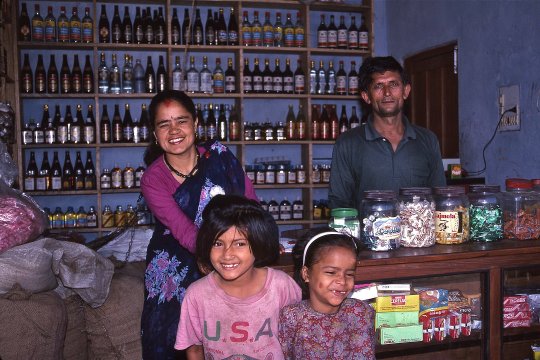 558. On the other side there was a liquor store, which also sold soft drinks, cigarettes, lentils and rice. They had a separate room in which to live. Their daughter was a close friend of Gopal's daughter Gita.

.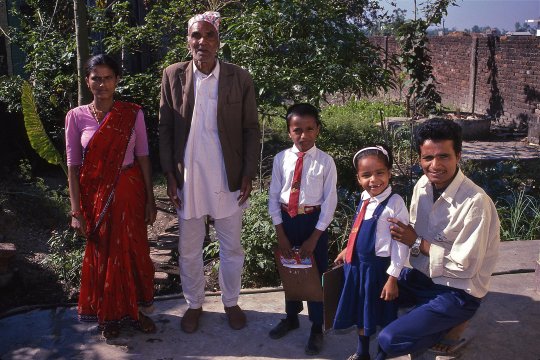 559. The building was owned by one of Gopal's relatives. Gopal simply rented space to house his family while teaching nearby. He hoped to own a home of his own one day; but as a teacher he earned less than $1,000 a year; and he spent a third of this on fees for his children at a private school.

.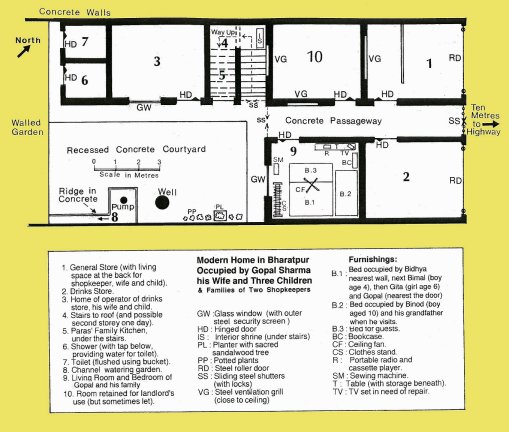 560. His family had one room which served as a bedroom and living room. It measured 3 metres by 3 metres. This was where they slept (their visitors, too), where the children did their homework, where Gopal prepared his lessons, and where they relaxed together as a family.

.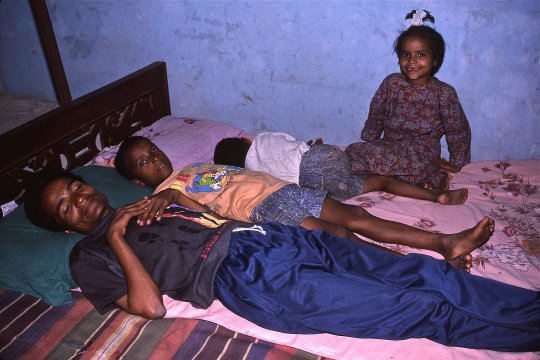 561. Gopal and his wife slept on the larger bed with the two youngest children (then aged 4 and 6). Their oldest son Binod
(aged 9) shared the smaller bed with his grandfather. The third bed shown on the plan was for guests.

.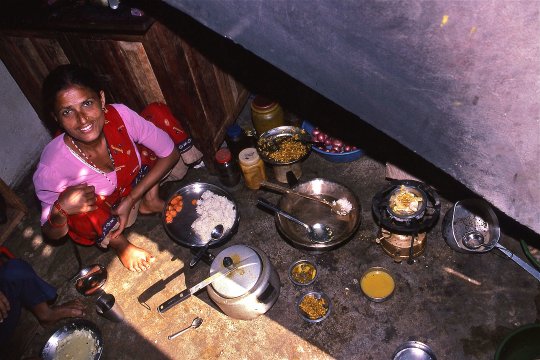 562. They also rented space under the stairs, for cooking and eating and a family shrine. This "room" was 3 metres in length but scarcely more than one metre wide, and half of it had a low ceiling.

.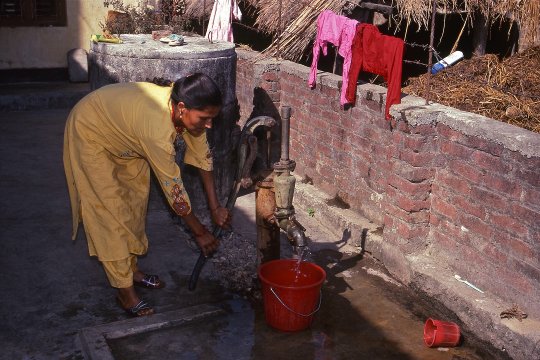 563. Our water came from a well, from which it was raised manually using an ancient pump that required regular maintenance. And there was another family altar close to it.

.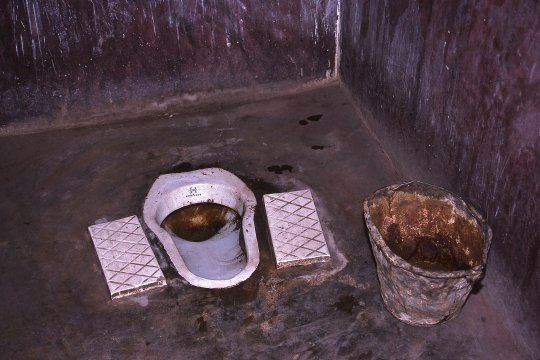 564. We shared a small toilet and shower with the families of the two shopkeepers. The toilet was flushed using an old bucket.

.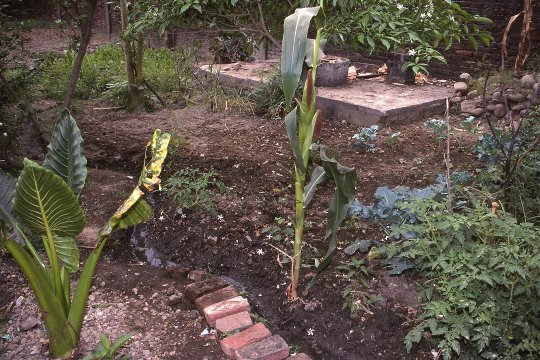 565. And there was a small vegetable garden, watered by runoff from the pump and the shower.

.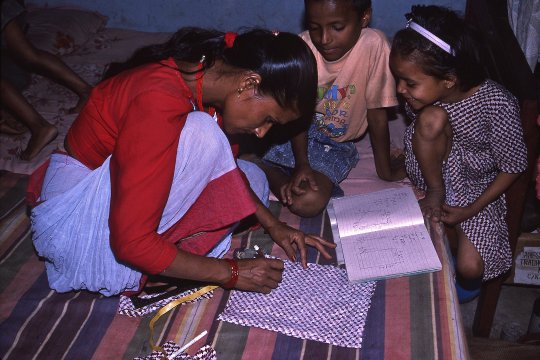 566. In other words, there were more conveniences here than in Ramja Thanti -- including electricity for lights -- so the family could work after dark -- plus a ceiling fan for hot and humid nights.

.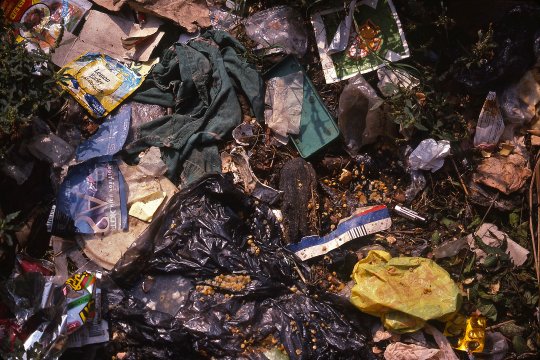 567. The advantage of amenities like this, however, was offset in part by the noise, and the dirt, and the pollution characteristic of life in a new town -- rapidly expanding in every direction, with little or no planning.

.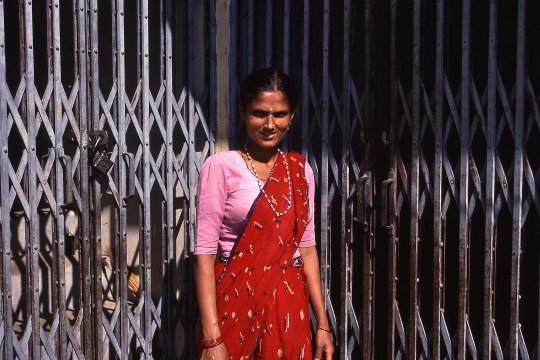 568. There was also the problem of security. At night we slept behind steel security screens, closed by heavy padlocks, as a defence against thieves -- something we could not imagine doing in the country.

.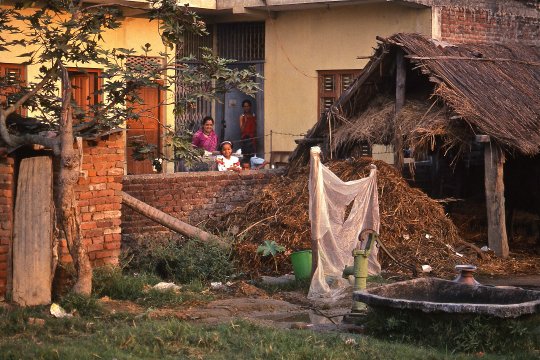 569. Yet however humble it may have been, our home in Bharatpur was certainly a cut above the homes of our neighbours.

.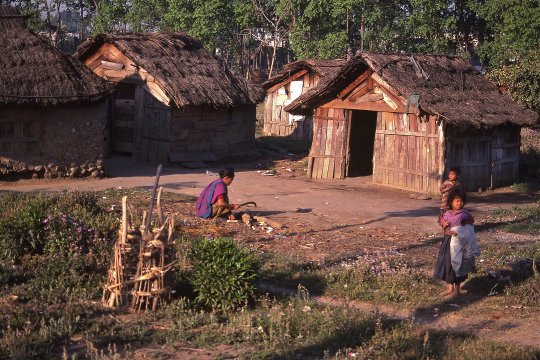 570. Many of the poorer new arrivals build their own homes, modelling them on houses they lived in previously in rural areas.

.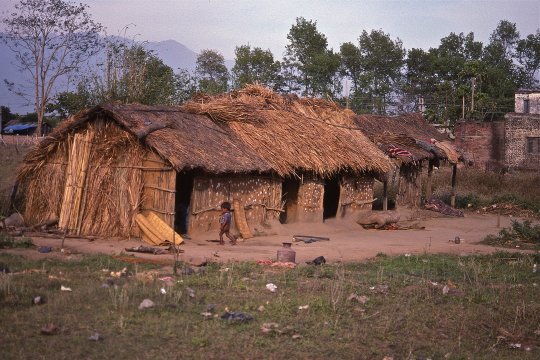 571. Many will not own the land they build on, but simply squat on whatever land is available, so their occupation of it is informal if not illegal.

.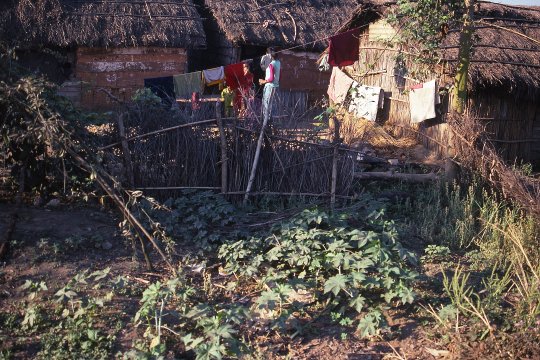 572. Their homes were built using whatever materials were available, and many of them somehow found space for kitchen gardens.

.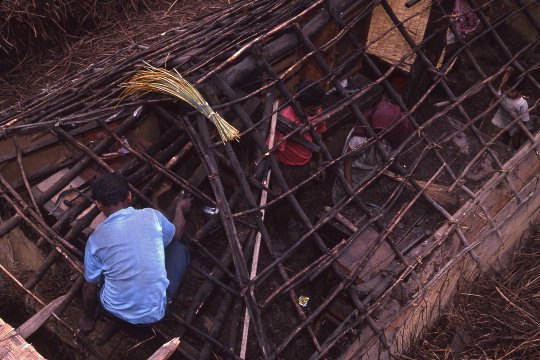 573. Grass was the cheapest roofing material, and allowed the smoke from kitchen fires to filter through it.

.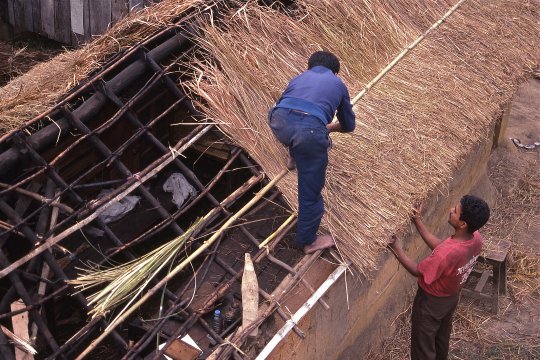 574. When it got too encrusted with soot, or damaged by rain, it could easily be replaced. [Video Extract 22]


Text, photos and recordings by John Tyman
Intended for Educational Use Only.
Contact Dr. John Tyman at johntyman2@gmail.com
for more information regarding licensing.



www.hillmanweb.com
Photo processing, Web page layout, formatting and hosting by
William Hillman ~ Brandon, Manitoba ~ Canada

..