John Tyman's
Cultures in Context Series
NEPAL

PART FOUR : LIFE ON THE PLAINS
Trade and Commerce
575 - 608
www.johntyman/nepal
Click for full-size images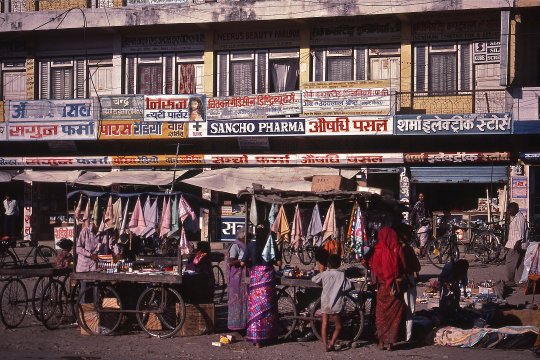 575. Bharatpur is one of the many new communities which have sprung up on the Terai -- which is the boom area of Nepal today. [Video Extract 23]

.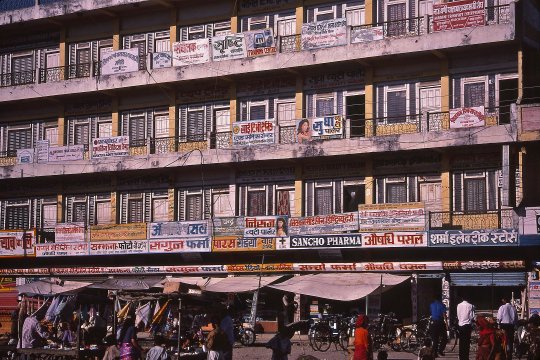 576. The centre of the town is crowded and noisy. A host of commercial enterprises occupy rooms above street level, many of them dealing in the products and services generated by new technologies.

.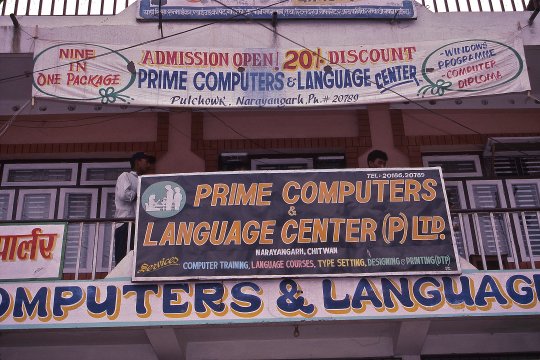 577. Because of the many people who have migrated here hoping for a fresh start in life, there are a number of enterprises offering English language and computing courses.

.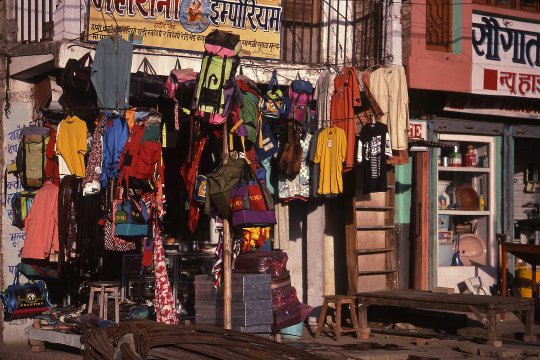 578. At street level an unbroken series of shops offer a great diversity of products. Several sold ready-made clothing.

.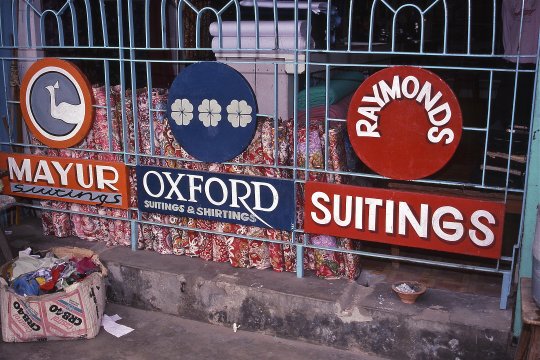 579. Others offered to tailor clothing using materials chosen by their customers.

.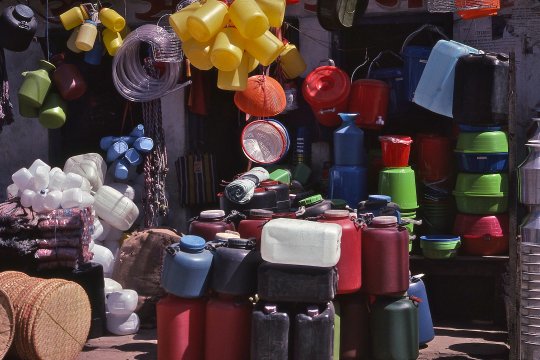 580. A wide range of plastic items was available for domestic and commercial use.

.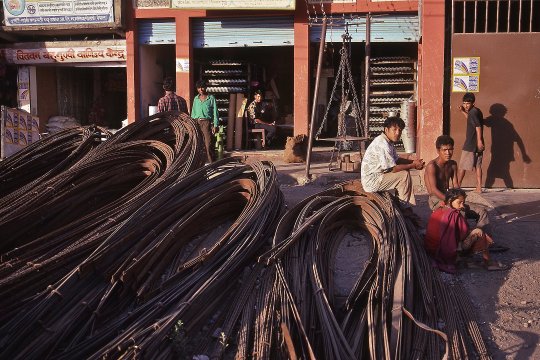 581. And a lot of builders' hardware, including steel reinforcing for concrete houses and driveways.

.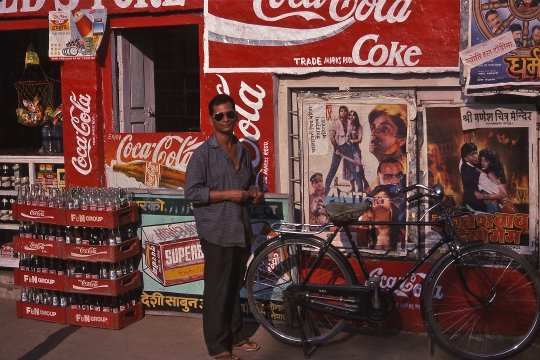 582. Inevitably, too, there were soft-drink outlets marketing brands of canned and bottled drinks now available world-wide.

.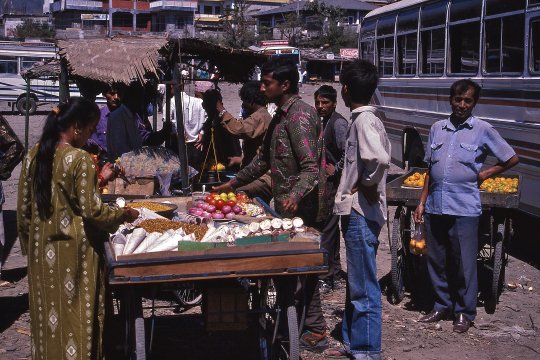 583. An even wider range of small items was offered by stallholders -- clothing, bangles, shoes, bags, fruit, meat, fish, metal tools etc. etc.

.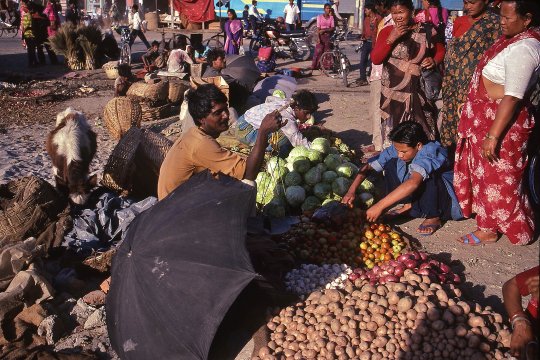 584. And there was a vegetable market supplied by local growers.

.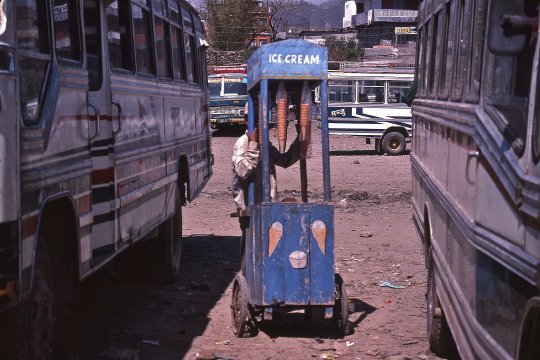 585. Others sold ice creams, or crushed sugar cane or oranges and sold the juice. [Video Extract 23]

.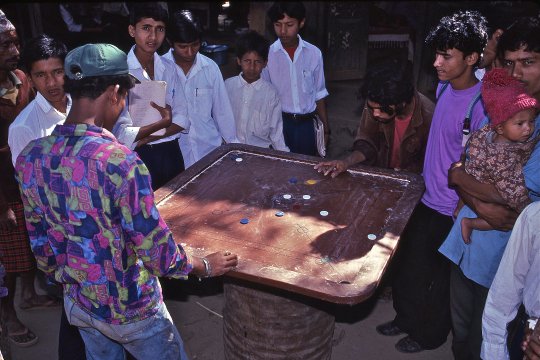 586. Snack-bars had games to occupy their young patrons, including carom -- a cross between shove-ha'penny and billiards.

.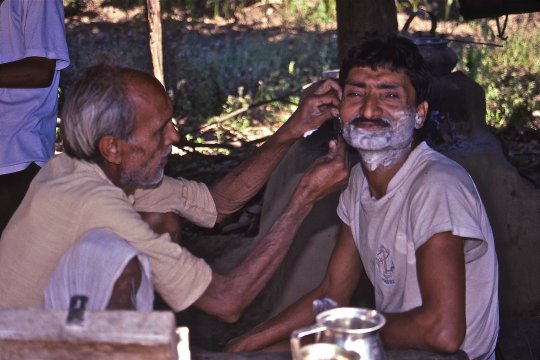 587. Those in need of a shave or a haircut could have one there and then, beside the road.

.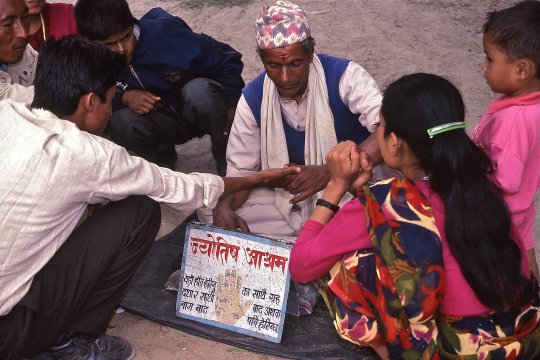 588. And those who were anxious about their future could have their fortunes foretold by a palmist who claimed to discern meaning in the lines of a customer's hand.

.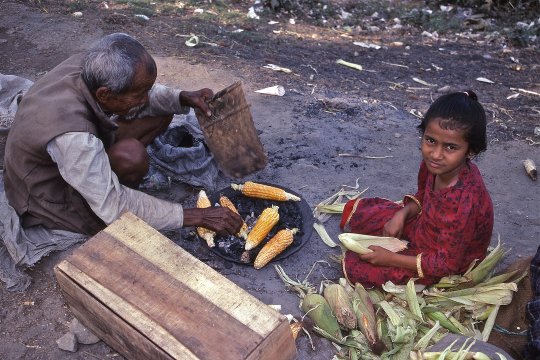 589. There were stalls managed by children from families too poor to send them to school.

.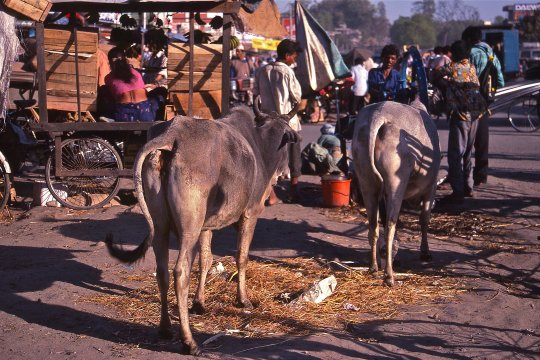 590. And amidst all of this hustle and bustle there were cattle that wandered to and fro seemingly disturbing no one.

.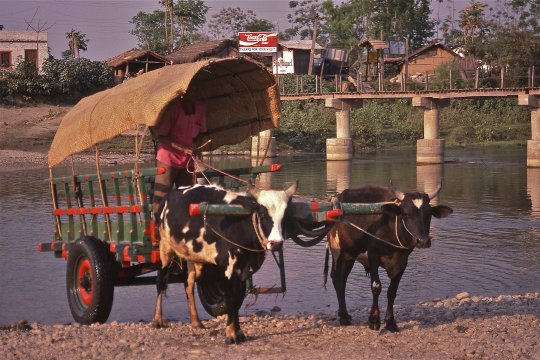 591. Some of the farm produce was moved here in carts like this, pulled by oxen as they had for centuries.

.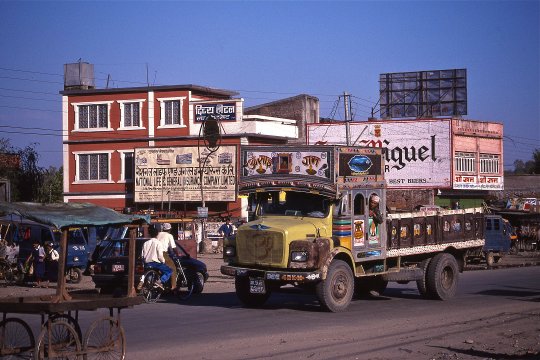 592. But second-hand trucks made in India carried over longer distances the raw materials required by local businesses, and distributed their finished products.

.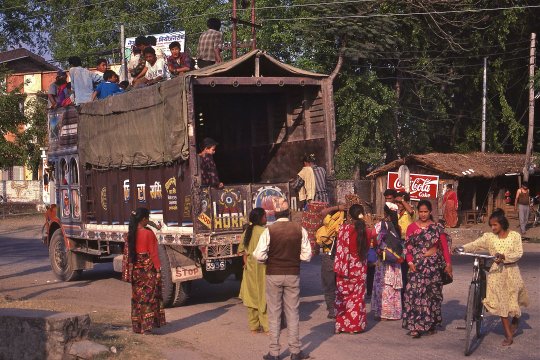 593. They also carry passengers, some in the back, perched on freight...

.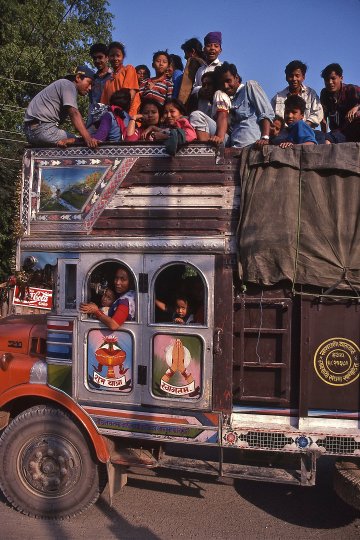 594. Others on top, where they hang on tight.

.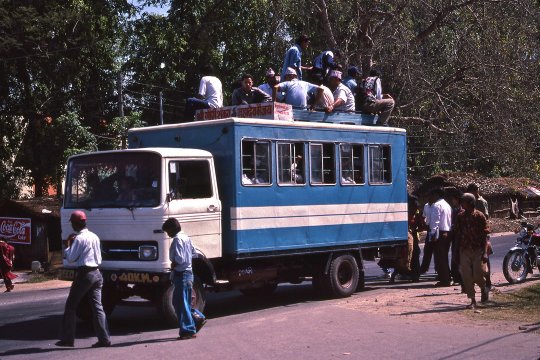 595. Local buses, too, may carry passengers outside as well as within ... especially those improvised using a truck chassis.

.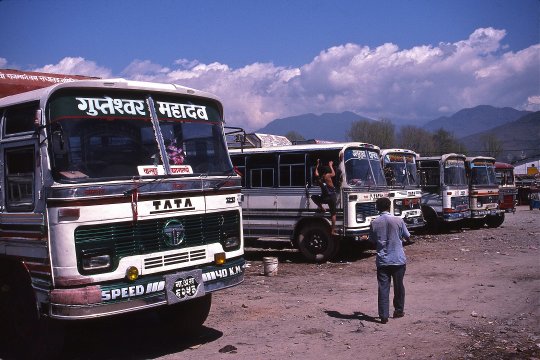 596. Most long distance buses, too, are veterans of service in India and (driven enthusiastically if not dangerously!) connect the plains with the hill country of the Midlands. Travelling to or from Pokhara was always an adventure, with narrow winding roads and suicidally steep drops into the valley below! [Video Extract 24]

.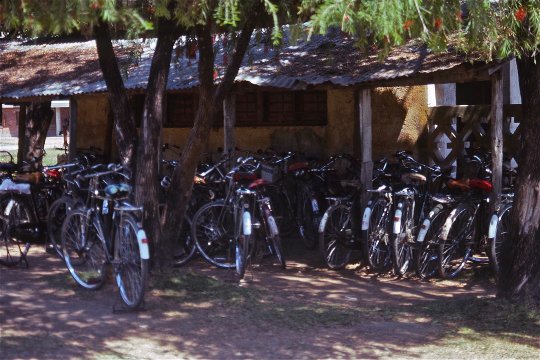 597. Around town, people who chose not to walk rode bicycles instead. These were made in China. Some people bought their own, but many rented them as and when required from shops like this.

.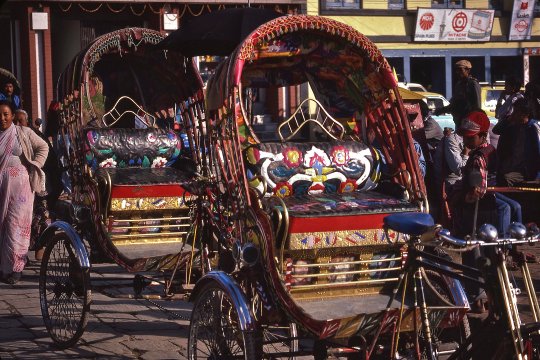 598. Those with money to spare could travel in comfort in pedal-powered rickshaws.

.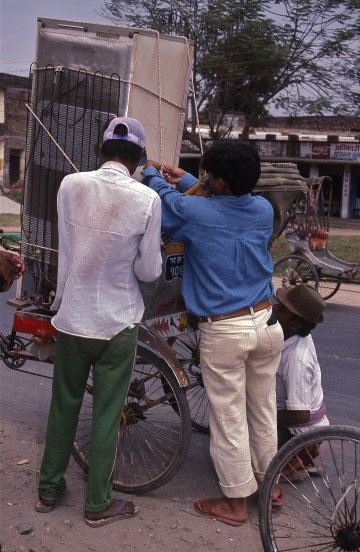 599. But these were also used to move quite heavy articles around town, like this refrigerator. Remember, the land is level here.

.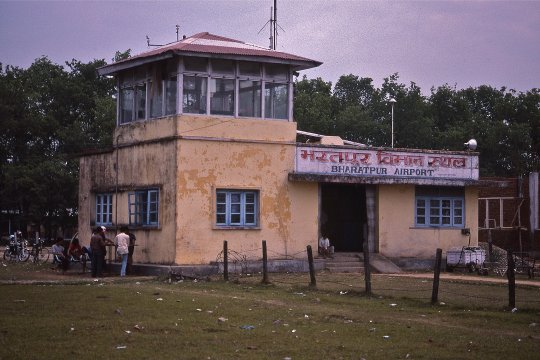 600. There was a small airport in Bharatpur for those who cared to fly.

.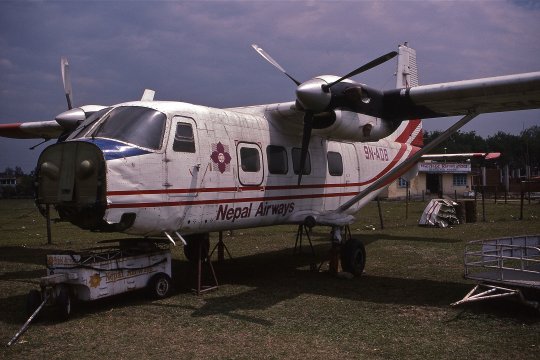 601. But the mountains and hills of Nepal constitute an unforgiving landscape within which airline pilots cannot afford to make mistakes. This plane lost its nose cone.

.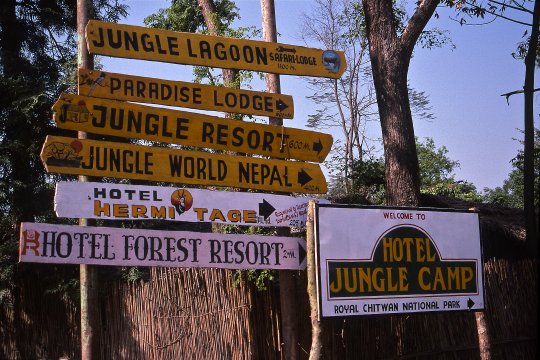 602. The lack of a good air service was an especial drawback to the tourist industry, which boomed prior to the recent Maoist unrest.

.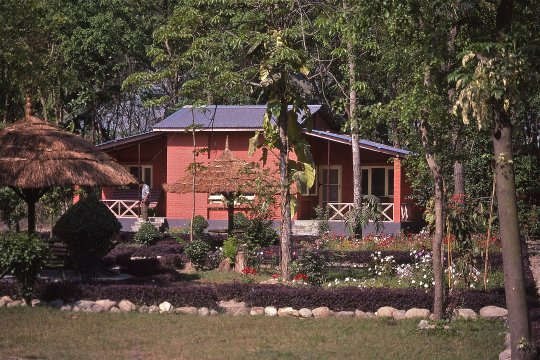 603. Many found jobs then in building and staffing resorts like this which catered for visitors from India and overseas.

.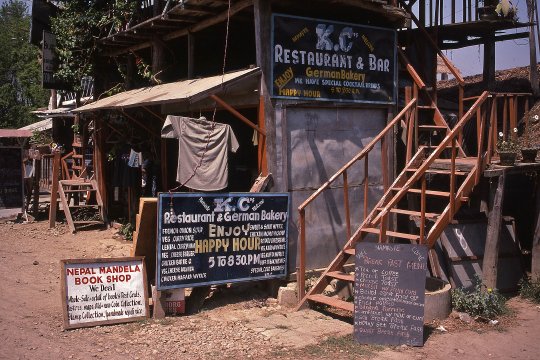 604. Provision was made also for the appetites of those who needed alcohol and European foodstuffs.

.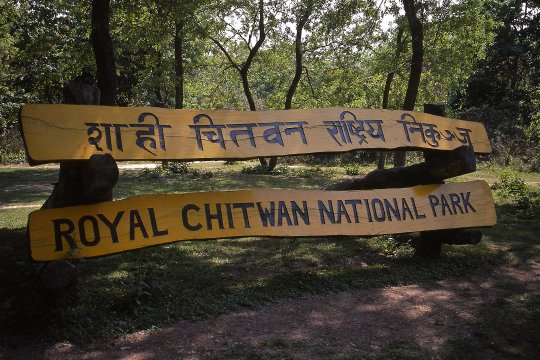 605. The main drawcard was the Royal Chitwan National Park ... "royal" because it was a place where kings had hunted in the past and which as a result was spared the deforestation which consumed most of the woodland here.

.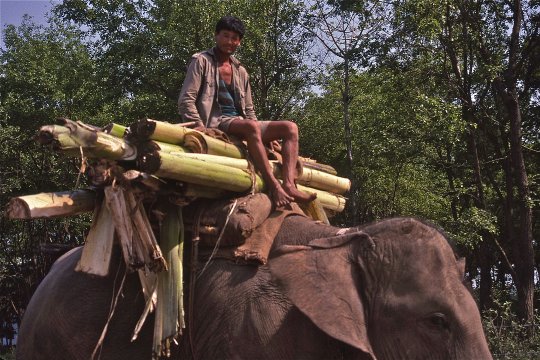 606. Traditionally, elephants were beasts of burden and worked in the forests removing logs.

.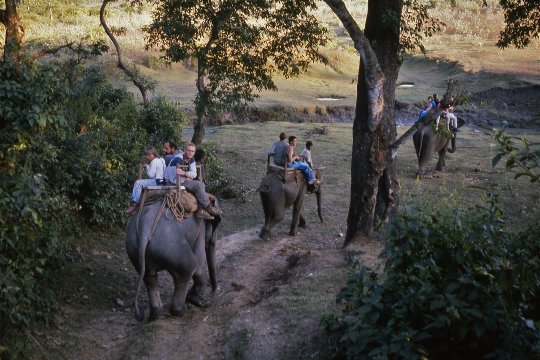 607. Now they carry tourists through the forest and swamp grasses of the Terai. [Video Extract 16]

.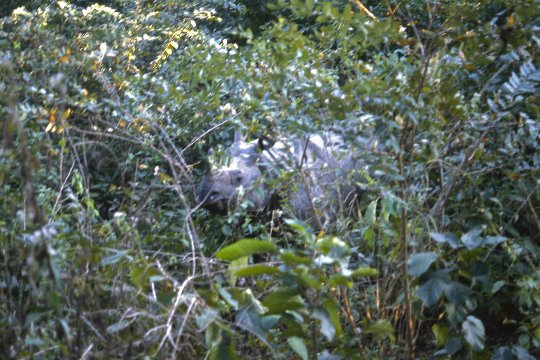 608. Those who pay to ride here hope to photograph rhinos or tigers, but most such animals were shot long ago ... or are glimpsed indistinctly making a hurried escape!
.




NEPAL CONTENTS


Text, photos and recordings by John Tyman
Intended for Educational Use Only.
Contact Dr. John Tyman at johntyman2@gmail.com
for more information regarding licensing.



www.hillmanweb.com
Photo processing, Web page layout, formatting and hosting by
William Hillman ~ Brandon, Manitoba ~ Canada

..