John Tyman's
Cultures in Context Series
NEPAL

PART FOUR : LIFE ON THE PLAINS
Land Use
513 - 534
www.johntyman/nepal
Click for full-size images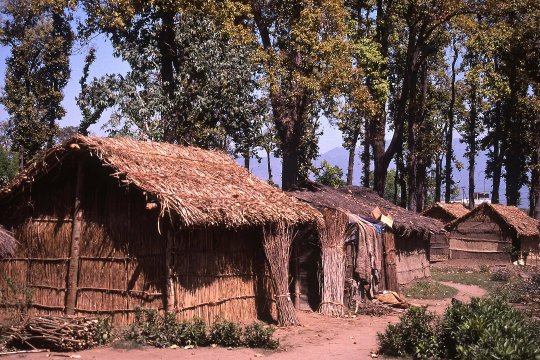 513. The early re-settlement of the plains by farmers displaced from the Midlands was organised by the government, but hundreds of thousands moved there independently later, helping themselves to a piece of forest, which they promptly cleared. (Homes of farmers displaced from the hill country.)

.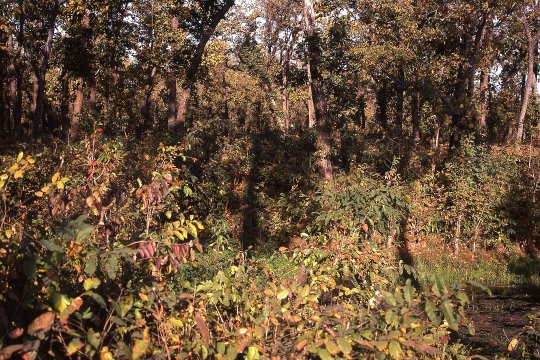 514. The soils of tropical forests are rarely first class, however, and the progressive removal of the natural plant cover has increased run-off and reduced groundwater reserves. (Recent clearing adjacent to the Land of 20,000 Lakes)

.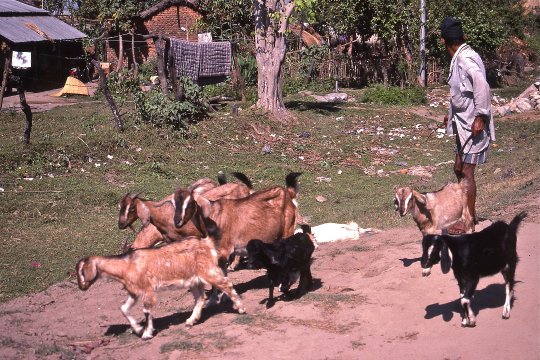 515. In addition, efforts to rehabilitate forest areas that have been looted for firewood are commonly thwarted by forest fires and stray animals -- goats especially. (Re-settlement area)

.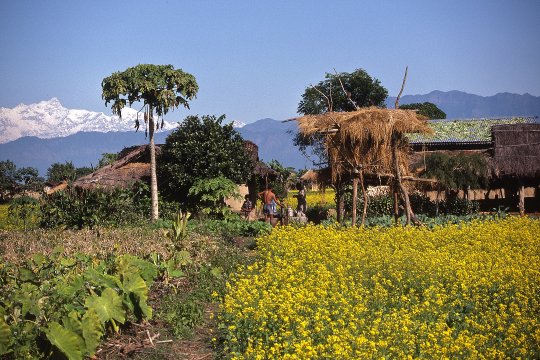 516. Though the Terai is now the most productive agricultural area in Nepal, and farms are generally larger here than elsewhere in the country, the average is still less than two hectares, and this will shrink in size as the population grows. (Tharu farmstead with watchtower to keep animals and birds out of crops)

.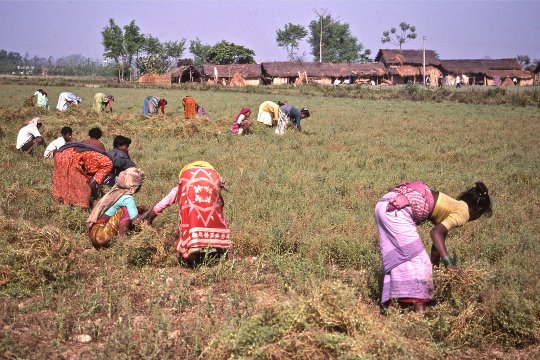 517. Many families, having lost their farms to soil erosion in the Midlands, or by reason of indebtedness, now work for the few large landowners here, and for moneylenders (zamindars). Some are employed as labourers. [Video Extract 17] (Harvesting dhal)

.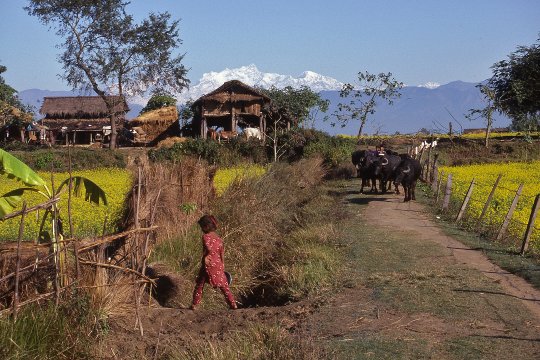 518. Others work as sharecroppers who will likely be forced to hand over half their crop as rent. Meanwhile moneylenders insist on such high rates of interest that it is difficult for anyone in debt to escape their clutches and start again on their own. (Smallholding with buffalo adjacent to large landowner)

.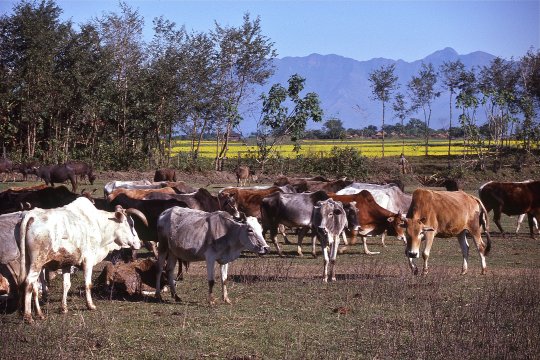 519. Cows are sacred, being the visible earthly form of the goddess Laxmi (wife of Vishnu) and as the "Earth Mother" they provide the essentials of life. Cows, therefore, are neither slaughtered nor used as beasts of burden. Instead they bear calves, and provide milk, curds, butter and dung.

.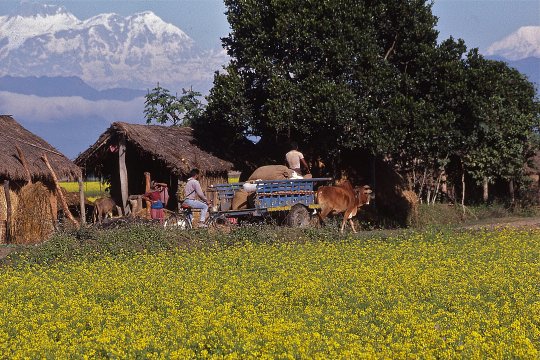 520. The draft animals you find here are usually oxen (that is castrated bulls). The cows you see wandering around town have been let loose by pious Hindus so the animals can finish their days at rest!

.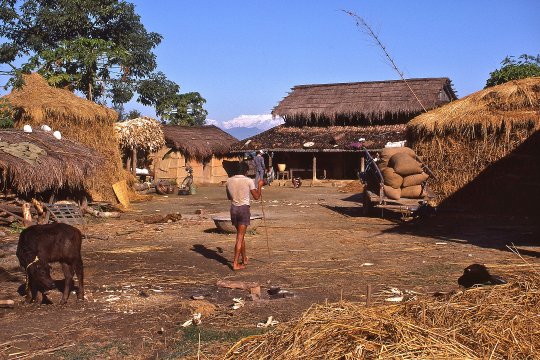 521. In common with commercial farmers worldwide, large landowners here have extensive farmyards in which to marshal their crops and livestock.

.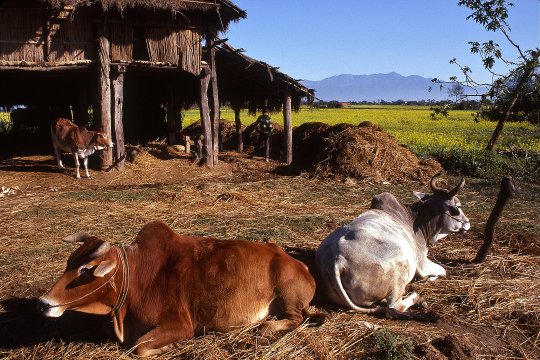 522. Their barns are bigger, and their animals healthier than those of most families on smallholdings.

.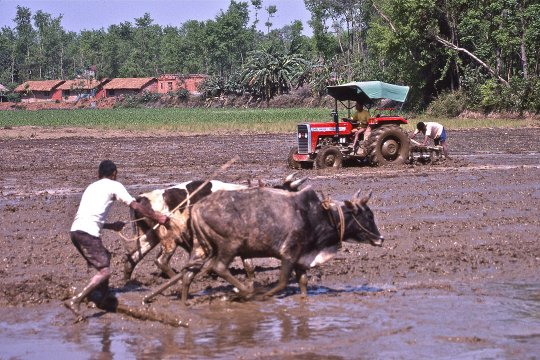 523. Though rice is grown widely in Nepal at altitudes sometimes as high as 2,000 metres, the Terai is the country's rice bowl today -- favoured by both the natural environment and the availability of farm labour. And on the lands of wealthy landowners old and new forms of motor power now work side by side.

.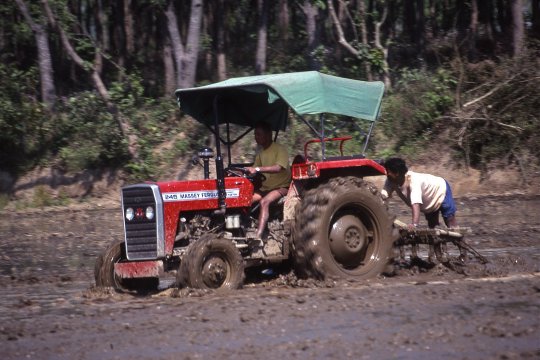 524. Much work is still done by hand, but the richest landowners can afford tractors to help with ploughing -- which in the old days could only be done before the field was flooded. The man behind the tractor adds weight to the plough and depth to its cultivation. [ Video Extract 18]

.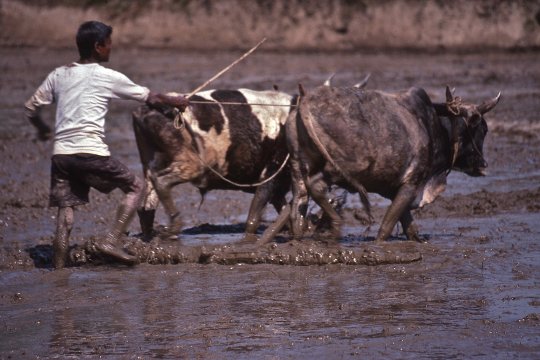 525. Rice paddies are still harrowed in the old way, though, with the help of oxen -- smoothing the surface of the field and giving the soil an even consistency prior to planting.

.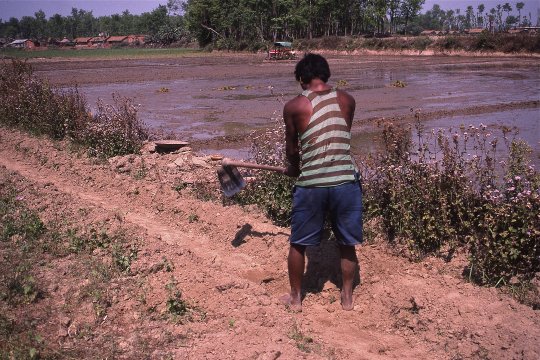 526. Irrigation channels used to divert water from canals into individual fields are also dug and maintained by hand.

.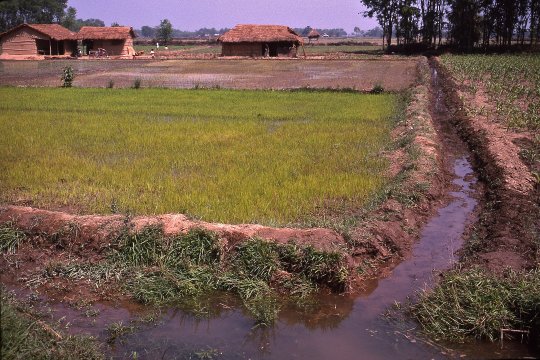 527. And the flow of water into individual fields is monitored by farm workers. [Video Extract 18]

.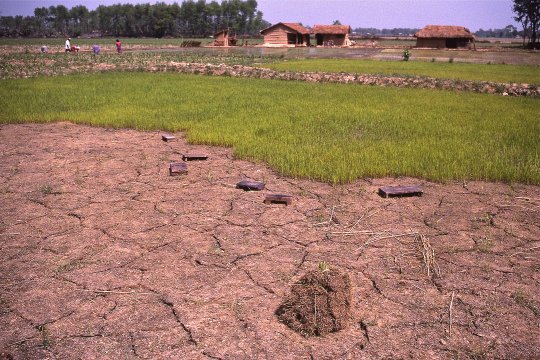 528. As in the Midlands, rice seed will be planted in June, before the monsoon, in nursery beds beside the homes of farmers (or their employees).

.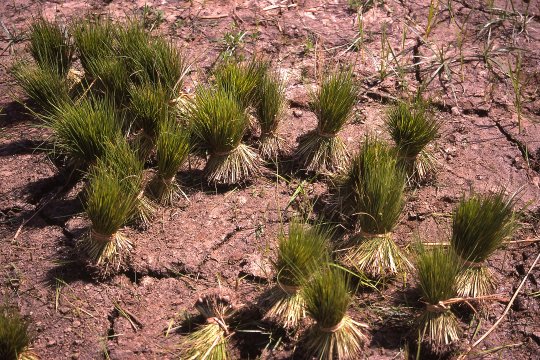 529. The seedlings are later pulled from the soil and tied into bundles.

.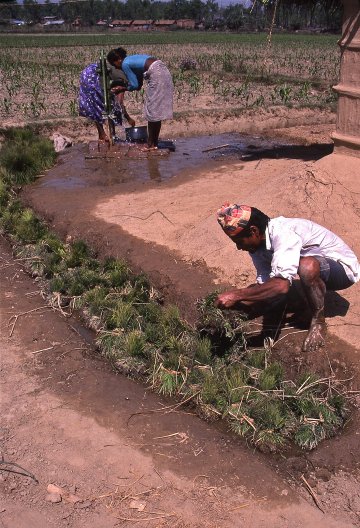 530. These will be soaked in a holding area close by, using pumped water, in readiness for their relocation.

.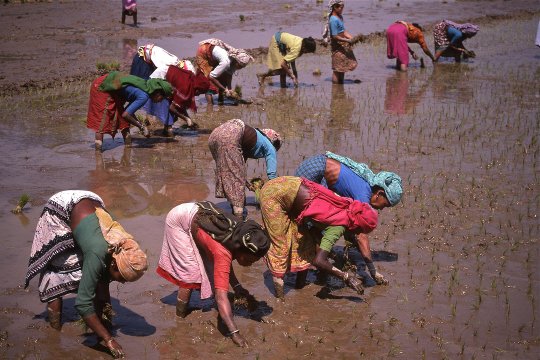 531. Once the fields are flooded, the seedlings will be transplanted by hand, by workers who spend their days wading through mud. [Video Extract 18]

.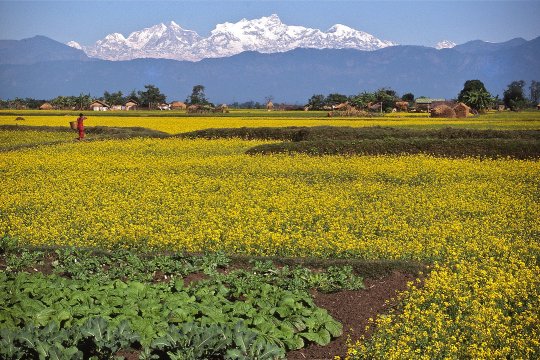 532. After the rice is harvested in the autumn, wheat may be sown, and harvested in the spring. Mustard, too, is grown during the cooler season, and harvested in the spring -- for cooking oil. (Mustard in flower)

.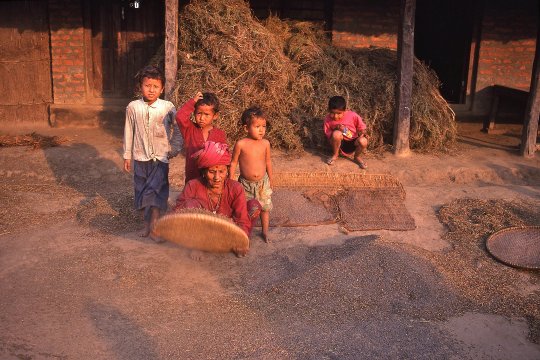 533. Dhal is also grown then, being a basic element of almost every meal here as it is in the hill country. (Winnowing in progress)

.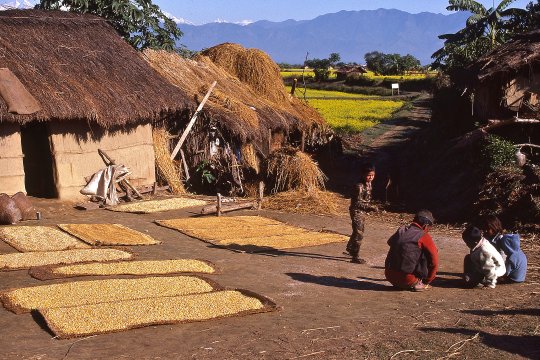 534. Corn (maize) is planted in spring and grows alongside fields of rice. It is not irrigated but is nourished by the monsoon rainfall. Elsewhere on the Terai sugar cane and jute are cash crops, and there are factories to process them. (Corn drying in the sun)
.




NEPAL CONTENTS


Text, photos and recordings by John Tyman
Intended for Educational Use Only.
Contact Dr. John Tyman at johntyman2@gmail.com
for more information regarding licensing.



www.hillmanweb.com
Photo processing, Web page layout, formatting and hosting by
William Hillman ~ Brandon, Manitoba ~ Canada

..