John Tyman's
Cultures in Context Series
NEPAL

PART TWO : LIFE IN THE HIGH COUNTRY
House and Home
161-189
www.johntyman/nepal
Click for full-size images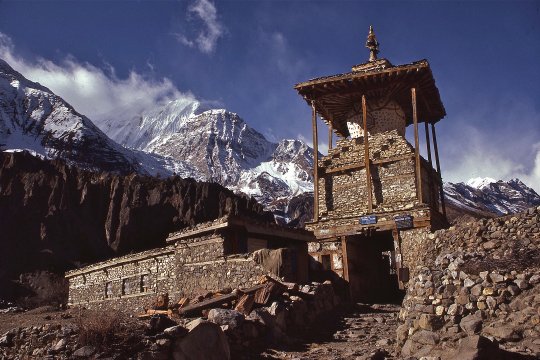 161. The town of Manang lies at an altitude of 3500 metres, to the north of the Annapurna range. Positioned astride the trail which follows the Marsyangdi River, it is entered by way of a protective gateway.

.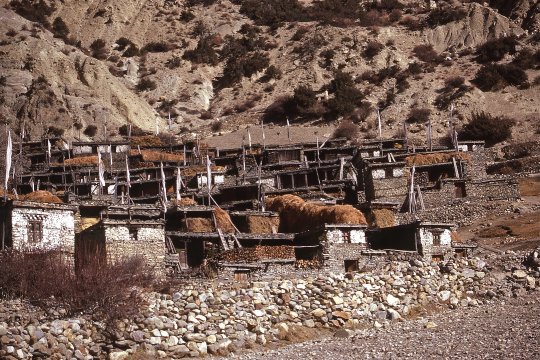 162. In recent decades its population has typically numbered between 300 and 400 people, in close to 100 families: but it has fluctuated as people have sought employment elsewhere.

.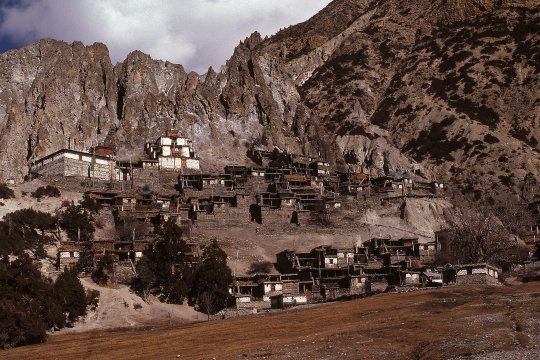 163. It is located on the north side of the valley, since this gets the most sunlight and the least snow in winter.

.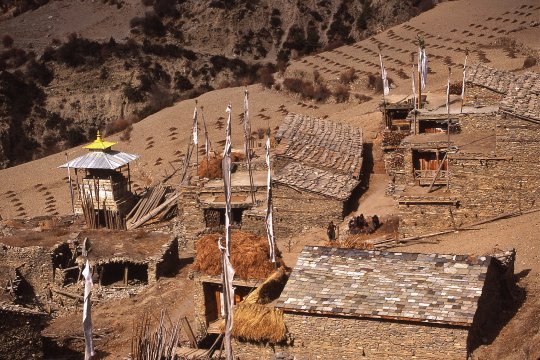 164. Accordingly, cultivation is largely confined to terraced slopes above and beside the town. The fields in the background are being manured prior to winter.

.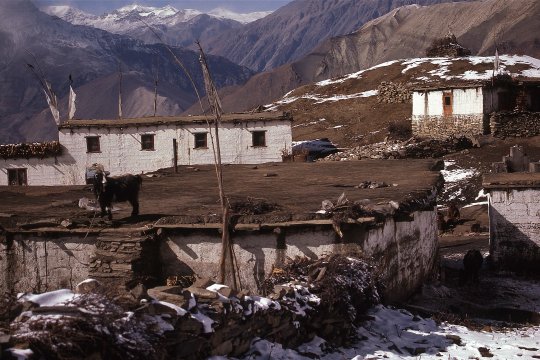 165. The people of Manang, who came from Tibet originally, have traditionally roofed their houses with earth. With a low rainfall (480mm a year on average) flat roofs are usually safe from rain damage.

.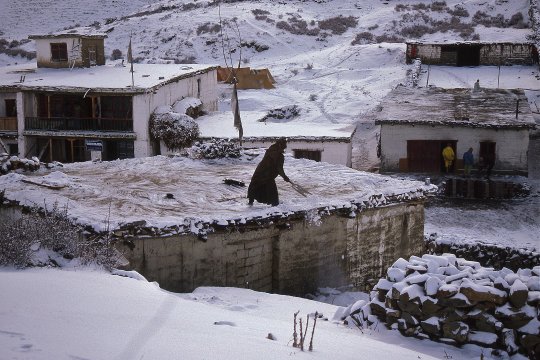 166. In winter, though, the weight of the snow can be a problem: and it also diminishes the usefulness of a flat surface.

.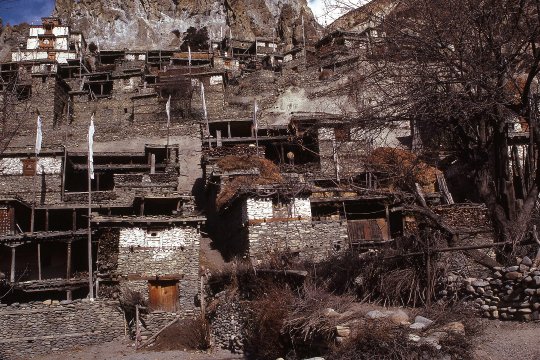 167. Homes here typically have three storeys. Livestock live on the ground floor; and since they are kept inside all winter, the warmth that they generate makes life a little less frigid for the family living on the second floor above them.

.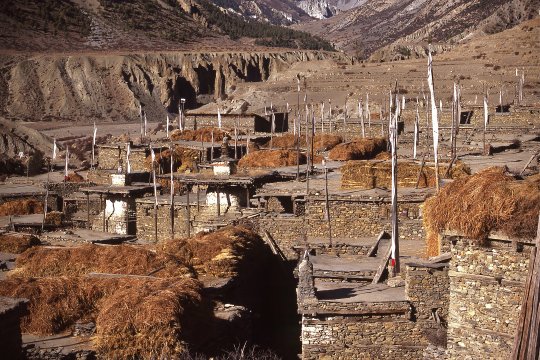 168. Thirdly there's the roof terrace, part of which is sometimes enclosed so that fodder once dried in the open section can be stored under cover.

.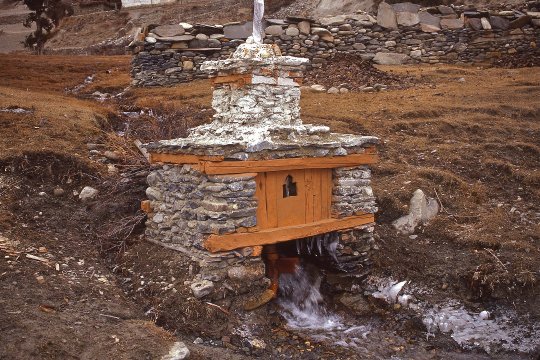 169. In neighbouring villages small streams/rivulets have been diverted and/or harnessed to turn water wheels used to grind local grain.

.
170. And for many years Manang has obtained electricity from a small hydro-electric generator. This is used to power the local sawmill.

.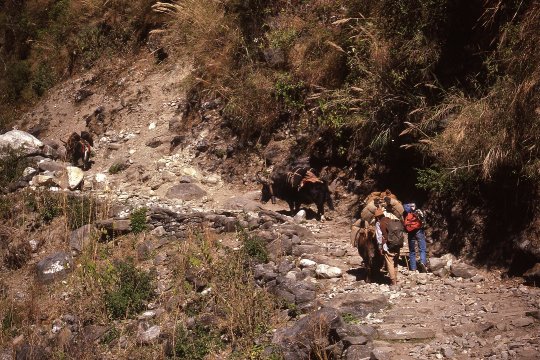 171. No roads give access to the area, just narrow trails: but a small airport was opened recently east of the town. It serves the whole valley -- including trekkers in distress, as there is a medical centre here now that specializes in high altitude medicine. (Trail north of Tatopani)

.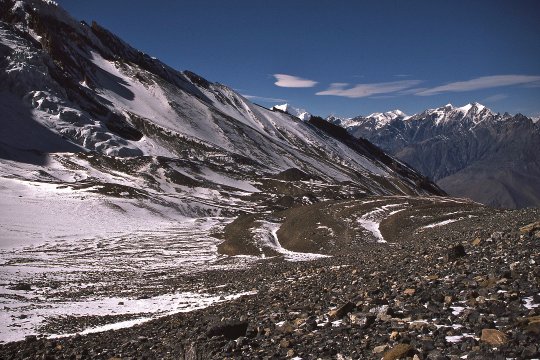 172. Few visitors experience much difficulty following the Marsyangdi beyond Manang, but the climb to the Thorong La pass at 5416 metres can disable those who are not acclimatised to the altitude. (Thorong La)

.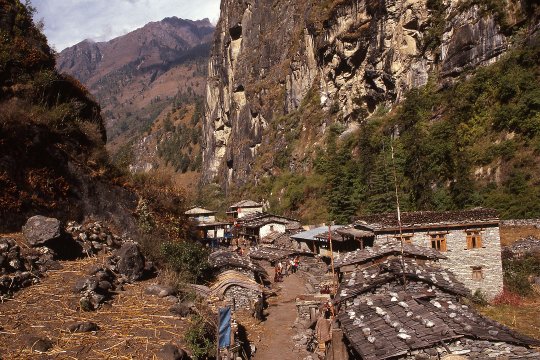 173. In places the corridors leading to Manang are reduced to narrow defiles with little room for homes and gardens. (Bagarchhap)

.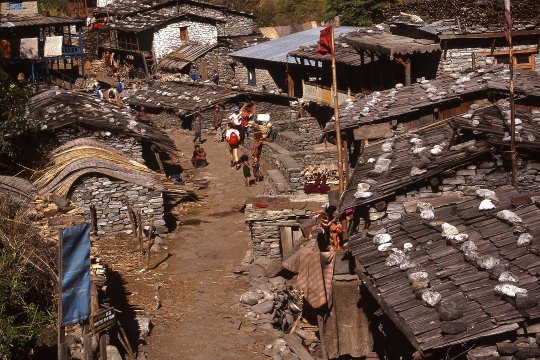 174. On the lower reaches of the Marsyangdi forests provide wood for roofing, but with strong winds the shingles are held in place by rocks.

.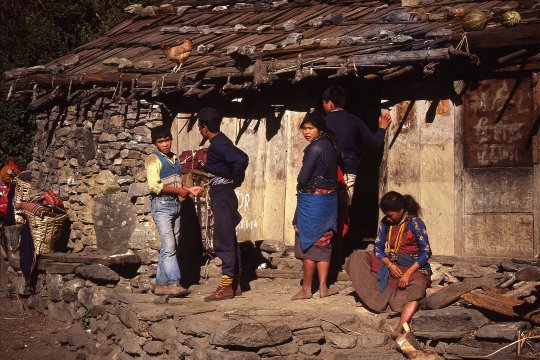 175. The tourist industry here offers employment and income to the fortunate few but no one living in the high country has an easy life. (Porters outside tea house)

.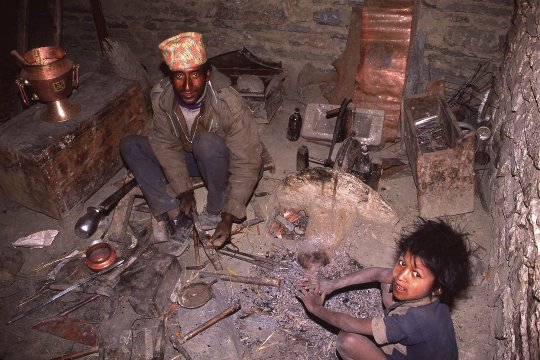 176. The very remoteness of the area, so attractive to tourists, also offers local craftsmen protection from cheaper factory-made products, though they must work with only the most basic items of equipment. (Blacksmith at Marpha)

.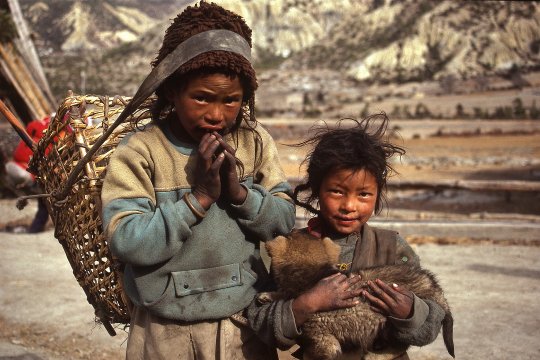 177. However, most people live in abject poverty (by Western standards) and the luckiest kids are those clothed in the second-hand caste-offs of very much richer visitors.

.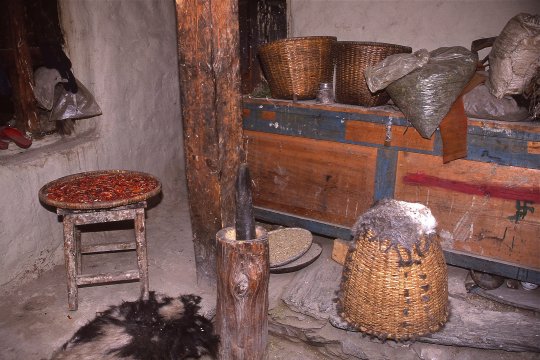 178. The interiors of houses at Manang are devoid of frills -- in this case just containers to transport, dry and store produce.

.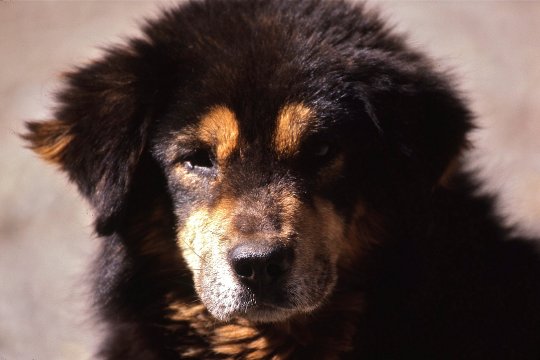 179. Large guard dogs are an essential, though -- or are at least considered to be so. Manang was long famous (infamous?) as the stronghold of smugglers and most houses are still guarded by large dogs.

.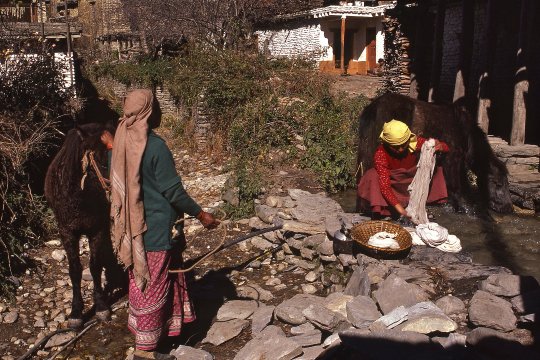 180. Women do their laundry here in the ice-cold water of streams supplied by the melting of ice and snow on the slopes above. (At Larjung)

.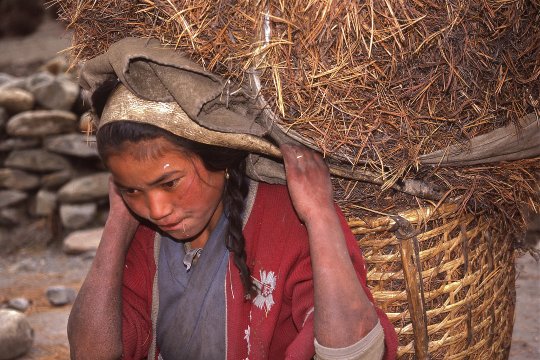 181. And the manure which is spread by hand in the fields is first mixed with pine needles and straw which the women gather from adjacent hillsides. People must work hard if they are to survive. (Close to Manang)

.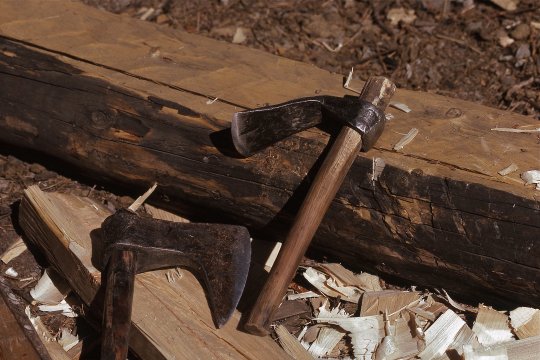 182. In most villages heavy timbers are still shaped using a broad axe and an adze. (Near Chame)

.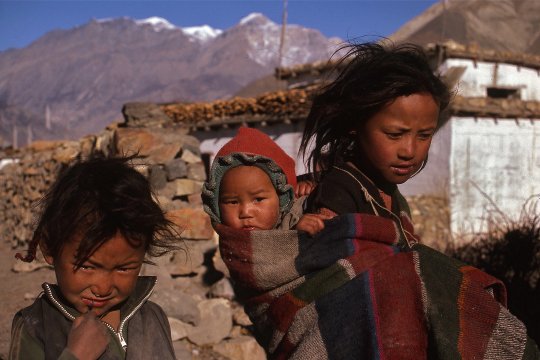 183. Educational opportunities are limited, and many parents will not allow their children to attend school because there is work for them to do at home. (Near Muktinath)

.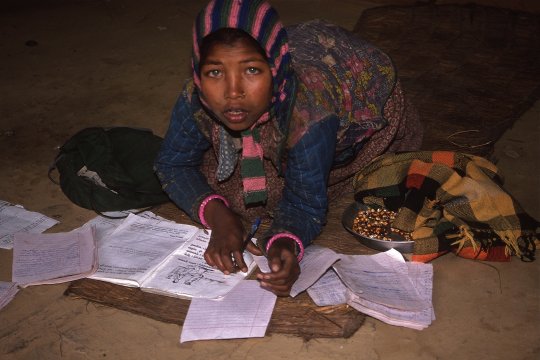 184.Those that do get to attend school will, without electric light, have problems finishing their homework in time. (In Tatopani)

.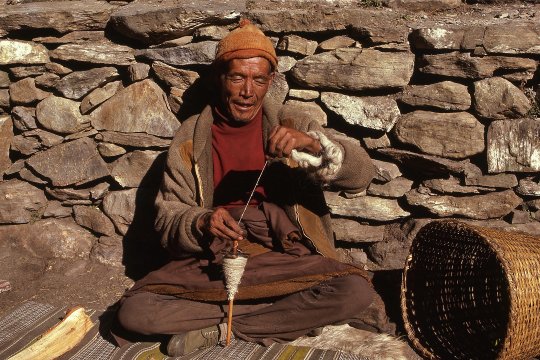 185. Wool has long been processed here to produce warm clothing as protection against the cold. The techniques used are common to traditional societies worldwide. (Near Manang)

.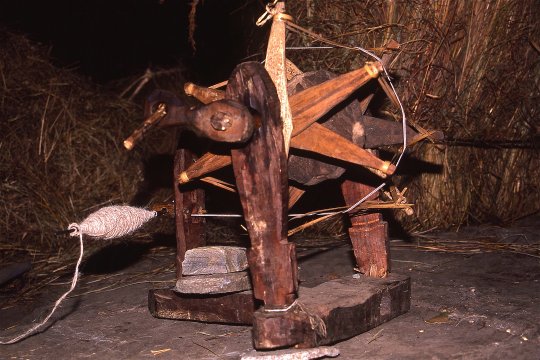 186. The equipment they use is made locally but very similar techniques are used in other countries. (Near Kalopani)

.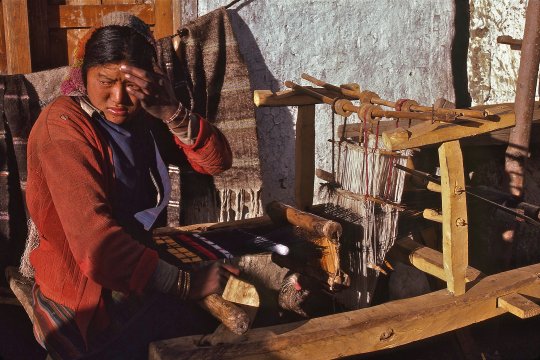 187. Looms like this can be seen in most villages; but many of them, instead of being used to make clothes, now produce carpets and decorative woollen goods. (At Muktinath)

.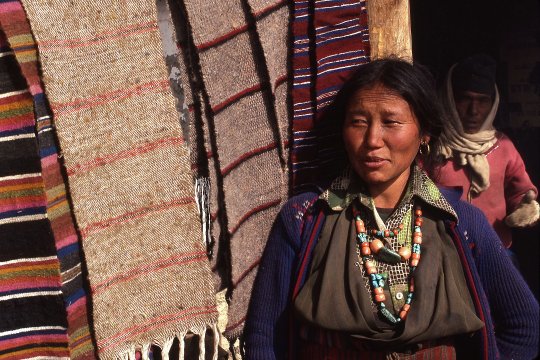 188. These are sold to passing tourists outside lodges and tea houses, and to pilgrims visiting the shrines at Muktinath.

.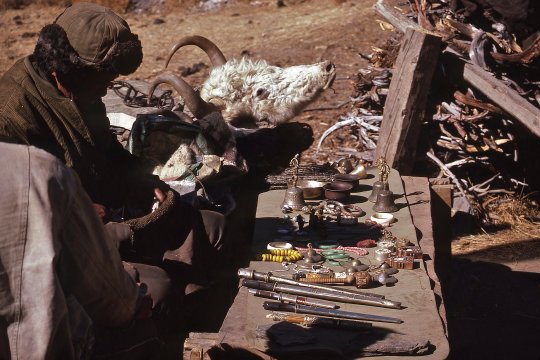 189. Tourism has also provided an outlet for unwanted artefacts -- and in some cases actual treasures, sold to cover urgent needs. The range of items on this stall highlights the poverty of the area. (Beyond Manang)
.




NEPAL CONTENTS


Text, photos and recordings by John Tyman
Intended for Educational Use Only.
Contact Dr. John Tyman at johntyman2@gmail.com
for more information regarding licensing.



www.hillmanweb.com
Photo processing, Web page layout, formatting and hosting by
William Hillman ~ Brandon, Manitoba ~ Canada

..