John Tyman's
Cultures in Context Series
NEPAL

PART TWO : LIFE IN THE HIGH COUNTRY
Land Use
137 - 160
www.johntyman/nepal
Click for full-size images..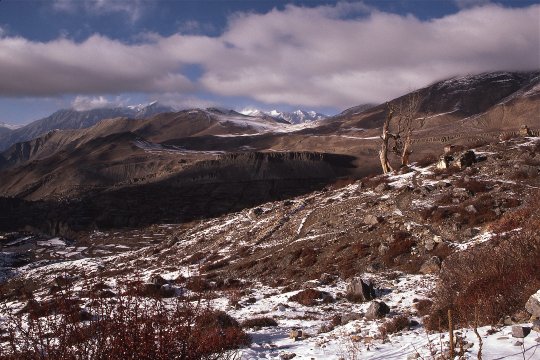 137. In the Manang and Mustang districts bordering Tibet very little land can be cultivated -- and not just because of the shortage of level land and suitable soils.

.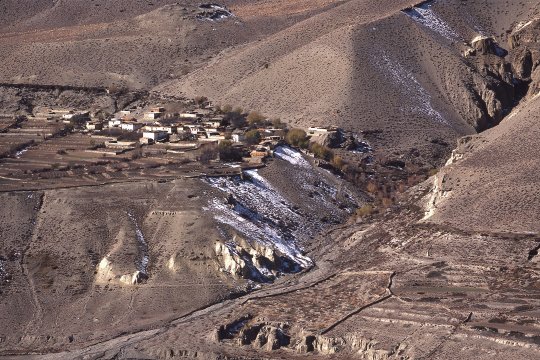 138. Both are positioned in the rain shadow of the Annapurna Massif so that farm settlements here resemble desert oases.

.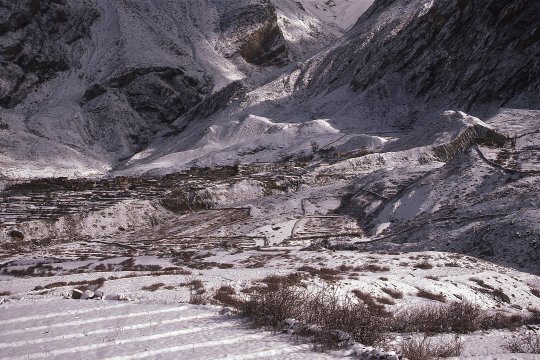 139. And since most lie at elevations in excess of 3000 metres, they are cold as well as dry. Even in the warm season average monthly temperatures at Manang rarely exceed 10 degrees C, and from October to March the land is usually blanketed by heavy snowfalls.

.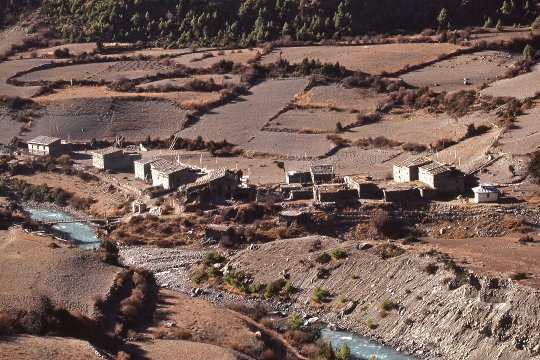 140. Agriculture is confined to low-lying areas, as these are both warmer and closer to a source of water. (Near Pisang)

..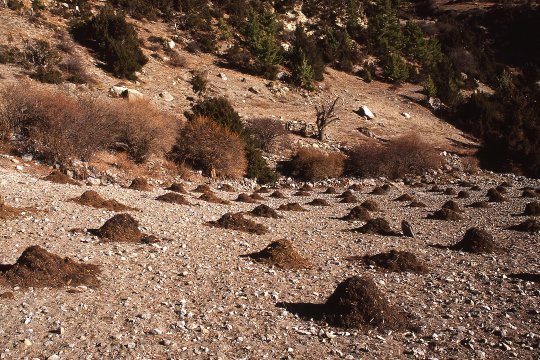 141. However, even here soils are thin and stony. And to improve fertility, manure from animal enclosures is stockpiled and spread by hand.

..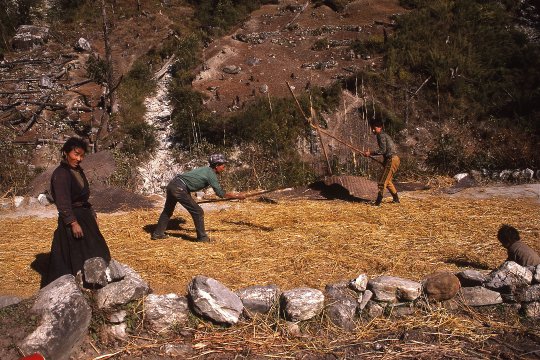 142. At this altitude cropping is possible only in summer, so they get just one crop each year. And cultivation is limited to cool temperate crops -- like buckwheat, wheat, barley and potatoes, plus some corn and vegetables. In this picture barley is being threshed using flails. (Near Chame on the Marsyangdi)

.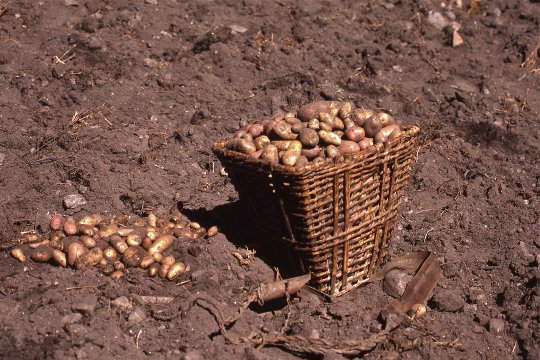 143. The potatoes were introduced during the 19th century and, coming from the Andes, can survive here at altitudes as high as 4000 metres. (Near Chame)

.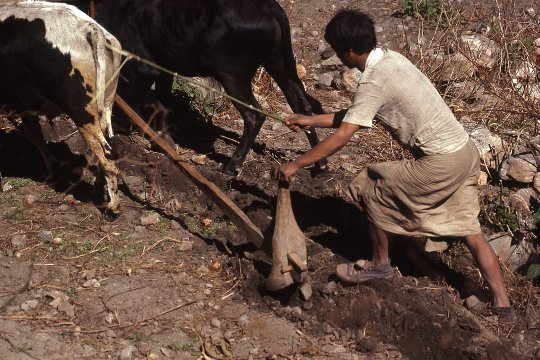 144. Though much of the work in these small fields is necessarily done by hand using hoes, wooden ploughs are made locally (some with steel points). This man is ploughing his potato patch.

.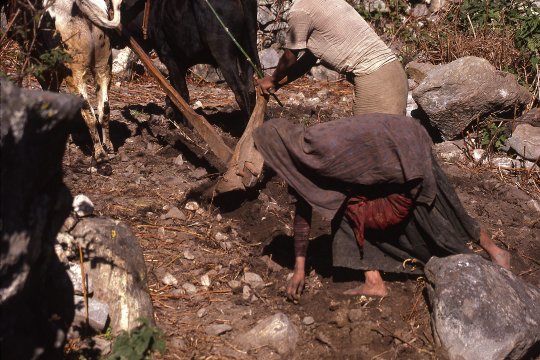 145. His wife, walking behind him, searches for the potatoes he uncovers, placing them first in the red bag formed by her sash: and, when that is full, in the basket she will use to carry them home.

.
146. Most families also grow vegetables, in small gardens adjacent to their homes. Cabbages are the commonest crop, but beans and a variety of temperate zone root crops are grown here too. (Near Larjung in the valley of Kaligandarki River)

.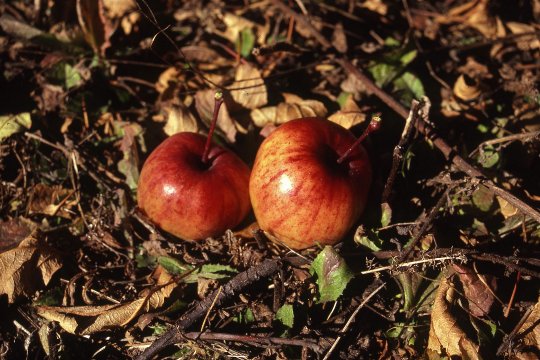 147. Lots of apples are grown here, too, but because the local market is so small, and it is difficult to transport fruit to other areas, very few apples are eaten fresh.

.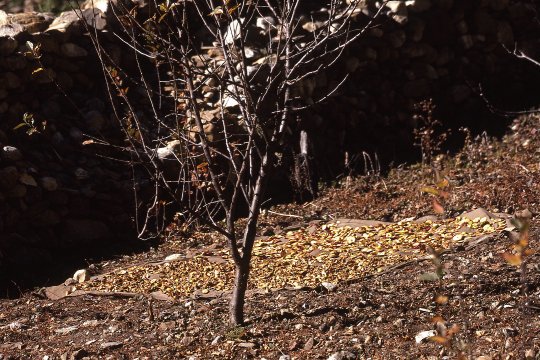 148. Some are sliced and, with the low humidities that prevail here, are dried in the sun -- for longer storage and easier transport.

.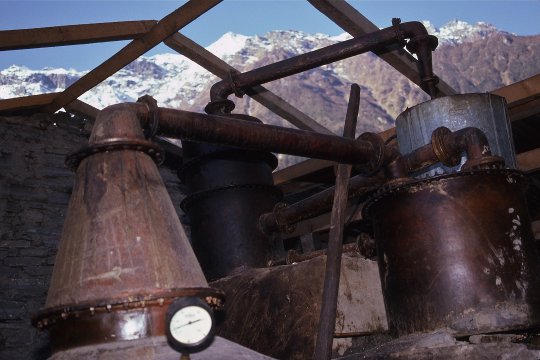 149. However, the greater bulk of the crop is turned into liquor much of it at the "K.C. Distillery" near Bagarchhap in the Marsyangdi valley.

.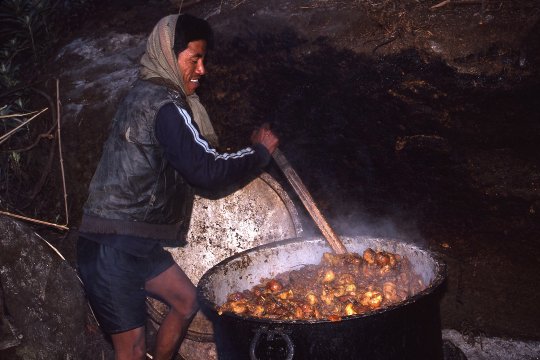 150. It is a simple process and provides some employment locally. Just who drinks the brandy they produce is a matter for debate, since Buddhists are supposed to "refrain from taking intoxicants" because they distort the mind, and high caste Hindus often have a similar view.

.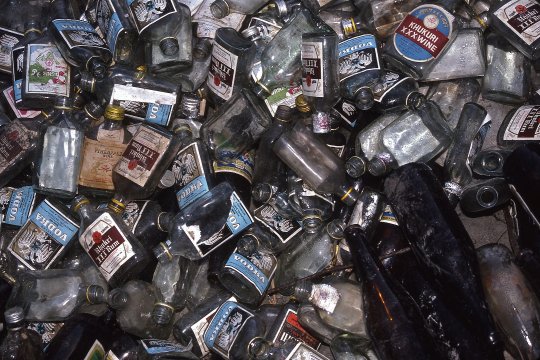 151. What is certain is that a lot of old rum, brandy, vodka and beer bottles are re-cycled in the process.

.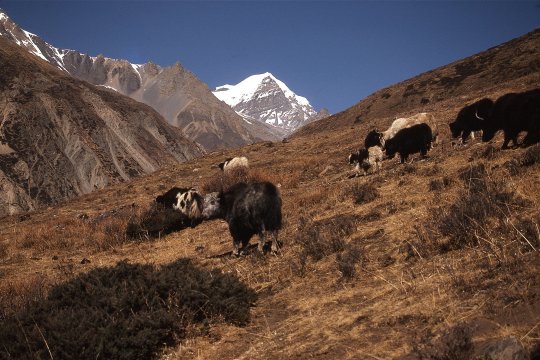 152. Livestock are forced to spend the winter in shelters on the floors of valleys, but in summer they are grazed on alpine pastures on slopes high above the villages. (Near Manang)

.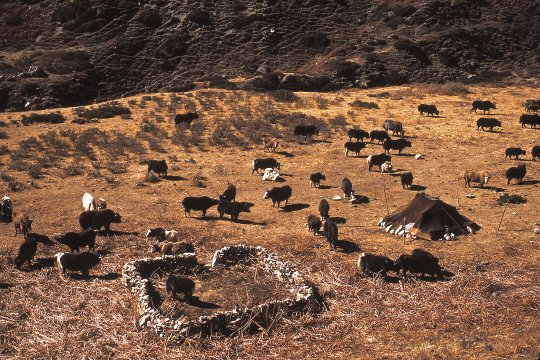 153. Where the pasture is far from the village the herders live with their animals in tents. They herd yaks, cattle, horses, sheep and goats. The walled enclosure is to protect the smaller animals at night, from predators and thieves. (Above Manang)

.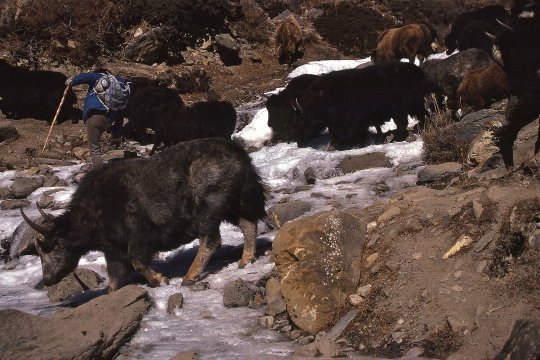 154. Yaks, with their long hair, are eminently suited to life at high altitudes. With few sweat glands and heavy coats they do not thrive below 3000 metres. However, they are rarely seen in Nepal today. Those that are kept here still are used mostly for cross-breeding with cattle, and the animals visitors see are generally hybrids. (Hybrid yaks at Manang)

.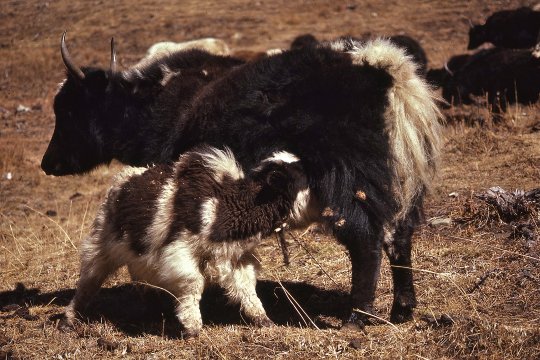 155. Female yaks are mated with cattle to produce animals that are more docile and more suited to carrying loads. Cross-bred females also produce better milk than yaks and more than local cows -- typically 3 litres a day, compared with one litre for cows here. The only problem is their offspring will be sterile.

.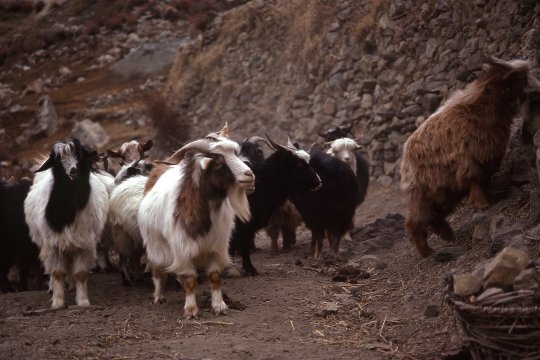 156. Goats will eat almost anything. They also serve a variety of purposes. They provide hair, milk and meat; and they also feature in the religious sacrifices required of Hindus. Most people in the high country are Buddhists, though, and are forbidden to eat the flesh of sentient beings. (Near Manang)

.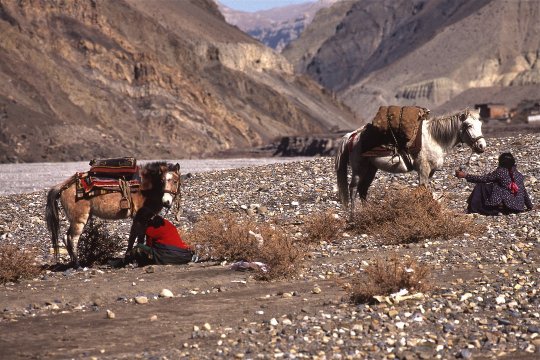 157. Donkeys, horses and mules provide means of transport and are also used as pack animals. These women from Mustang were heading for Jomsom.

.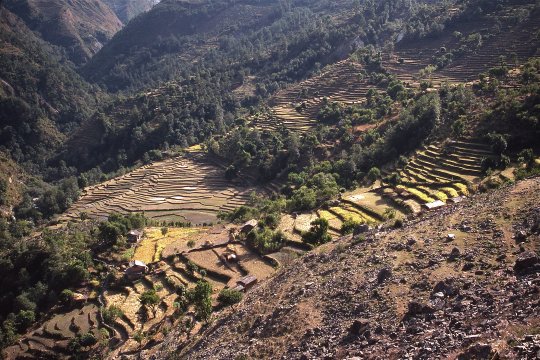 158. Further south in the valleys of the Kaligandaki and its tributaries the climate is both warmer and wetter: but there is little level land still. (South of Tatopani)

.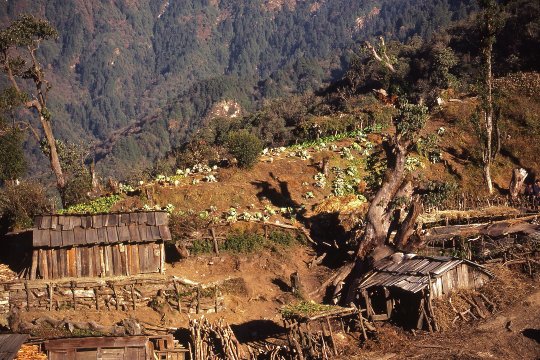 159. In places fields and gardens are minute, and perched on suicidally steep slopes. (Near Ghorepani)

.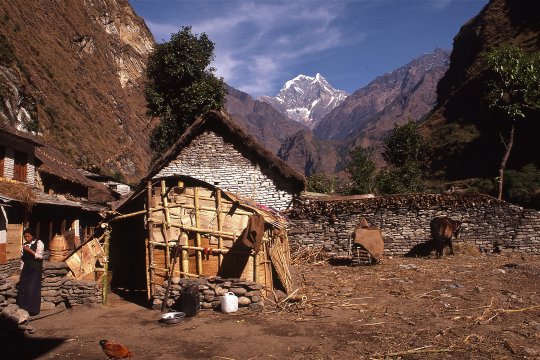 160. And it is obvious that those who live here must struggle to survive. (Near Tatopani)


Text, photos and recordings by John Tyman
Intended for Educational Use Only.
Contact Dr. John Tyman at johntyman2@gmail.com
for more information regarding licensing.



www.hillmanweb.com
Photo processing, Web page layout, formatting and hosting by
William Hillman ~ Brandon, Manitoba ~ Canada

..