John Tyman's
Cultures in Context Series
NEPAL

PART TWO : LIFE IN THE HIGH COUNTRY
Trails, Trading and Trekking
190-228
www.johntyman/nepal
Click for full-size images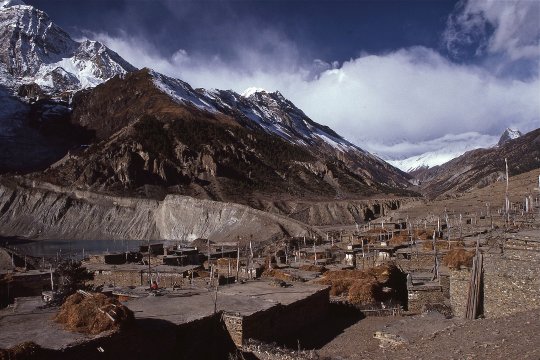 190. In the high country farming is incapable of feeding the local population year-round, so people have traditionally supplemented their income through trading activities (not always legally), and in recent decades they have depended on rice shipped in by plane in the absence of roads. (Near Manang)

.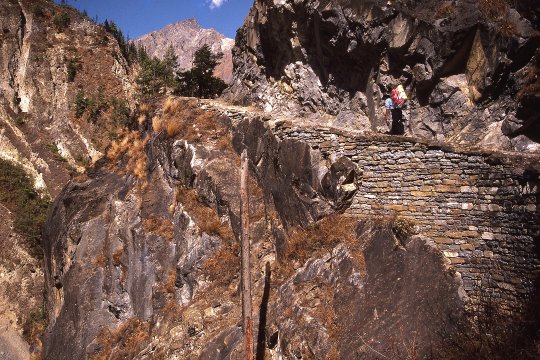 191. Nepal is a land of man-made trails, not roads. (Near Pisang)

.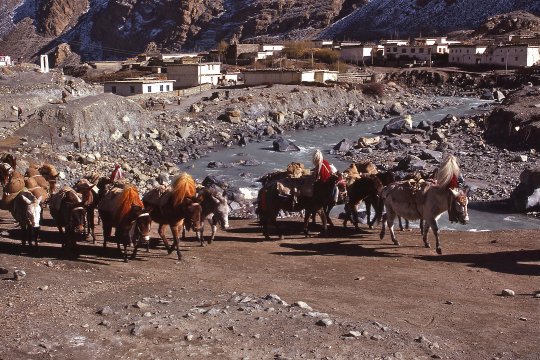 192. These are broad in places but are in no way suited to vehicle traffic, so everything has to be carried -- on two legs or four. (Near Jomoson)
.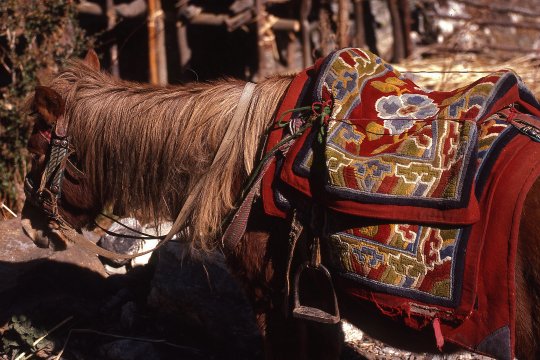 193. Horses are the preferred means of personal transport for those able to afford such luxury. This one was ridden by a trader heading for Chame, the administrative centre of the Manang District.

.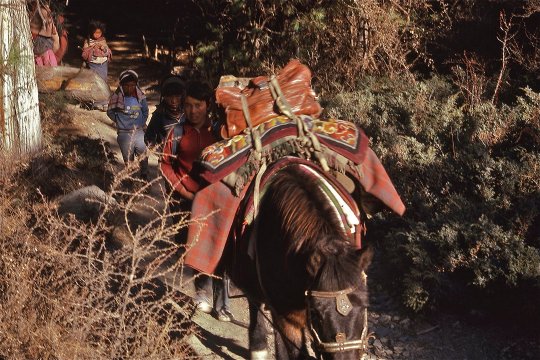 194. Ordinary folk tie their baggage to their horse and walk behind it. (Near Pisang)

.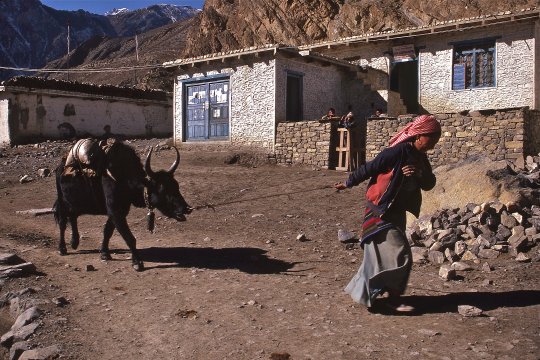 195. In the Mustang District some people still use yaks or yak hybrids. (Arriving in Jomoson)
.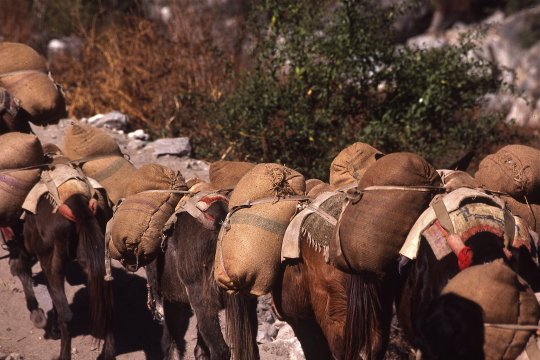 196. But traders here today use horses or mules: and animal caravans like this are a common sight following both the Marsyangdi and the Kaligandaki rivers. (Near Chame)

.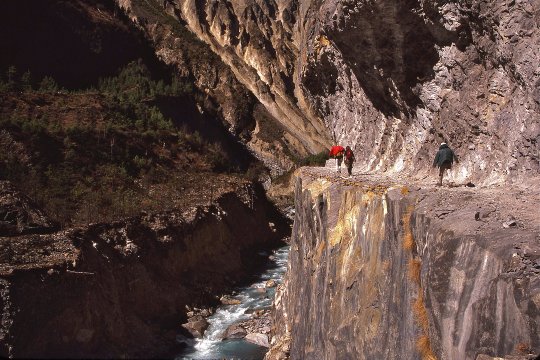 197. Since many trails have been cut into cliff faces high above the river they offer the unwary traveller the prospect of certain death. (Approaching Pisang)

.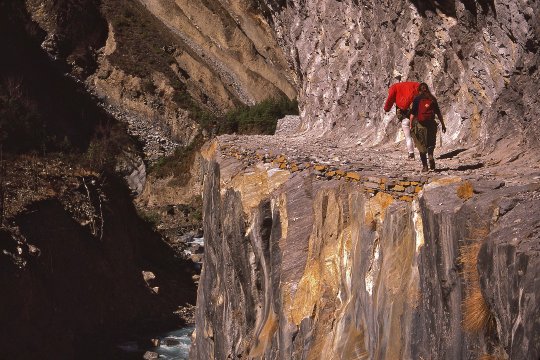 198. Blind corners are a particular hazard, as it is all too easy to to swept off the cliff by a line of excitable draft animals!
.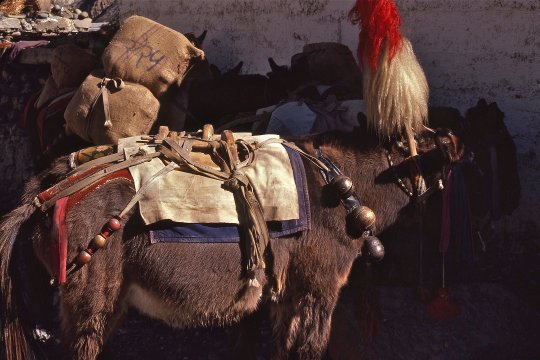 199. To reduce the chances of this happening the lead animals in a caravan wear bells which give warning of their approach, so that those they meet can take whatever action is possible to avoid a collision.

.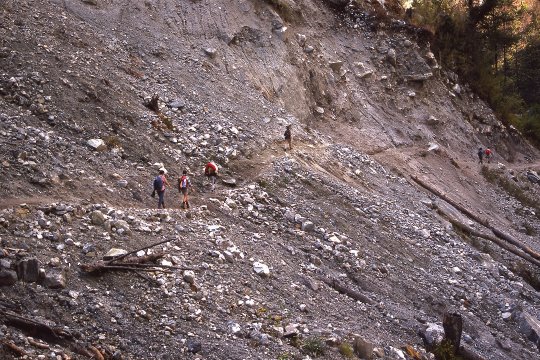 200. The other danger is landslides, after rains especially. Old trails will be buried and a way must be found around such obstructions. (Near Chame)

.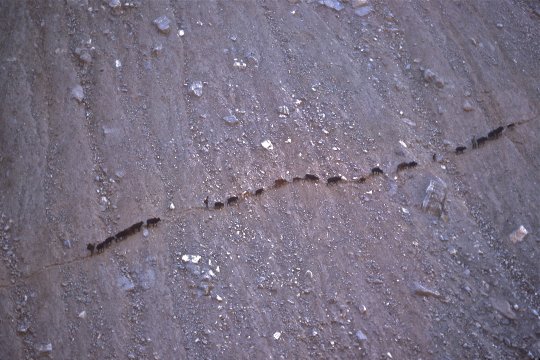 201. Sometimes long sections of the trail are swept away and travellers are forced to blaze a new trail across an unstable mass which could move at any time! Every year lives are lost in this way. (Near Tal on the lower Marsyangdi)
.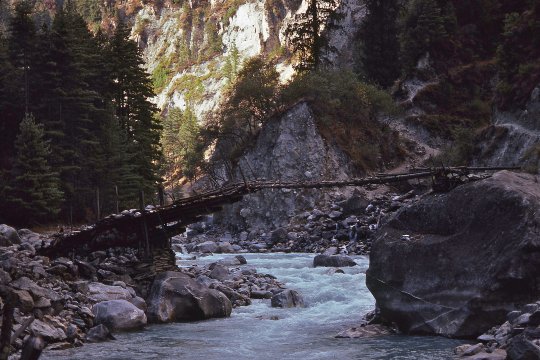 202. Because the trails follow narrow valleys, they are forced to switch sides repeatedly, in search of the best route, so there are many bridges to be crossed. Some, like this, seem improvised and will likely be swept way if there is a warm spring and a rapid snowmelt. (Near Chame)

.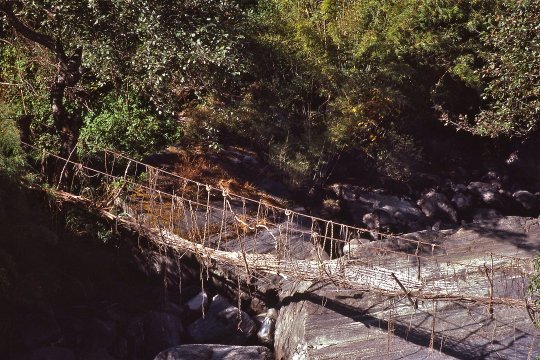 203. Others are supported by ropes and cable, sometimes high above the river: and the older ones do not inspire much confidence in visitors! (North of Tal)

.
204. For that very reason, most have been rebuilt, using heavier cables and cross-bracing as protection against strong winds. (Near Tal)
.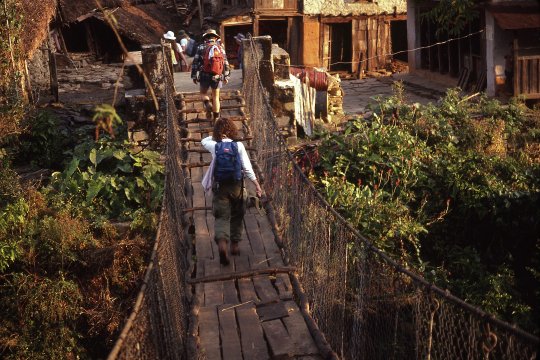 205. Most bridges are floored with planks of wood, but you may well find some are missing and others are rotten. (Near Phalenkangu on the lower Marsyangdi)

.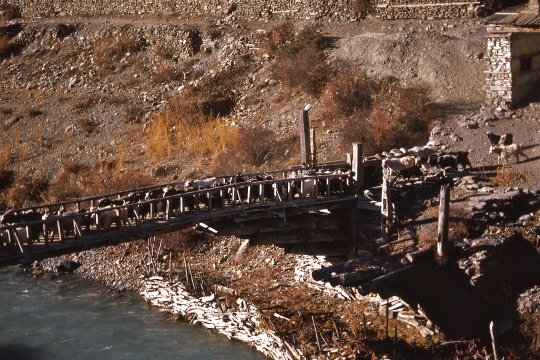 206. Most such bridges can handle a flock of sheep or goats, but not all of them can support a heavily laden caravan of draft animals -- which accentuates the isolation of some communities. (Near Manang)

.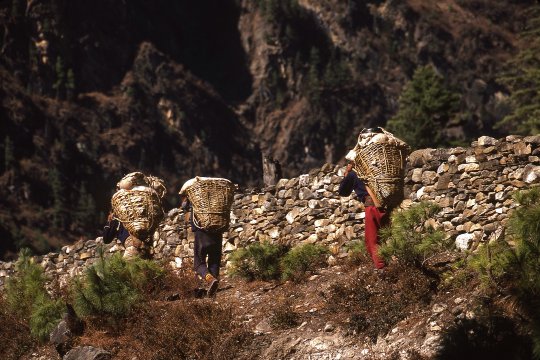 207. Instead the remotest communities depend on porters to supply them, often over great distances with overnight stops along the way. (Near Pisang)
.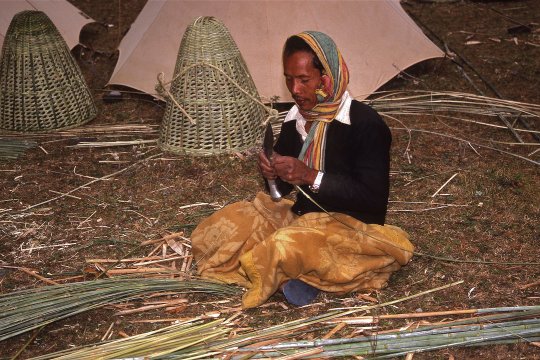 208. The baskets in which small goods are carried are known as dokos and are made from split cane by men from the Midlands who camp in the high country in summer and weave baskets for sale in towns and villages elsewhere. (Near Tal)

.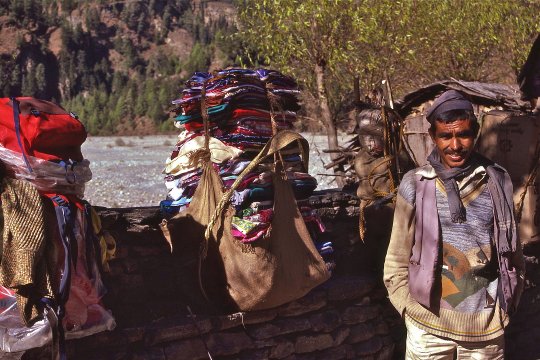 209. This man, near Larjung, carried supplies for tailors along the Kaligandaki.

.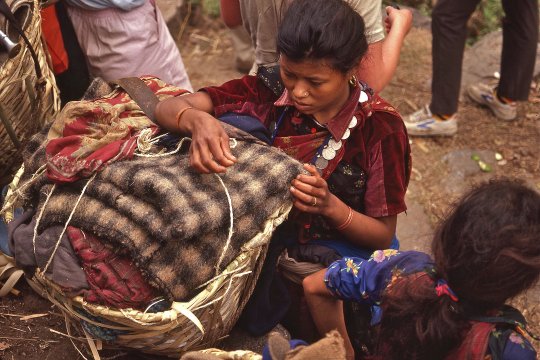 210. And there were women who served as porters also. These were young but I can vividly remember being overtaken by a much older woman carrying several sheets of roofing iron up a steep slope! (Between Sange and Tal)
.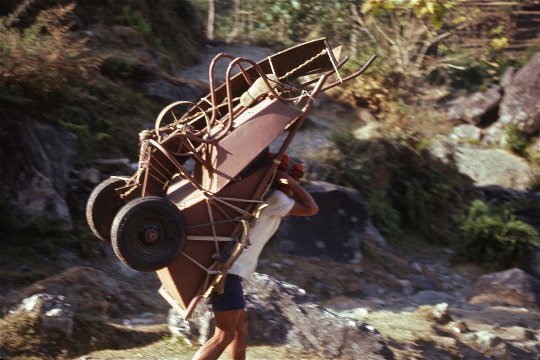 211. Everything and anything that could be formed into a manageable load was moved by two-legged transport. This man was delivering wheelbarrows south of Tatopani.

.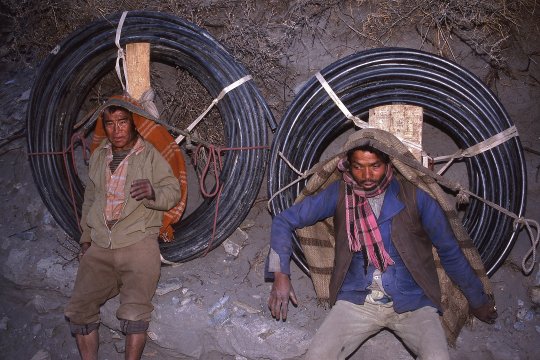 212. And these two were carrying heavy rolls of water pipe on the trail between Marpha and Jomoson. Since all such burdens are supported entirely by a strap across the forehead, it is to be expected that "bad backs" will be among the range of health problems they will face later in life.

.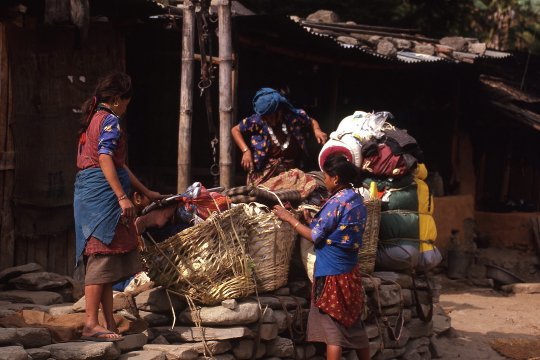 213. These women carried gear for the camp kitchen of a party of tourists from Australia and New Zealand. (Near Phalenkangu)
.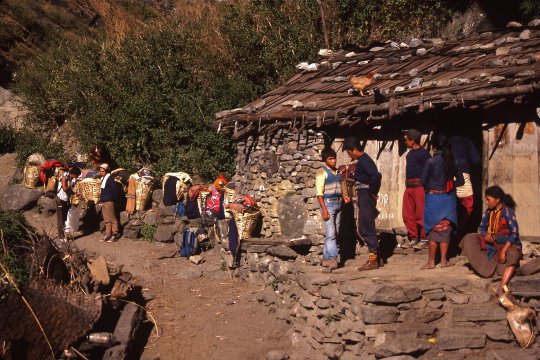 214. Their working days are long but there are lots of tea houses where they can pause, however briefly. The low wall beyond the tea house here is typical of those provided at regular intervals along trails, so that porters can rest their load at a convenient height. (Between Tal and Bagarchhap)

.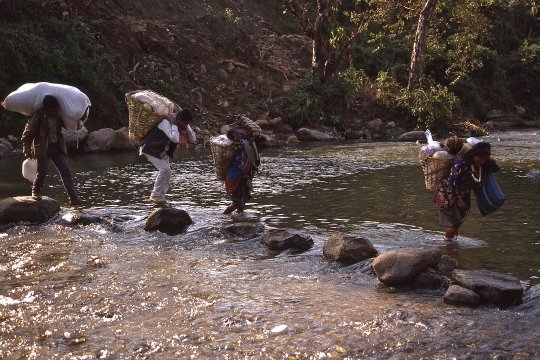 215. The lives of those who do the hard work for visitors from overseas can be hazardous. Most are poorly shod, or have nothing at all on their feet. They are often poorly dressed and have little bedding. And if they slip and are injured there are no government welfare programmes to support them in later life. (Crossing the Marsyangdi north of Dumre)

.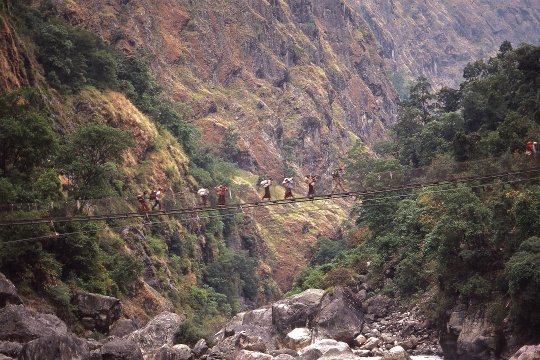 216. The bridges they must use cannot always be trusted, and many hang high above both rivers and rocks. (Near Tal)
.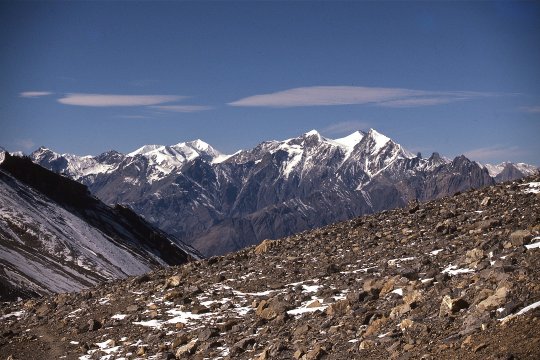 217. Working at high altitudes is also dangerous. Away from Mount Everest, where mountain climbers and trekkers are serviced by Sherpas acclimatised to high altitudes, most tourists are supported by porters (often part-time and seasonal) from villages at lower elevations. And more porters die from frostbite and altitude sickness than overseas visitors. (The pass at Thorung La at 5416 metres, allows traders from Manang to access Muktinath and Mustang, but it is closed by snow in winter)

.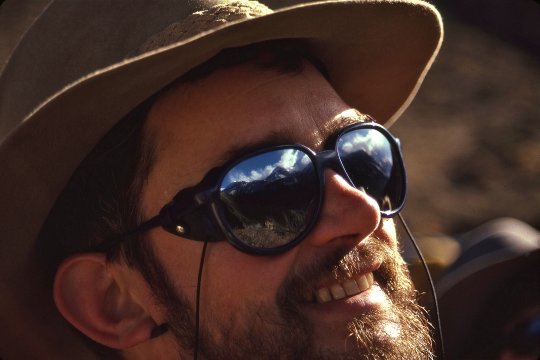 218. While there are tourists who visit only Kathmandu, most people who come to Nepal seek out the high country. And "The Annapurna Circuit" -- up the Marsyangdi and down the Kaligandarki -- is numbered among the world's most spectacular and most popular treks.

.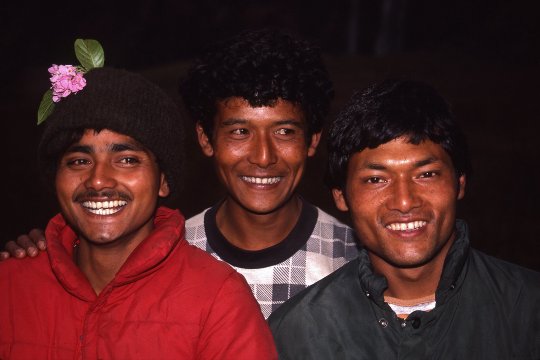 219. Most organized treks are led by local guides like these. They arrange for porters, plan the meals and campsites, and watch over the health of their customers.
.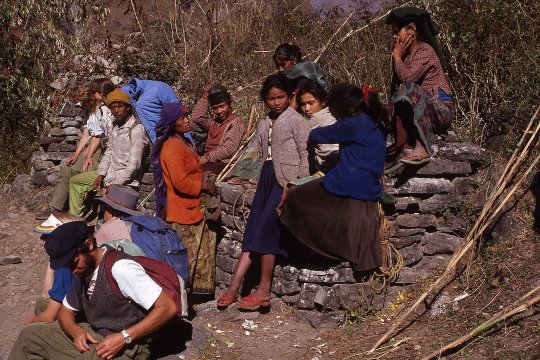 220. Their visitors carry only small day packs: the bulk of their gear is carried for them, together with their bedding, clothing, and tents. (Near Kalopani)

.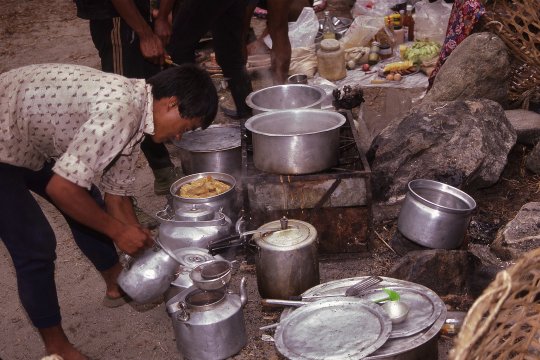 221. Their meals are cooked along the way by people who have hurried on ahead so the food will be ready when they get there. (Near Tal)

.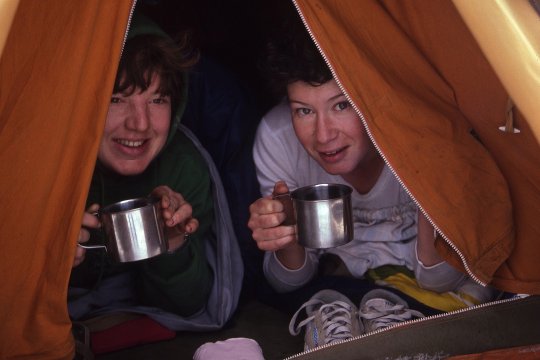 222. They will sleep in tents which the porters will have ready and waiting when the trekkers reach their campsite. And they will be given hot tea in the morning and warm water to wash in. Vast numbers of trees have been felled in recent decades to provide the necessary heat; so though trekkers bring in lots of money there is a price to pay
.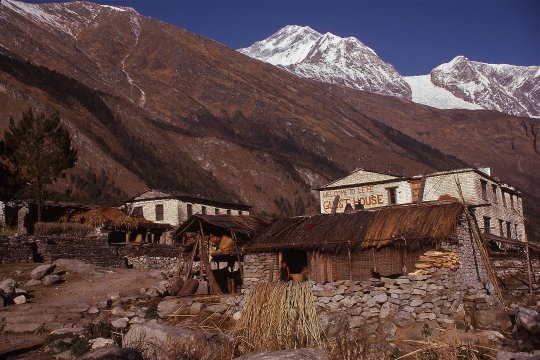 223. Other trekkers -- "the independents" -- travel alone. They do not normally carry tents but stay at the guesthouses located at strategic points along all the trails. This one was at Kalopani.

.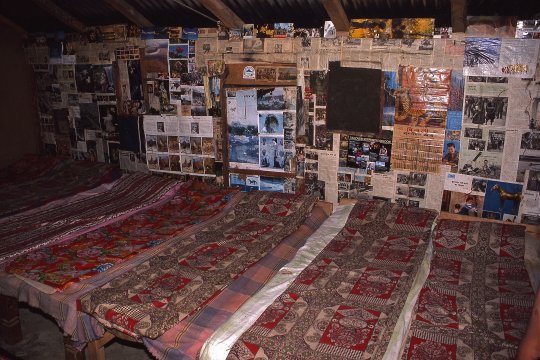 224. The accommodation that these provide is simple but adequate, and it is usually well decorated. (Near Phalenkangu)

.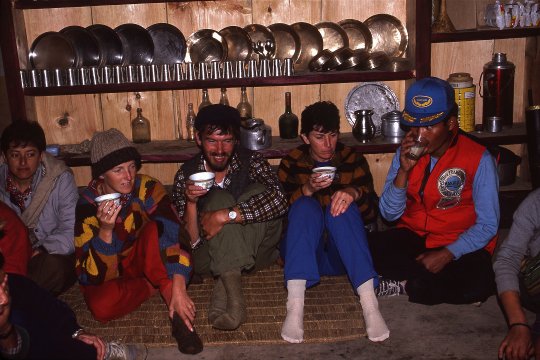 225. Meals can be had in the same building or at one of the many tea houses. Tibetan butter tea is usually offered to trekkers but rarely accepted. (At Bagarchhap)

.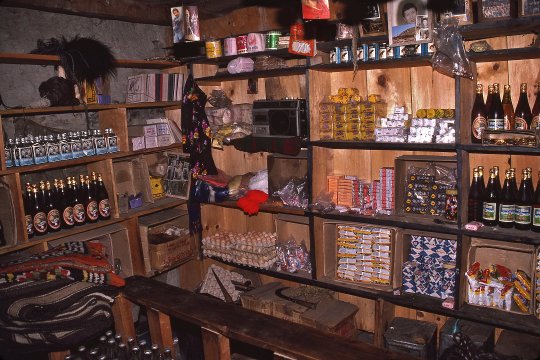 226. Alcohol in one form or another will be available here too - for the benefit of trekkers and low caste Hindus. (Near Chame)
.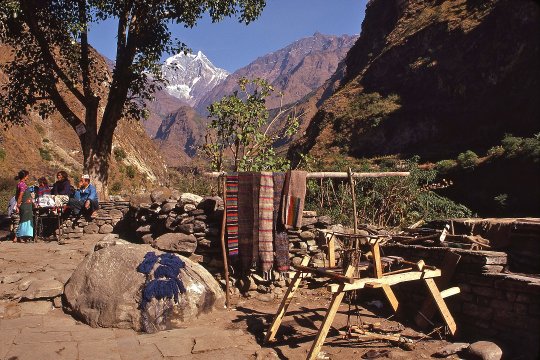 227. Outside they will be offered locally made handicrafts. (Tatopani)

.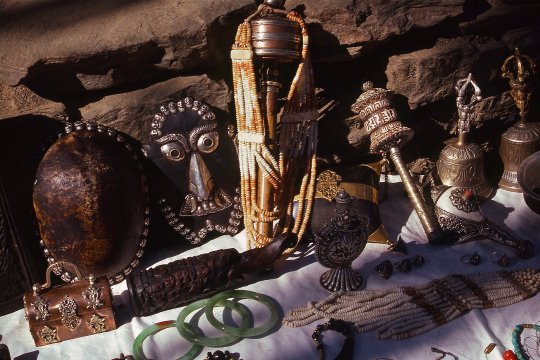 228. And a range of artifacts may be purchased, some ancient, others modern: but all souvenirs of a visit to the high country. (Ghorepani)
.




NEPAL CONTENTS


Text, photos and recordings by John Tyman
Intended for Educational Use Only.
Contact Dr. John Tyman at johntyman2@gmail.com
for more information regarding licensing.



www.hillmanweb.com
Photo processing, Web page layout, formatting and hosting by
William Hillman ~ Brandon, Manitoba ~ Canada

..