John Tyman's
Cultures in Context Series
AFRICAN HABITATS :
FOREST, GRASSLAND AND SLUM
Studies of the Maasai, the Luhya, and Nairobi's Urban Fringe

PART TWO : THE LUHYA
6a. FOOD : 051-063
www.johntyman/africa
Click for full-screen images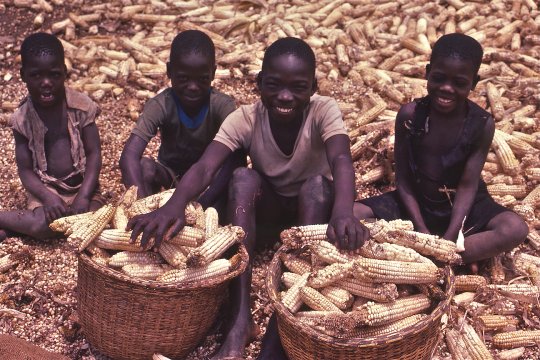 051. Much of the corn grown in the wettest months (between April and August) is eaten fresh, as sweet corn: but the second (dry season) crop is usually milled. Corn is both a staple and a cash crop. According to the roughest of estimates an adult here will consume 2 bags of corn annually (or 180 kg). (Cobs prior to shelling and milling.)
.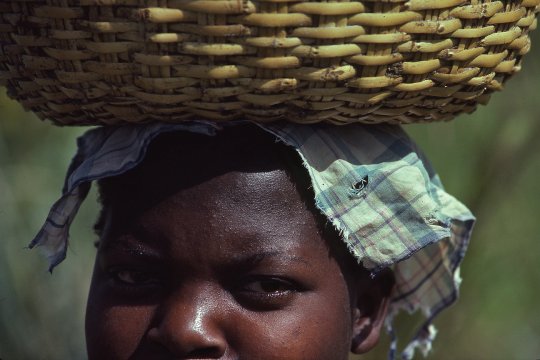 052.Very few families ever grind corn by hand today (like in frame 007). Instead it is carried in baskets to a local posho mill for processing. Here it is ground to produce a coarse form of corn flour that is the basic component of local diets.
.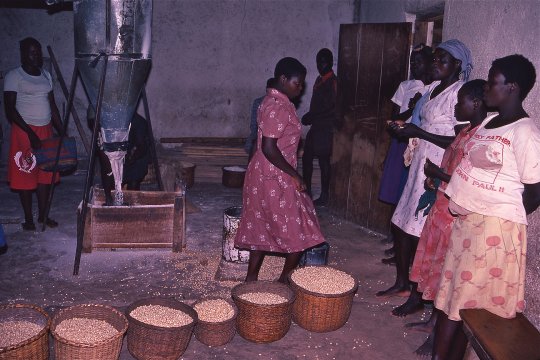 053. Corn yields depend on whether or not the farmer uses hybrid seed and fertilizer. Those who don't will likely harvest a single 90kg bag per acre. Farmers who do use manure, fertilizer and new hybrid seed may harvest 5 times as much. These yields are typical of fields sown to corn and beans under inter-cropping arrangements. The figures for the beans would be similar. (Women wait their turn at the mill.)
.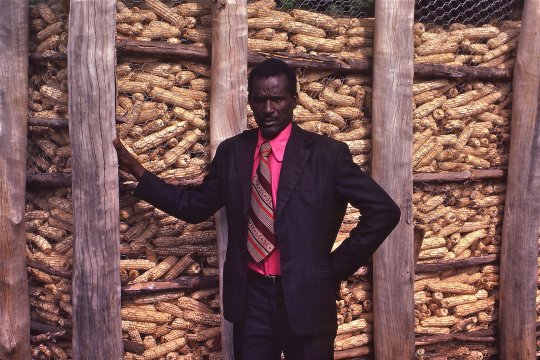 054. The large size of this man's crib reflects the fact that he grows corn for sale. This is his main storage facility but he has others ... including the independent Pentecostal church of which he is the pastor!
.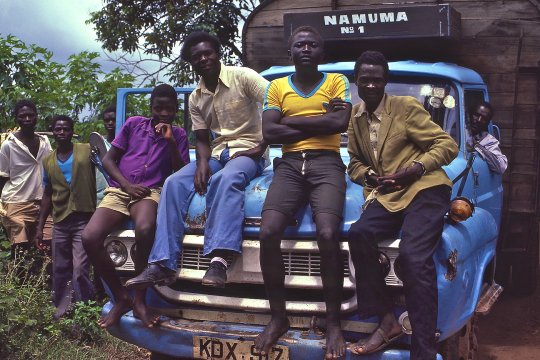 055. His wealth was also mirrored in the fact that he could afford 5 wives. And he also owned a truck which was used to haul maize … that of his neighbours under contract, as well as his own.
.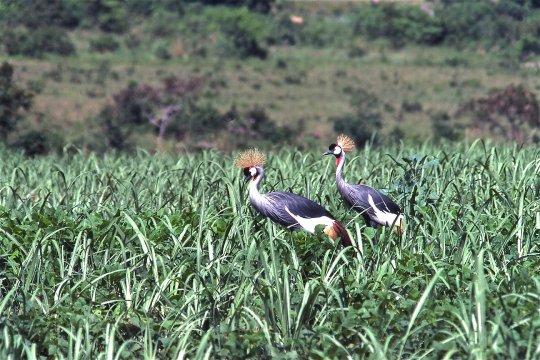 056. Sugar was, till recently, grown just on shambas in small plots as an additional source of cash income. This changed when a large foreign-owned sugar refinery was built at Mumias, west of Kakamega, in a wetland which the company planned to drain and cultivate. (Small sugar plot near Ingotse; with Crested Cranes.)
.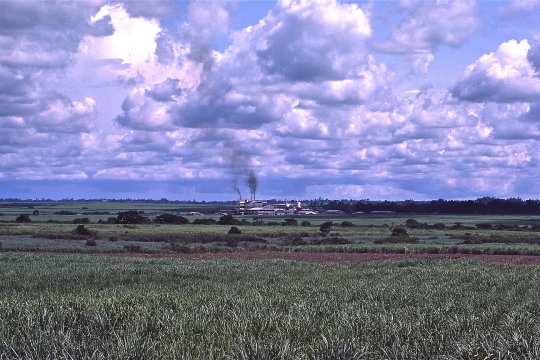 057.The reclaimed plantation area, however, was considered too small for the mill to be profitable, so local farmers were invited to grow sugar under contract ... as "out growers". (Former wetland at Mumias.)
.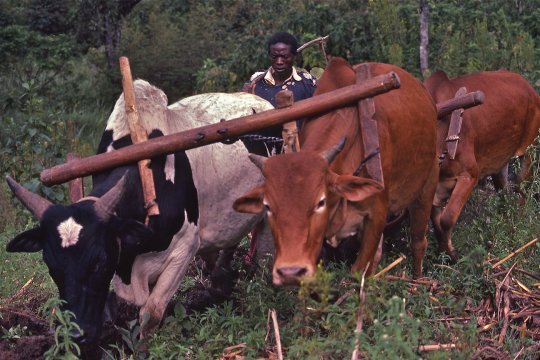 058. As a result, the northern half of the Luhya homeland, though it has a lower population density, is no longer a food surplus area: it produces sugar for export, but must import much of its own food; and the cost of living has risen accordingly. The southern section, with smaller holdings, has never fed itself. Previously, it relied on the north to fill the gap, but now must look further afield. (Ploughing at Kakunga.)
.
059. Where animals were kept, it was the boys traditionally who did the herding. From age seven they looked after small animals and when 10 or 11 took charge of the cattle. This is less common today because of the shortage of pasture.
.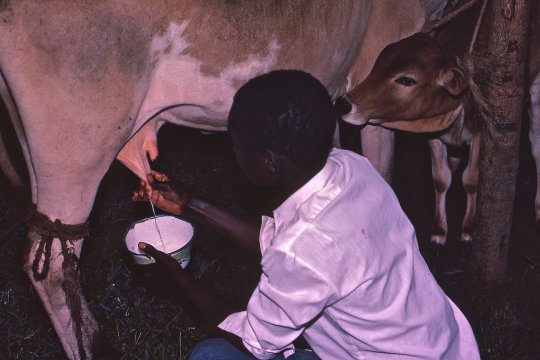 060. Milking is done by both men and women; and when it is not consumed directly, the milk is turned into butter or fermented to produce yoghurt.
.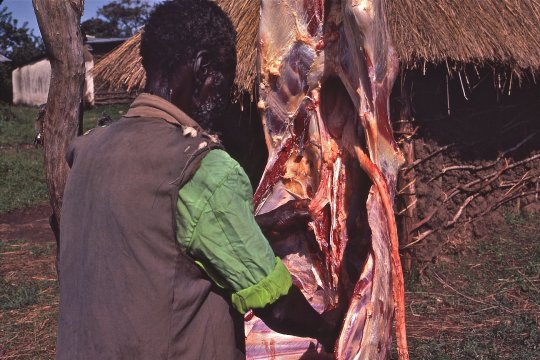 061. Occasionally a cow, goat or sheep will be butchered like this for meat ...
.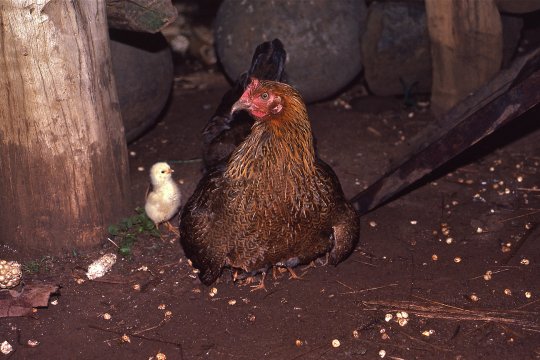 062. But chickens provide most of the meat eaten here, in addition to eggs.
.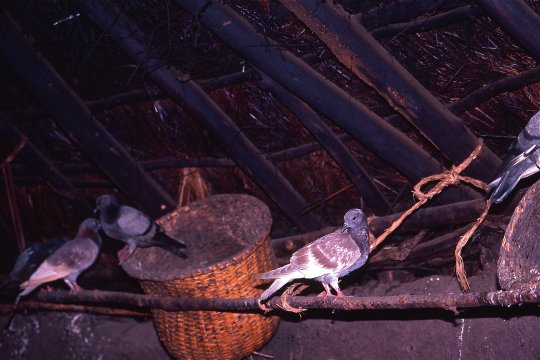 063. Some families also raise pigeons -- for both food and fertilizer.
.




AFRICA CONTENTS


Text, photos and recordings by John Tyman
Intended for Educational Use Only.
Contact Dr. John Tyman at johntyman2@gmail.com
for more information regarding licensing.



www.hillmanweb.com
Photo processing, Web page layout, formatting and hosting by
William Hillman ~ Brandon, Manitoba ~ Canada