John Tyman's
Cultures in Context Series
AFRICAN HABITATS :
FOREST, GRASSLAND AND SLUM
Studies of the Maasai, the Luhya, and Nairobi's Urban Fringe

PART TWO : THE LUHYA
6. FOOD : 036-050
www.johntyman/africa
Click for full-screen images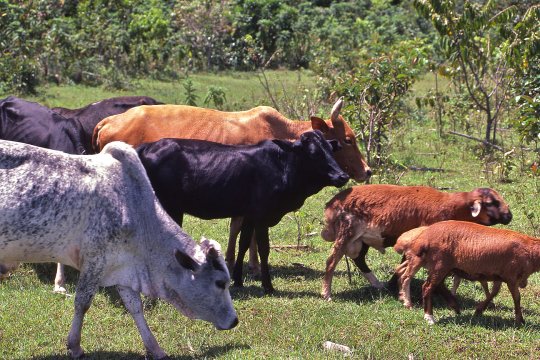 036. Food production here includes animals as well as crops, but though livestock are valued (as a form of wealth as well as a source of food) their numbers are limited. Even the larger holdings north of Kakamega are unlikely to support more than six cows, four goats, three sheep and a dozen chickens.
.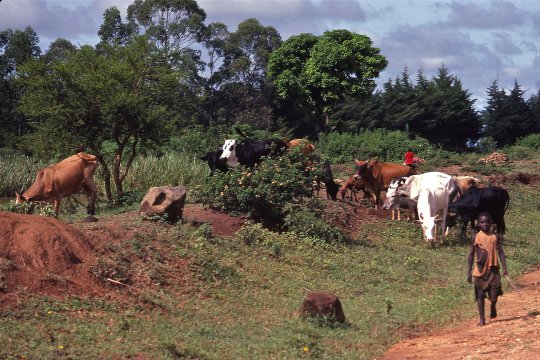 037. So many people must be fed from a small area that little or no land can be spared for permanent pasture. Most animals, therefore, are led out to graze on roadsides and on the edges of fields, or are fed on grass cut there and carried home.
.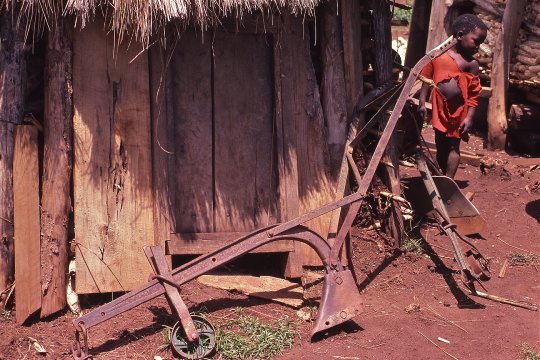 038. Instead, most of the area is cropped. Some will be cultivated using a plough pulled by oxen ...
..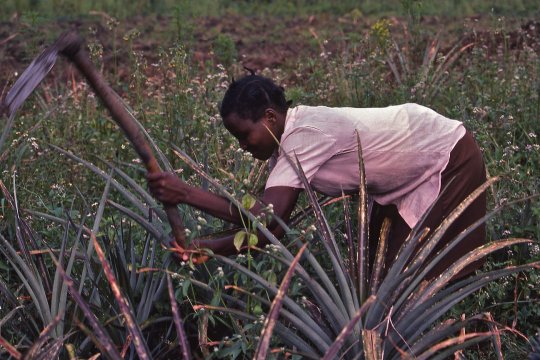 039. But most will be worked by hand using a hoe.
.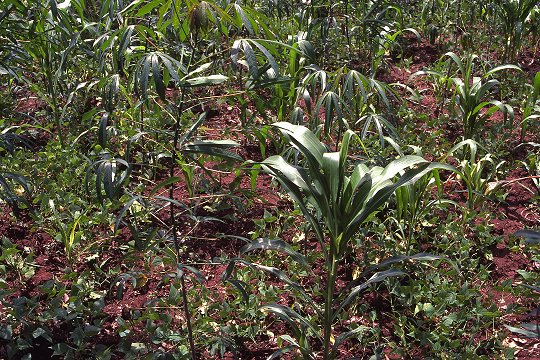 040. In other words farming here is extremely intensive. It involves both inter-cropping (see frame 048 below) and double cropping -- in which two different crops are harvested in succession from the same plot in the same year. This leaves very little time for land to lie fallow. Here corn, beans and cassava grow together.
.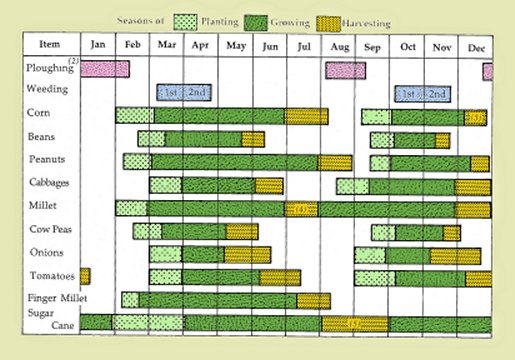 041. The traditional crops were sweet potatoes, beans, finger millet, sorghum, peanuts and bananas. Maize (corn) was introduced about 1920 and is now the most important food crop. The second corn and bean crops -- numbered (3) on the diagram -- mature more quickly because there is less rain then. After the first millet harvest at (4) the stalk is cut and the root left to sprout a second time.
..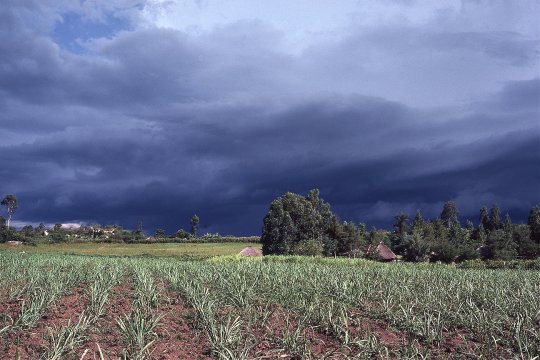 042. Similarly, after sugar cane is harvested -- at (5) in the previous frame -- the second crop shoots from the root. Planted cane needs 18 months to mature, the ratoon crop only 12. (Cane field of an "out-grower" supplying the mill at Mumias.)
.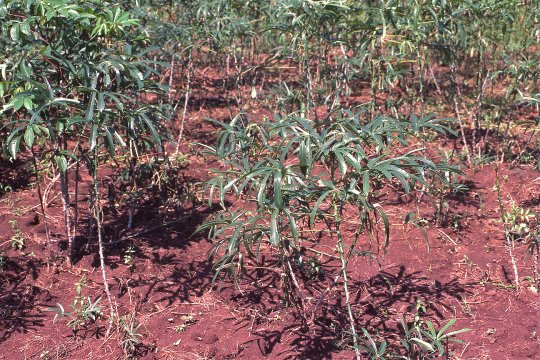 043. Cassava is one of several crops that cannot easily be fitted into the diagram since it may be planted at any time of the year and harvested between 8 and 18 months later depending on the size of the tubers required. It is known as a famine crop because of its drought resistance; and it serves as a standby during the dry season from December to March. It can be cooked, ground into a flour which can be mixed with corn meal, or fed to livestock.
.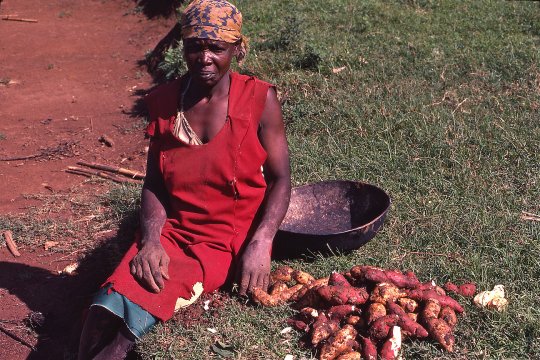 044. Sweet potatoes, likewise, are planted at any time and harvested as required 3-6 months later.
.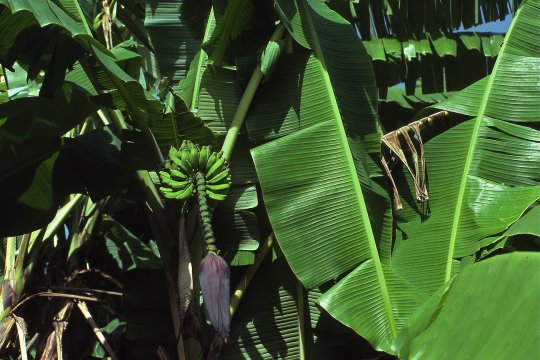 045. Bananas are harvested year-round. They rank second only to maize (corn) as a staple daily foodstuff.
.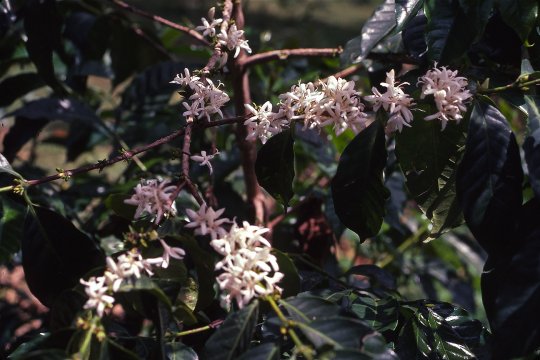 046. Coffee is planted after the March rains. It is harvested first 3 or 4 years later, and thereafter twice a year. The interval between blossoming and picking is from 2 to 3 months.
.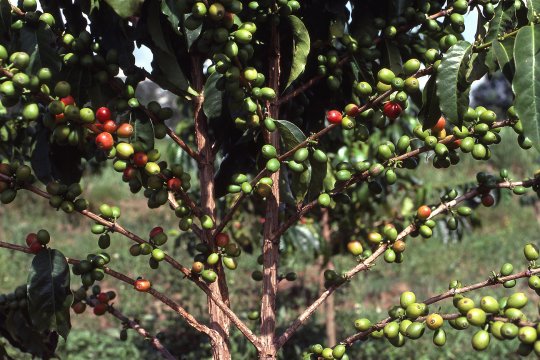 047. Coffee is grown for cash, but with coffee grown on so many small holdings it is difficult to standardize the quality of the product for export markets.
.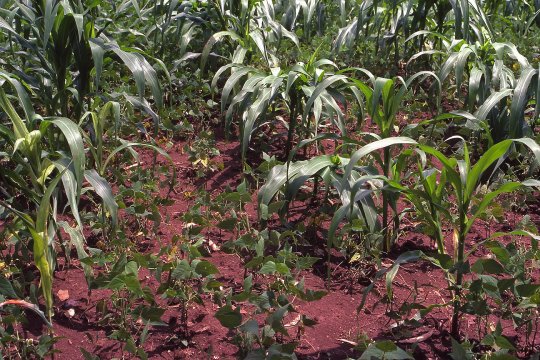 048. In the farm work diagram (frame 041), the times of ploughing and weeding (2) were simplified somewhat because (with the exception of millets) different crops are frequently grown together in the same field. Beans and corn are the best example: they are planted together in alternating rows, but the beans mature more quickly than the corn and are harvested first. In a region where meat, eggs and fish are in short supply, and therefore expensive, beans are the dominant source of protein. (Inter-cropping of corn and beans.)
.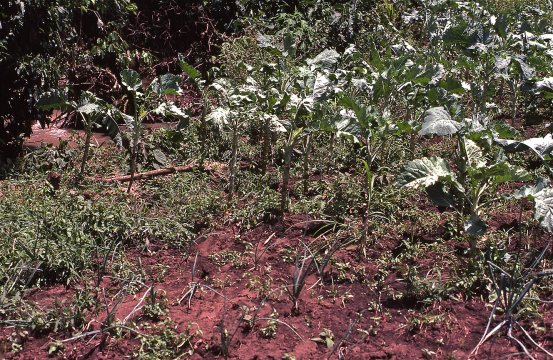 049. Crops which are not suited to inter-tillage may be grown in succession in the same field in the same year, in crop rotations. And since conditions are usually both warm and wet year-round, particular crops that mature quickly can be planted and harvested twice in the same year. Both these arrangements are forms of double-cropping. (Mixture of vegetables.)
.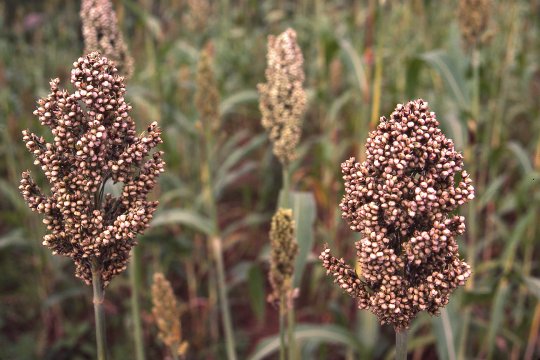 050. Corn, beans, peanuts, millet and many different vegetables can be harvested twice every year. In the case of millet (shown here) the second crop (as noted above) is not planted but sprouts from the root left after the first harvest. Peanuts are a secondary source of protein and, as a legume, are good for the soil.
.




AFRICA CONTENTS


Text, photos and recordings by John Tyman
Intended for Educational Use Only.
Contact Dr. John Tyman at johntyman2@gmail.com
for more information regarding licensing.



www.hillmanweb.com
Photo processing, Web page layout, formatting and hosting by
William Hillman ~ Brandon, Manitoba ~ Canada