John Tyman's
Cultures in Context Series
AFRICAN HABITATS :
FOREST, GRASSLAND AND SLUM
Studies of the Maasai, the Luhya, and Nairobi's Urban Fringe

PART TWO : THE LUHYA
FOOD : Agricultural Case Studies:
7. The Adanje Shamba : 064-071
www.johntyman/africa
Click for full-screen images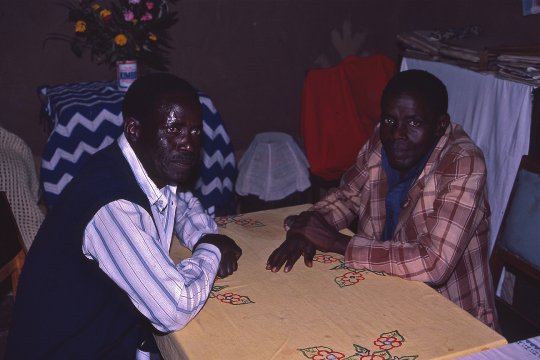 064. Jimmy Adanje served in the (British) Royal Air Force during the Second World War, and was later employed for many years on construction work in Tanzania and other parts of East Africa. The money that he earned helped him develop his shamba, financed his marriages, and paid for his children's education. (Jimmy Adanje, on left, and friend.)
.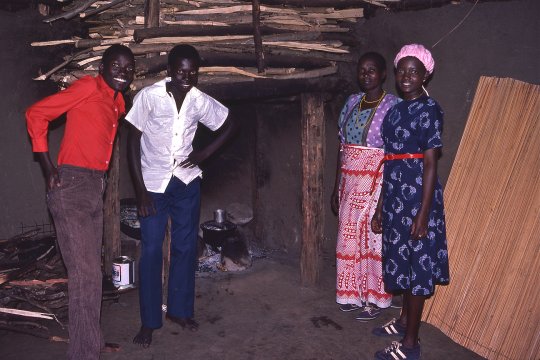 065. There are 15 children in the Adanje family, ten from Jimmy's first wife and four from the second. He is separated from his second wife (who moved to Mombasa) but he kept the children, and adopted the fifteenth -- fathered by him in an extramarital relationship. Pamela (on the right) and Douglas (in red) are twins. Douglas was then in Form Four at Ingotse : Pamela had finished Form Four at girls' school and was studying at a secretarial college in Luanda.
.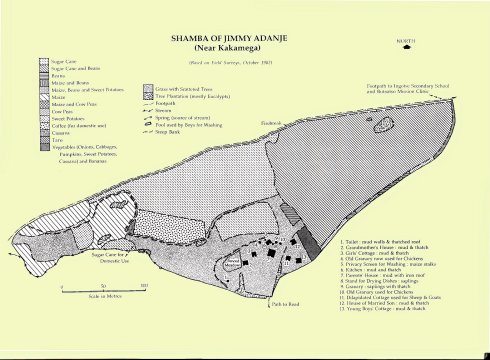 066. Jimmy lives near Ingotse, 10 km north west of Kakamega, and his shamba is small for that area -- only half the average. Sugar provides him with a cash income but he is compelled as a result to buy much of the corn needed to feed his family. Most vegetables are, of course, grown for household use: but the strip around the cane field reflects the policy of the sugar company. They like growers to maintain a cordon of evergreen crops as a firebreak.
.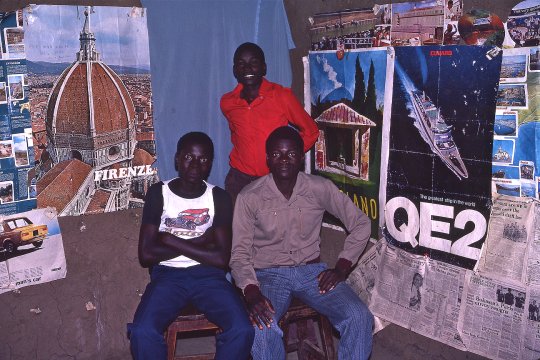 067. All of his children finished primary school, and most of them have had several years of secondary education also. Of those grown up and employed at the time of my visit, one was in the air force, one in the army, one in the police, two were nurses, one was a mechanic, and another worked as a clerk in a government office. (Douglas in his bedroom with two of his brothers.)
.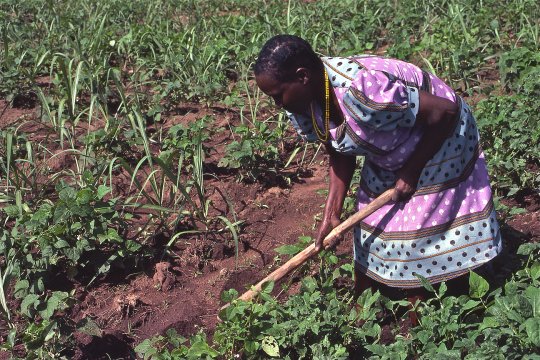 068. A mother for 30 years, Jimmy's first wife Marita still worked hard in the fields.
.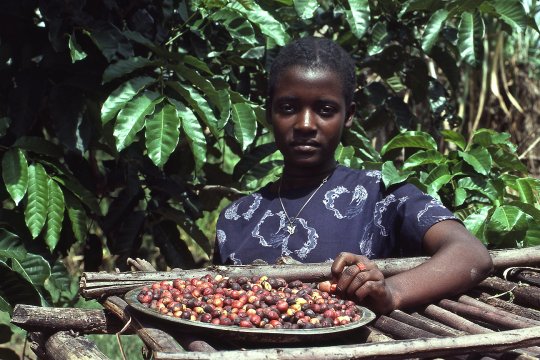 069. Pamela, home for the weekend, helped sort coffee beans ... not grown for sale, but for family use.
.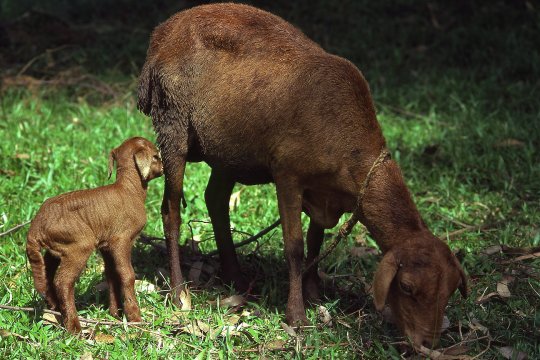 070. They owned three cows, one calf, four sheep, three goats, and several chickens and ducks. The lamb in the photo had been born that morning and was still uncertain where milk came from!
.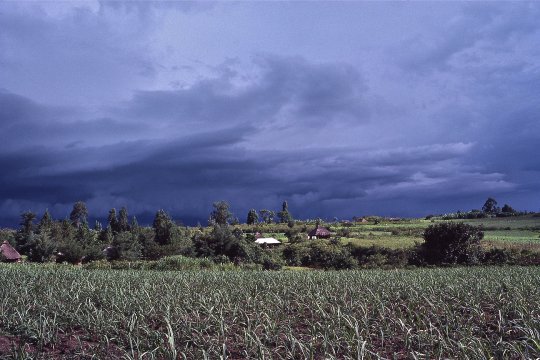 071. Since I surveyed Jimmy's farmstead in 1982 the proportion devoted to sugar has increased significantly and the area under corn and beans and other crops has shrunk accordingly. The dates of planting for sugar cane are determined by the mill owners, and are staggered between districts so as to provide a continuous supply of sugar. The small-holder does the planting and the weeding (7 times!) but the company provides the fertilizer and the cane, and also harvests it -- by hand, using gangs of cane cutters.
.




AFRICA CONTENTS


Text, photos and recordings by John Tyman
Intended for Educational Use Only.
Contact Dr. John Tyman at johntyman2@gmail.com
for more information regarding licensing.



www.hillmanweb.com
Photo processing, Web page layout, formatting and hosting by
William Hillman ~ Brandon, Manitoba ~ Canada