John Tyman's
Cultures in Context Series
EGYPT and the SAHARA
www.johntyman.com/sahara

7 : STUDIES OF CHANGE
7.3 Future Challenges : Rural and Urban Pt. II: 616-635
.
www.johntyman.com/sahara/39.html
Click for full-size images..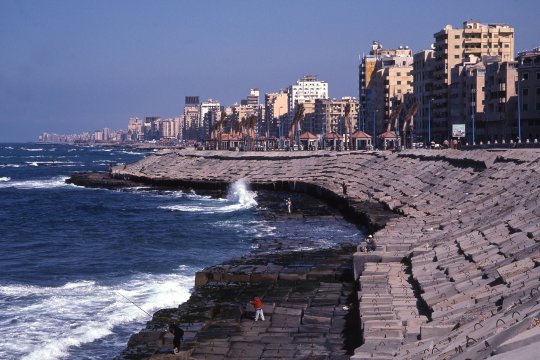 .616. Life in Tripoli and Benghazi, the largest cities in Libya, was disrupted greatly by the Civil War in 2011: but Egypt's cities, too, show signs of stress. Alexandria with four million or more inhabitants, handles 80% of Egypt's imports and exports. Following the construction of natural gas and oil pipelines from Suez it also developed as an industrial centre: and tourists come here too. (Alexandria waterfront)
.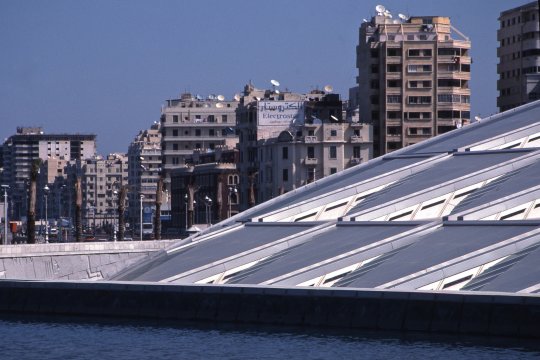 .617. Tourists explore the city's Greek and Roman heritage. Sadly the great lighthouse (the phairos) built by Ptolemy l, and one of the "Seven Wonders of the Ancient World, "was destroyed by an earthquake in 1303; and only stones remain. The Great Library, also founded in the 3rd century BCE, and one of the greatest of all classical institutions, was destroyed by the Romans. The modern Bibliotheca Alexandrina (with a very modern roof on the right) is intended to recapture past glory.
.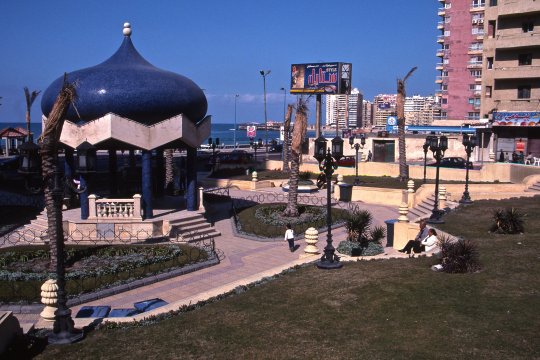 .618. Alexandra's prosperity is reflected in waterfront amenities not unlike those of seaside resorts in Europe and America, with well-maintained parks and gardens.
..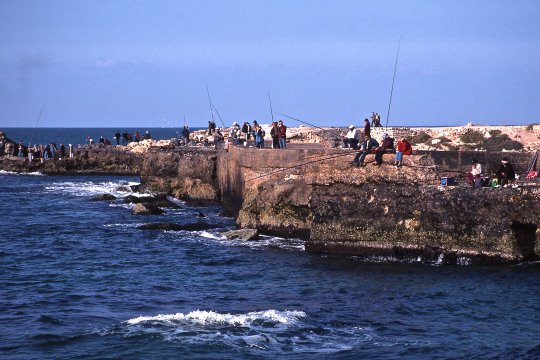 .619. And there is room for a host of anglers -- both men and women -- on the walls of the old harbour.
.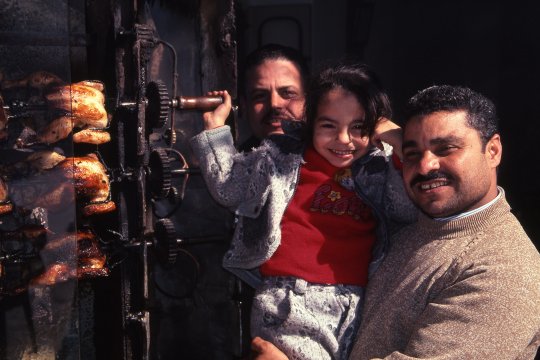 .620. For hundreds of years Alexandria was an outstanding example of multiculturalism within the Arab world. The late 19th and early 20th centuries witnessed an influx of wealthy Greek, Jewish, Turkish, Italian, British and French businessmen. With 40% of its population listed as "foreigners" in 1940 it was far more cosmopolitan than Cairo! (Roast chicken franchise in downtown Alexandria)
..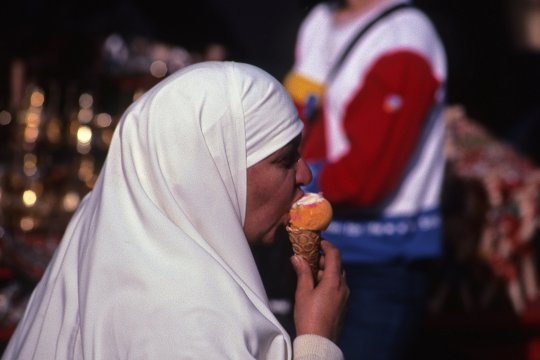 .621. This all changed when Nasser came to power in1952. Fearing that their properties would be nationalized most of the "foreigners" sold up and left: and with the rise of Islamic fundamentalism today (and the attacks on churches in Cairo) they are unlikely to return. Once few women in Alexander were veiled: now most of them are.
.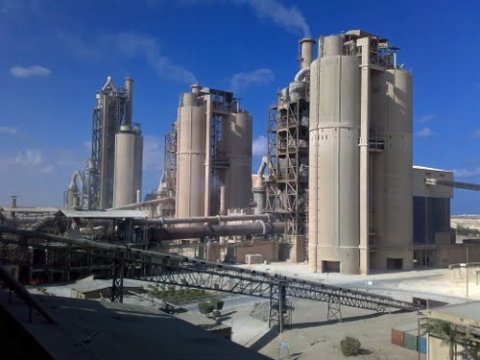 .622. Till quite recently Egyptian industries were focused on the processing of agricultural products like cotton and sugar: but the regime established in 1952 gave high priority to the development of heavy industries -- steel mills, cement factories, fertilizer plants, and electric power stations. (Amreyah Cement factory near Alexandria courtesy L.M.Cabrita)
.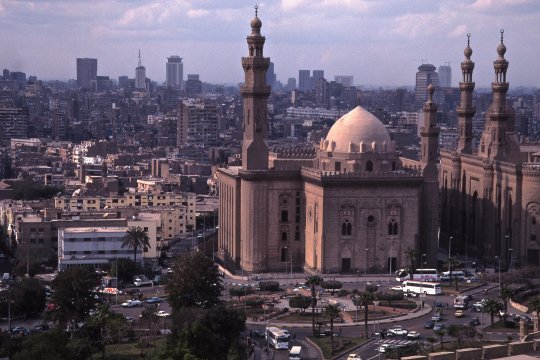 .623. As a result the population of Cairo expanded dramatically, as people poured into the city seeking to take advantage of remunerative employment in place of struggling to survive in rural areas. From its ancient heart the city spread out in all directions. (Sultan Hassan mosque, completed in 1363)
.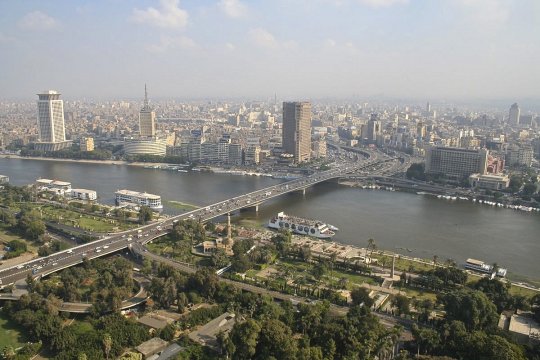 .624. With 17 million inhabitants, Cairo is Africa's largest city and one of the most densely populated areas in the world -- with well over 100,000 persons per square kilometre in some neighborhoods, and a corresponding level of pollution. (Courtesy Omar Kamel)
.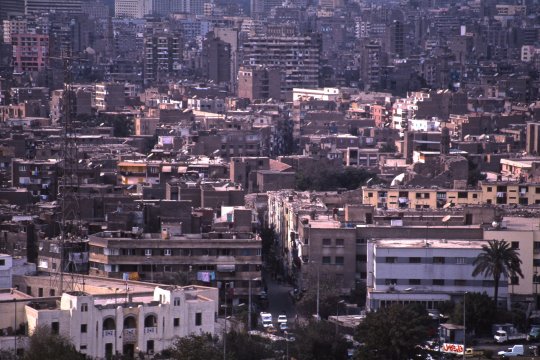 .625. High-rise apartment buildings were built to house the new arrivals, but many ended up camping on roofs downtown, so that the poor and the wealthy often live side by side ... literally on top of each other! (Downtown Cairo)
..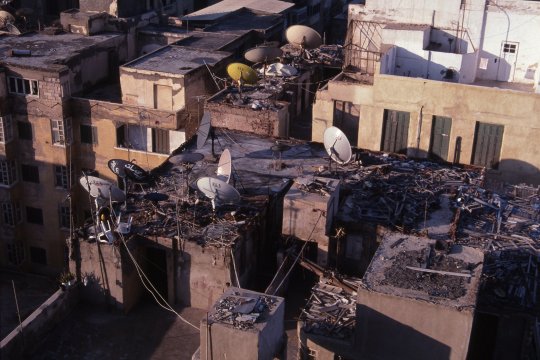 .626. The fact that buildings are erected in a hurry, and that their owners hope to increase their height, should the opportunity arise, is obvious from their unfinished appearance at rooftop level.
.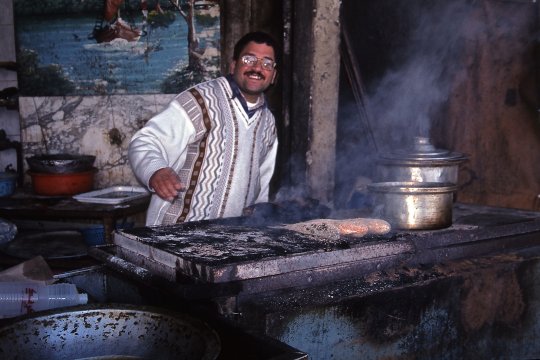 .627. Popular districts are so crowded that many people live on the street, which consequently bustles with activity. Here the shops of craftsmen, knife-grinders, tailors, basket makers, weavers, bakers, barbers and fast food sellers are crammed together.
..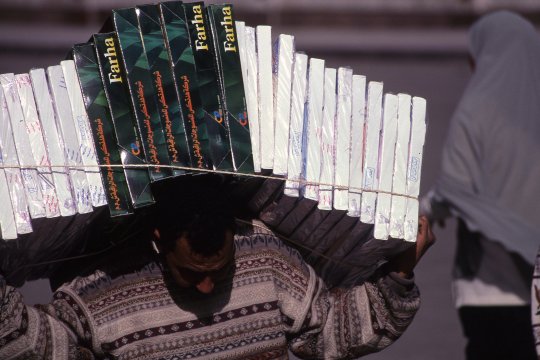 .628. Mobile kitchens on carts, with windows through which meals are served, are common here also. Such streets are also the last refuge of pedlars. Carrying their merchandise on their heads or pushing it in handcarts, they offer fish or vegetables, poultry, breads, cheese, and fruit. Others use their heads to move goods between sales outlets.
.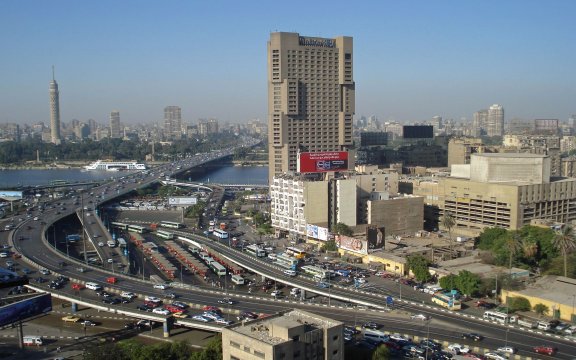 .629. During rush hour in Cairo the traffic downtown is trapped in gridlock -- due not only to the enormous number of cars, but also lines of buses (since five million people here use public transport every day), and thousands of handcarts and vehicles drawn by animals. (Lighter traffic at Wallsforpc.com)
.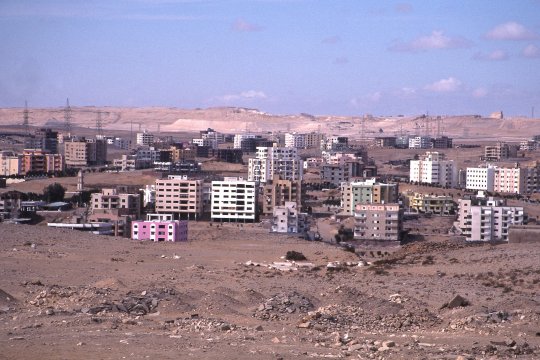 .630. One idea to reduce congestion at the centre of the city has been to build satellite towns like this on Cairo's desert outskirts and avoid encroaching on precious farmland: but such initiatives have proved to be both costly and unattractive. (New suburb at Giza)
.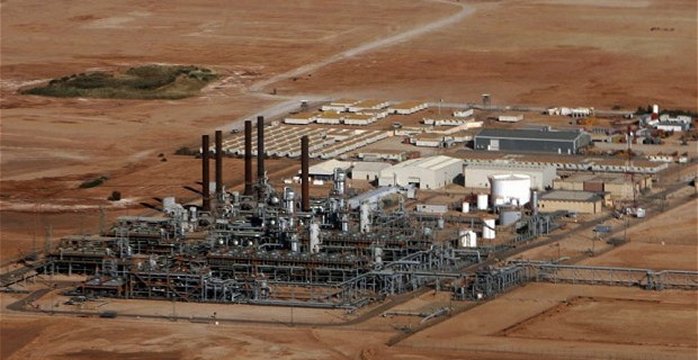 .631. In addition, the new-found wealth derived from oil and gas has proved to be a mixed blessing. It has made governments here susceptible to blackmail by armed terrorists. In 2013 fundamentalists over-ran the Algerian facility at In Amenas, said they would destroy it, took hostages, killed some, and declared that the others would only be released if the Algerian government (a) freed terrorists they had imprisoned earlier and (b) ceased to allow French war planes to use Algerian airspace. (The In Amenas gas facility courtesy i.telegraph.co.uk)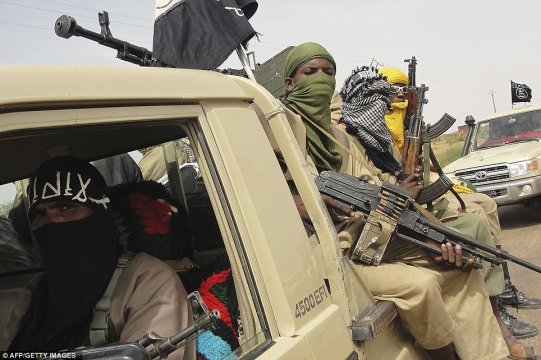 .632. At that time French planes were bombing a related group of Islamic fundamentalists who threatened to take over Mali. French ground troops were also involved ... in a campaign reminiscent of the colonial era. For local Tuareg warriors also, the ensuing battles offered them a taste of former glory. They had served as mercenaries in Libya, trained by Gaddafi, and when he was overthrown in 2011 they escaped through Algeria bringing their weapons with them. (Courtesy Getty Images)
..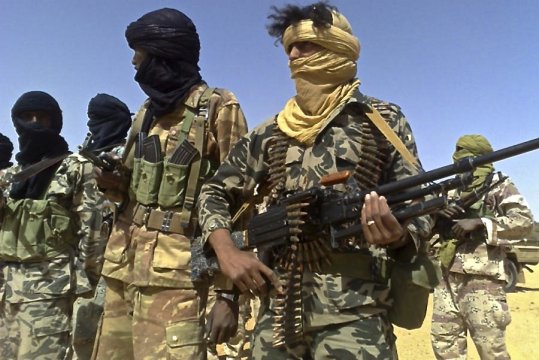 .633. They then joined a coalition of Islamic extremists headed by members of Ansar Dine ("Defenders of the Faith"), reviving memories of their former glory as raiders. Interestingly enough, though, after early victories, the fundamentalist leadership of the Islamic coalition chose to dispense with the services of the Tuareg ... possibly because as Arabic-speaking followers of the prophet the terrorists still doubted the purity "those caste out by God"! (Tuareg terrorists in Mali at news.abamako.com)
.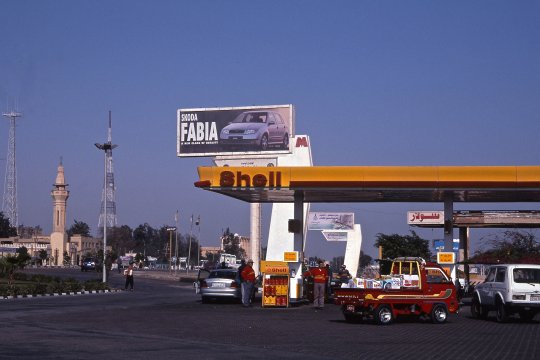 .634. Clearly, some things in the Sahara remain much as they always have been: but, obviously, much has changed. Camel trains have frequently been replaced by trucks, and donkeys by cars. But the greatest changes are probably not material or visible but internal and attitudinal. In his classic study "Sahara" Rene Gardi observes: "Thanks to the pacification of the Sahara, the growing decline of the nomadic way of life, the abolition of slavery, the substitution of cash for barter trade, and the population's increasing contacts with Western civilization -- thanks to all these the old patriarchal order, based on tribe and clan, and the ancient feudal societies are in a state of dissolution." (Service station outside Alexandria)
..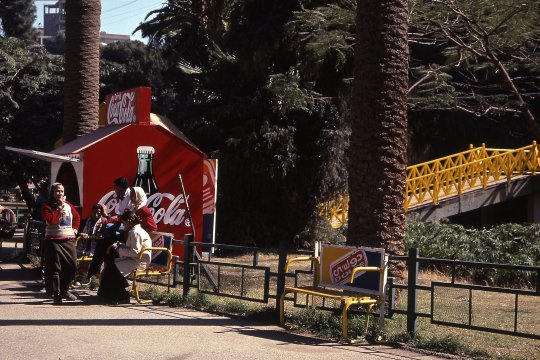 .635. As a result, Gardi continues: "Old customs and ways are gradually being lost. The former sense of community, which owed much to the constant threat of conflict with neighbouring tribes, is vanishing and giving way to a more self-centred outlook" for there are easier ways now to earn a living. And some who once drew water from a well in an oasis now prefer Coca Cola! (Young people chat at a park in Cairo)

.



SAHARA CONTENTS


Text and photos by John Tyman unless otherwise indicated.
Intended for Educational Use Only.
Contact Dr. John Tyman at johntyman2@gmail.com
for more information regarding licensing.



www.hillmanweb.com
Photo processing, Web page layout, formatting and hosting by
William Hillman ~ Brandon, Manitoba ~ Canada