John Tyman's
Cultures in Context Series
EGYPT and the SAHARA
www.johntyman.com/sahara

5 : OASIS SETTLEMENTS
5.1 Housing : 349-368
.
www.johntyman.com/sahara/25.html
Click for full-size images.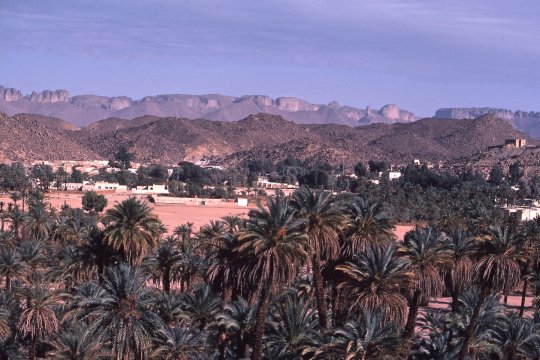 .349. Though semi-nomadism combined with the growth of dates has always been widespread, the population of most oases is decidedly sedentary. And people here live in houses, instead of tents. The word "oasis" is derived from the language of the Coptic Christians of Egypt -- from "oueh" meaning "to dwell" and "saa" meaning "to drink". (Djanet)
.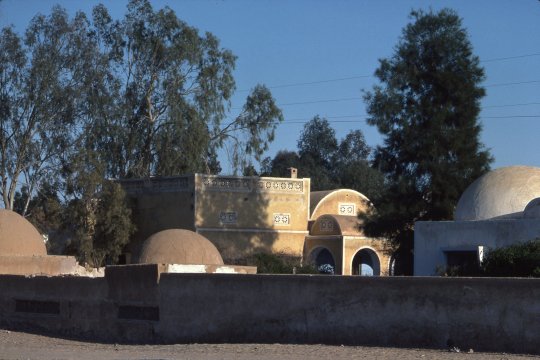 .350. Houses here protect those who live in them against the heat of summer, the cold of winter, and sandstorms -- and they also allow a man to shut off his womenfolk from contact with the outside world, since the Muslim faith is more than just a religion. It is a way of life: and in a conservative household women, after marriage, speak to no man other than their husband, father and brothers. (El Oued)
..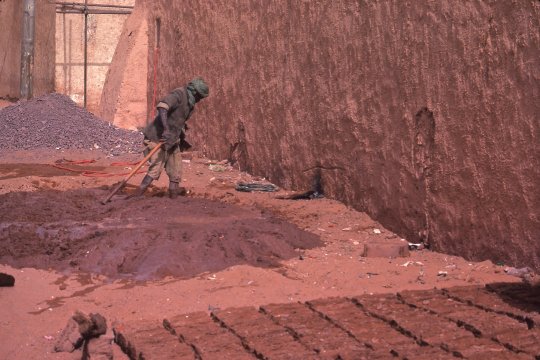 .351. Most such houses are made of clay bricks. The clay is made into a slurry by adding water and sand: and chopped straw and dung may be added to increase its strength. It is mixed by treading underfoot and then shaped into bricks by hand, or with the aid of a wooden frame. These are then dried in the sun ... for just a couple of days in summer. (In Salah)
.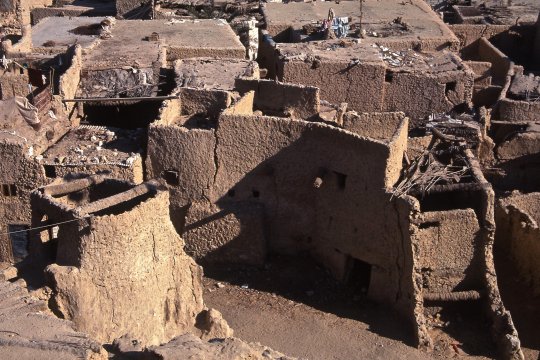 .352. The walls are often half a metre thick, with two lines of bricks and a cavity between them for added insulation. Mud brick houses are cheap but can be damaged by heavy rain. If this happens they are rarely rebuilt: it is easier to build a new one. (Inside old Shali fortress at Siwa)
.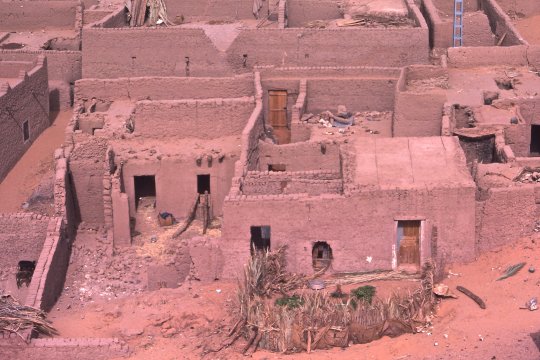 .353. The trunks of palm trees are used to support the roof, but because they are pliable they are used only in short lengths of no more than 2.5 metres, which means that rooms in such houses are rarely more than two metres wide. (In Salah)
.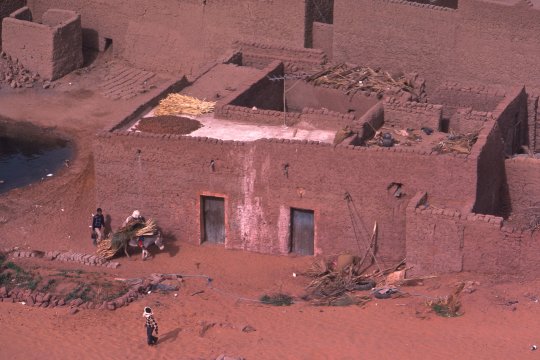 .354. Walled roof terraces commonly provide a secluded place for women, where they can work unobserved. Firewood and garden produce can also be stored here, and crops dried in the sun. (In Salah)
..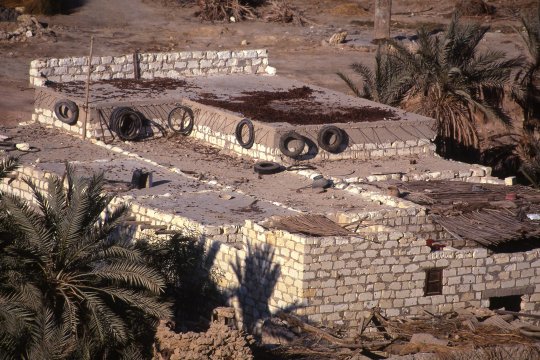 .355. At Siwa the buildings in the rain-damaged Shali division have been progressively replaced by homes built of local stone, and dates are dried on the roof. (Siwa)
.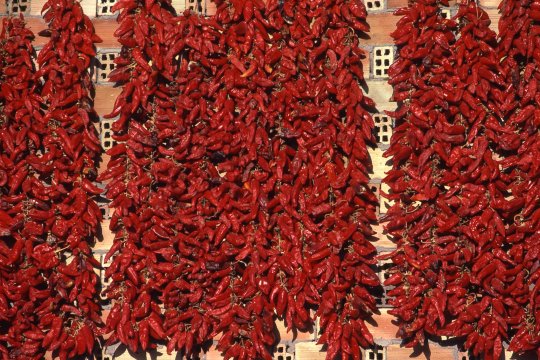 .356. Other crops may be dried against the walls of desert houses -- like these chili peppers at Kairouan.
..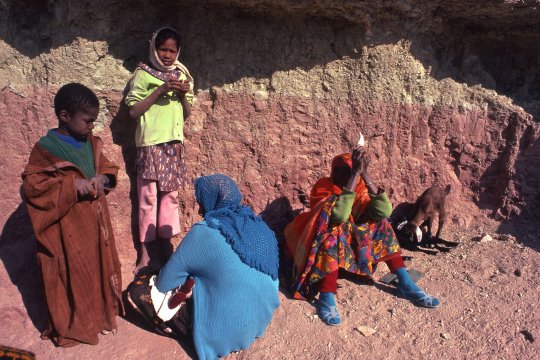 .357. Though houses in the Sahara vary in form they do have certain features in common, including an inner courtyard. Cooking facilities are located here, including an oven for baking, for this is where women have traditionally done much of their work -- like cooking, weaving, and grinding grain. Such courtyards may also contain stabling facilities for livestock, plus a latrine. (El Golea)
.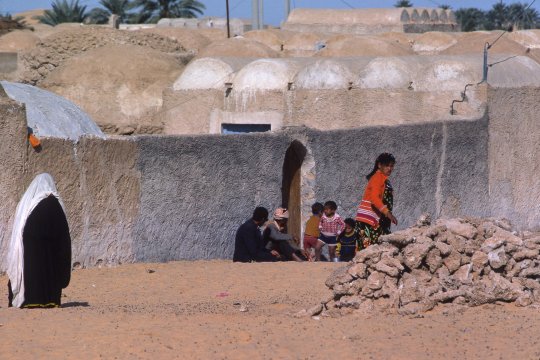 .358. Houses here are typically entered from the street by way of a narrow passage which is angled in such a way that even if the door beyond is left open no one can see inside ... ensuring privacy. (Village near Touggourt)
.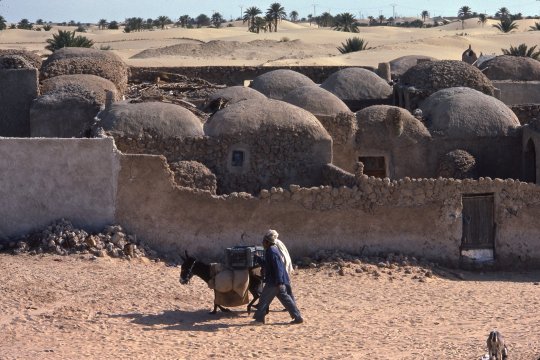 .359. For the same reason houses have few if any windows on the outside (though sometimes narrow slits in the walls). Besides increasing privacy this also reduces penetration by sunlight (and associated radiation). (Village south of Hassi Messaoud, south of Touggourt)
.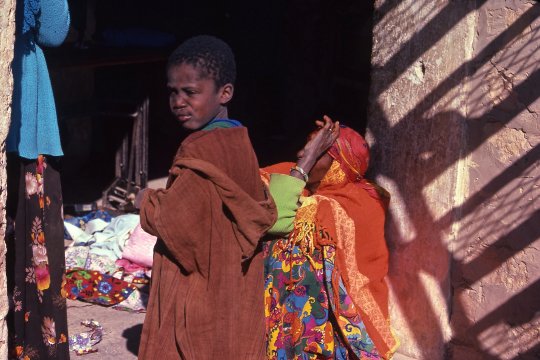 .360. Extended families are the norm, made up of grandparents, their sons, with their wives, and a host of grandchildren. The living rooms and bedrooms of each son's family are grouped around the courtyard. They were floored traditionally with hard-packed soil. (El Golea)
..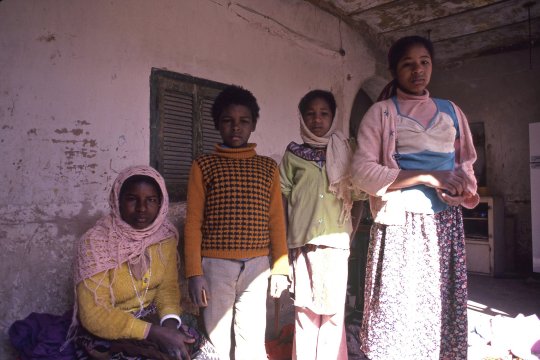 .361. Till recently they all slept on carpets (like the nomads): now they have beds. Mud floors have sometimes been replaced by concrete and tile. (El Golea)
.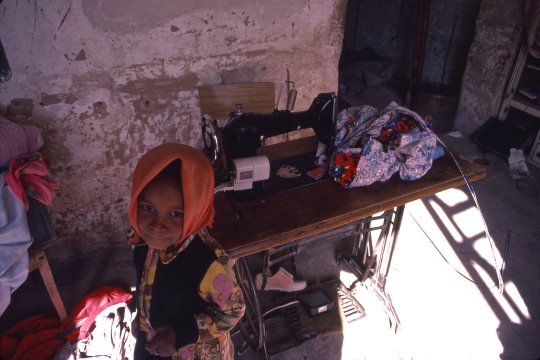 .362. The provision of electricity in settlements like this, financed by the profits of the oil industry, has reduced a woman's workload in part, as she no longer has to sew by hand. (El Golea)
..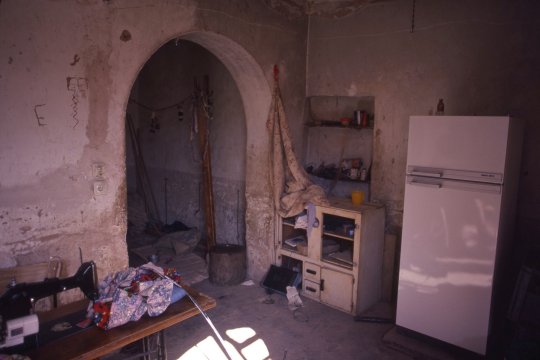 .363. And the discomfort and monotony of desert life has been eased by the availability of refrigerators, fans, electric lights, radios, and televisions (and mobile phones in some areas). (El Golea)
.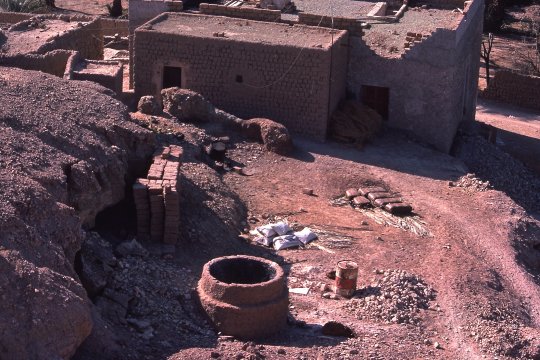 .364. Most houses will also have a room for storing dates, where they will be compressed (stamped underfoot) into large blocks for marketing -- shown here lying on palm fronds awaiting transport to market. (El Golea)
.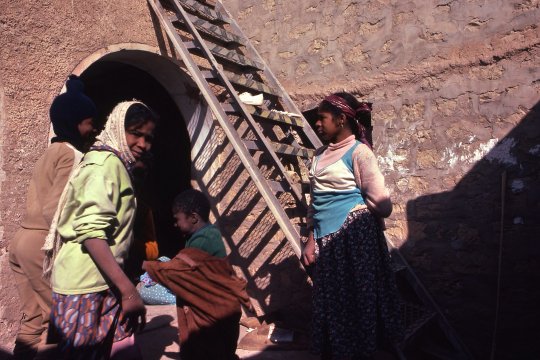 .365. The terraces where women spend much of the day are generally connected to the courtyard by a staircase. On hot nights they serve as sleeping quarters -- and for that reason alone are usually enclosed by walls. (El Golea)
.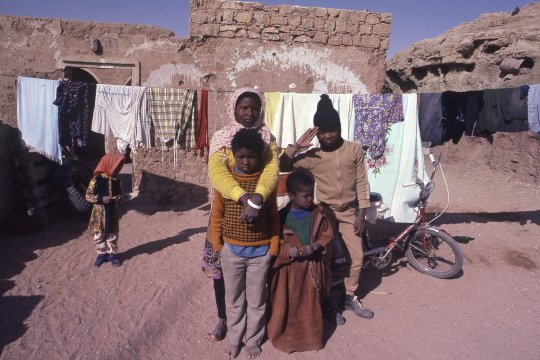 .366. Children play in the courtyard and across the town's vacant lots. Their clothes will have been bought in a local market and will most likely have been made in China. (El Golea)
..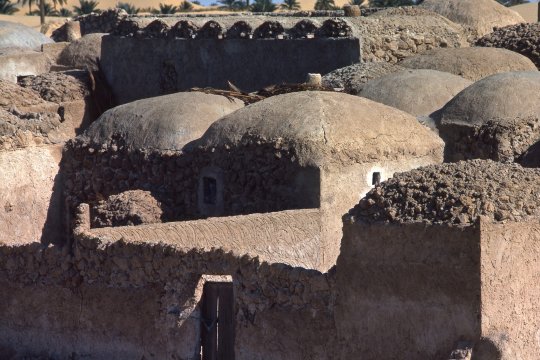 .367. House form does, however, vary somewhat from place to place. Around El Oued and Touggourt, for example, the courtyards are surrounded by rooms with domed roofs, which are supposed to prevent the build-up of sand. The bricks used in their construction are made from gypsum leached from the sand here by underground water.
.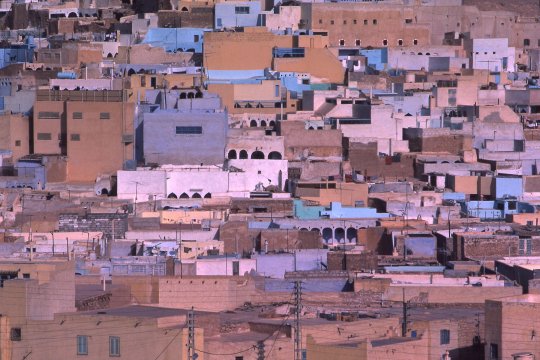 .368. And while most houses are brown due to the colour of the mud bricks used to build them, these are sometimes painted white or pale blue -- to reflect more of the sun's heat. (Ghardaia)

.



SAHARA CONTENTS


Text and photos by John Tyman unless otherwise indicated.
Intended for Educational Use Only.
Contact Dr. John Tyman at johntyman2@gmail.com
for more information regarding licensing.



www.hillmanweb.com
Photo processing, Web page layout, formatting and hosting by
William Hillman ~ Brandon, Manitoba ~ Canada