John Tyman's
Cultures in Context Series
AFRICAN HABITATS :
FOREST, GRASSLAND AND SLUM
Studies of the Maasai, the Luhya, and Nairobi's Urban Fringe

PART FOUR : KIBERA
45. Community Initiatives : 663-676
www.johntyman/africa
Click for full-screen images..
.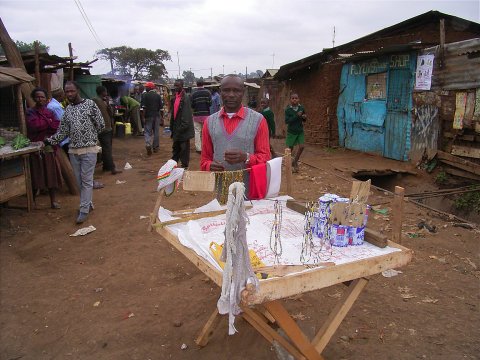 663. Kibera is a community in which both men and women have accepted the challenge to achieve on their own things which the government is either unable or unwilling to do for them. Formerly chairman of a local community group, Mr. Kilende now heads up the Kenya Slum Peoples' Network Organization. He is committed to fighting against the lethargy of helplessness which disables many people here. His organization pools knowledge of and enthusiasm for local initiatives and also lobbies the government for improved services. After closing his stall at the end of the day he will work as a night-watchman in a wealthy suburb.
..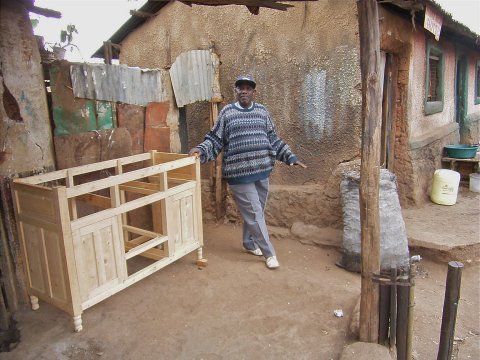 664. This man, Daudi (nicknamed "Simba"), is a skilled carpenter who builds homes for wealthy families elsewhere in Nairobi, and has managed to put all his children through school. He has more money than most of his neighbours, but does not own property here: he rents like everyone else and is a leading advocate of change, ... to improve living conditions in his community. He belongs to the Akamba tribe and comes from the region east of Nairobi. In rural areas the different tribes usually keep to themselves, but in settlements like this they are mixed up together. To survive here people must co-operate.
.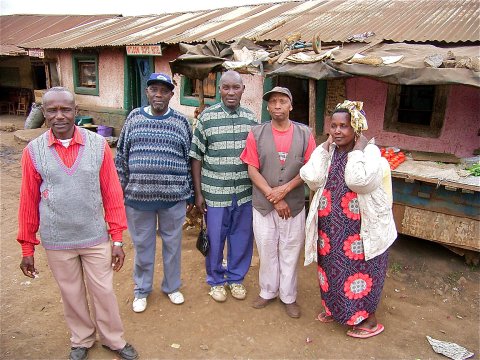 665. Leaders of a residential self-help group in Kibera that installed water points and toilet blocks, which they now operate as a business, generating a small profit which will be reinvested in community facilities. From this income they were able to build a community hall, which serves as a school during the day. It was furnished with help from Tweed Shire Council Staff in Murwillumbah. The woman on the right has a jerry can of water on her back, supported by the strap round her forehead. The "Modern Boys Hotel" in the background is not a place where people stay, but like that on the right, it is a place to eat.
.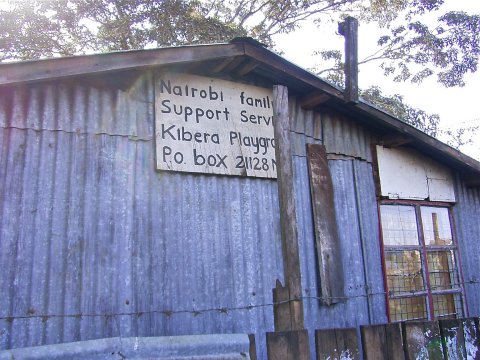 666. The Nairobi Family Support Service provides counselling in Kibera, together with food supplements for mothers desperate to feed their children properly. Most of the progress made here is the result of local energy and initiative.
.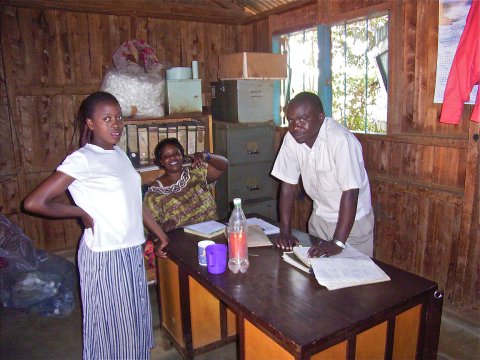 667. The office of a local self-help group in Kibera. The community workers shown here are active in responding to local needs. They help residents of their community devise and implement solutions to local problems. Health and sanitation are the main ones, but education and employment are important also.
.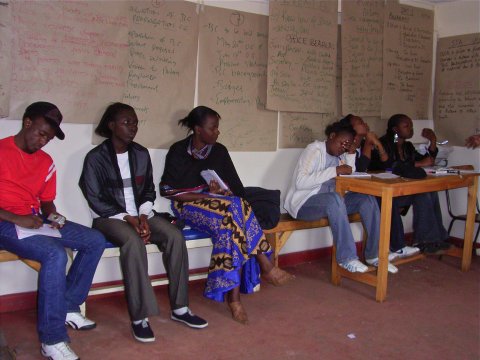 668. Young people from Kibera at a training session. The agenda on that day included help with the planning of both sporting and cultural activities in their community, a lecture on HIV/AIDS and help with the planning of a Miss Kibera Competition -- which was not a beauty contest but an AIDS awareness program.
..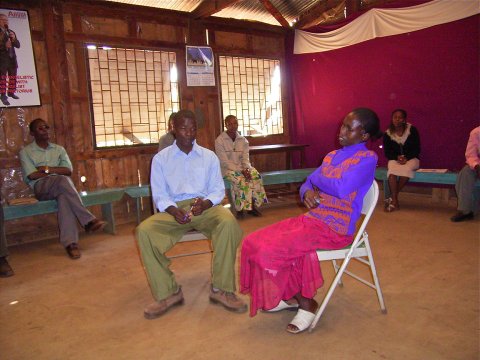 669. At this community workshop youth group leaders and school teachers were trained in health, hygiene and sanitation issues. Participants are drawn from a range of neighbourhoods and will carry the message back with them when they return. The basic message then was the link between body wastes and disease, and how to reduce the risk by using a proper toilet (building one if necessary) and washing after using it.
.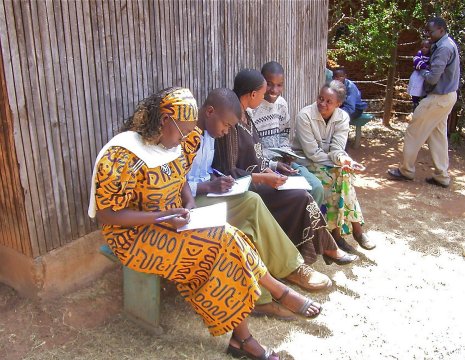 670. At these health, hygiene and sanitation workshops, offered as part of the Tweed Shire's Mentoring Program, participants engage in frank and spirited discussions of the issues raised and are encouraged to share what they have learned with their own communities when they get home.
.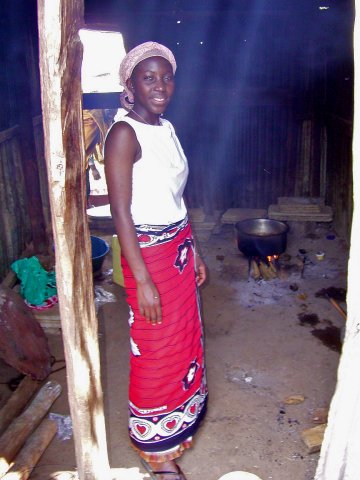 671. Those who participate are fed by the community as a means of encouraging attendance. The woman in this smoke-filled room is cooking pilau over a wood fire. She is a Nubian, which probably means she is a refugee from the longstanding conflict in the Sudan. Over the years Kenya has provided a place of refuge to many who have fled wars and famine in countries to the north.
.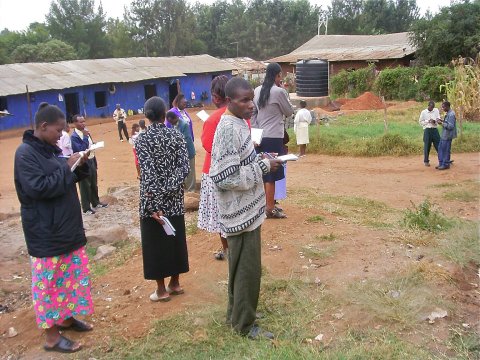 672. Here workshop participants inspect a toilet block under construction and learn how to design their own. The particular lesson emphasized then was the need to minimize the volume of solid matter getting into the system. When people dump their garbage down a toilet the pit below fills up too quickly.
.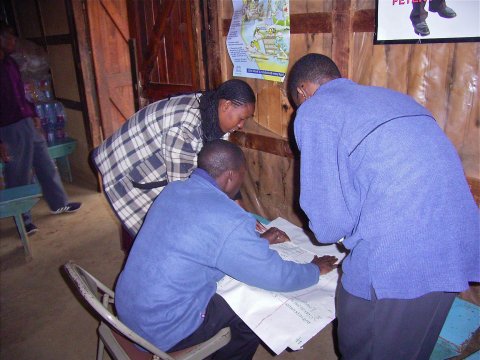 673. The need for effective waste management programs and the delivery of unpolluted water are issues which obviously overshadow daily life in Kibera. They are immense problems which threaten the health and welfare of all residents. Here participants in another hygiene and sanitation workshop reflect on what they have learned during the day and draw up plans to deal with the situations they face in their own communities.
.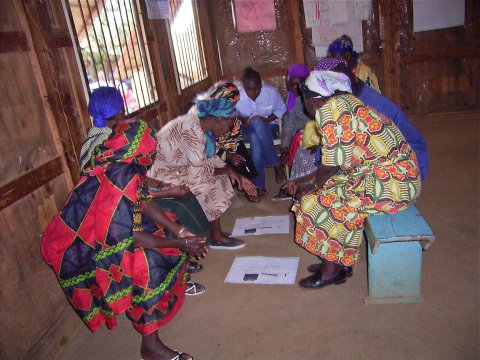 674. Since few people here can in fact read and write, illustrations are often used to emphasize significant points and promote discussion. Here workshop participants are looking at drawings of two different sanitation blocks, one good, the other, an older one, in poor condition. They discuss what could be done to improve the older block and what must be avoided if the new block is not to end up like the old one.
.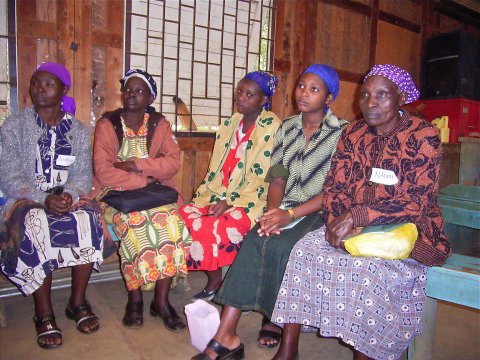 675. Part of the older audience at a plenary session at which representatives from different tenant groups listen to speakers who seek to empower them for change through self-help . The way in which tribal groups which keep to themselves up-country are mixed together here is obvious from the faces in the picture. There are in fact four tribes represented here: Kikuyu, Kalenjin, Luo and Maasai. In community settlements like this traditional rivalries are put to one side because of the need to work together.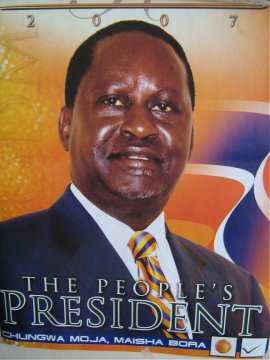 676. Sadly, the ties which had bound together members of different tribes with a shared commitment to improve their living conditions, collapsed under the strain of the unrest generated by the disputed election for the country's president in 2007. But the violence that ensued was also grounded in anger at the poverty and inherent injustice of living conditions in informal settlements.
.
.




AFRICA CONTENTS


Text, photos and recordings by John Tyman
Intended for Educational Use Only.
Contact Dr. John Tyman at johntyman2@gmail.com
for more information regarding licensing.



www.hillmanweb.com
Photo processing, Web page layout, formatting and hosting by
William Hillman ~ Brandon, Manitoba ~ Canada