John Tyman's
Cultures in Context Series
AFRICAN HABITATS :
FOREST, GRASSLAND AND SLUM
Studies of the Maasai, the Luhya, and Nairobi's Urban Fringe

PART THREE : THE SAMBURU
34. Women as Agents of Change (I) : 456-468
www.johntyman/africa
Click for full-screen images..
.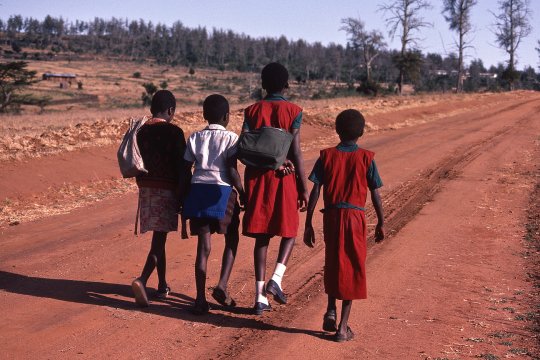 456. Sending children to school is bound to lead to changes in the future. For the moment, though, it is the women who have taken the lead. They are the ones through whom the Samburu Rural Development Centre has been able to do most to improve both living conditions and livestock industries.
.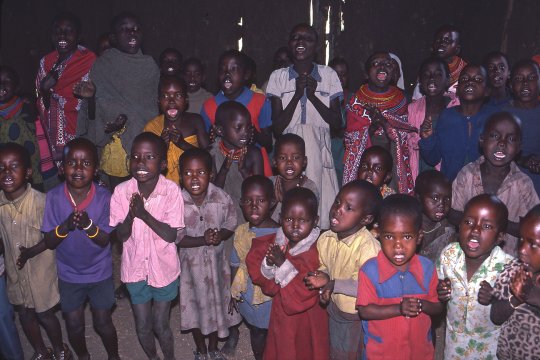 457. Many children returned to their classrooms at the weekend for Sunday School, when they sang loud choruses and listened to Bible stories.
.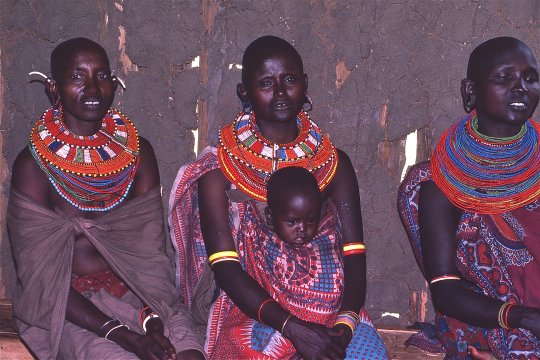 458. But their mothers used the same building in the afternoon, for adult literacy classes. There were no schools when they were young: and if you cannot read and write you cannot today really take charge of your life. So the women came to learn how. Because Maasai society is one in which men occupy the positions of power, it is the women who have worked for change ... for they have little to loose and much to gain, from questioning traditional ways.
.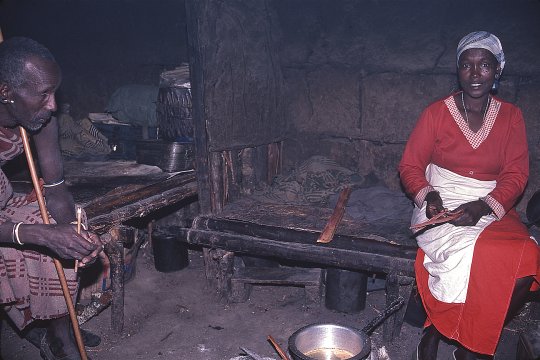 459. This is Anna Lanyasunya. She is the head of her local church and she's a born leader. Her husband has three wives, so she sees him twice a week usually ... as he checks up on his different herds. She wears "Western" dress to symbolize the changes in her life and her freedom to choose what to wear and what to do.
.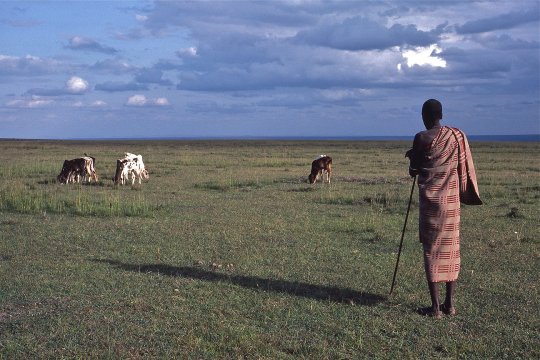 460. Maasai men despise crop farmers: they call them "dirt eaters". A few in the south have been encouraged to grow grain for sale in Nairobi: but no Samburu elder with any sense of pride would ever dig for food and break the surface of the grassland given to them by God. However, women do not see things in quite the same way: and Anna has changed lots of things.
.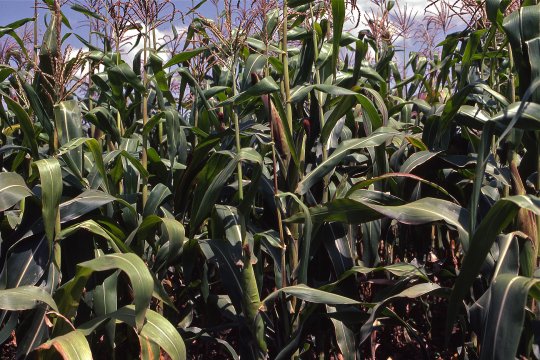 461. A few years back, after she had lost most of her cattle to disease, she realized that her children would, in any case, be healthier if their diet was more varied. She obtained both seed corn and technical advice from the Rural Development Centre (run by the Anglican Church). This is one corner of her shamba (garden).
.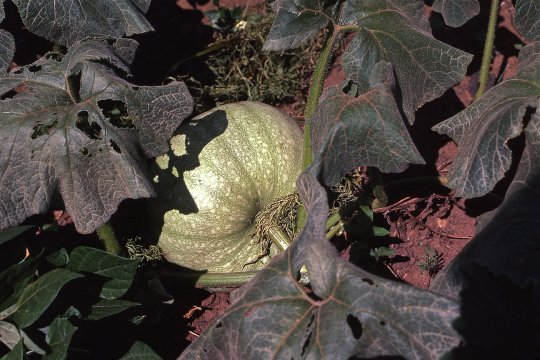 462. She planted other vegetables, too, watering them by hand during the drought. And as the health of her children visibly improved, other women followed her example.
.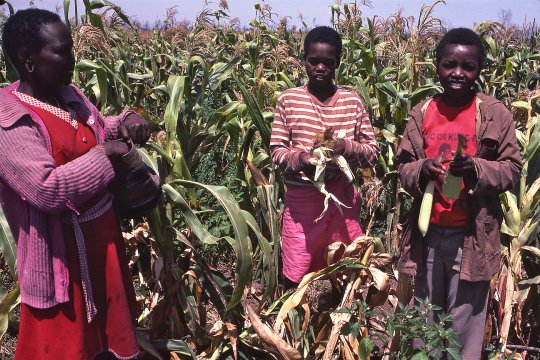 463. Anna's sons helped with the harvest. At the time I stayed with them she had five sons and one married daughter. She also cared for her mother. They appear together in frame 407.
.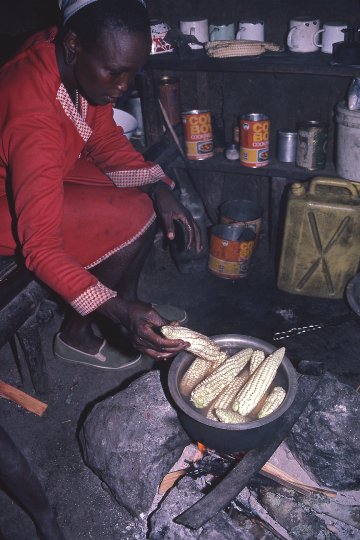 464. Some of her corn was cooked on the cob, boiled over the fire in her hut in water drawn from the creek.
.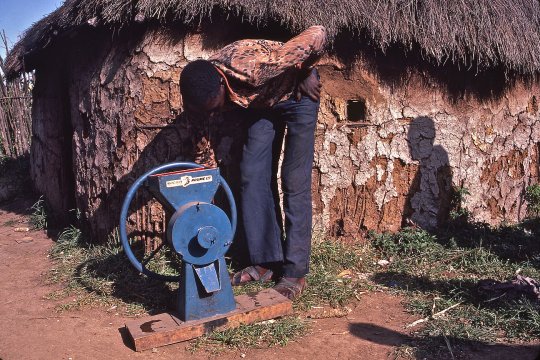 465. But Anna was also provided with a small mill so she could grind the rest. This allowed her to use corn in range of different meals.
.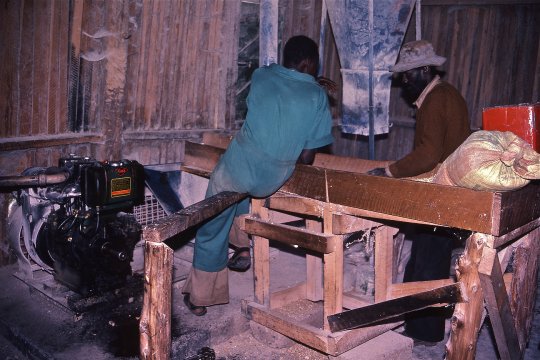 466. The other women took their grain to the Mission, where they had a bigger mill. It was ground to produce a coarse type of flour.
.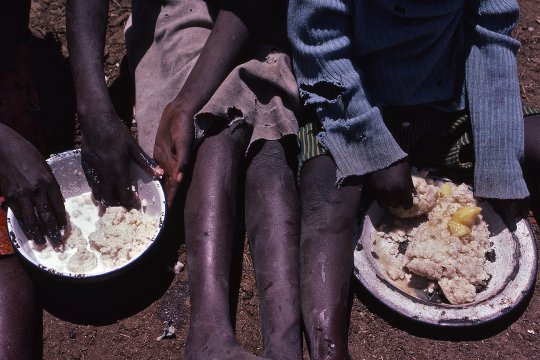 467. This is used to make a type of the starchy porridge known as uji, and the stiffer dough-like mixture (ugali), supplementing a diet previously dominated by milk.
.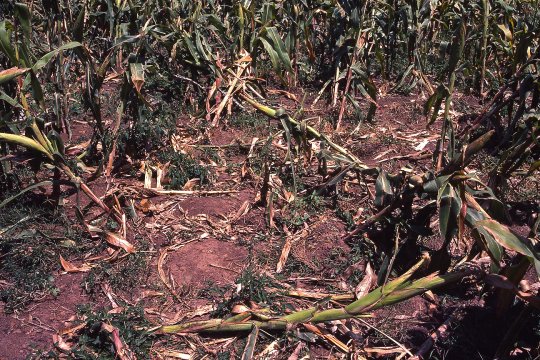 468. The only danger in growing corn is that it attracts wild animals. Elephants, as here, will trample crops: and baboons can tear a garden apart (and anyone who intervenes!)
.




AFRICA CONTENTS


Text, photos and recordings by John Tyman
Intended for Educational Use Only.
Contact Dr. John Tyman at johntyman2@gmail.com
for more information regarding licensing.



www.hillmanweb.com
Photo processing, Web page layout, formatting and hosting by
William Hillman ~ Brandon, Manitoba ~ Canada