John Tyman's
Cultures in Context Series
AFRICAN HABITATS :
FOREST, GRASSLAND AND SLUM
Studies of the Maasai, the Luhya, and Nairobi's Urban Fringe

PART THREE : THE SAMBURU
33. Village Schools : 439-455
www.johntyman/africa
Click for full-screen images..
.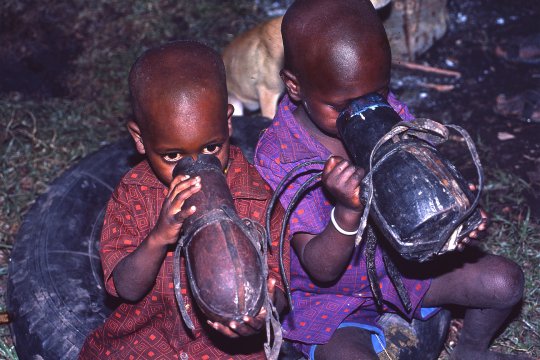 439. Since there are no school buses here, children rise early and have breakfast at first light, having a long walk ahead of them. This was especially true of the family of the lay preacher with the lion problem (in frame 351). Even those too young for school got up early, eating with the older children who had chores to do before they left home.
.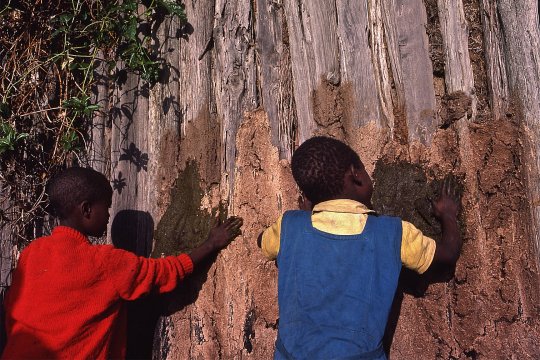 440. During the night the calves that had been brought inside the house for protection had left behind some manure. The kids scraped this up and used it to fill in the gaps in the walls of their home. Manure is a valuable commodity with a wide range of uses.
.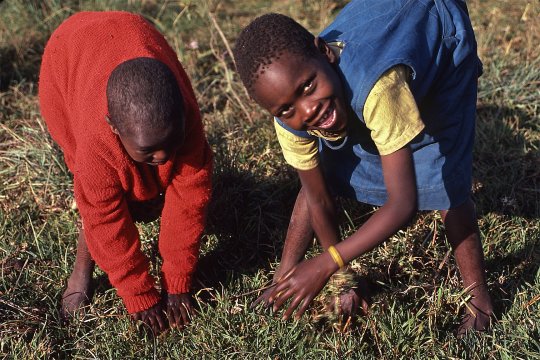 441. The children then cleaned their hands, by wiping them in the grass, and set off for school. It took them two hours to get there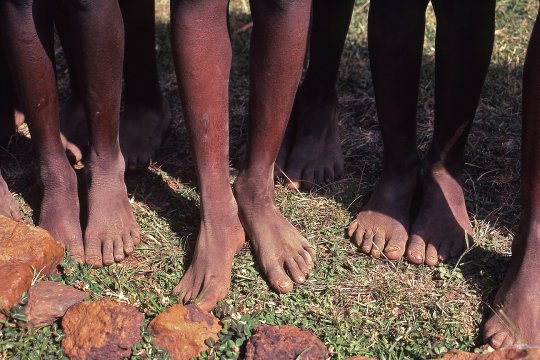 442. They walked over rocky country infested with snakes, and through bush that was home to a leopard and some buffalo. And, like most kids there, they walked barefoot, since they did not own shoes.
.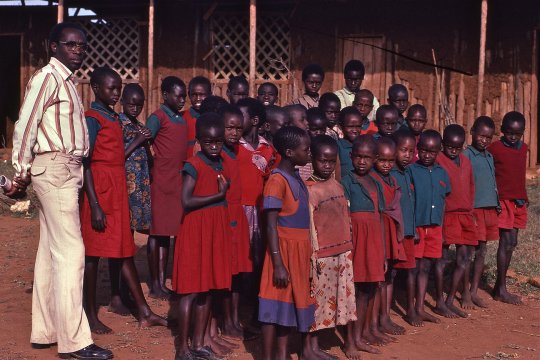 443. Yet they were hardly ever late for parade. School was too important to miss, being the best chance they had as girls to get out of the bush, and change the direction of their lives. Sadly, the education of girls in Kenya is generally considered of less value than boys: and girls are also more affected by poverty as it encourages early marriage.
.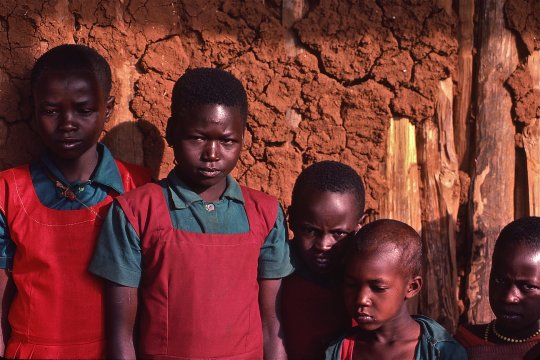 444. The school was built by the parents, and they clearly had little cow dung to spare ... for the clay is falling out of the cracks.
.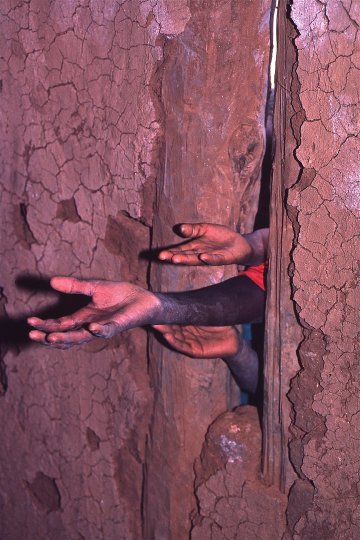 445. These gaps proved useful, though, for later that day I recorded children singing in one classroom; and when I rewarded them with lollies, arms were poked through the wall by kids from other classes!
.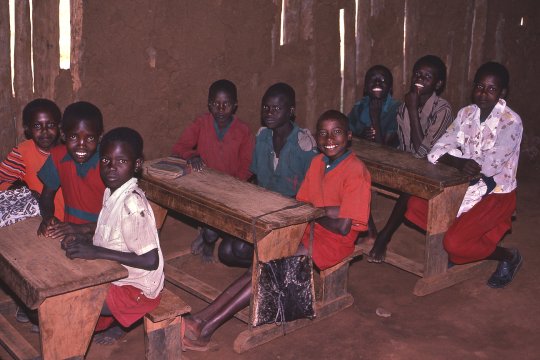 446. The classroom itself was fairly typical of basic community schools world-wide, with only as much light as came through the gaps between the posts. The Samburu are scarcely likely to receive favours from a Kikuyu-dominated government.
.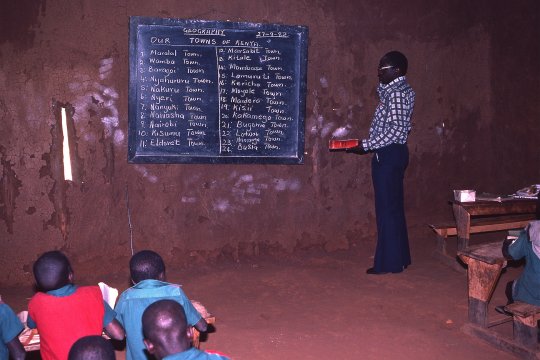 447. There was little equipment: no charts; no TV; no whiteboard: just a blackboard and a few books. Yet the children still considered themselves fortunate to be there.
.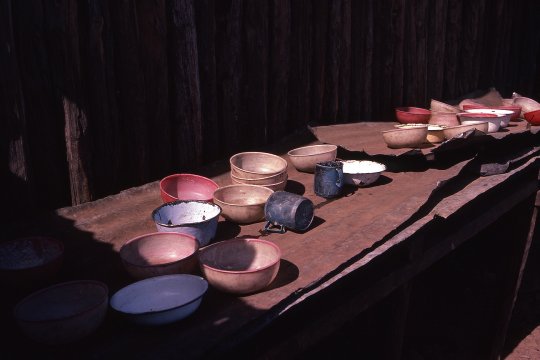 448. There was a small dormitory for children whose parents had moved with their cattle to distant pastures. And there was a kitchen to feed them.
.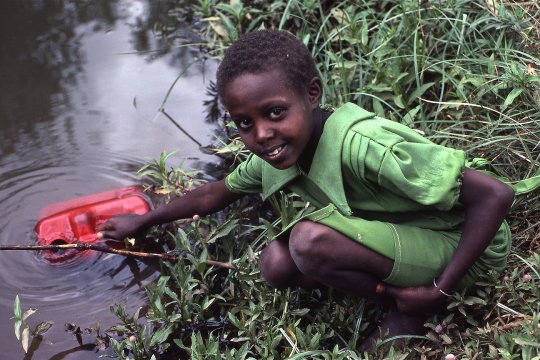 449. In Kenya generally, attending school is not compulsory. It is a privilege for which parents pay dearly in one way or another, even after the proclamation of FPE (free primary education). This girl could not go to school till I bought her a uniform. It cost me next to nothing (just $2) but it meant a great deal to her!
.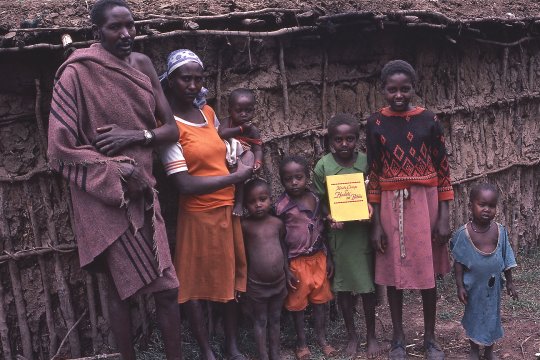 450. Joyce's parents were pleased to see her enjoying classes but it was unlikely she would ever get a secondary education. Among the Samburu in 1999-2003 the number of girls attending primary school was between a third and a half the number of boys: and since less than 20% of primary school students then made the transition to secondary school, the number of girls doing so would have been small indeed. Apart from the barriers raised by poverty and cultural practices, political insecurity also impacts on girls especially, as they are exposed to gender based violence.
.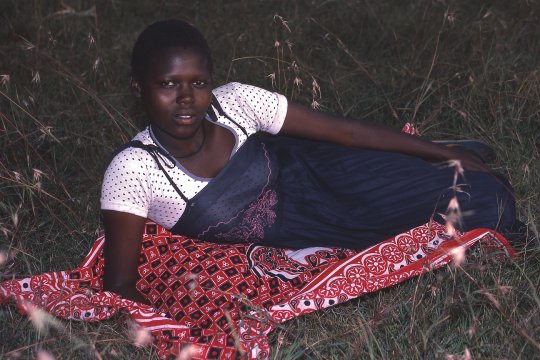 451. Joyce's role model was her teacher. She was a Samburu woman also but had completed school and trained in the city. She would not now depend on any man for her survival. She could choose her own husband and leave home if she wished -- though this would likely involve severing links with her community.
.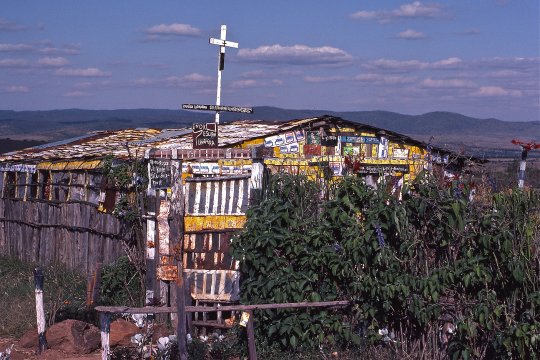 452. The capacity of people here to make the most of a difficult situation is symbolized by this small church … which was built for next to nothing. Kimbo is a popular brand of cooking fat and people were asked to bring in their old tins.
.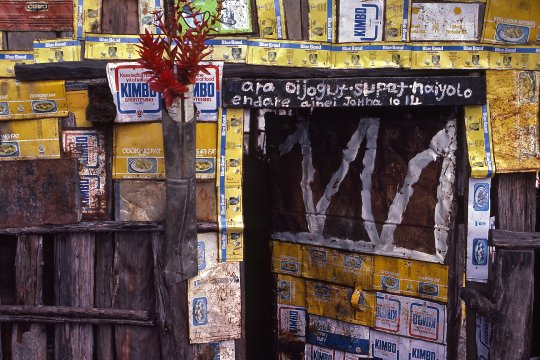 453. These were flattened out and attached to a wooden frame with $4 worth of nails. The sign over the door cites John chapter 10, verse 14 where Jesus declares: "I am the Good Shepherd".
.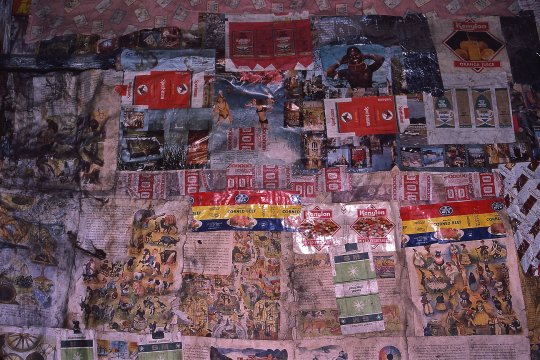 454. The walls inside were draft-proofed with an amazing array of posters, advertisements, and magazine cuttings -- which may well have kept people occupied while they waited for the service to begin.
.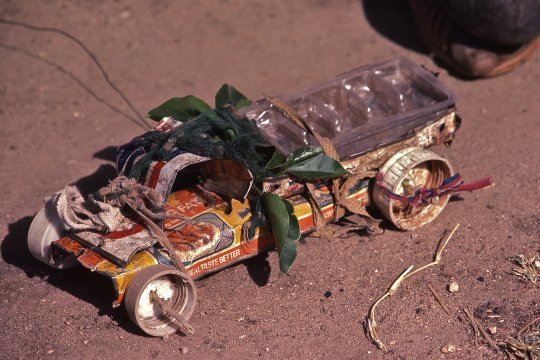 455. Children, too, learn at an early age to improvise. This toy truck was made from plastic packaging and tin cans, both salvaged from a white man's garbage bin.
.




AFRICA CONTENTS


Text, photos and recordings by John Tyman
Intended for Educational Use Only.
Contact Dr. John Tyman at johntyman2@gmail.com
for more information regarding licensing.



www.hillmanweb.com
Photo processing, Web page layout, formatting and hosting by
William Hillman ~ Brandon, Manitoba ~ Canada