John Tyman's
Cultures in Context Series
AFRICAN HABITATS :
FOREST, GRASSLAND AND SLUM
Studies of the Maasai, the Luhya, and Nairobi's Urban Fringe

PART TWO : THE LUHYA
19. TRANSPORTATION : 236-250
www.johntyman/africa
Click for full-screen images
.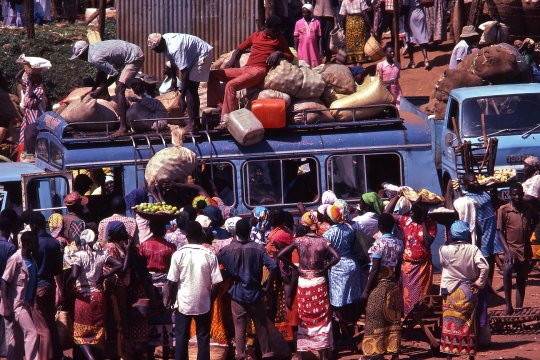 236. Towns large and small hold regular markets which are a focus for the hundreds of people who have products to sell and/or items they need to purchase.
.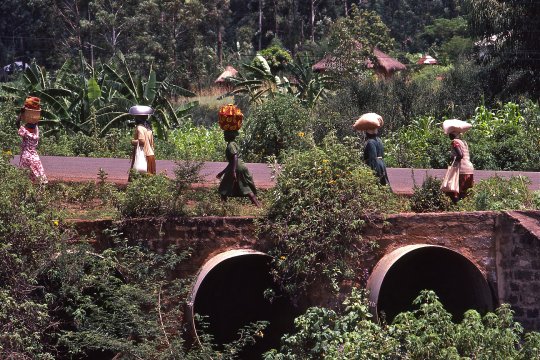 237. Those women who live close enough (or cannot afford transport) travel there on foot, carrying produce on their heads.
.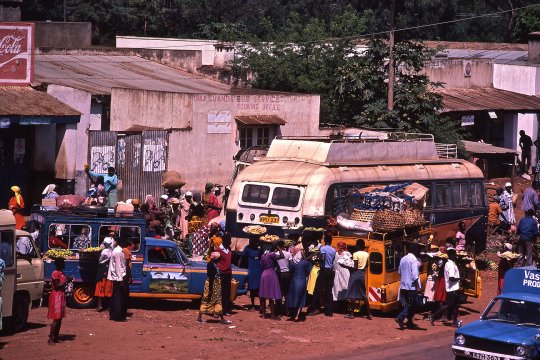 238. But many depend on local operators to move them to and from markets in some sort of vehicle. Some will arrive in conventional buses.
.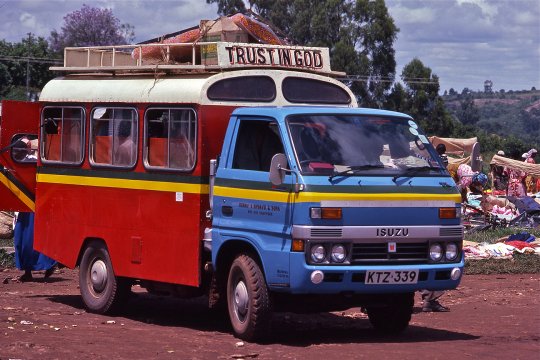 239. Others on the backs of quite large trucks modified to carry passengers ... and emblazoned with messages to inspire business confidence.
.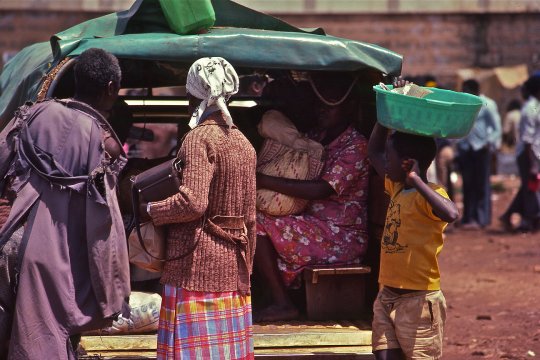 240. At the time of my visit, though, large vehicles were outnumbered by pick-up trucks (utility vehicles) known as matatus in which both passengers and produce (including animals) were crammed unceremoniously.
.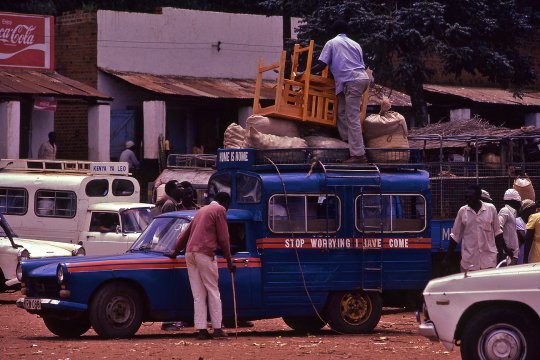 241. Some of these had just a canvas canopy to shelter passengers but others were able to carry freight overhead.
.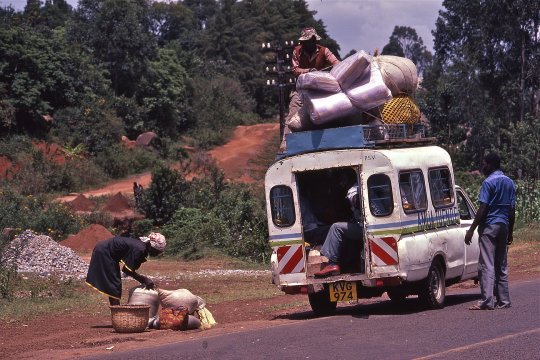 242. Operating all week long (not just on market days) they followed declared routes and stopped when and where required, helping with the unloading but leaving women to carry their purchases home.
.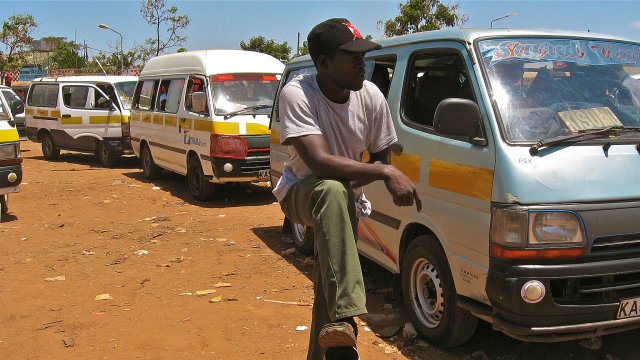 243. Many of these vehicles have since been replaced by minibuses -- also referred to as matatus -- offering greater comfort but not always more room.
.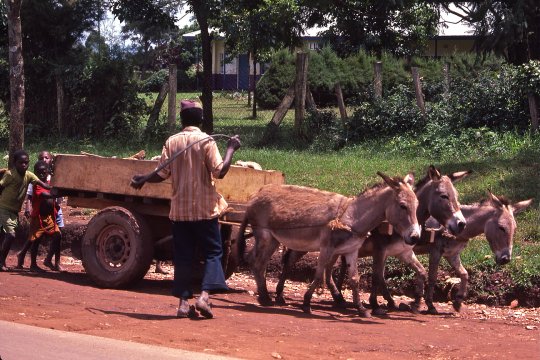 244. Cart pulled by animals were common in the past but are rarely seen today.
.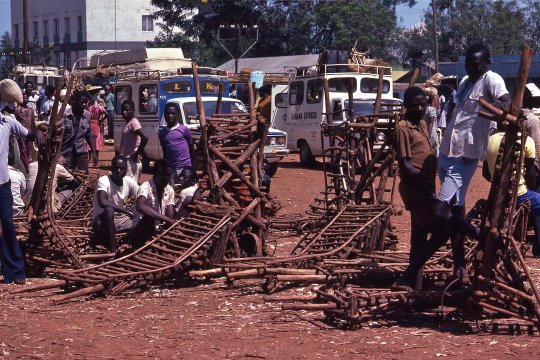 245. But human muscles still feature significantly, not only in the women who walk to market but also in the men with trolleys who move produce between the stalls and the buses.
.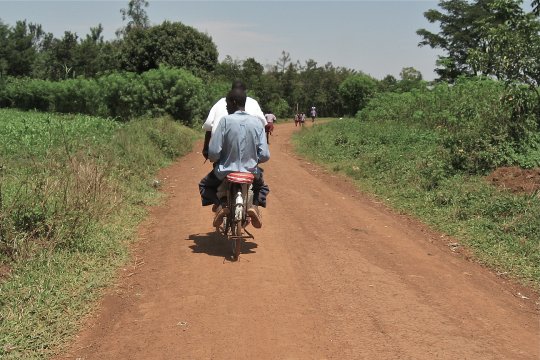 246. These days, too, many passengers are carried on bicycles -- referred to as bodaboda -- offering employment to youths previously unemployed.
.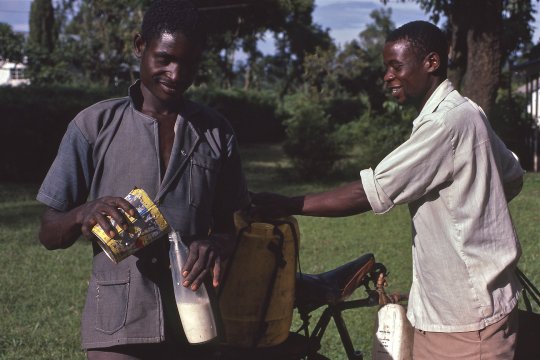 247. And bicycles may be also used to move freight ... in this case fresh milk delivered to homes around Kakamega.
.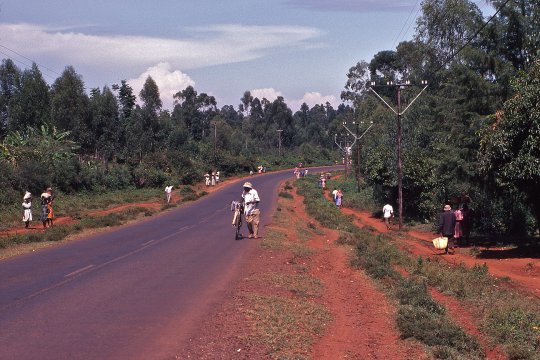 248. The main roads with their power lines are surfaced and well maintained, though narrow in places.
.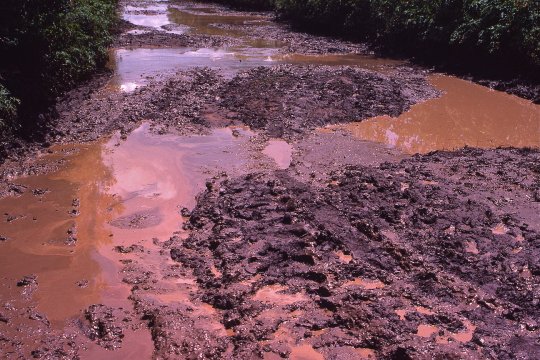 249. Many local roads, though, are pot-holed and dusty, or muddy after rain.
.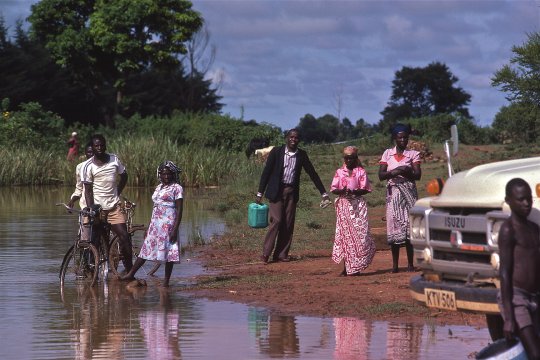 250. Taking pride in their vehicles, people wash them in the nearest river.
.




AFRICA CONTENTS


Text, photos and recordings by John Tyman
Intended for Educational Use Only.
Contact Dr. John Tyman at johntyman2@gmail.com
for more information regarding licensing.



www.hillmanweb.com
Photo processing, Web page layout, formatting and hosting by
William Hillman ~ Brandon, Manitoba ~ Canada