John Tyman's
Cultures in Context Series
AFRICAN HABITATS :
FOREST, GRASSLAND AND SLUM
Studies of the Maasai, the Luhya, and Nairobi's Urban Fringe

PART TWO : THE LUHYA
FAMILY LIFE : Family Case Studies
14. The Mudanyi Family : 154-176
www.johntyman/africa
Click for full-screen images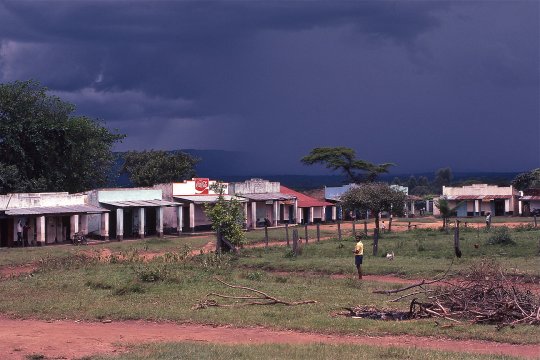 154.The Mudanyi family live near here, at Kakunga Market (shown as it was in1982), a short distance north of Kakamega.
.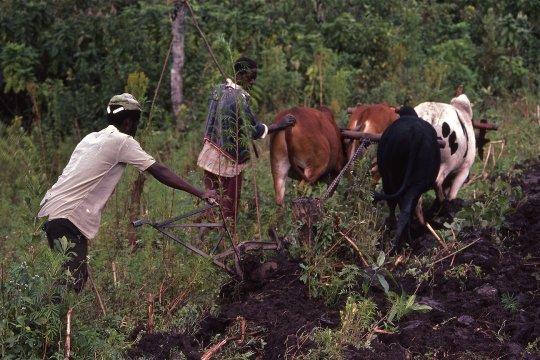 155. On their shamba they grew sugar under contract, as well as food for their own use. The oldest boys, Edwin, Japheth (who provided me with information on cropping seasons in frame 41) and Charles still attended school. And in the absence of a father, the family hired men to plough the land on which they grew their food.
.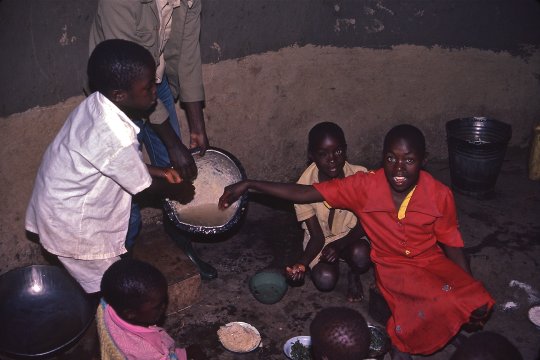 156. Their mother Josephine, recently widowed, with nine children, provided me with a window on family life, diets and recipes (see text entry "Kenyan Country Foods"). That night I arrived in time for dinner, but the children had to wash their hands first.
.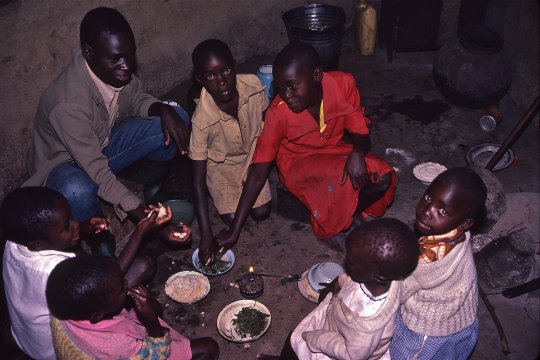 157. The meal was a basic one, with mchicha (spinach) and ugali. It was eaten in near darkness, by the light of a candle (which, of course, was swamped by my flash.) Edwin and Charles were away at the time, but the other seven were home – Pauline (in red), Ken next to her, then Japheth, plus Sarah, Nancy, Proscovia (the youngest), and Grace
.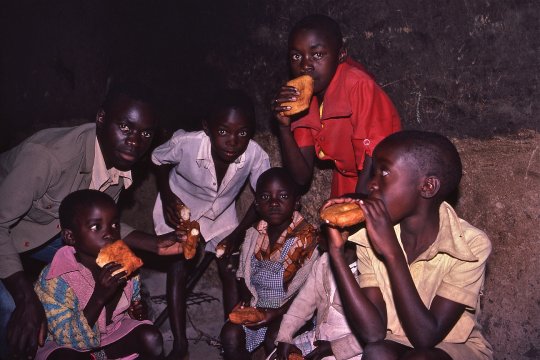 158. It was followed by a serving of mandazi (doughnuts).
.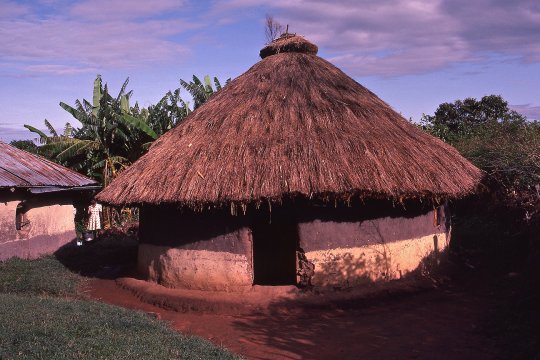 159. The buildings in their compound illustrated how domestic architecture had evolved. One house was built in traditional style, with round walls and a thatched roof.
.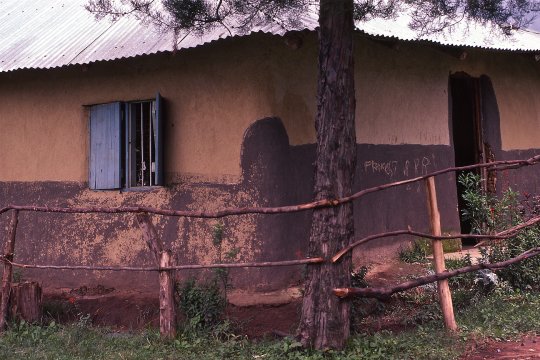 160. Next door, though, there was another home with mud walls, but this one was rectangular in shape and was roofed in corrugated iron.
.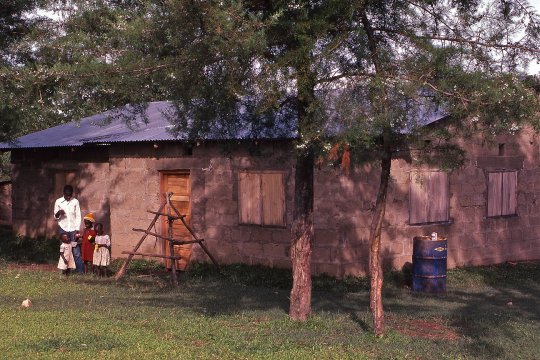 161. And beyond that the boys were building what they termed a "cottage" for themselves, from cement blocks and corrugated iron.
.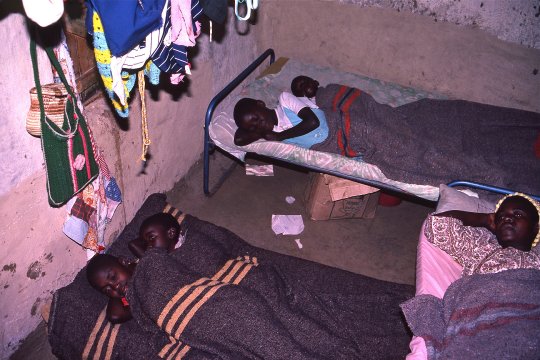 162. The rectangular home could accommodate rectangular beds. Here Josephine Mudanyi slept with her youngest child beside her; and the other young children similarly slept two to a bed.
.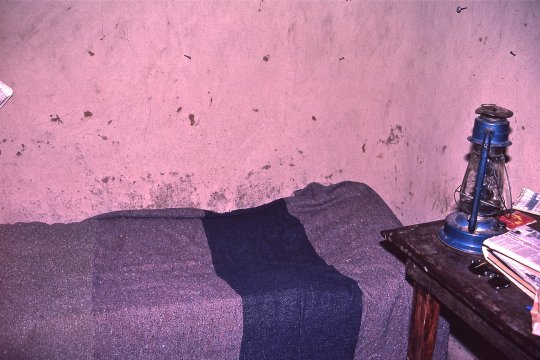 163. The older boys had a room of their own, where they could study as well as sleep.
.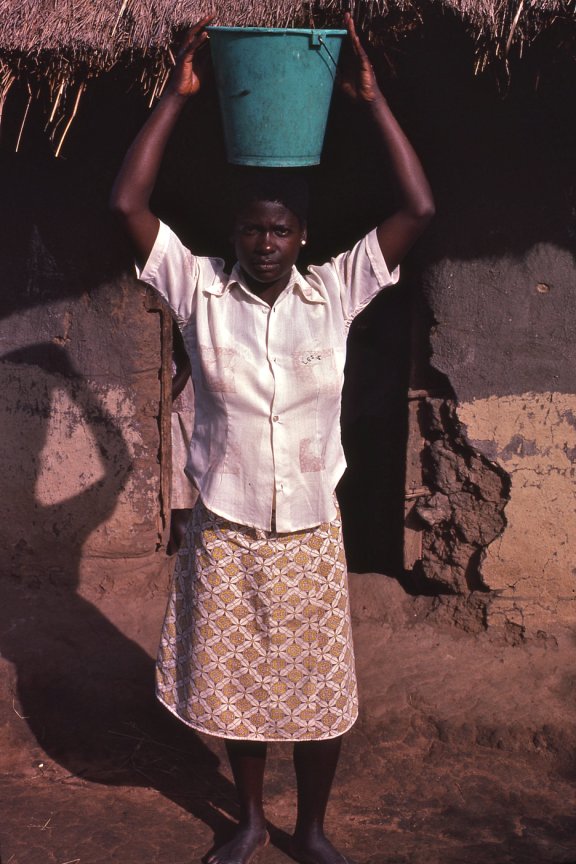 164. As a single mother with a family to feed, Josephine had the help of a maid who cared for the youngest children during the day and did a lot of the housework. Beatrice was 18 and had reached Standard Five in primary school but her parents could not afford to maintain the required contributions to the school building fund so she had to leave.
.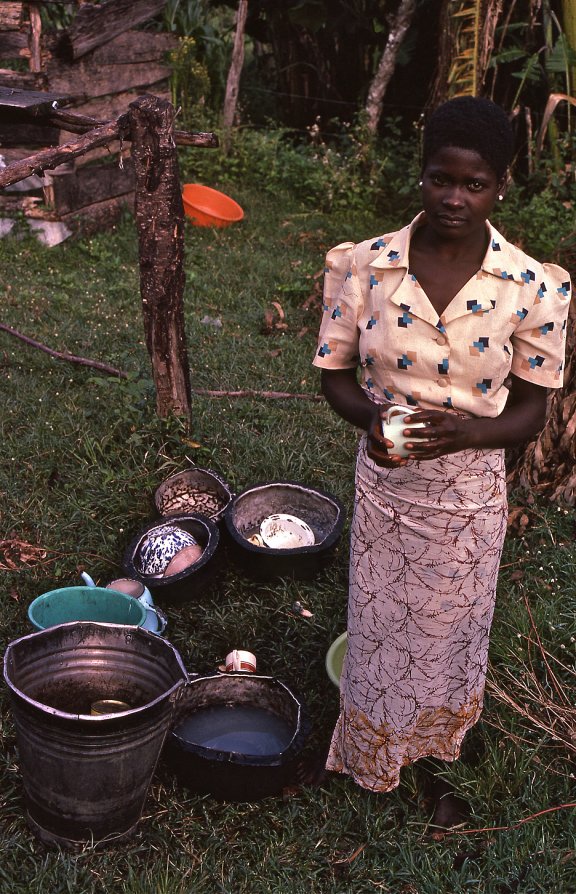 165. Beatrice carried the water and also washed the dishes every morning. She worked here for seven days a week for 100 shillings a month (which was average then).
.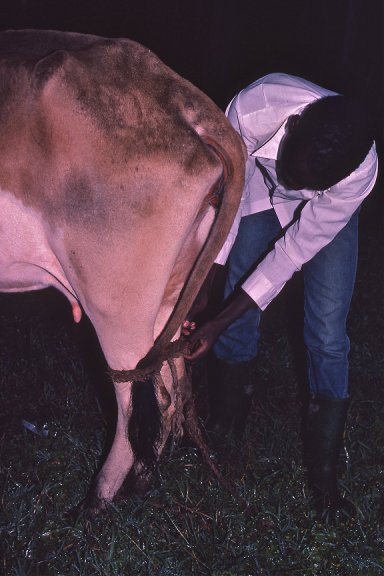 166. At milking time the cow was trussed up, with its head tied to a post, and a calf was used to get the milk flowing. The cow was then milked two "rounds" for family use, and the calf allowed to finish things off. At the time of my visit they had four milk cows, 2 heifers, 4 calves and 2 goats. They also owned three laying hens and one pullet... plus 2 cats. The goats raised kids for sale.
.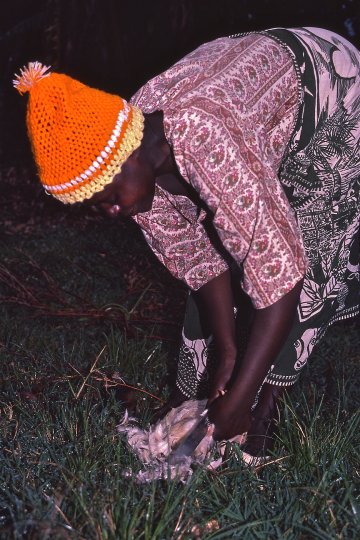 167. Meat was eaten rarely, but a chicken that refused to lay was strangled by Josephine ...
.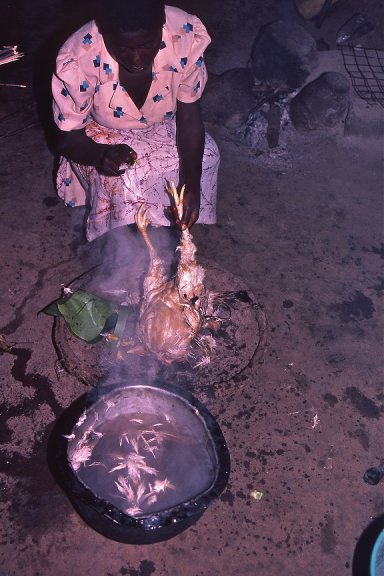 168. And plucked by Beatrice after it had been doused in boiling water.
.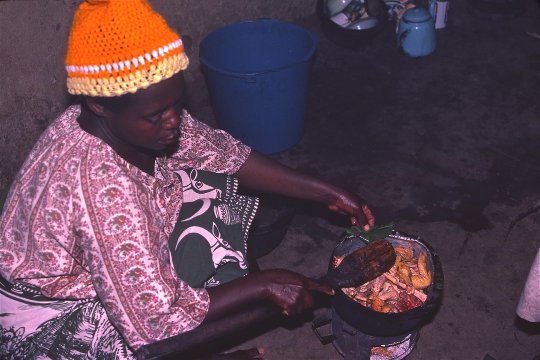 169. It was cut into pieces for frying over a charcoal stove ...
.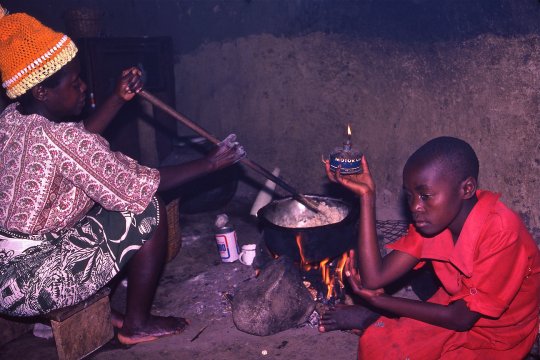 170. While Josephine prepared the ugali over a wood fire, with the help of her daughter
.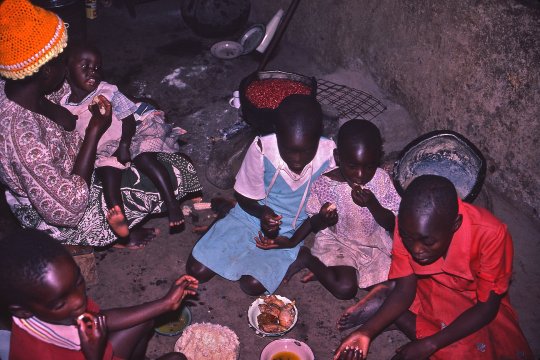 171. It was eaten with a mixture of greens and ugali, while dry beans were soaking in the background in readiness for cooking the next day. The child Josephine is feeding, named Proscovia, later did a degree in Sociology at the University of Nairobi, worked for an NGO in Kibera, and now has a family of her own.
.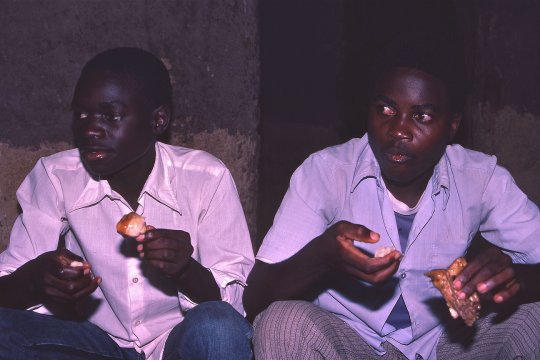 172. The boys had changed out of their school uniforms. Japheth, on the left, now works as an accountant with an NGO (International Child Support) in Nairobi . His brother Charles owns and operates an internet cafe in the town of Busia, on the border between Kenya and Uganda; and Edwin has a bookshop, also in Busia.
.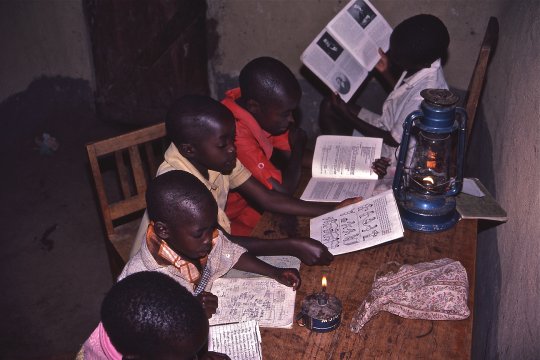 173. It was then time to do the homework given to them that day, before they were tucked up in bed at 9.00pm. Today Sarah is a hospital caterer in Nairobi, Ken and Grace have businesses in Busia, where Pauline is a nurse, and Nancy operates a tailoring business from home.
.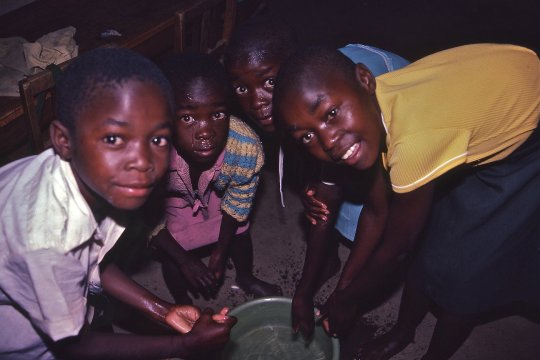 174. The next morning those of school age were up while it was still dark, and washed their hands ...
.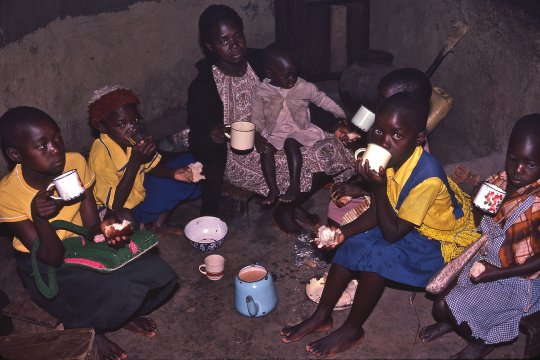 175. Before sitting down to a breakfast of chai (tea) and leftovers.
.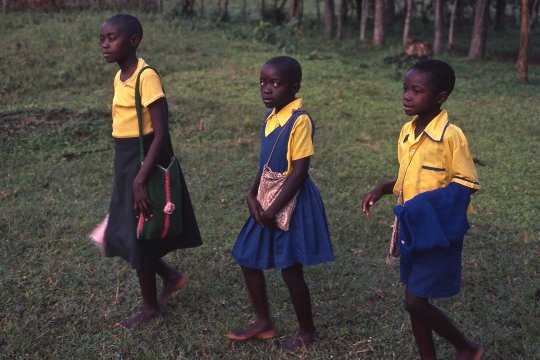 176. They left for school at 7.00 am and Josephine followed them fifteen minutes later. Children are expected to be at school by 7.30. Lessons won't start till 8.15, but students are required spend the first three-quarters of an hour tidying up the school compound.
.




AFRICA CONTENTS


Text, photos and recordings by John Tyman
Intended for Educational Use Only.
Contact Dr. John Tyman at johntyman2@gmail.com
for more information regarding licensing.



www.hillmanweb.com
Photo processing, Web page layout, formatting and hosting by
William Hillman ~ Brandon, Manitoba ~ Canada