John Tyman's
Cultures in Context Series
Torembi and the Sepik
A Study of Village Life in New Guinea

PART SEVEN: A CASE STUDY – DAY BILONG ANTONIA
Topic No. 25: 24 Hours in the Life of a New Guinea Woman ~ Photos 517 - 600
25b: Sago Collection ~ 552 - 571
www.johntyman/sawos
.Click for full-screen images..
...
552. When everyone else had been catered for, Antonia, too, sat down to eat: but inside of fifteen minutes she was outside again, ready to collect raw sago – the family's basic foodstuff – from a nearby swamp … an hour's walk from the village.
..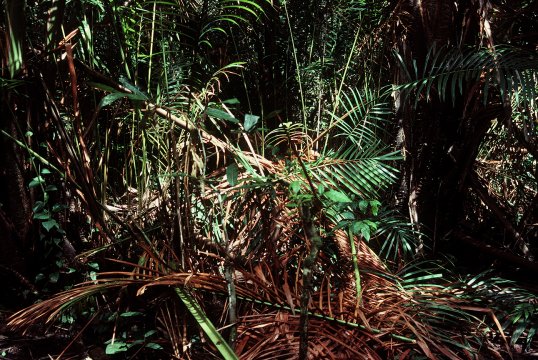 553. At this hour of the morning only a few rays of light penetrated the gloom of the swamp. But Antonia had been there the day before and had picked out the tree she wanted – roughly 9 years old and 15 metres in height.
.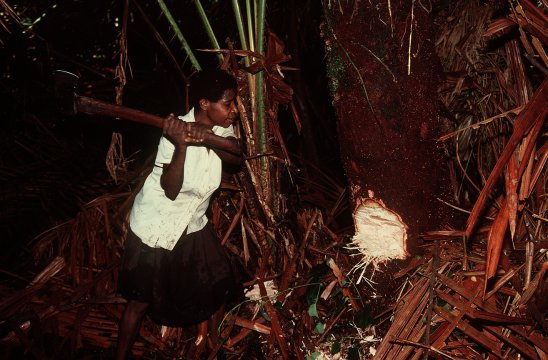 554. She had to clear away the brush at the base of the palm, so she could swing her axe freely, but she soon got stuck into the tree. It was half a metre in diameter but she cut through it quickly.
..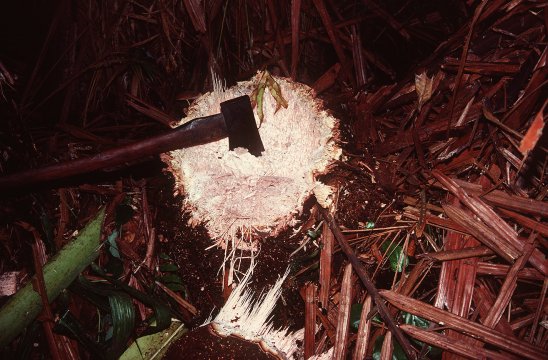 555. Just ten minutes from the time when Antonia first swung the axe the trunk lay on the ground; and its fibrous composition was obvious from the stump that remained. The trunk itself was 12 metres in length -- to the point where the leaves branched from the main stem -- and it was likely to provide the Mungun family with enough sago to last them a week.
.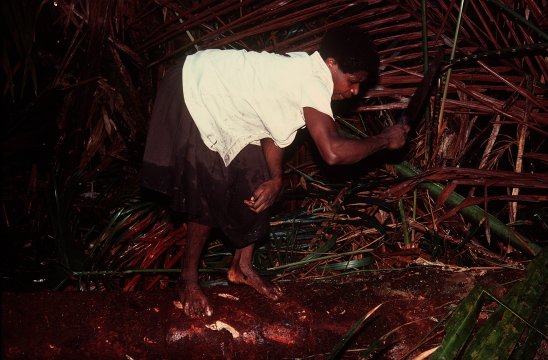 556. Antonia then had to tidy up along the trunk, using first a machete, then an axe. She cut away the needle-sharp spines which protect new growth, and she removed any leaves or undergrowth which would get in her way later.
..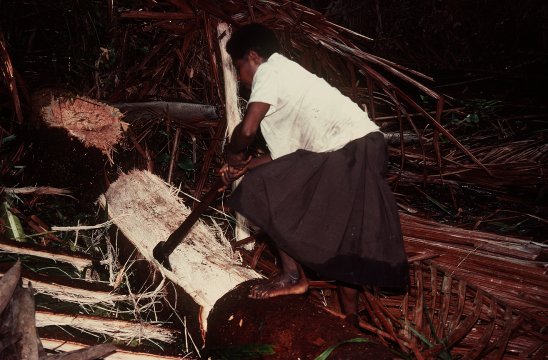 557. She next ringed the bark of the tree and removed it in sections, exposing the fibres which form the interior of the palm. The pieces of bark she removed were wedged beneath the trunk to provide a platform on which she would sit later, just a few centimetres above the level of water in the swamp.
.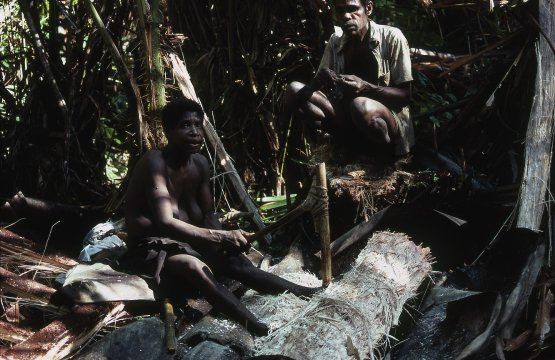 558. Since scraping sago is women's work, Damien did not normally accompany his wife on her trips to the swamp, but he came with us that day insisting that he must help carry my equipment! He didn't help Antonia very much … but he was full of advice. For one thing he didn't like the way she was holding her scraper. It was made of bamboo in the old style, and is used to break up the fibres which fill the trunk. He had made it himself.
..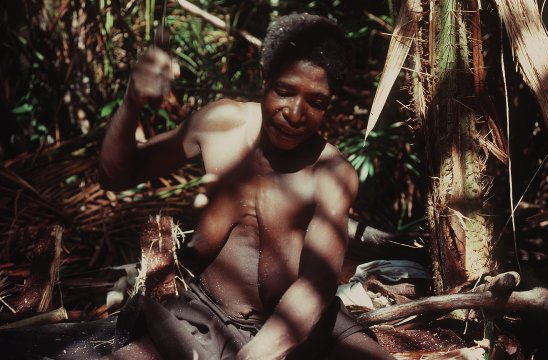 559. Pausing long enough only to change tools and accept a further word of advice, Antonia now used a machete to chop up the fibres into yet smaller fragments.
.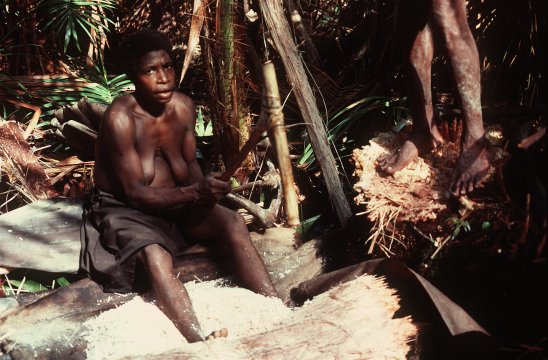 560. It was then time for her to scrape again, singing all the while … to help maintain a steady rhythm. Damien interrupted occasionally to explain that she wasn't singing properly, but she was panting for breath much of the time, from the effort involved on such a hot, sticky day.
..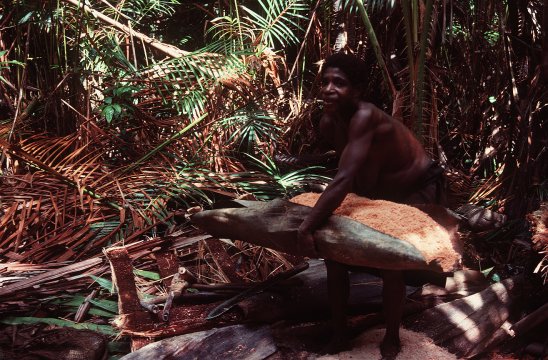 561. After Antonia had been scraping for an hour, the large leaf she'd been using as a container was piled high with fibres choked with powdered sago: and it was time to carry these away for washing.
.
562. She'd built most of the washing platform the day before and now added the finishing touches to the set of three sediment traps beneath the stand.
..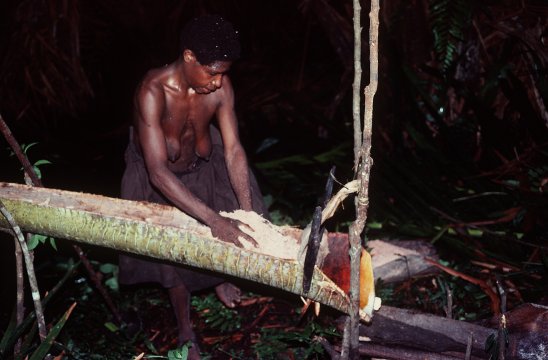 563. She first dumped a load of fibres into the gently sloping trough, and then added water using a wooden ladle.
.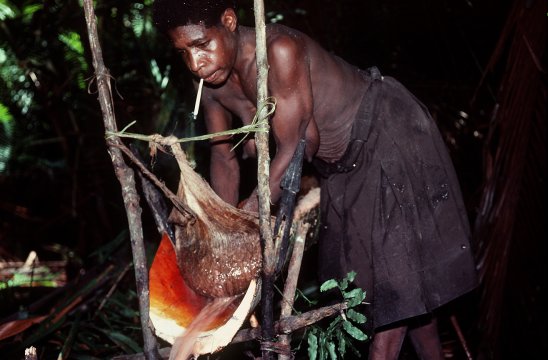 564. She squeezed this soggy mass against a strainer made from coconut matting. The powdered sago is washed through the strainer and the fibres which remain are, after several washings, thrown to one side.
..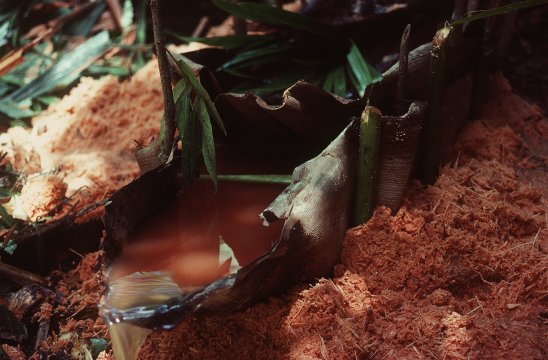 565. Beneath the trough the water flows through a series of silt traps made from leaves; and it drains away at the lower end, leaving most of the sago behind in one or other of these collecting basins.
.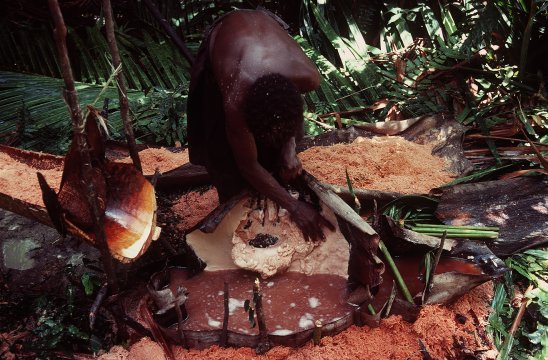 566. Periodically Antonia would remove each of the upper trays and dump their individual deposits of sago into the deeper basin beneath.
..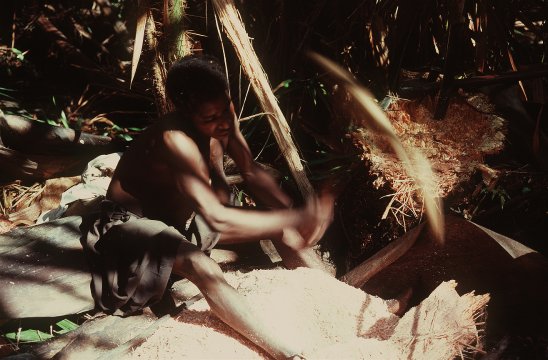 567. Leaving this to settle, Antonia started all over again; scraping, chopping with the machete, scraping again, chopping again, and washing … all under the watchful eye of her husbandly advisor, Damien.
.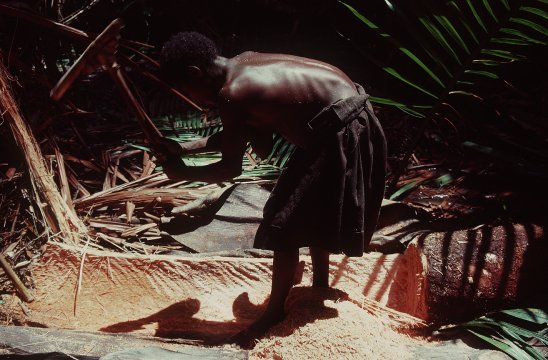 568. That morning she went through the same sequence four times – from scraping to washing. One third of the trunk was now reduced to a hollow shell, and she stood inside it for a while, to finish things off tidily.
..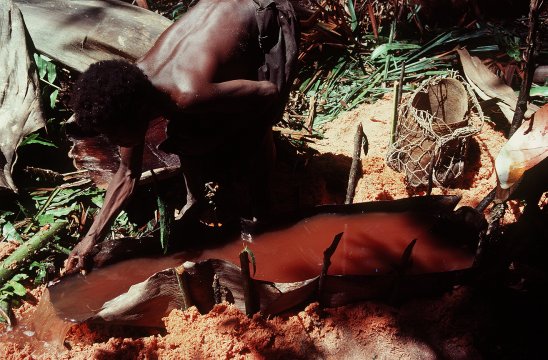 569. It was now 1.30pm and Antonia had worked for five and a half hours without a break. She hadn't even stopped for a drink. Yet, the temperature was 34 degrees Celsius, and the humidity 90%! But it was now time to empty out the sediment trap.
.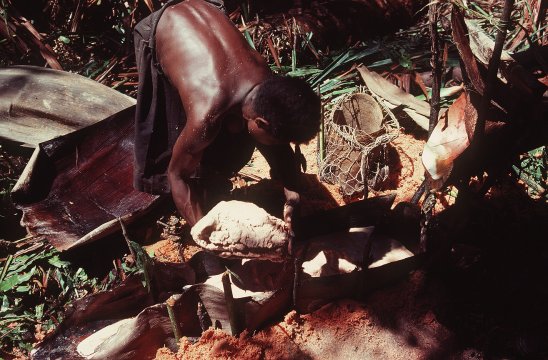 570. Antonia now had as much sago as she could carry – enough to last her family 2 or 3 days – so a basket was formed from leaves inside a special string bag. The water was drained from the sediment traps to reveal the sago, and this was then scooped into her leaf-lined bilum.
..
571. Antonia now hoisted this on to her back (with a little help from her husband) and set off home at a brisk pace. Heavy with water when she set out the bag must have weighed about 20kgs. She will return to the swamp in 2 or 3 days. With one husband, 7 children and 5 pigs to feed, she uses a lot of sago … especially when friends and relatives with no food of their own call round for meals.
.




Back to Cultures in Context Intro: Photos & Recordings


Text, photos and recordings by John Tyman
Intended for Educational Use Only.
Copyright Pitt Rivers Museum, Oxford University, 2010.
Contact Dr. John Tyman for more information regarding licensing.


Photo processing, Web page layout, formatting, and complementary research by
William Hillman ~ Brandon, Manitoba ~ Canada
www.hillmanweb.com