John Tyman's
Cultures in Context Series
Torembi and the Sepik
A Study of Village Life in New Guinea

PART SIX: CEREMONIES AND CELEBRATIONS
Topic No. 22: Honouring the Living ~ Photos 433 - 445
www.johntyman/sawos
.Click for full-screen images..
.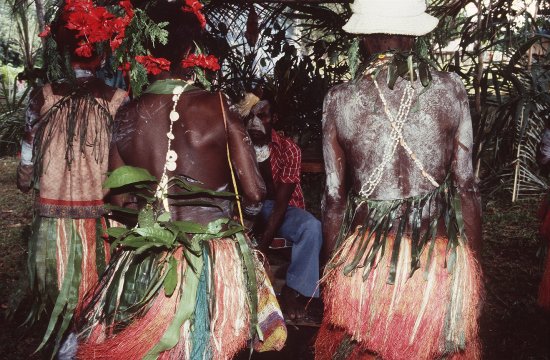 433. In addition to the human desire to celebrate life's turning points, we all need on occasion to honour an individual we admire or someone to whom we are indebted. In the Sepik lowlands this is done by way of 'Naven' ceremonies, derived from age-old rituals formerly used most often to commemorate a man's first kills … both in war and in hunting.
..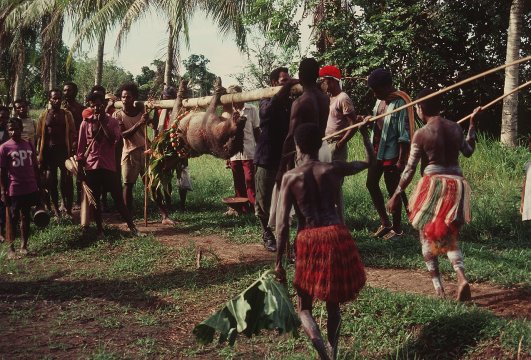 434. The excuse today may be less dramatic (like, for example, completion of secondary school) but it still calls for a feast, with a pig provided by the family giving the party.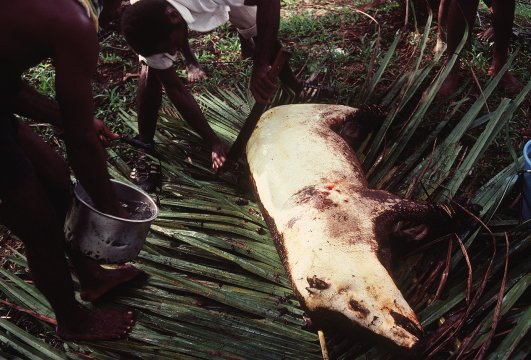 435. It was shot early in the morning, carried to the home of the man who was to be honoured, singed to remove the hairs, scraped from top to bottom, and washed down using a bucket of water from the river.
..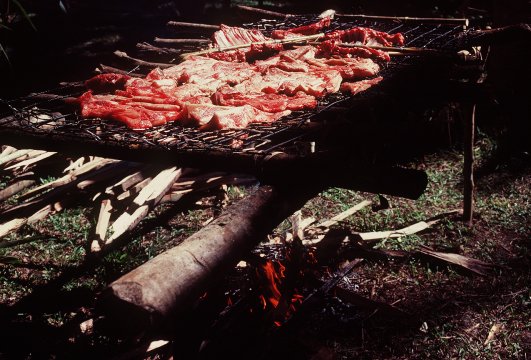 436. The fat was removed from the back in preparation for smoking and the remainder was cut into small pieces … as there were many guests to be fed.
..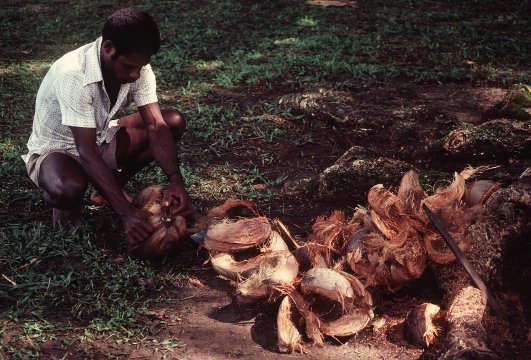 437. These were either smoked by men or boiled by the women … in the milk from coconuts.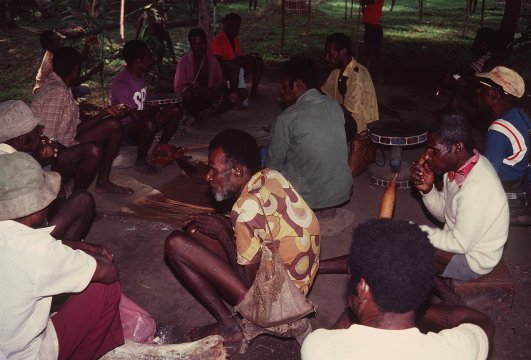 438. Meanwhile, most of the men sat in the haus' n boi chewing betel nut, which they spiked in the usual way … sucking on sticks dipped into lime containers made from the shells of gourds.
..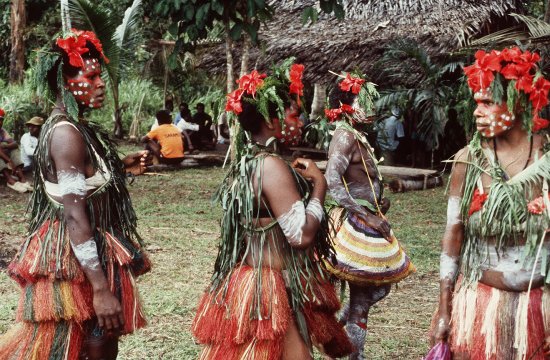 439. During this time, the women got ready to dance…those who were related to the man who had organized the party.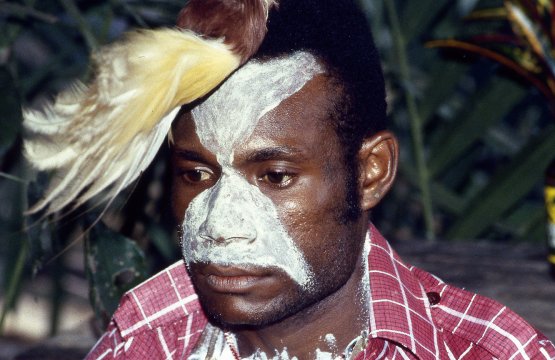 440. The young man they were to honour, whose name was Marcus, was also being prepared for the occasion. A white paste was applied to parts of his face … though originally men were decorated in this way only when they had killed someone in battle.
..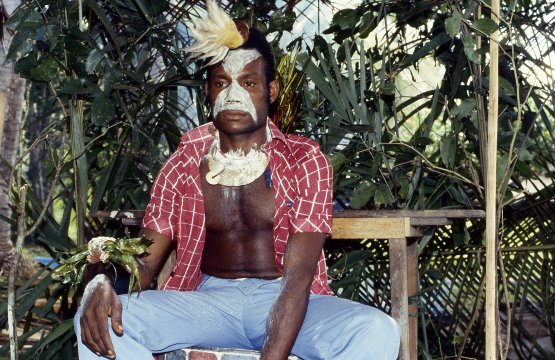 441. An old kina shell was hung round his neck and a plume of feathers stuck in his hair – from a bird of paradise – and he was seated on a stool, inside a palm leaf shelter built especially for this occasion. Like a bride in her procession, he remained expressionless throughout the ceremony.
..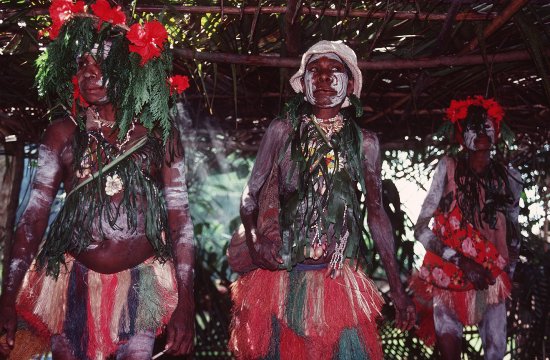 442. The women danced in front of him, decked out in grass skirts, shells, leaves, and hibiscus blossoms.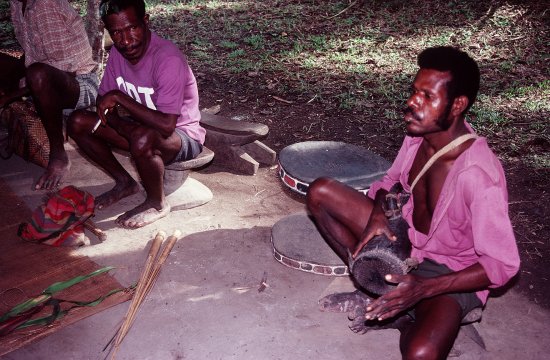 443. The music, as usual, was provided by the men in the haus 'n boi.
..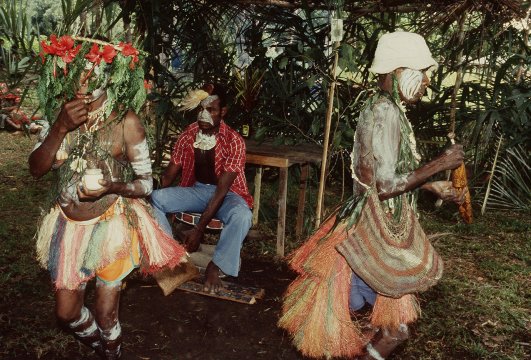 444. The performers, who continued to chew betel nut and suck on their lime sticks, changed from time to time: and the musicians, too, had opportunities to rest.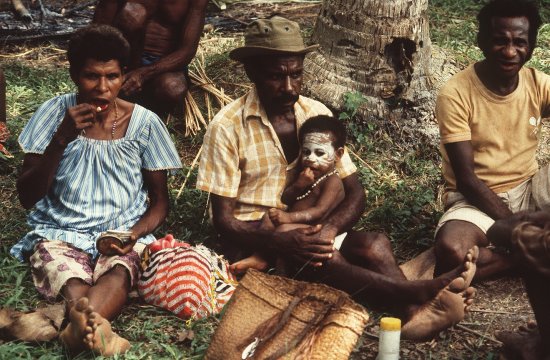 445. The ceremony lasted most of the day, but eventually it was time to eat, and then rest.




Back to Cultures in Context Intro: Photos & Recordings


Text, photos and recordings by John Tyman
Intended for Educational Use Only.
Copyright Pitt Rivers Museum, Oxford University, 2010.
Contact Dr. John Tyman for more information regarding licensing.


Photo processing, Web page layout, formatting, and complementary research by
William Hillman ~ Brandon, Manitoba ~ Canada
www.hillmanweb.com