John Tyman's
Cultures in Context Series
NEPAL

PART THREE : LIFE IN THE MIDLANDS

Housing
321-347

www.johntyman/nepal
Click for full-size images

.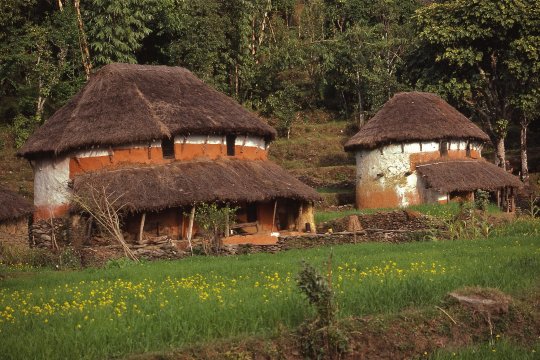 321. Brahman houses are typically of two storeys and have, traditionally, been round or elliptical in shape. They are made of stone, coated with a clay plaster both inside and out. The upper walls are frequently coated with lime, except for an ochre band at window height, and they will be repainted each year at the time of the Dasain festival (unless there's been a death in the family).

.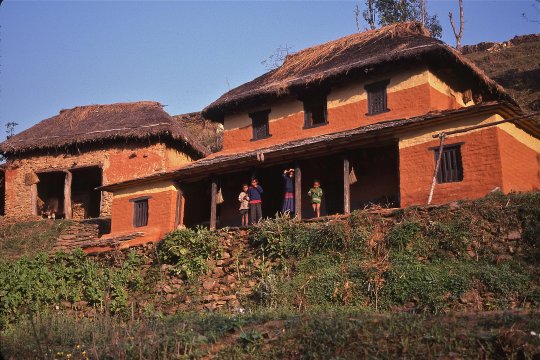 322. Homes built more recently are usually rectangular. Round houses are said to leak less than rectangular ones because they lack a long ridge line, and they are warmer and stronger and less damaged by wind: but they cannot easily accommodate modern furniture. And building round houses is now a lost art anyway

.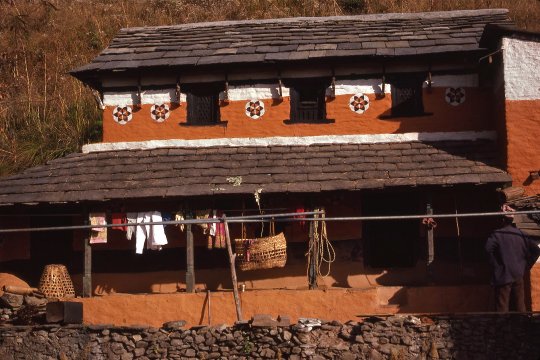 323.Though roofs are generally thatched with straw, which will be renewed every six or seven years, wealthier families often use tiles.

.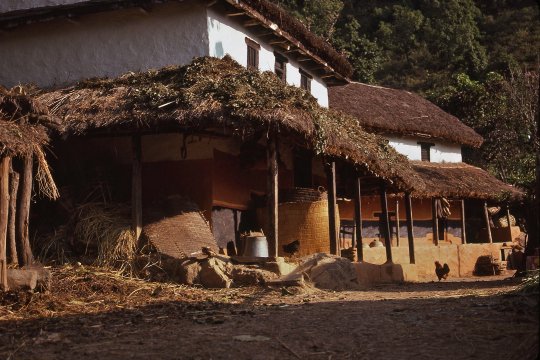 324. The courtyard in front of the house is sometimes surrounded on three sides by low walls, but not always. Women may sit here in the sun after the first meal of the day, to oil and comb their hair and check for lice. Visitors may also be entertained here. But it is also the scene of most domestic economic activities, for crops are threshed, winnowed, and dried here.

.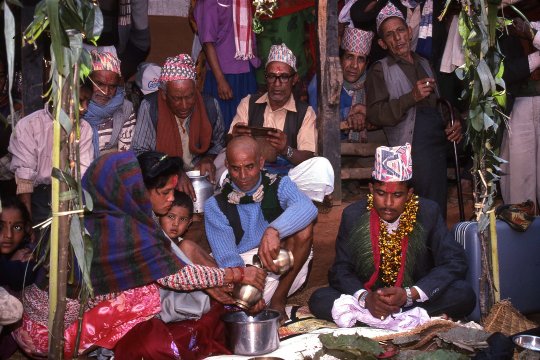 325. Besides being a workplace the courtyard of a Brahman house also has ceremonial functions ... at weddings especially. The girl may be "given way" inside the house but the other marriage rituals are performed outside, in a specially prepared ceremonial space (or jagge) decorated with palm leaves and bamboo.

.
326. Beyond the courtyard there will be a cattle shed, made of stone roughly joined together by a mud mortar. Many have two storeys with space upstairs to store fodder -- rice and wheat husks, leaves from maize plants, and hay cut from fallow lands.

.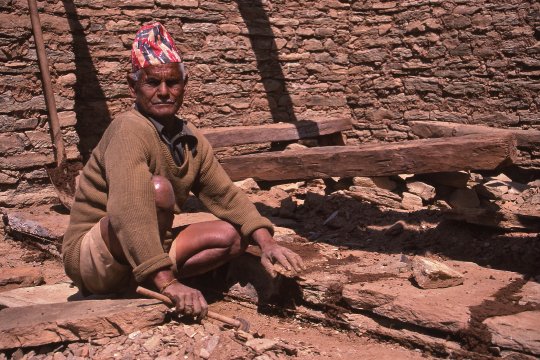 327. The stones for this new barn were selected, carefully positioned and tapped into place by the builder. [Video Extract 06]

.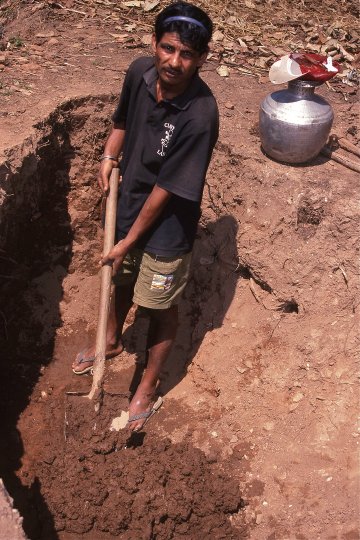 328. They were bedded in clay mortar which was prepared onsite.

.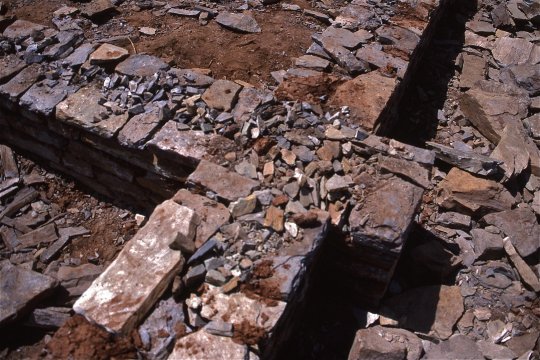 329. The spaces that remained were filled with rubble.

.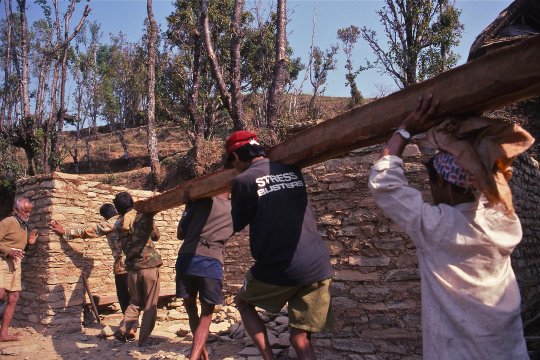 330. And the beams to support the second storey were carried here like everything else -- most likely on the backs off relatives (who share a reciprocal obligation to help one another).

.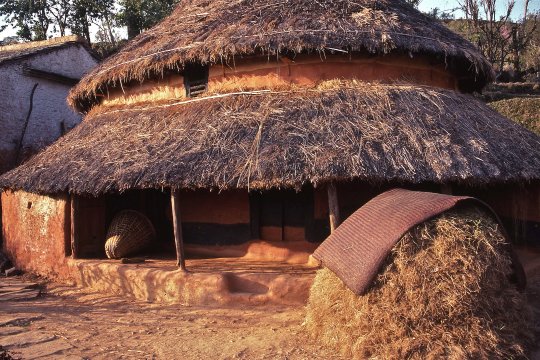 331. My friend's original home is 120 years old. It was built and decorated in the traditional way and housed their family altar. It was where Gopal lived during his childhood, and during the years when he taught at the school in Ramja Thanti. He was the oldest of four boys, and had two older sisters.

.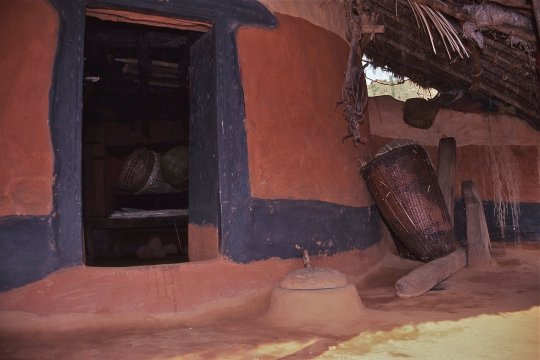 332. There is a verandah at the front, where much of house work is still done -- removing the husks from rice (with the weight of the beam in the background), grinding grain to produce flour for cooking (using the small round mill in the foreground), husking corn, and so on.

.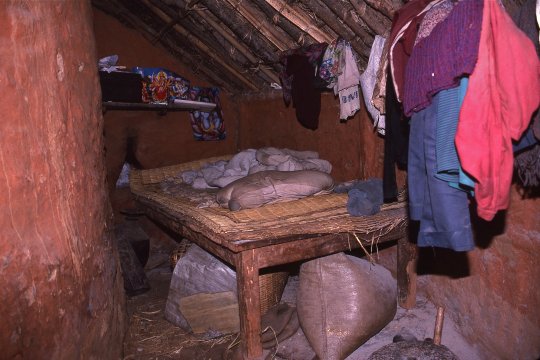 333. There was also space here for people to sleep ... on beds or on the floor.

.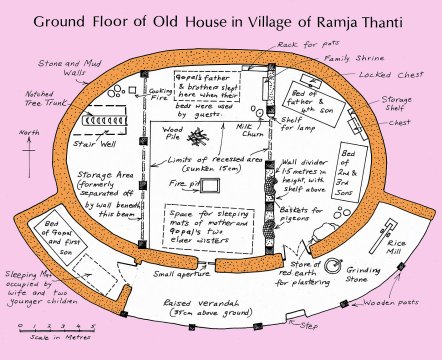 334. Inside, the downstairs area was used for daily living. There were fire places here for cooking and for warmth in winter, plus sleeping areas, and boxes in which to store personal possessions. The kitchen fire was close to the ladder giving access to the food upstairs, and the fire pit in the middle of the house was used in the preparation of mash for the buffaloes, to dry corn, and make bread -- as well as providing warmth in winter. This was the home of Gopal Sharma during childhood and the early years of his married life. He was the oldest of four boys, and had two older sisters: and he had two sons and a daughter of his own.

.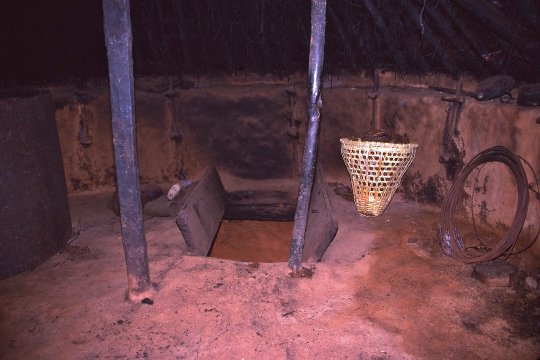 335. The family now lives next door but they still use the attic of their old home to store rice and wheat safe from rats, as and when required. There would also have been an entrance port for bees, baited with honey to attract them.

.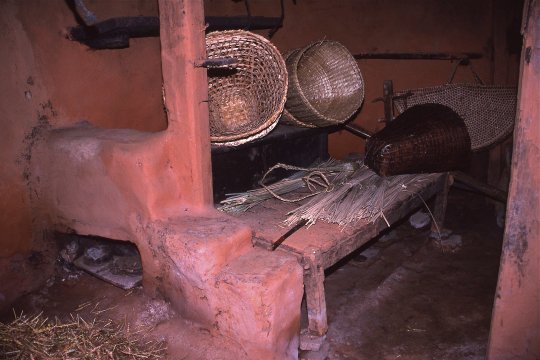 336. There is little furniture in such houses -- just a wooden bed reserved for the father of the house, and sometimes today beds for his sons. Those without beds sleep on mats on the floor. Several people may share each bed or mat but everyone tries to have a chest or lockable drawer where they can store personal possessions. Though no one now occupies the ground floor of Gopal's old home, you can see an old chest in the background, his father's bed, the stepped base for their oil lamp (in the foreground), and the shelves next to it which were formerly occupied by religious artifacts.

.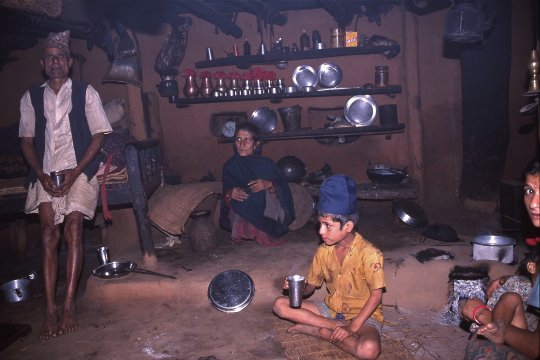 337. From the house of their neighbour, still in use, you can see that with few windows, it is usually dark inside. (This is obvious even with flash photography).

.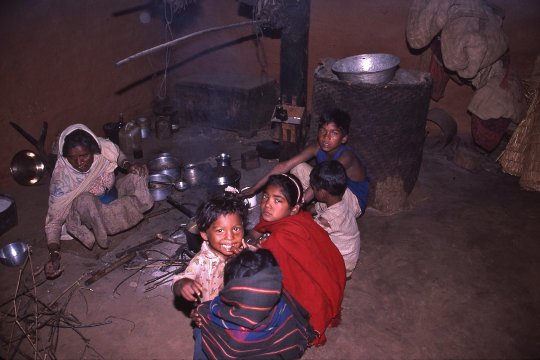 338. The children are huddled near the fire and, again, there is a chest in the background.

.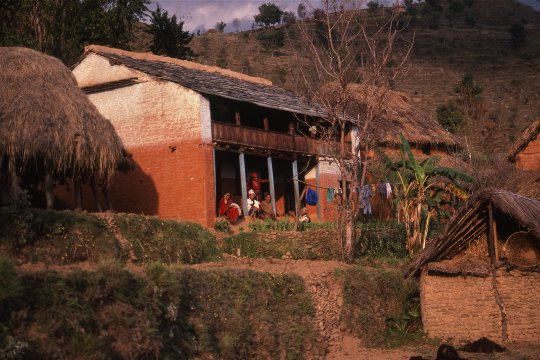 339. Gopal had until recently shared the old home with his parents, three younger brothers, two older sisters, his wife Baghabati, and their two children. When their third child was born he decided to build a new house next door. It cost the equivalent of $4,000. Gopal contributed $1,000 and the balance was obtained by the sale of a field.

.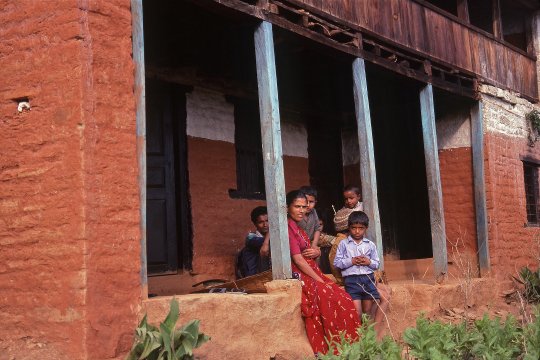 340. Like the old one it was built of stone plastered over with red clay. It has the usual verandah at the front but this is used more for socialising than for work -- since the milling of wheat and the husking of rice is still done at the old house.

.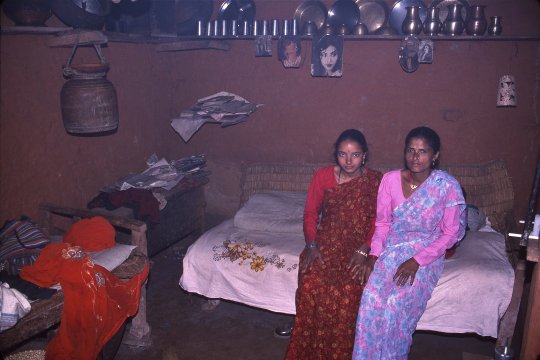 341. In the old home there were no internal walls, just partitions a metre and a half in height with shelves above them. In contrast, both floors of this new building were divided into rooms. Downstairs there are two bedrooms ...

.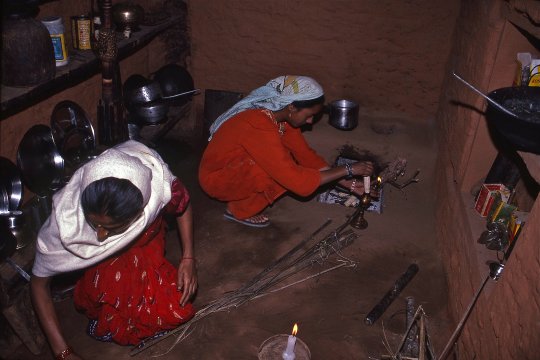 342. And there is a kitchen at one end, where the meals are cooked now, and the butter is churned. Upstairs Gopal built a large storeroom and a bedroom for his parents.

.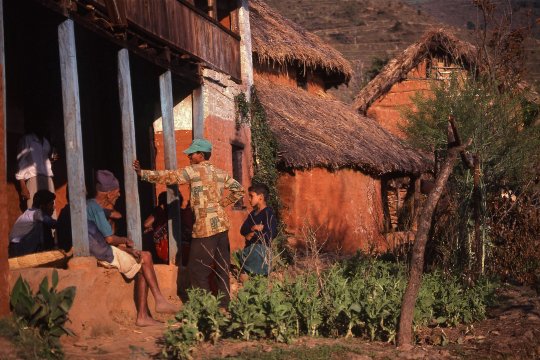 343. This new home overlooked the vegetable garden and manure heap ...

.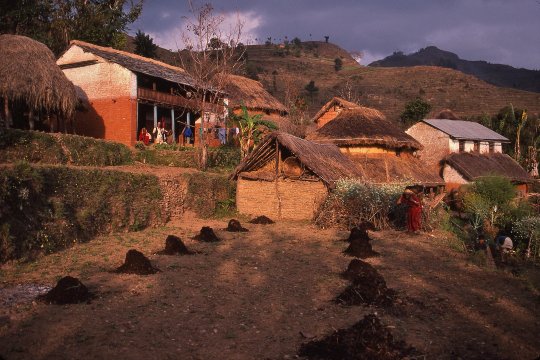 344. From which well rotted material was carried to the fields below.

.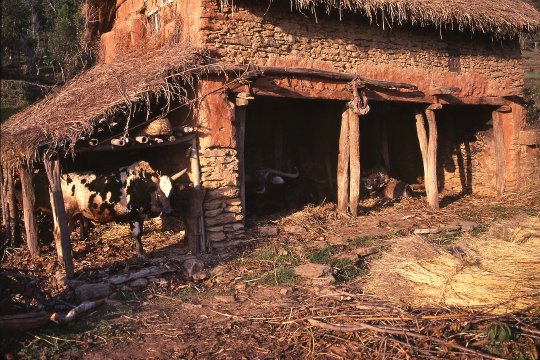 345. The dung, which was mixed with kitchen scraps and garden waste to produce the manure, came from the shed on the other side of the courtyard where the family sheltered their buffaloes and oxen.

.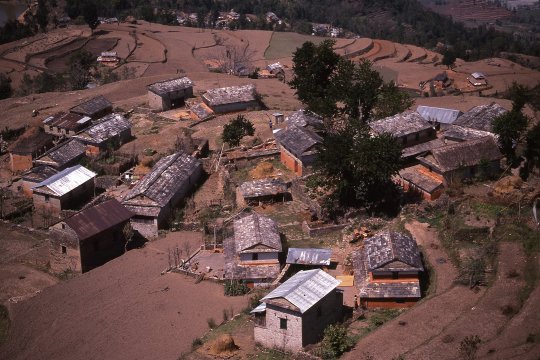 346. The Gurung villages near Ramja are among the largest in Nepal, but many now have few men in them between the ages of 18 and 50 -- since many are serving as soldiers overseas.

.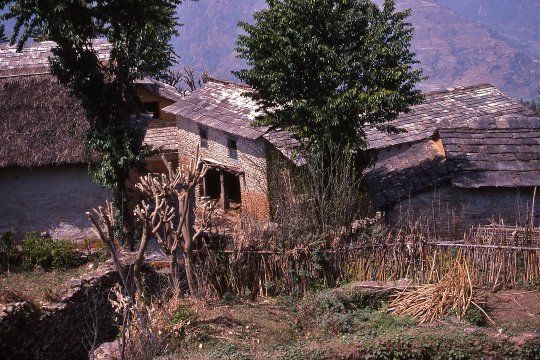 347. Gurung houses are similar in some respects, but not as well painted. Most are rectangular, of two stories, with drystone walls and slate roofs. In some areas, though, they have houses with an elliptical floor plan and conical thatched roofs.
.




NEPAL CONTENTS


Text, photos and recordings by John Tyman
Intended for Educational Use Only.
Contact Dr. John Tyman at johntyman2@gmail.com
for more information regarding licensing.



www.hillmanweb.com
Photo processing, Web page layout, formatting and hosting by
William Hillman ~ Brandon, Manitoba ~ Canada

..