John Tyman's
Cultures in Context Series
NEPAL
ENVIRONMENT

PART ONE : INTRODUCTION TO NEPAL
Vegetation : 026-039
www.johntyman/nepal
Click for full-size images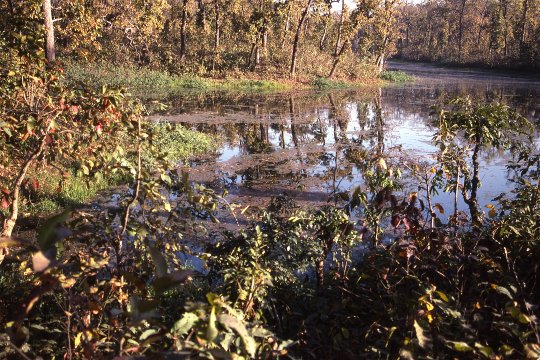 026. The Terai has a much higher rainfall as well as a smaller annual range in temperature. With high temperatures and a lot of swamps it had an unhealthy climate initially, due to malaria. And till mosquitos were eradicated (in large part) using DDT in the 1950s, it was sparsely inhabited. [Video Extract 16]

.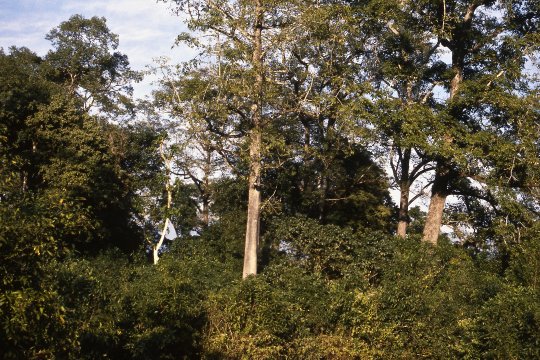 027. Most of the Terai was covered originally by a tropical forest of deciduous hardwoods like sal and "silky cotton" (alias kapok) plus open stands of elephant grass. And the vegetation of the Siwaliks was similar.

.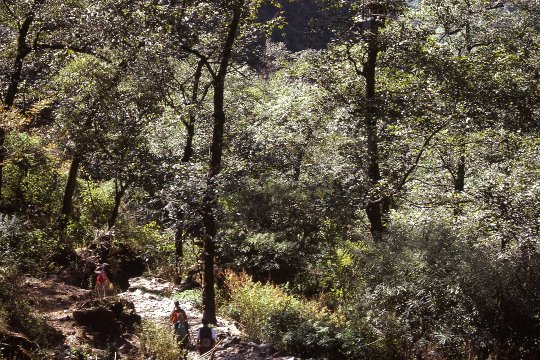 028. The Mahabharat Range, being higher and better watered than the Siwaliks, was covered by tropical evergreen forest: but in the drier Midlands, in the lee of the range, the woodlands were deciduous and much more open. (Beech forests near Tatopani)

.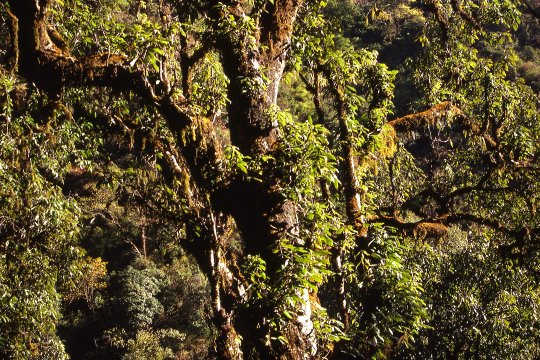 029. And there was a marked altitudinal zonation of vegetation on the slopes of the Himalayas to the north --where tropical evergreens like those of the Mahabharat Range gave way to temperate evergreen forests of evergreen oaks and rhododendrons -- Nepalís national flower. (Rhododendron forest at Ghorepani; in the cool season)

.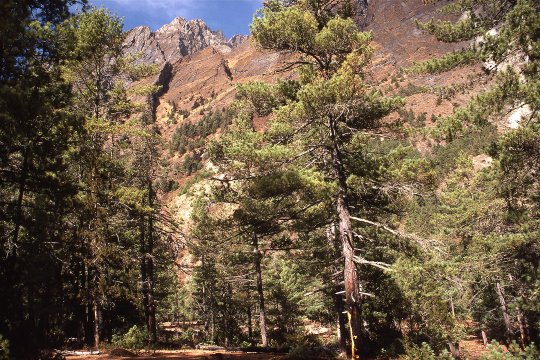 030. Next came a zone of coniferous evergreen forest. (Near Pisang)

.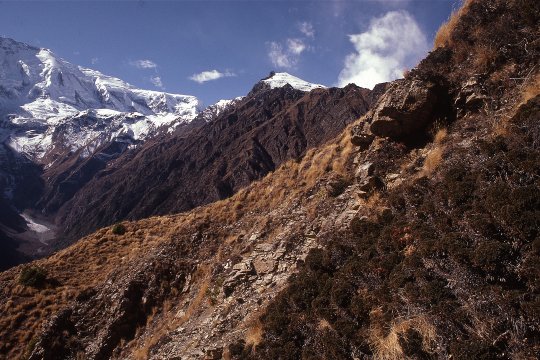 031. This, in turn, was replaced by a sub-alpine scrub of stunted trees and bushes fashioned by low temperatures and strong winds. (Scrub-tundra transition near above Manang)

.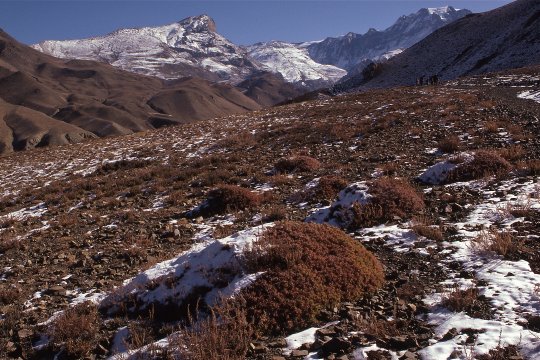 032. Above the tree line (at about 3900 metres) only the hardiest plants can survive. All are adapted to the cold. Many have adopted a rounded compact form to reduce exposure to icy winds and conserve warmth. (Above Muktinath)

.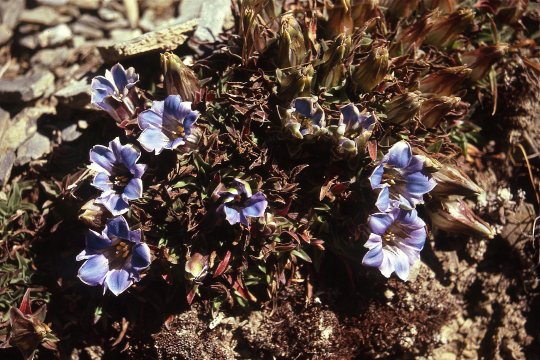 033. Because the summer is so short, those plants which produce seed annually spring up quickly in the spring, since there is no time to waste. The species found here actually have much in common with those of the Arctic ... like these blue primulas, which reminded me of the purple saxifrage I knew in the Arctic.

.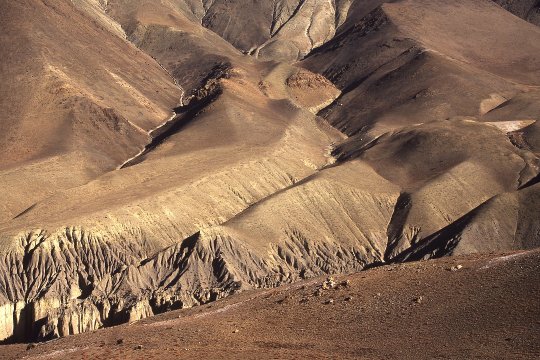 034. The Trans-Himalayan zone, positioned in the rain-shadow of the highest peaks, receives much less rain and is covered with desert and semi-desert species similar to those of the Tibetan Plateau. (Border of Mustang district)

.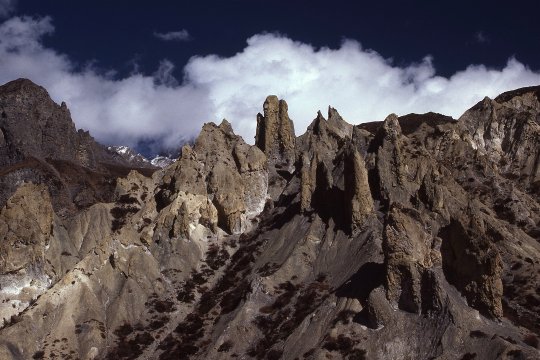 035. Summers in these high mountain valleys are short as well as being dry; and winters are severe, with low temperatures and high winds. This not only limits agricultural possibilities but also the very development of soils here --which are shallow and stony. (North of Manang)

.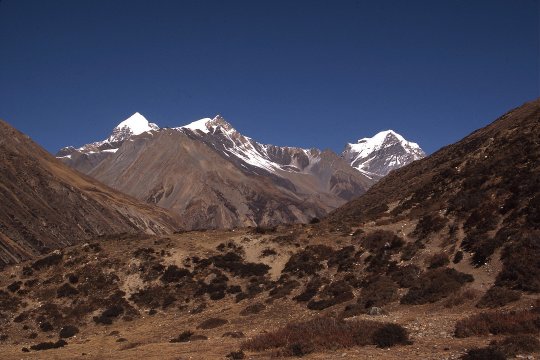 036. As for the relationship between vegetation and land use potential, the sub-alpine grasslands of Nepal provide pasture in summer after the snow has melted, but the nation's plant cover has been poorly managed otherwise. (Above Manang)

.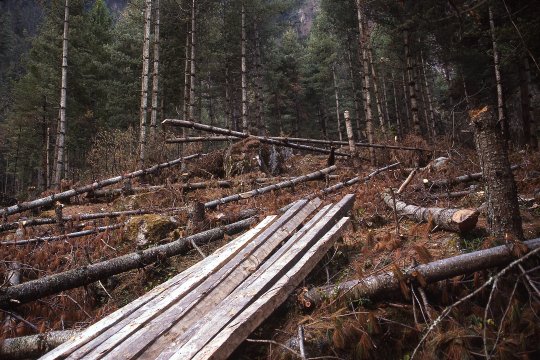 037. Attempts have been made locally at harvesting timber in an systematic manner, but pillaging is more common than the sustainable management of forests. Vast areas have also been cleared in an attempt to feed a growing population. (Near Chame in the valley of Marsyangdi River)

.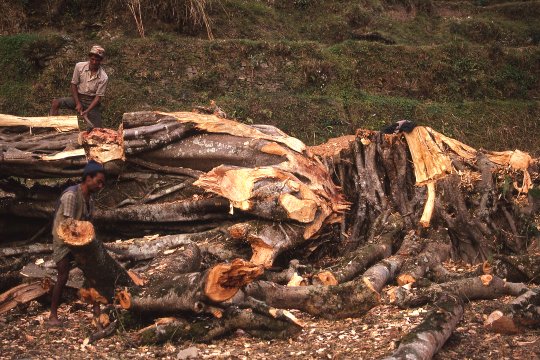 038. Elsewhere even large trees have been tuned into firewood, for cooking and heating. (At Kaski, west of Pokhara)

.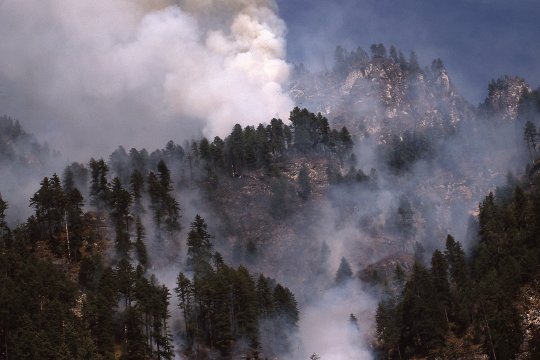 039. Sadly, the need to retain trees to conserve soil on steep slopes has been ignored (till recently) and the dangers of forest clearance have been exacerbated by fires which cannot be fought on steep mountainsides.
.




NEPAL CONTENTS


Text, photos and recordings by John Tyman
Intended for Educational Use Only.
Contact Dr. John Tyman at johntyman2@gmail.com
for more information regarding licensing.



www.hillmanweb.com
Photo processing, Web page layout, formatting and hosting by
William Hillman ~ Brandon, Manitoba ~ Canada