John Tyman's
Cultures in Context Series
AFRICAN HABITATS :
FOREST, GRASSLAND AND SLUM
Studies of the Maasai, the Luhya, and Nairobi's Urban Fringe

PART FOUR : KIBERA
Glimpses of Family Life II
43. Glimpses of Family Life (c): Sam's Aunt Cheryl : 631-646
www.johntyman/africa
Click for full-screen images..
.
Glimpses of Family Life (c): Sam's Aunt Cheryl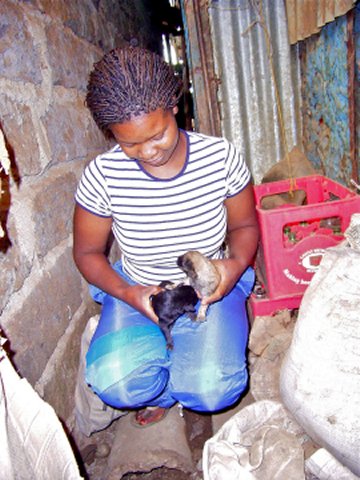 631. Sam lived with his aunt ... shown here with family pets in the lane at the back of her house. The stone wall on the left, as usual, separates her community from a wealthier neighbourhood.
..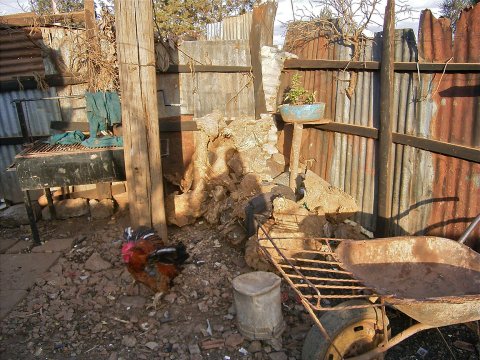 632. Behind the house, which they rent, was a small backyard where they kept their livestock and stored odds and ends of equipment.
.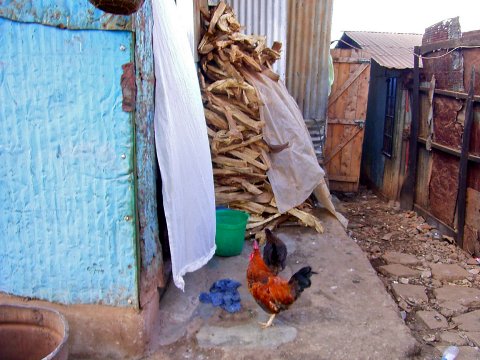 633. The wooden doorway in the rear is the entrance to this yard. The wood is for cooking and heating.
.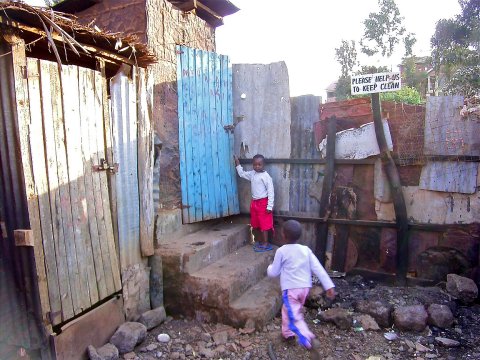 634. Sam's cousins outside the toilet, which has a blue door. The door on the left is to the bathroom.
.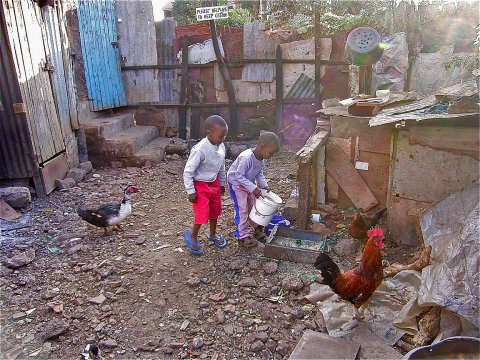 635. The cousins' pet birds are fed on leftovers, whatever is available. Sam himself built the chicken shed from pieces of wood and tin he was able to scrounge locally.
.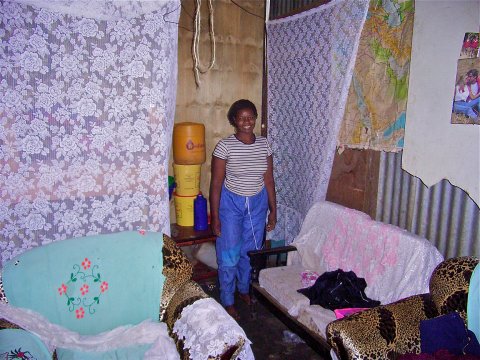 636. The interior of their house. As usual the functions of living room, sitting room and kitchen are combined ... within a space of 9 square metres. Sam slept behind the curtain on the left. The map on the wall shows the Horn of Africa and the Arabian Peninsula but not Kenya.
.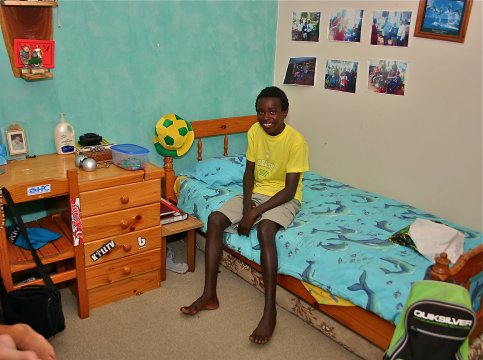 637. Sam's bedroom in Australia, was very different. He shared it with one his adopted Australian brothers, but he had space of his own ... and there was a large TV he could watch in the room next door!
.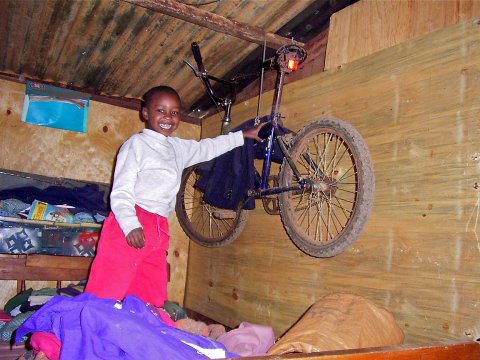 638. While he was away in Australia his bicycle was hung over the bed for safe-keeping.
.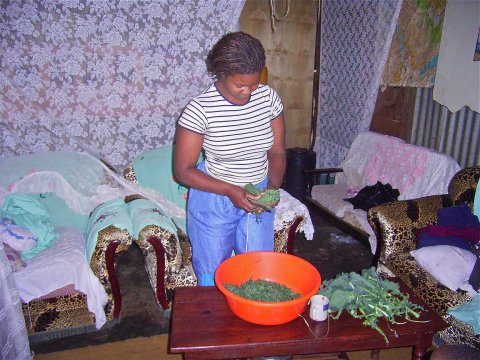 639. His Aunt prepares dinner using the cheapest greens available, a type of kale, which will add flavour to their ugali.
.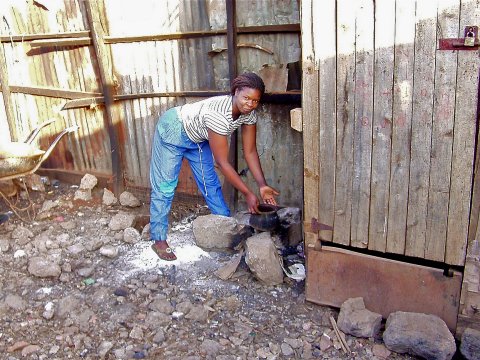 640. In fine weather it will be cooked outside, beside the bathroom.
.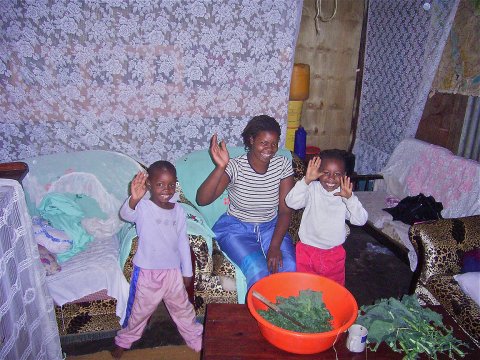 641. His aunt has two children of her own, but offered to look after Sam when he was nine. He never knew his father, his mother died when he was 3, and the friend of his mother's who cared for him next died when Sam was 5. His grandmother then looked after him for a while, but she was an alcoholic and would threaten Sam with a large knife if he asked for food when she was drunk. He had to hide till she sobered up, afraid that she would kill him. He would spend days at a time collecting firewood in the bush, and selling it to local businesses to make enough money to feed and clothe himself so as to not antagonize her.
.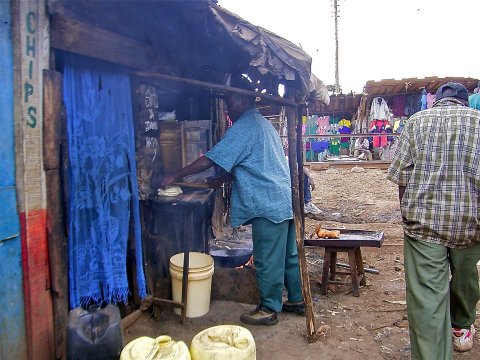 642. When he was 7 he struck up a friendship with an old cook (who he refers to as Sho Sho, meaning "grandfather") in small hotel like this to which he used to sell wood, who offered Sam food and shelter in a place where he need no longer fear for his life. In return Sam had simply to help him cook, clean and collect wood
.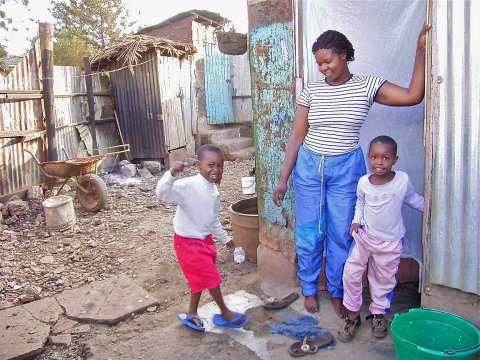 643. James (2) and Daniel (3) take off their shoes before going inside. Their mother is as house proud as any woman in Canada or Australia and keeps the place spotless. One of the boys is 3 years old, the other 2.
.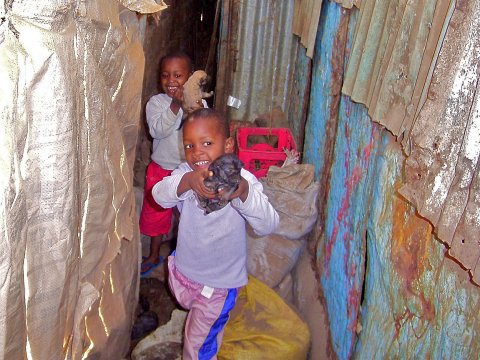 644. The pups must be fed, and that is an extra expense. Sam's Aunt and uncle are extremely poor but they somehow managed to feed and clothe him and send him to school.
.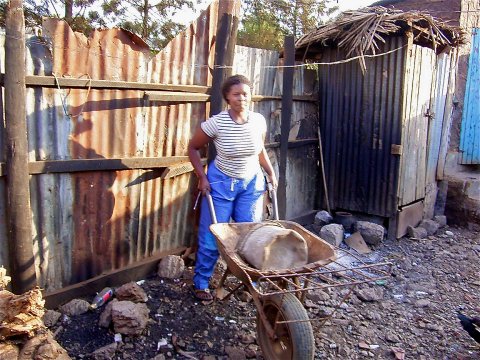 645. The wheelbarrow is used in hauling water in cans from the nearest standpipe. Sam helped with this when he was home.
.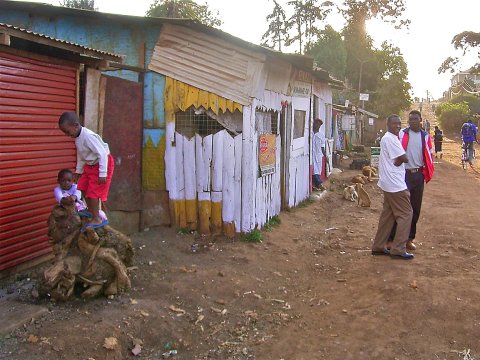 646. The front wall of their neighbour's house looks a bit like a garage door: but it is simply made of steel sheets nailed to posts and then painted. The street where the children live is dusty in the dry months and muddy when wet, but it was where Sam was first given a home.


Text, photos and recordings by John Tyman
Intended for Educational Use Only.
Contact Dr. John Tyman at johntyman2@gmail.com
for more information regarding licensing.



www.hillmanweb.com
Photo processing, Web page layout, formatting and hosting by
William Hillman ~ Brandon, Manitoba ~ Canada