John Tyman's
Cultures in Context Series
AFRICAN HABITATS :
FOREST, GRASSLAND AND SLUM
Studies of the Maasai, the Luhya, and Nairobi's Urban Fringe

PART FOUR : KIBERA
38. Housing and Basic Services : 519-528
www.johntyman/africa
Click for full-screen images..
..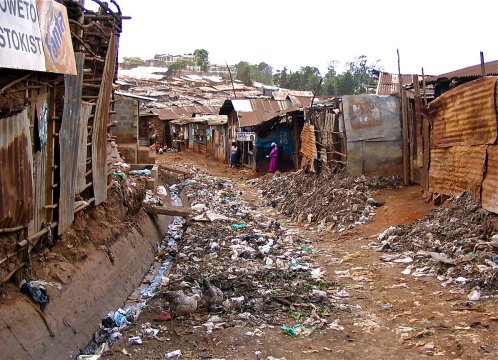 519. Most of the homes here (typically 3 metres square and housing 5-7 persons) are owned by absentee landlords who, for a fee, somehow gained the consent of local council officers to erect flimsy homes on government land, which they could then rent out. Landlords are supposed to provide both water and a toilet, but few of them do: so their tenants have to improvise -- resulting in smelly drains and a polluted water supply. A month's rents here will typically cost between 300 and 500 Kenyan shillings (between $4.50 and $7.00 Australian, since one $AUS = 65 KSHS), but those who live near a tap are charged more because of their proximity to water!
..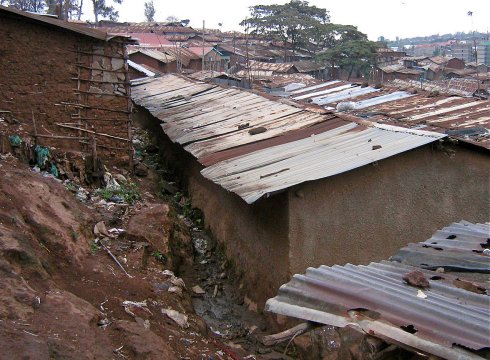 520. To bridge the gap between their living costs and their personal income, people frequently rely on moneylenders (who impose high interests rates), or they hand to pawnbrokers (known as "Shylocks") anything and everything they have of value. A few (if they are lucky) get odd jobs in the market.
.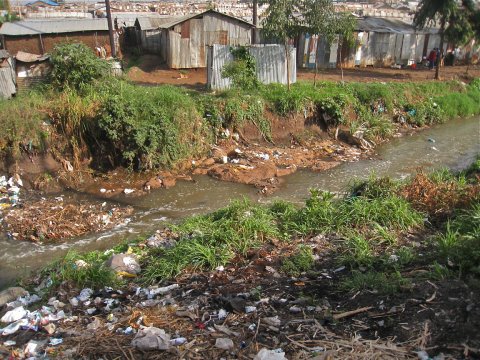 521. Another coping mechanism in informal settlements is to move house in the middle of the night, at the end of the month, when the rent is due. In their new home the family can put off paying rent for a month or two with excuses and pleas for patience, then move again. Landlords aware of such tricks formerly tried padlocking doors near the end of the month so their tenants could not move out their things. Doors were smashed as a result: so now, near the end of the month, landlords with unreliable tenants remove the door itself, forcing tenants to sleep without protection till they pay. These and other techniques are used to extract rent from impoverished tenants because, since the whole system of occupancy in peoplesí settlements is an informal one, a landlord cannot take his tenants to court.
.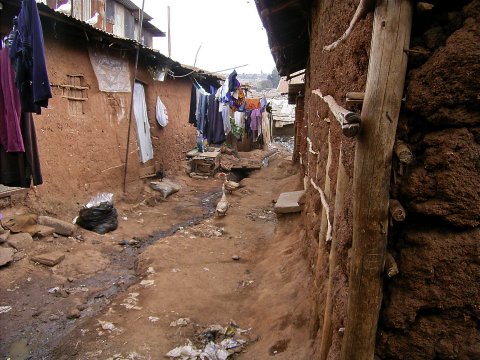 522. A typical alley way, illustrating the degree of congestion here. The ditch down the middle carries waste water from kitchens and laundries, together with the occasional overflow and/or seepage from latrines. The houses are made of mud plastered over a wooden frame, and roofed with corrugated iron. The shortage of space is obvious also from the improvised second storey on the left, which will also be rented out.
.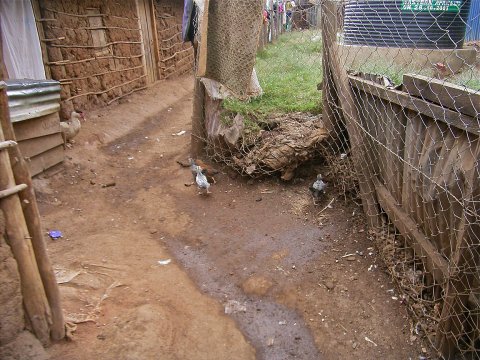 523. The chickens, which live off waste scraps, are pets that provide a few eggs and at Christmas, sometimes, meat instead. Dogs, pigs and goats are also fed on scraps. The water tank in the rear was built by a Catholic Relief Agency and provides water to a local church school.
.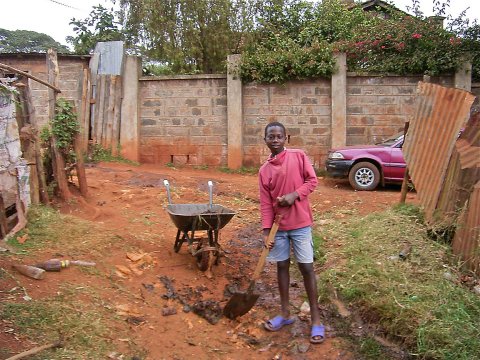 524. In some better-off settlements people may well own their houses, and those with jobs (and cars too) are likely to build high walls around the land that they own, as a barrier between them and those less fortunate. But houses and cars are riches of which most people in Kibera can only dream.
.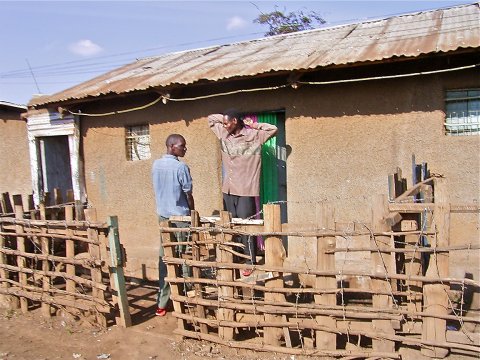 525. A rare example of a house with a front yard and/or verandah. The shortage of land in Kibera is such that few householders can afford to use space in this way.
.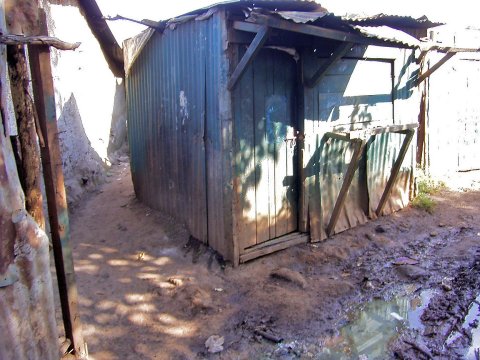 526. Shop alongside a muddy lane, with its counter closed. The shopkeeper and his family will live in the back of the building.
.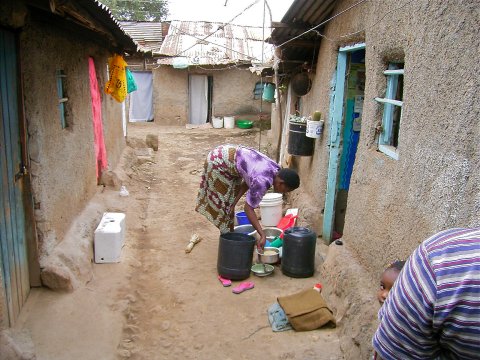 527. Even within Kibera itself there are degrees of poverty. You see here houses in a better class of informal settlement The houses are rented still, for around 2,000 shillings a month ($30 Australian) but the mud walls have been rendered, and the lane way has been swept clean.
.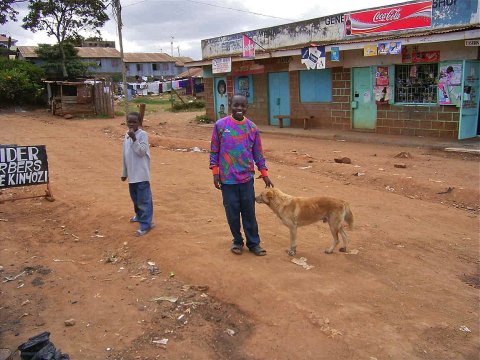 528. A rare example of substantial brick-built structures in Kibera -- with shops in the front and homes behind.
.




AFRICA CONTENTS


Text, photos and recordings by John Tyman
Intended for Educational Use Only.
Contact Dr. John Tyman at johntyman2@gmail.com
for more information regarding licensing.



www.hillmanweb.com
Photo processing, Web page layout, formatting and hosting by
William Hillman ~ Brandon, Manitoba ~ Canada