John Tyman's
Cultures in Context Series
AFRICAN HABITATS :
FOREST, GRASSLAND AND SLUM
Studies of the Maasai, the Luhya, and Nairobi's Urban Fringe

PART TWO : THE LUHYA
21. HEALTH : 276-280 | RELIGION : 281-289
www.johntyman/africa
Click for full-screen images
.
Health : 276-280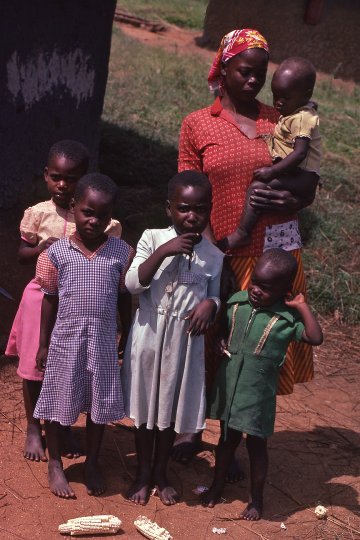 276. The health of rural communities in the better watered sections of Kenya is generally better than that of those in drier areas. People here live longer than those who must struggle to survive in arid areas: respiratory diseases in particular and malnutrition are less of a problem. Yet water that is safe to drink is sometimes hard to find, by reason of animal and human pollution: and the provision of clean water has been the focus of several overseas aid agencies.
.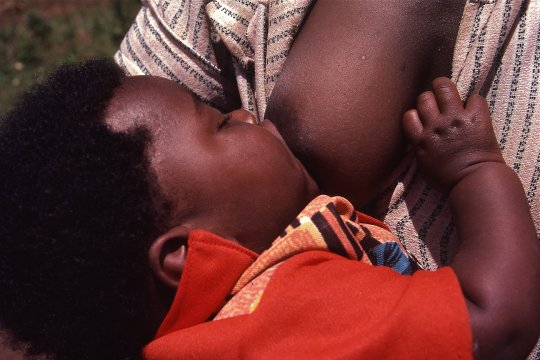 277. The danger inherent in feeding babies using bottles that are hard to keep clean, is well known but sometimes overlooked by mothers who feel compelled to work away from home. This woman is her husband's fifth wife and she is nursing his 15th child.
.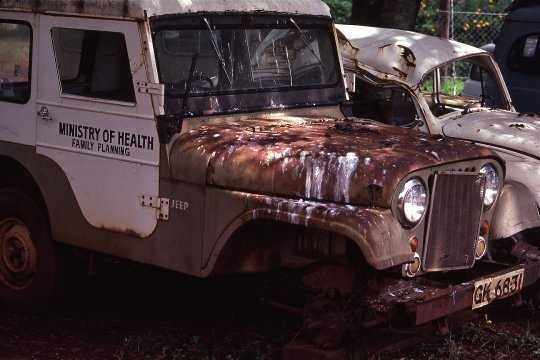 278. In Kenya as a whole it's reported that one third of all women now use some form of contraception: but too many teenagers are still giving birth to more children than they can care for properly. Family planning initiatives have rarely been given the resources they require ... as this picture would suggest. (In car park of hospital in Kakamega.)
.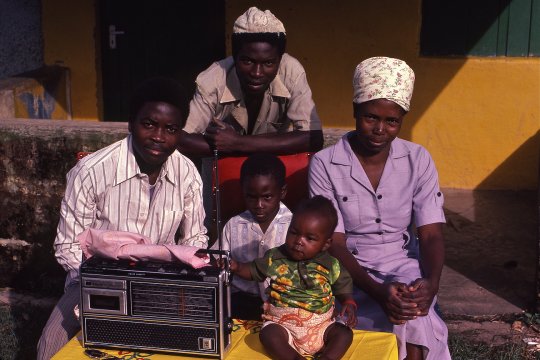 279. In addition, the spectre of AIDS hangs over the Luhya as it does over their neighbors. The widow of any man who dies from AIDS is faced with a difficult choice. She herself will be infected, but tradition demands that she allow one of her husband's brothers to care for her. If she complies she will infect him and any children she bears before dying.
.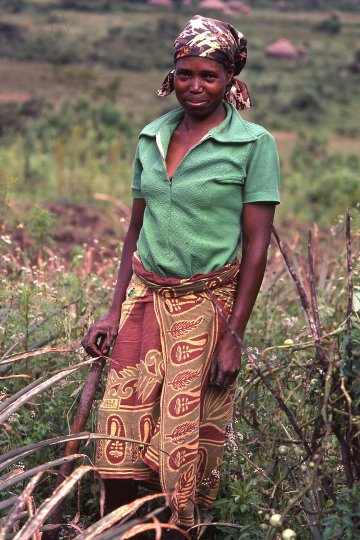 280. The custom of wife inheritance was for centuries a positive response to a widow's need of support. She did not have to remarry. Her husband's family would take responsibility for her. If a brother-in-law could not care for her, then a cousin or a respected outsider would. The inheritor made sure that the widow and her children were fed, clothed, sheltered, educated, and protected. Tradition frowned on his having sexual relations with her. And the system worked well till the inheritors shunned that taboo. They had sex with the widows and that helped HIV explode throughout sub-saharan Africa.
.
RELIGION : 281-289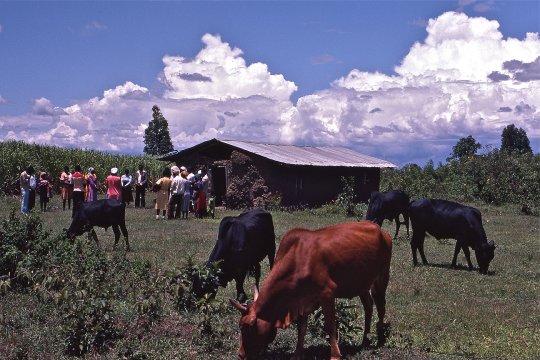 281. Though the forms of institutional religion introduced during the colonial era survive, and there is still a network of Anglican and Catholic dioceses, bishops and cathedrals, Kenya has spawned a host of indigenous denominations with wayside chapels like this.
.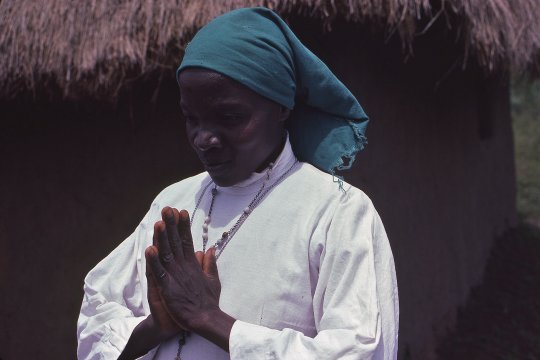 282. This woman is a member of the Legion of Mary, a sect which was originally linked to the Roman Catholic Church but now functions independently.
.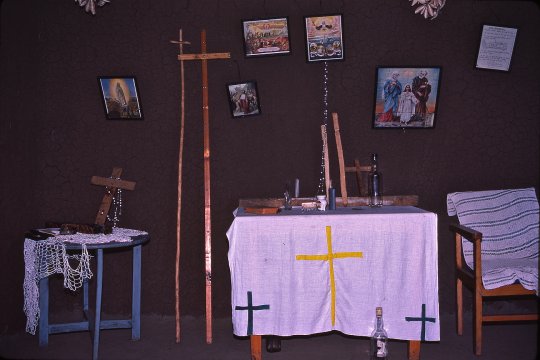 283. The living room of her house has been turned into a chapel, decorated with appropriate images and sacred objects.
.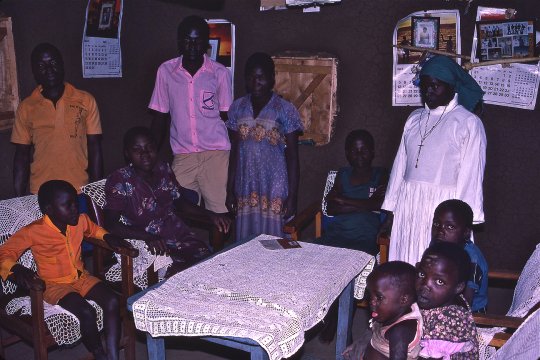 284. Her family meets here for prayer twice daily. There are12 children in her family but some were away then.
.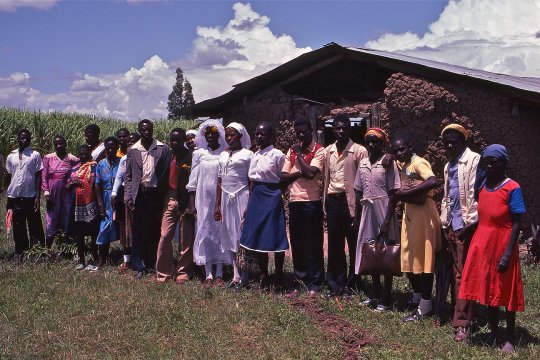 285. Pentecostal fellowships in particular have sprung up in many small communities, displaying a zeal which is viewed a threat to mainstream religious denominations.
.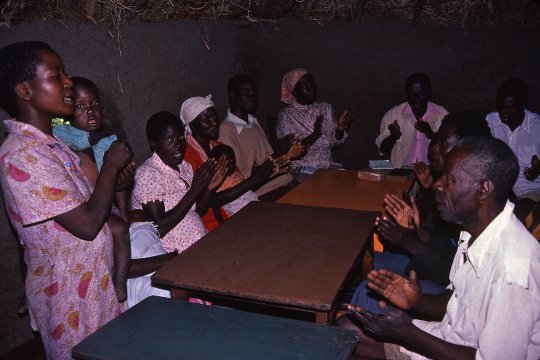 286. Most of them are "independents". This group was pastored by the "Holy Mother" in the far corner.
.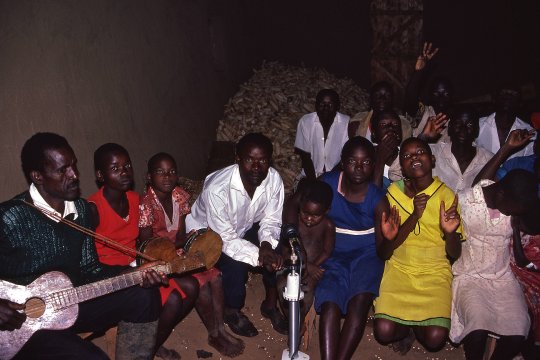 287. This group was led by a man assured of a decent congregation since he had 5 wives and fifteen children. There are corn cobs in the background because when his granaries are full he stores the excess in his chapel. (The microphone was mine.)
.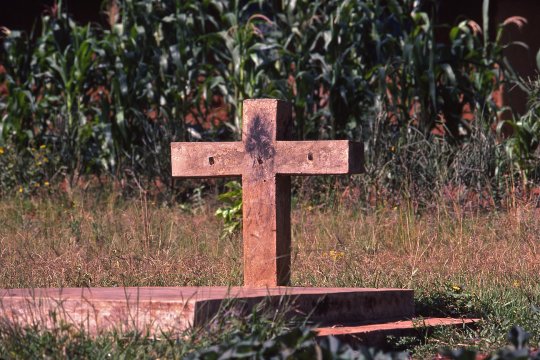 288. The way in which belief systems introduced in colonial days have merged with traditional practice is obvious in "rites of passage" like home burial.
.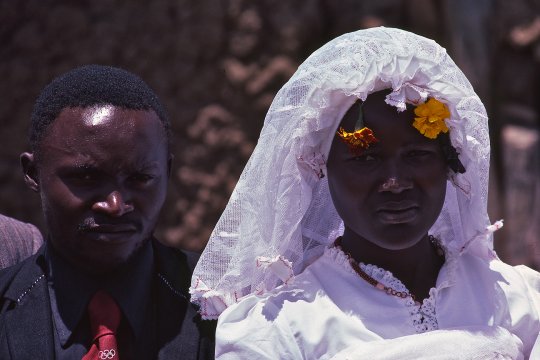 289. Also in weddings. The bride may be dressed in "European" style and her husband in a suit, but a bride price will have been paid in cattle, or in a cash sum equivalent to the market value of the number of cows agreed upon.
.




AFRICA CONTENTS


Text, photos and recordings by John Tyman
Intended for Educational Use Only.
Contact Dr. John Tyman at johntyman2@gmail.com
for more information regarding licensing.



www.hillmanweb.com
Photo processing, Web page layout, formatting and hosting by
William Hillman ~ Brandon, Manitoba ~ Canada